History in Black and White
By TINA WILSON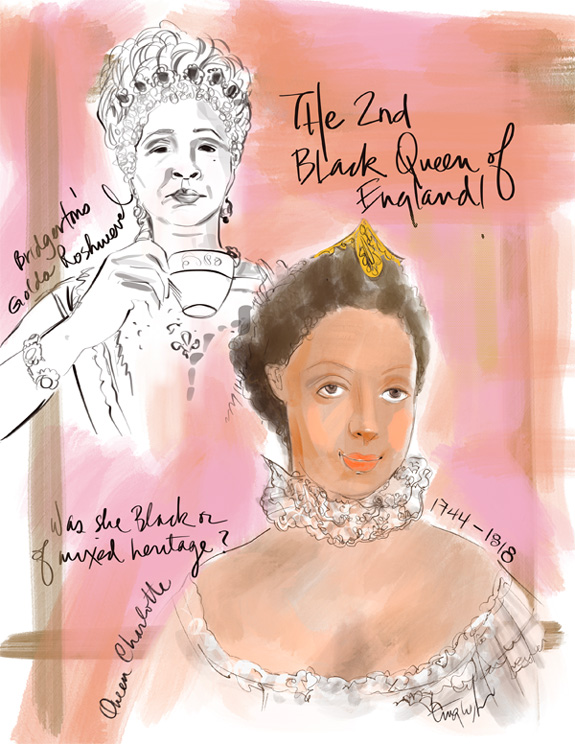 The second Black queen of England was named Charlotte and she reigned during the Regency era, who knew? Not I, not before Bridgerton. Bridgerton needs no introduction; the gorgeous costumes of the Netflix hit are surrounded by as much buzz and controversy as the 'Duke' (his 'beauty' often the subject of daily text threads with my women friends). Yes, there are some inaccuracies in time as they relate to what women wore back then, but it's Hollywood.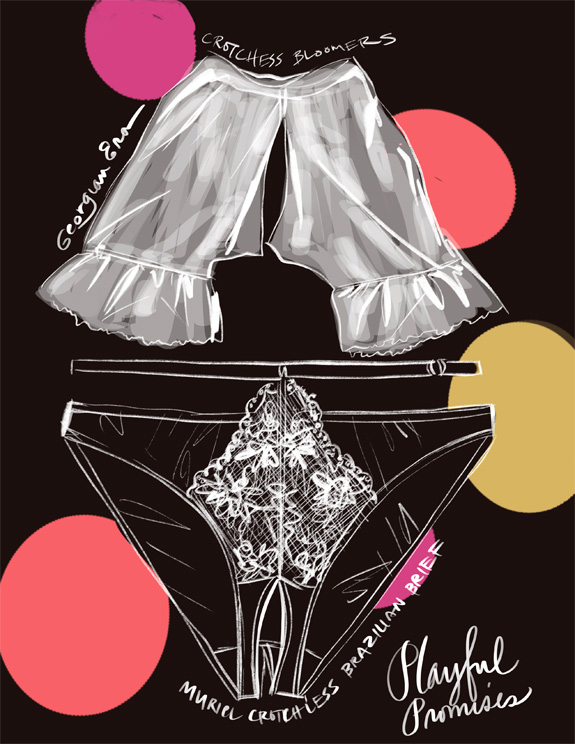 Peeling back the layers of those costumes, I wanted to reveal what may have lain beneath them and how they relate to the lingerie of today as represented by Black owned lingerie brands. Starting with the base layer of crotchless bloomers then and crotchless panties now. Initially I thought of them as having two different functions, the former to relieve oneself conveniently and the latter is worn to enjoy oneself conveniently but I wonder? Playful Promises Muriel Crotchless Bikini in purple is sexy and playful.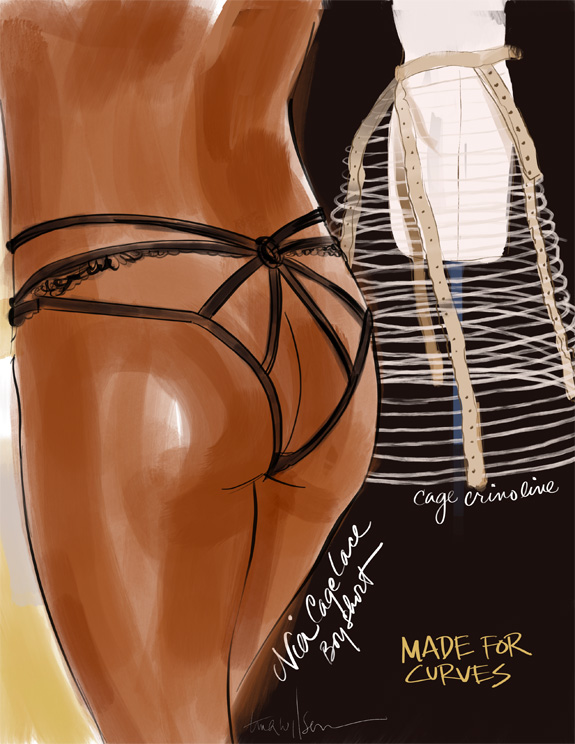 I included caged crinolines as they have always fascinated me as absurd. They came along a bit after the Regency era, but I believe they may have influenced a huge trend in contemporary intimates. The 'cage' panty is a configuration of connected elastics, held together and adjusted with rings and slides, the combinations are endless and creative such as the Made for Curves Nia Cage Lace Boy short.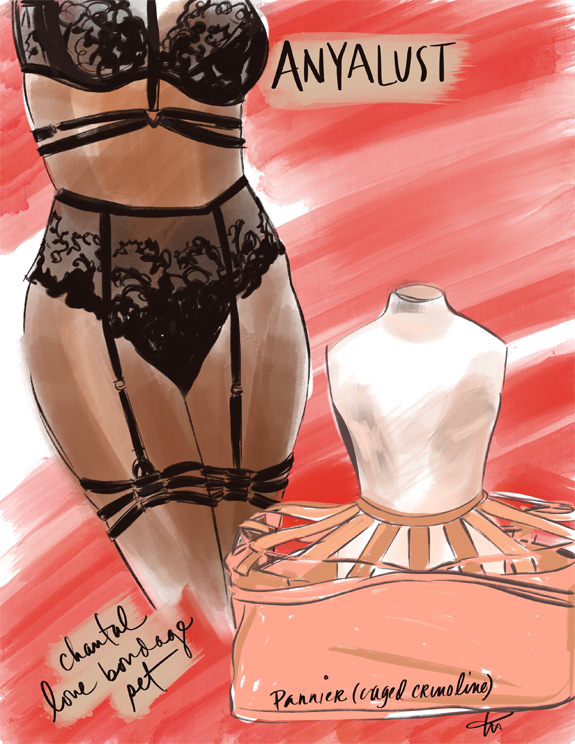 It's unfortunate the pannier was hidden beneath the dresses, it was a work of bizarre art and construction. As another form of caged crinoline, it held nothing back. It reminds me of the spiraling mélange of elastics that comprise modern garters, collars, and the waist ornamentations of many brands, one of them being Anya Lust, a favorite of mine.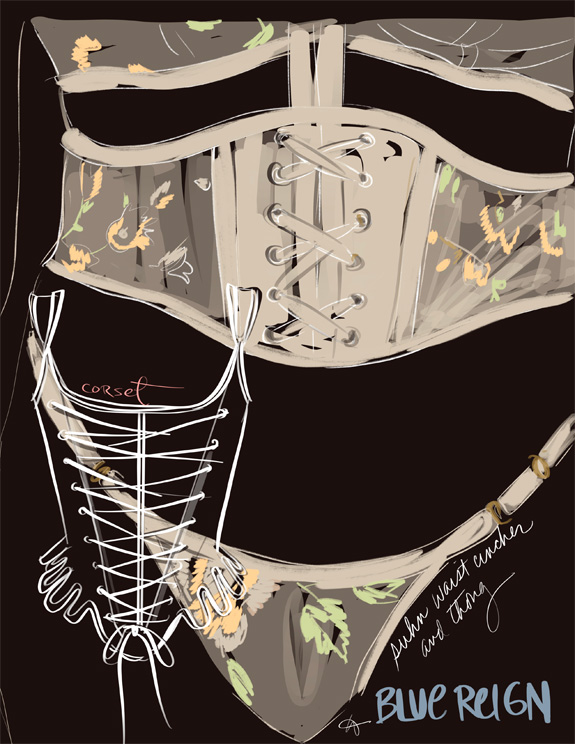 Corsets and waist cinchers are probably the most recognizable of the past influences beginning before the 16th century.  I often wonder if their endurance is about the slender appearance of the waist or the hidden desire and undeniable pain of wearing one. Blue Reign's Suhn Waist Cincher looks just the right height to be comfortable and sexy. I think we can all agree this is the original shapewear, how far we've come.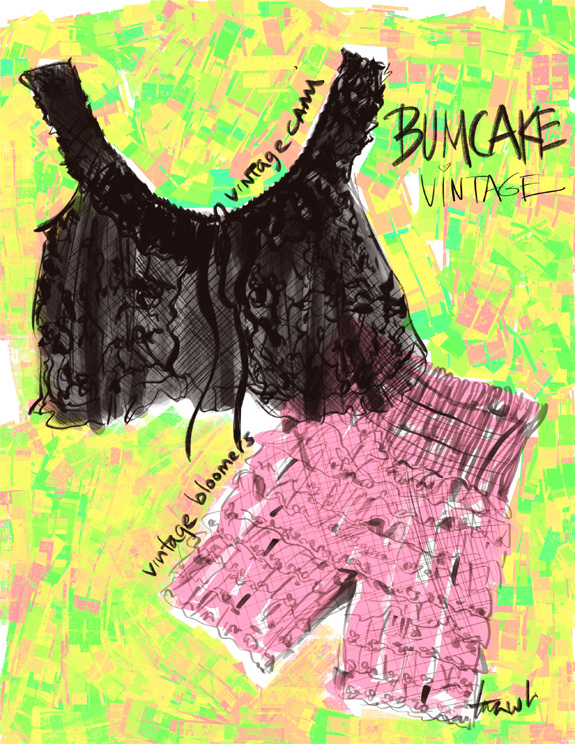 BumCake is a vintage resale site filled with lingerie from previous decades. I love the lacey bloomers, camis and chemises. They remind me of the lacey, ruffled, droopy concoctions that men and women  dangled from their necks, shoulders, cleavage and sleeves.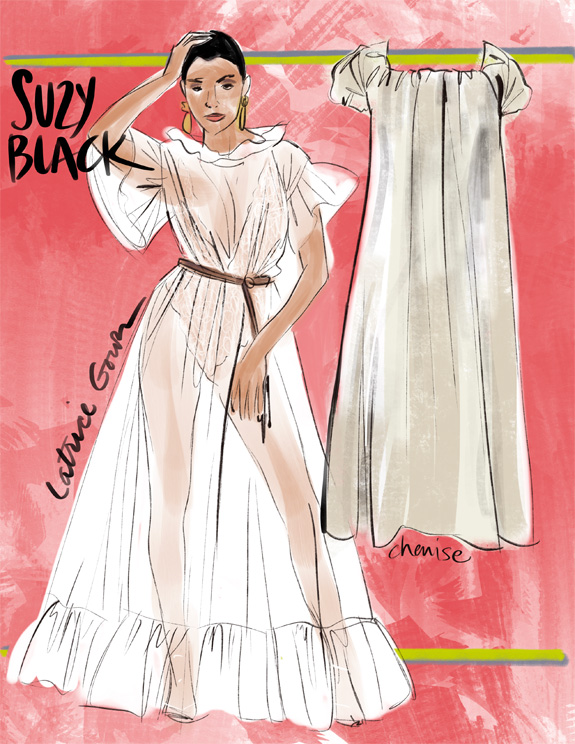 Chemises were used as a layer between the corset and the body, to prevent bruising and cuts from the always too tight corset. Modern chemises range from simple cotton sheaths to sleep in to sheer fluid dresses for a look of sexy leisure and fun like Suzy Black's Latrice Gown.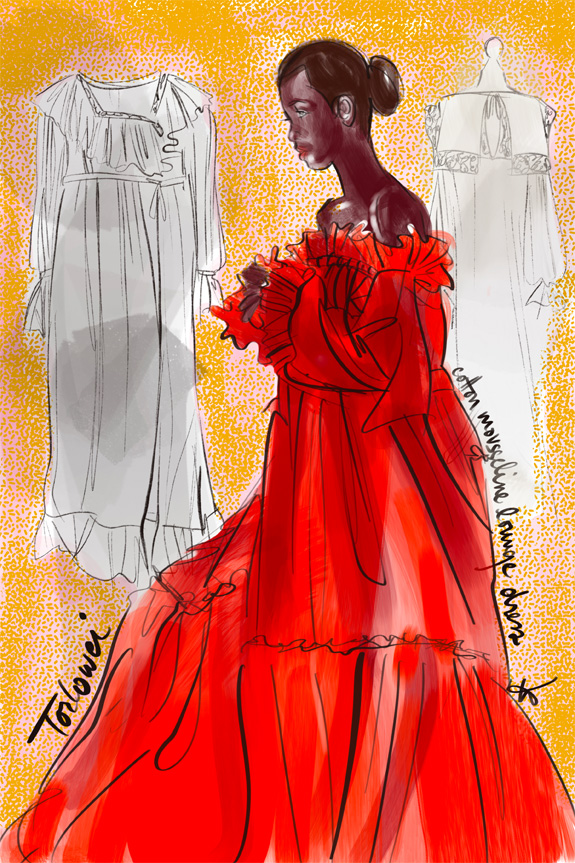 Dressing gowns and nightwear almost always appeared as white and frothy, and that still is a very popular and beautiful way to design sleepwear. Torlowei is a sustainable and timeless Nigerian brand and their Adaeze Cotton Mousseline Lounge Dress is exquisite. It's so..NOT me…but I want one, because it is red and it reeks of opulence, sensuality and self-care.
Peeling back the layers of history can reveal untold realities of accomplishments, heritage, generosity and cruelty. Perhaps the best way to acknowledge Black History is to delve into those realities and to learn the possibilities of other truths, different from the ones we have been 'taught'. It is not a month-long lesson but a lifetime one.
What is the accuracy of any recorded history when the records are kept by those in power since history was recorded? Queen Charlotte is often referred to as mixed heritage, had she been an average citizen she would have been Black. Knowledge is power…. Peace.
Tina