TéAmore ~ Full-Bust Decadence Arrives In the US
By ESTELLE PULESTON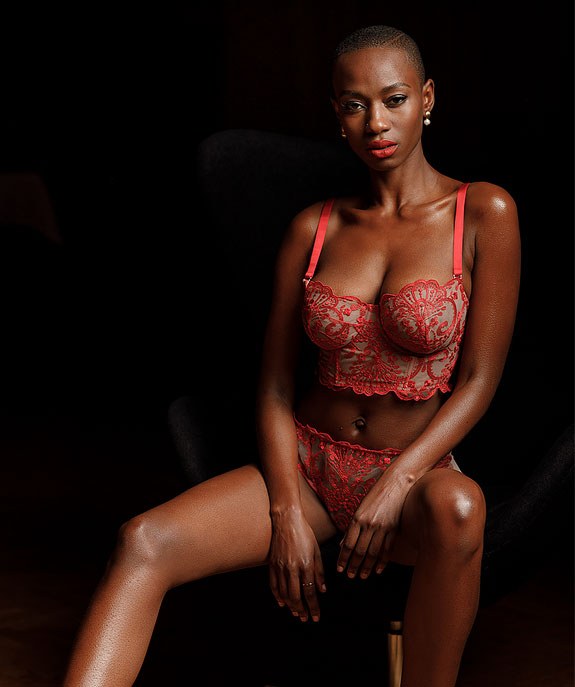 Since I first dipped my toes in the lingerie industry over a decade ago, the availability of fashion-forward options for full-busted customers has skyrocketed. But there's still one thing that's somewhat rare: true, unabashed luxury above a D cup. And of the brands that do cater to this niche, the majority are based in Europe. So what's a, say, H-cupped American to do if they want deluxe underpinnings that won't attract customs duty?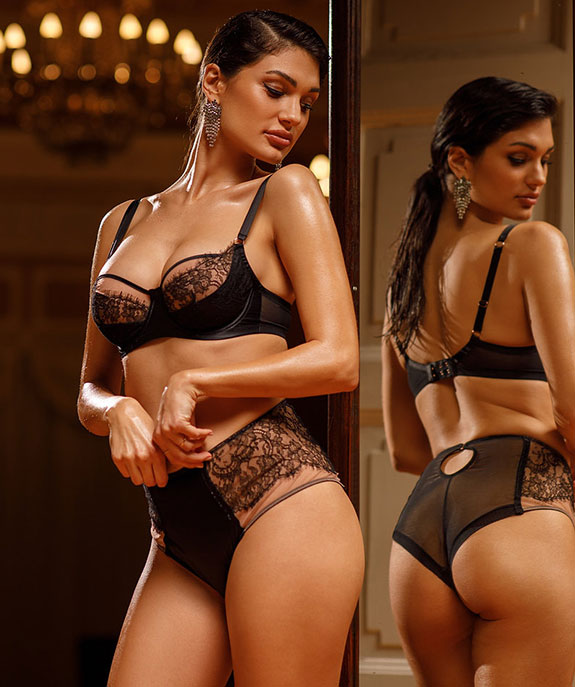 Enter TéAmore, a new independent brand which was founded by Téa York in California, and which is creating some of the most breathtakingly-beautiful lingerie that's currently available in a full-bust focused size range!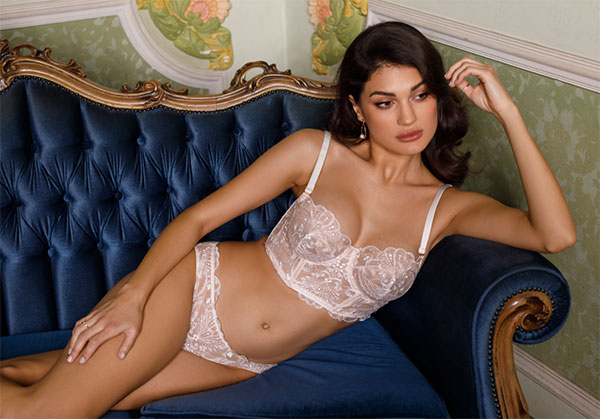 For Téa, the idea to launch a lingerie line of her own came after years of frustration over not being able to find what she wanted to buy. "I felt very misunderstood as a shopper," she explained, "…especially when a salesperson would try to convince me that the matronly looking bra that came in my size was sexy, just because it came in a black color. There was this belief that just because you have a larger bust, you must only be shopping for bras for comfort and support. That outdated idea just doesn't work for modern women".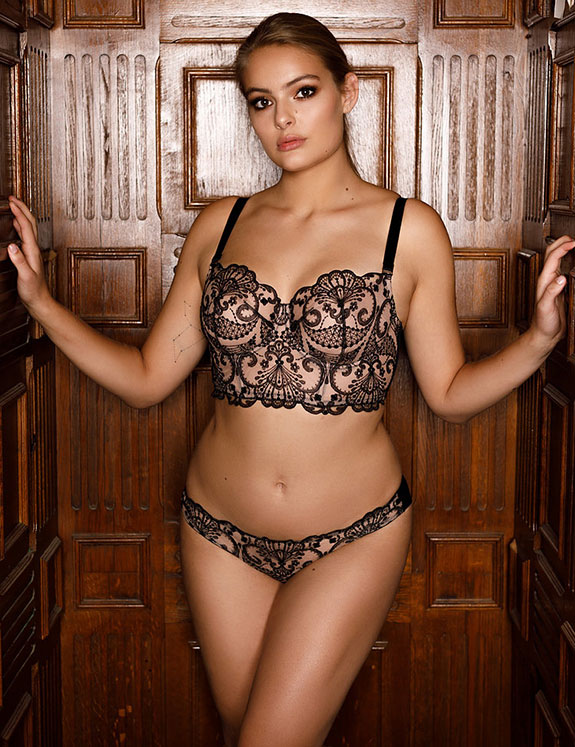 And so she set about creating a collection of intimates to fill this gap – pieces which were fabulously supportive, yes, but also awash with exquisite embroideries and sumptuous silks. She describes the TéAmore aesthetic as "timeless with a modern edge. It feels very French, somewhat decadent, but not pretentious".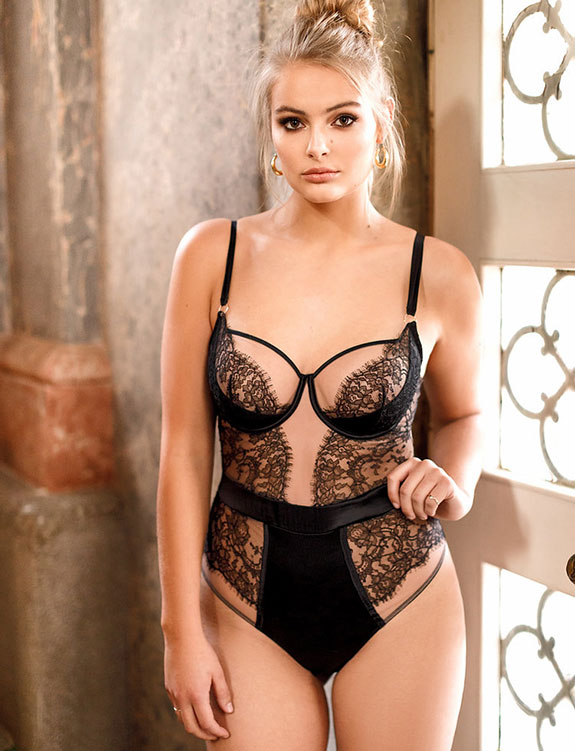 The debut collection is tightly-edited, offering two ranges that complement each other nicely – one a little more understated for low-key elegance, and the other a bold fashion look. The former is Dusk, a bra set and bodysuit in classic black which combine silk satin with fine Italian mesh and delicate French Leavers lace. The latter is Spotlight, a stunning bra set – available in either a balconette or longline shape – crafted from an arrestingly-beautiful French embroidery, and available in black or vibrant red. Both ranges incorporate silk-covered straps, and use hardware that has been dipped in 24k gold.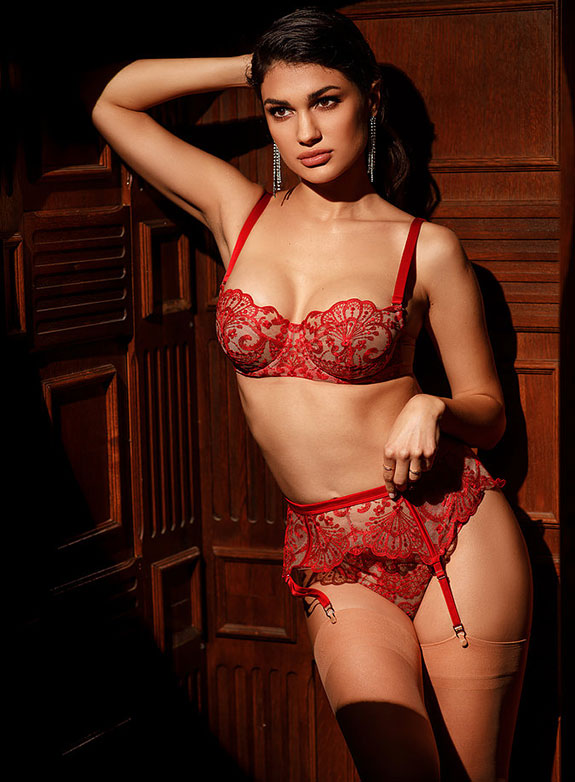 The TéAmore size range covers US 30-36 D-H and XS-XL, with prices running from $118 to $598. Having already been picked up by prestigious stockists such as Journelle, no small feat for a brand that launched at the beginning of the Covid-19 crisis, this exciting new label is proving what many of us who wear larger cup sizes already knew – that there is absolutely a market for fanciful, decadent underthings in those sizes, and not just in Europe!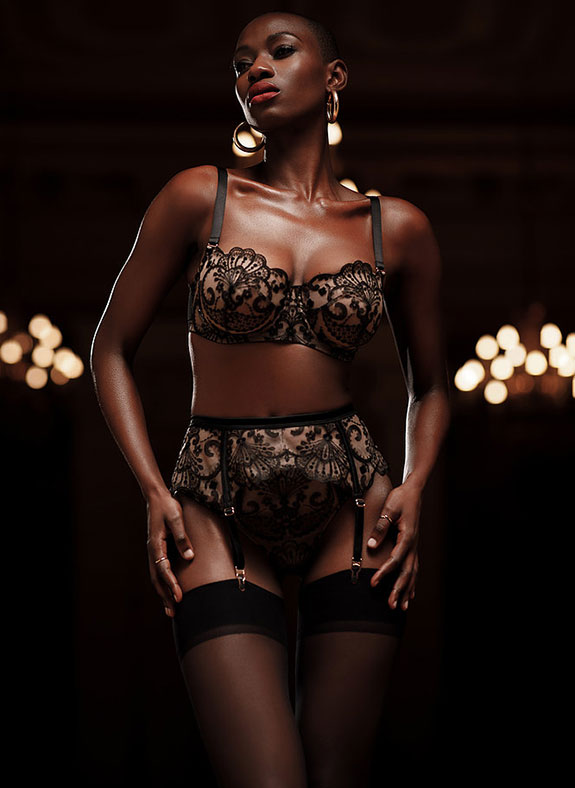 New TéAmore designs are due to drop both next month and later this year (we've included a preview of an upcoming color addition to the Spotlight range showcased here), and interested retailers can contact the brand to book a virtual showing now.
Contact information:
Website: https://www.teamorelingerie.com/