Edge of Beyond~ A Celebration of Color & Detail
By ESTELLE PULESTON
Founded in 2014, Edge o' Beyond is one of the most distinctive lingerie brands around. Not only is it known for its optional chain accessories which can be clipped onto almost every garment, but any luxury lingerie fan will also instantly recognize their signature style of distinctive shapes combined with deluxe and eye-catching fabrics.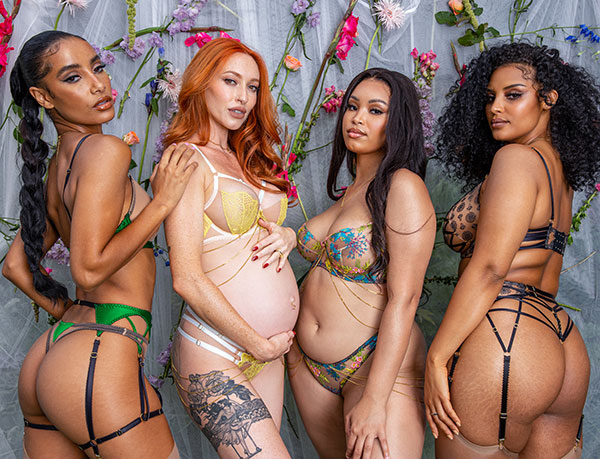 The latest collection, for Spring/Summer 2021, includes a mixture of reimagined customer favorites plus new designs to fall freshly in love with, and is described by the brand as "a celebration of vibrant color and detail".
The Tia range for example – which includes a choice of basque or bra set – offers up a sunshine yellow lace sewn onto ultra-sheer tulle, so that it appears in places to float across the skin. Zuzia meanwhile is a standout from the collection, rendered in a bold butterfly and flower embroidery that shines with summertime exuberance and whimsy.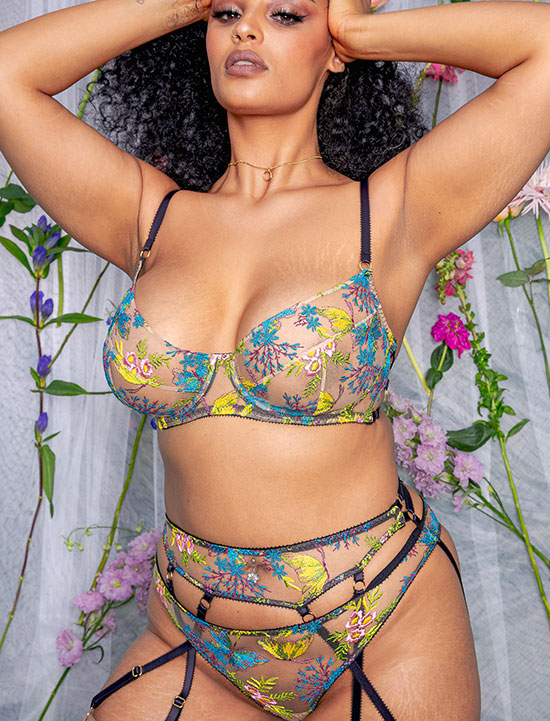 Prefer your lingerie in classic black? The shimmering Mima range blends elastic-strapped sides with lace-up illusion details, for a refreshingly different take on the 'strappy' trend. The bra set is a daring statement look in its own right, but becomes an absolute showstopper when paired with the figure-hugging and curve-enhancing matching skirt.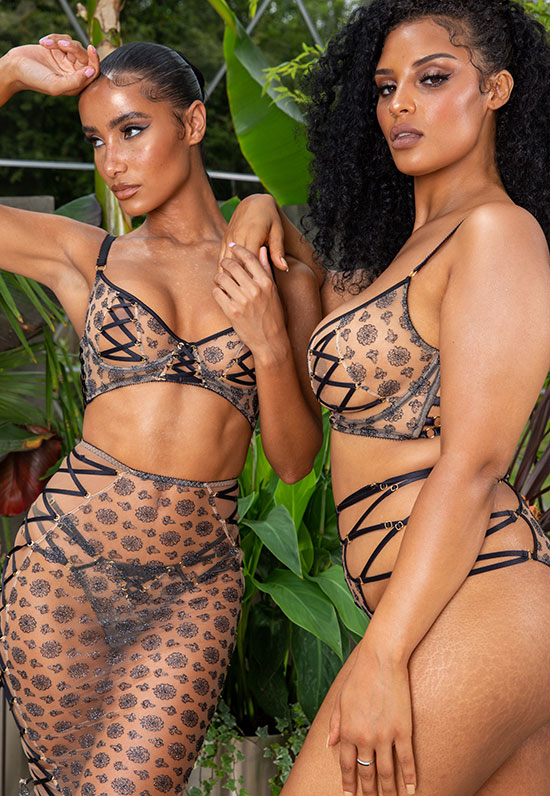 Also included in the collection are Adaora, a pastel-toned bra set with detachable strapping, and the rose-embroidered Charlotte (see above) in a choice of two customer-chosen colorways: one a luxurious gold, the other a romantic deep red.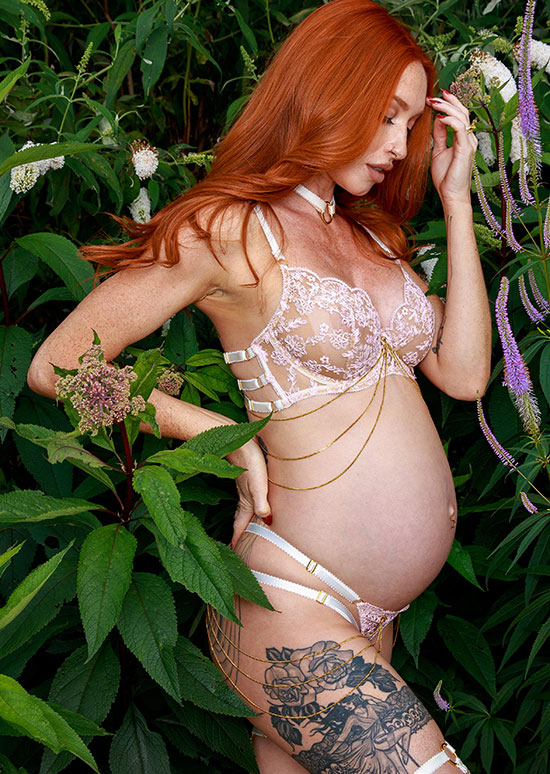 Perhaps the most striking look of all this season however is the emerald green, used across two ranges. Natasha is a cropped babydoll set that epitomizes the idea of 'loungerie' – lingerie to chill in. Its simple shape and relaxed fit not only allows for total comfort, but is the perfect way to show off the glossy sheen and striking color of this AAA-grade silk satin.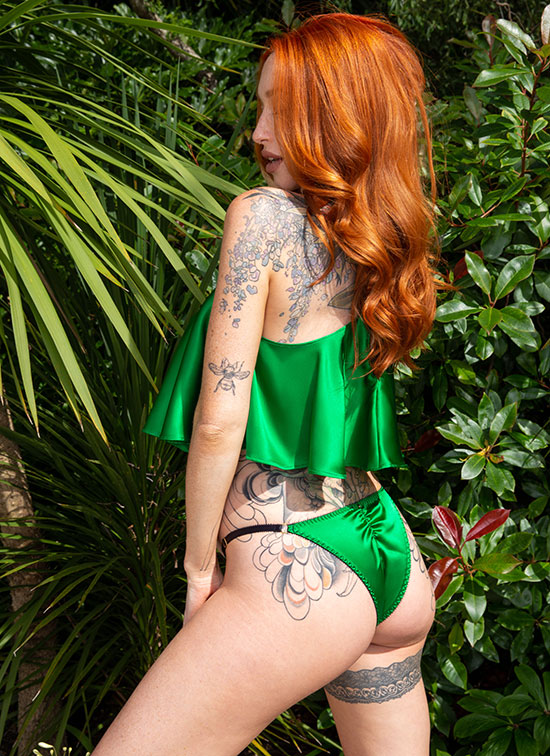 The Laura bra set meanwhile combines this vibrant silk with barely-there tulle, a pairing that is used to particularly dramatic effect on the bra where fully-sheer cups sit on an opaque cradle. The range also includes a so-sheer-it's-practically-invisible bodysuit with bold green trims around the edges. This minimalist touch is fairly new for Edge o' Beyond – first introduced with their electric blue Barbie range last season – and proves that they have not stopped innovating! These emerald items are also available in a softer lilac.
Alongside the lingerie, this summery collection naturally includes a few additions to their swimwear line: Zoe, a semi-frontless one-piece with large rings down the side; Mayura, an off-shoulder bikini with a lace-up back; and Angeli, a high-leg bikini with multiple ring details at the front and back.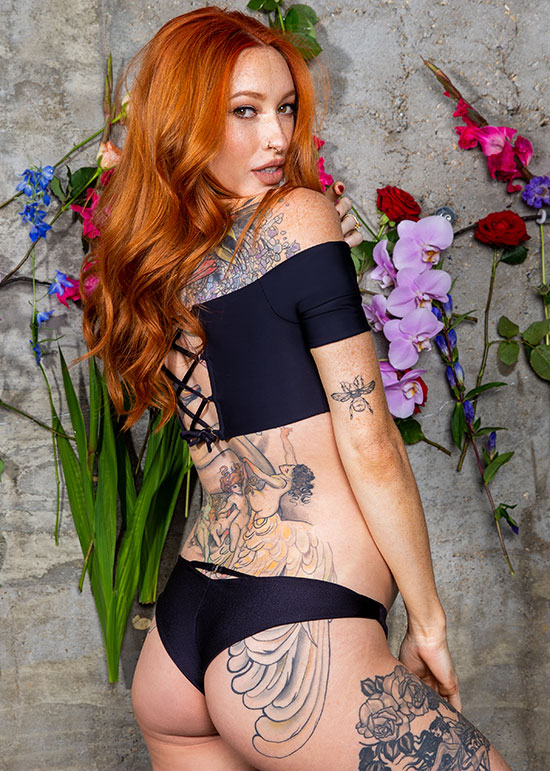 Edge o' Beyond are not only introducing new designs for SS21, but new sizes too. As of this season, they'll be offering sizes XS-2XL plus adjustable bra sizes that cover 30-36 AAA-H (US 30-36 AAA-K). All items are ethically and sustainably produced in Wales, UK, and ship in eco-conscious packaging.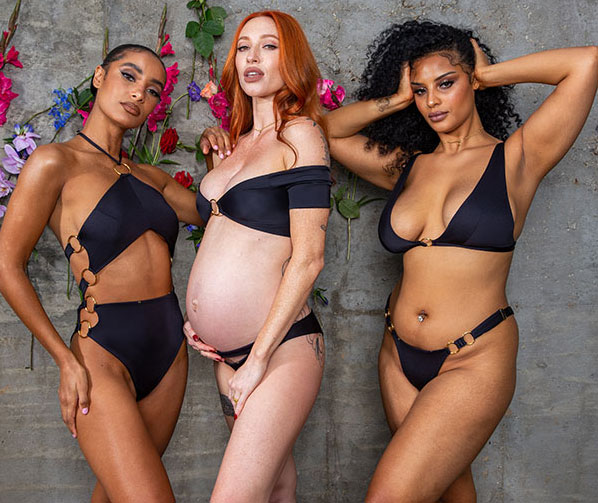 Contact information:
Website: https://www.edgeobeyond.com/
Instagram: @edgeobeyond
Email: hello@edgeobeyond.com