Toru & Naoko ~ Chic, Comfy, Climate Neutral Intimates
By ESTELLE PULESTON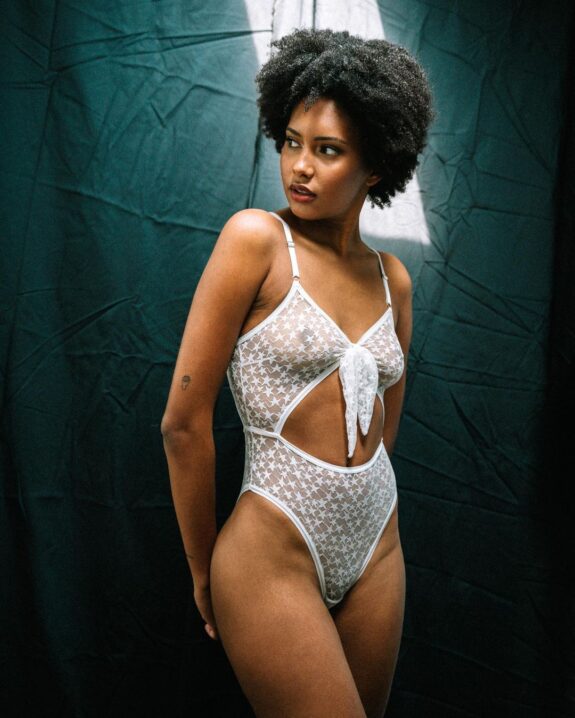 Toru & Naoko is one of the indie brands I've been following the longest; I purchased a set from them shortly after they launched in 2014, and have watched the brand evolve from a small Etsy store to an established business within the lingerie industry. And all the while staying true to its original aesthetic. The Kelly bralette I bought is still available, albeit in updated fabrics.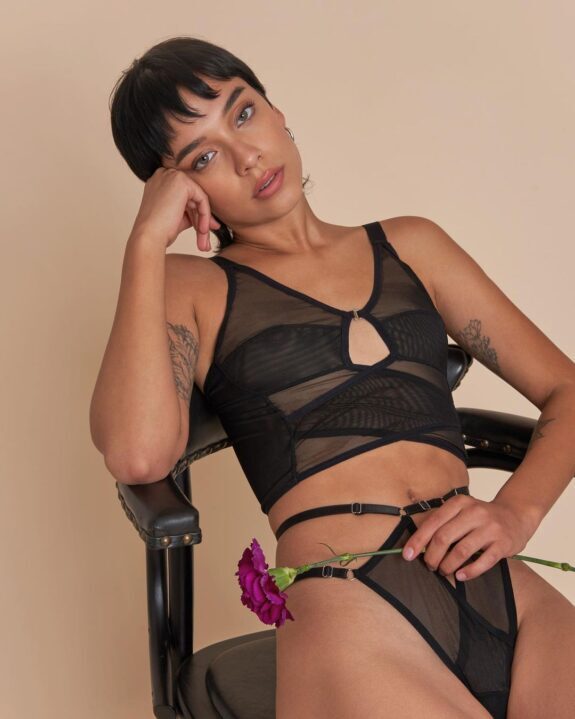 That Toru & Naoko look is all about sheer mesh and soft stretch lace, a (frequently) monochrome color palette, and playing with overlapping panels and negative space to create new and intriguing shapes. A brand bestseller, the Kelly bralette I mentioned is a wraparound style that leads to an unusual 'double band' look at the back. Also popular is the newer Cross Your Heart longline which uses overlapping panels to form a geometric mix of sheer and semi-opaque sections.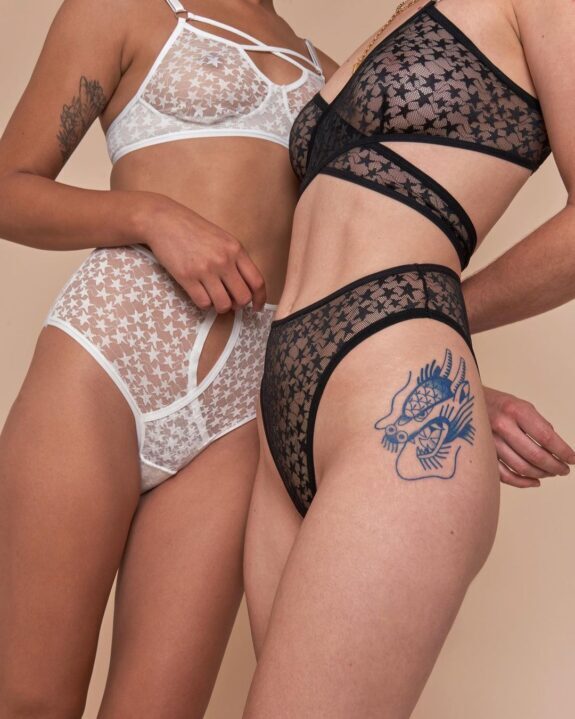 The brand is owned and run by Camila Leguizamón, an Argentinian photographer and fashion school graduate who previously taught sewing and pattern-making. After moving to Chile, she made the switch to designing lingerie. "I love the craft and detail behind it." she told me, "Fabric is always the starting point, finding one I like and then creating a story that can be told through lines, cut outs and panels."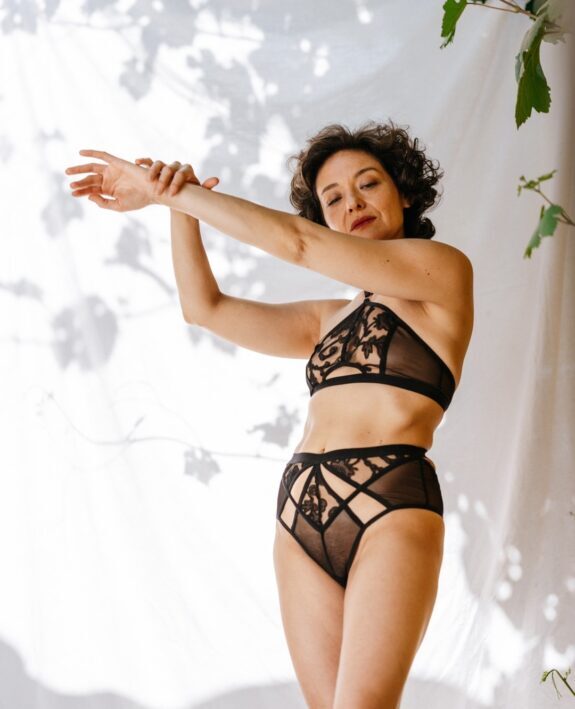 She currently runs the brand from a specially-built home studio, with the help of one teammate. Between them, they design, sew, and even photograph every item the brand produces – for Camila, it's the perfect combination of her two creative passions, design and photography.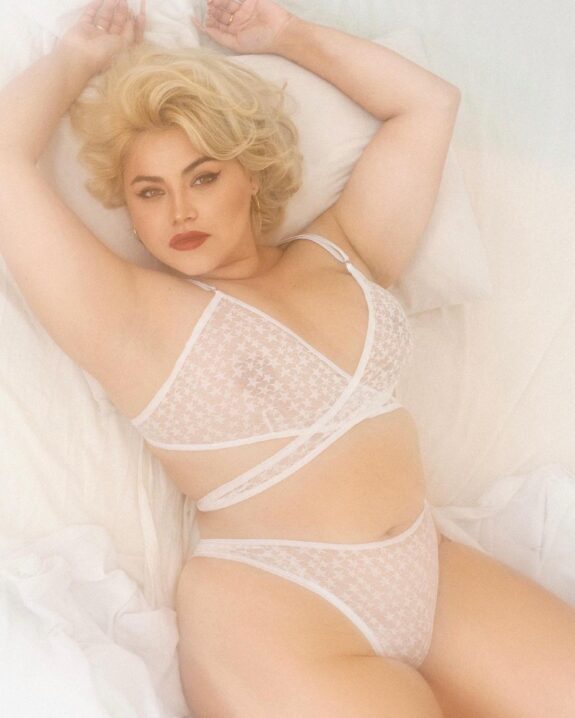 However, juggling so many different tasks does come with its downsides, and Toru & Naoko went on a semi-hiatus earlier this year after she found herself feeling too burned out. But she couldn't stay away from the intimate's scene for long! "I decided to relaunch because I love Toru & Naoko, it's a part of me, but I'm hoping to take things slower this time," Camila explained, "It's not about growing so much this time, it's about being true to my values and the things I want my brand to represent."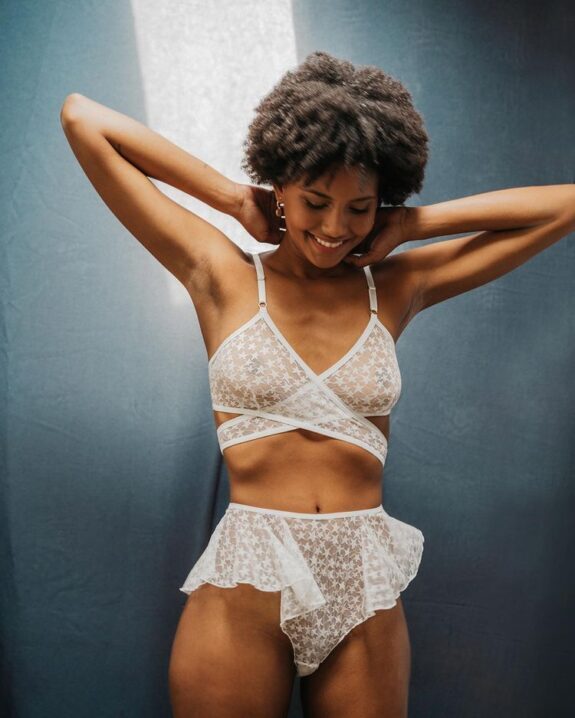 And what does Toru & Naoko represent? Well, back in April I received a newsletter announcing that her label had become "the first climate-neutral certified lingerie brand". The business now purchases carbon credits from a range of projects focused on conserving forest ecosystems, alongside other sustainable initiatives such as using recycled cotton packaging bags and keeping its sourcing as local as possible.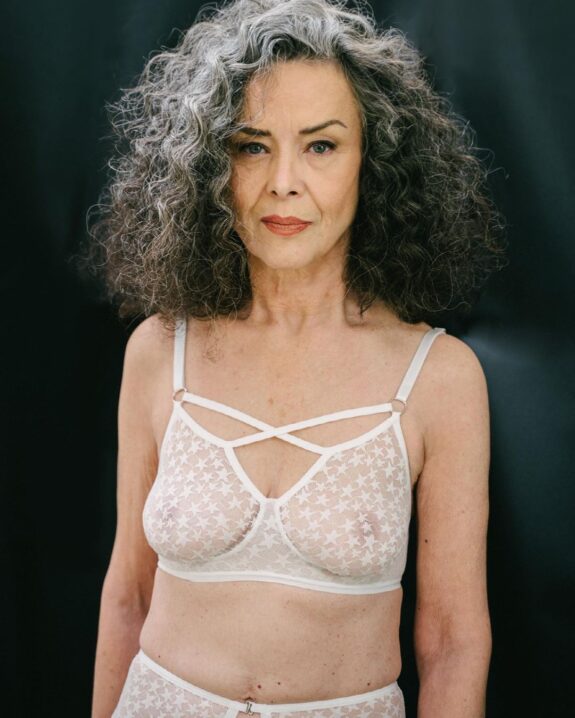 And though Camila didn't mention it when we spoke, it also seems that Toru & Naoko is aiming to promote diversity – they are one of the very few lingerie brands I've seen using older models for example, something that is unfortunately still a rarity in the world of lingerie and fashion in general.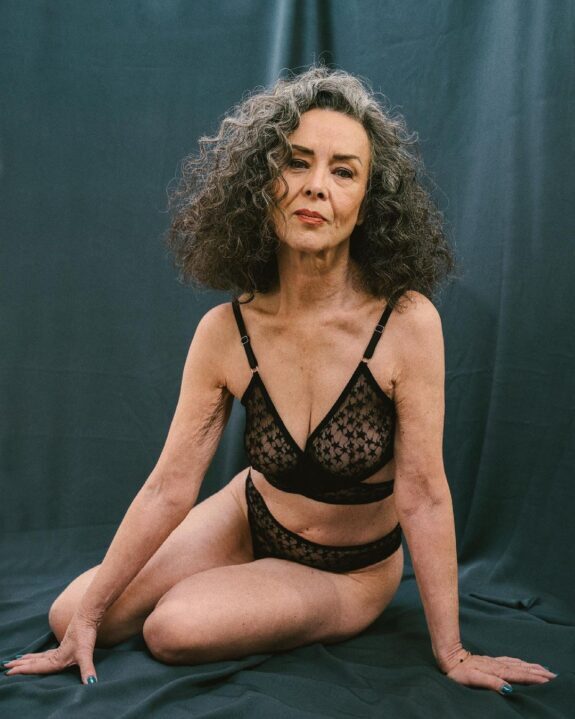 Garment sizing runs from XS-2XL, with flexible-fit underwire bras covering 30B-38C. Currently, all items are made to order, although Camila hopes to be able to hold small quantities of stock in the future to cut down on wait times. In the current collection, bras are priced at $56-85, bottoms $50-65, and bodysuits $98.
Contact information:
Website: https://www.toruandnaoko.com/
Instagram: @toruandnaoko
Email: info@toruandnaoko.com