Eco-responsibility by Iluna Group – Newest Certified Sustainable Yarns & Prints
By ASI EFROS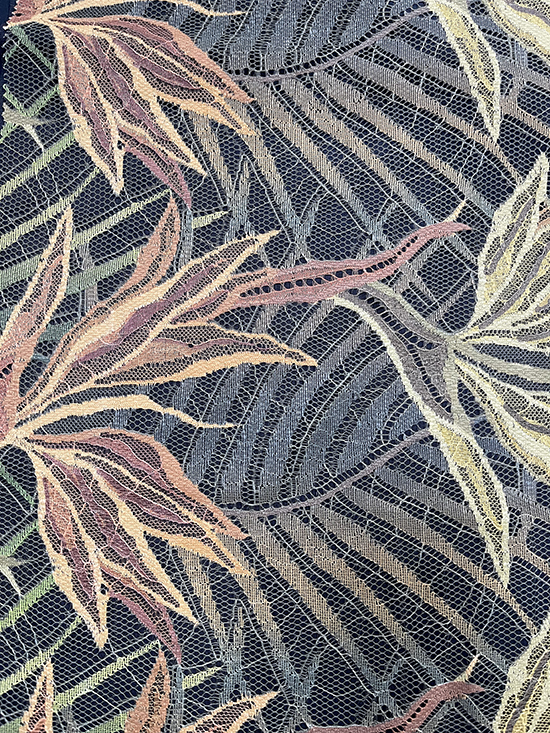 Based in Cuggiono, Italy, the Iluna Group has been a beacon of innovation and the first lace and hosiery manufacturer to implement the latest triumphs of technology and material science. Iluna's continuous progress in efficiency, eco-responsibility, aesthetics, and quality has won the company the attention and recognition of the intimate apparel community.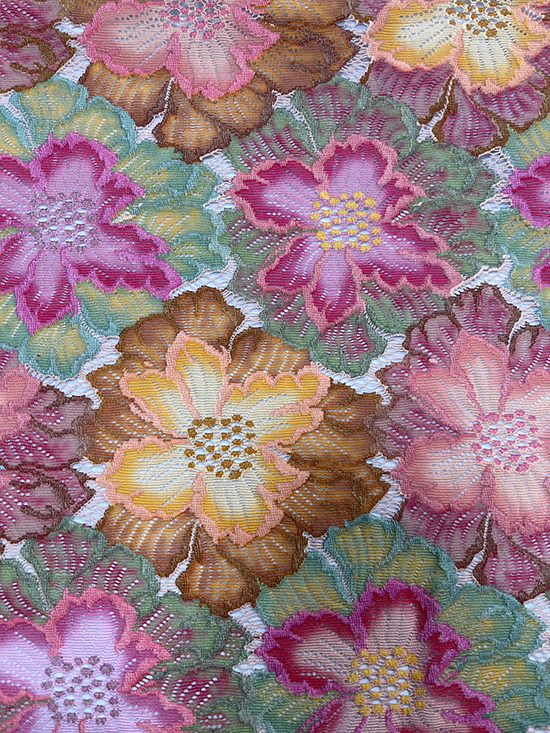 Register printing with GOTS certification 
On July 6, 2021, at the Milano Unica fair, Iluna debuts the newest yarn, GRS certified and developed with 50% pre-consumer waste materials, which is now available in translucent and shiny form. This innovation greatly extends the range of GRS yarns, previously only available as opaque, and opens a space for imaginative and brilliant design.
At the fair, Iluna also unveils a collection of brightly colored laces printed by utilizing two sustainable and certified techniques; sublimation transfer, carrying the Global Recycle Standard (GRS) certification, and certified by Global Organic Textile Standard (GOTS), register technique.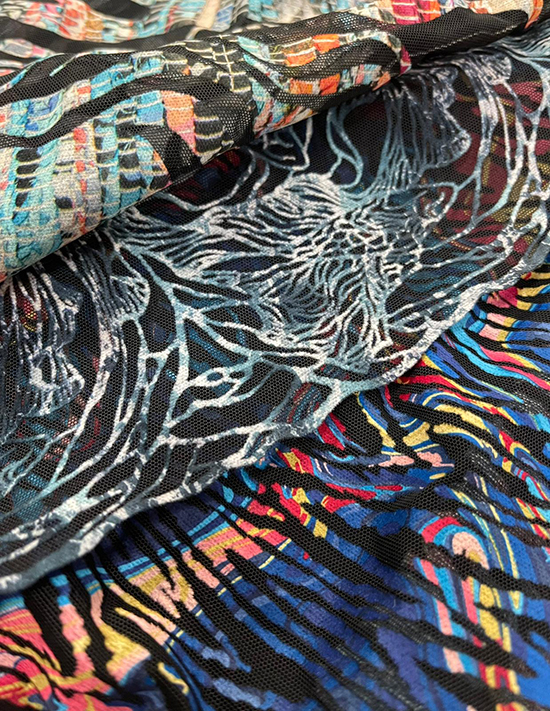 Sublimation transfer printing GRS certified 
These inventions add yet another layer to Iluna's proven record of performance and environmental awareness.
The Iluna Group was founded in 1969 by Luigi Annovazzi to manufacture pre-shaped bra cups. In 1985 Iluna acquired the Ondoli di Cuggiono plant, specializing in the production of stretch lace, which subsequently became a valued alternative to the French Leavers. The products, which currently constitute the group's core business, are stretch and rigid lace for underwear, corsetry, hosiery, beachwear, and apparel. The company also develops microfiber fabric and tulle as well as seamless products that utilize the Karl Mayer technology.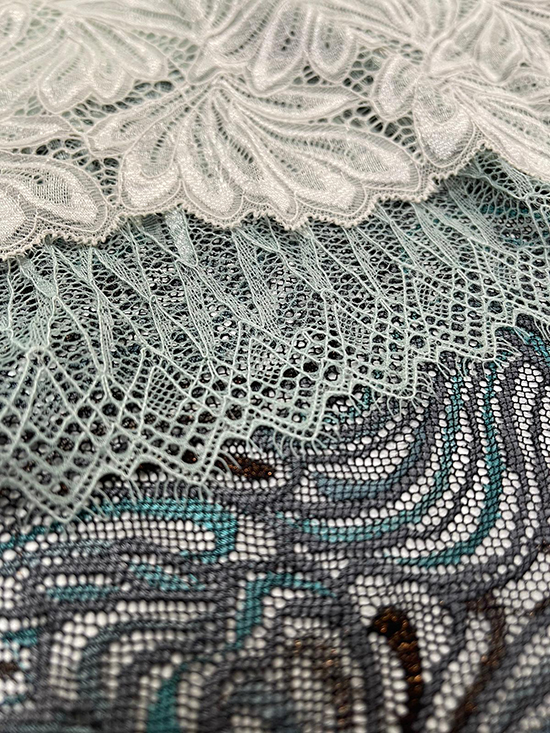 Iluna Group, FW 22/23, Fluid. 
The addition of the Iluna Lab has made possible the latest technological and stylistic innovations. One of them is a well-known Black Label series, a collection of ultra-fine laces, including eyelash galloons that are highly revered by the lingerie design community.
The Green Label features new stretch laces fully made with GRS certified recycled materials, including the elastic threads from the ROICA™ Eco-Smart family, a sustainable yarn by Asahi Kasei Corporation.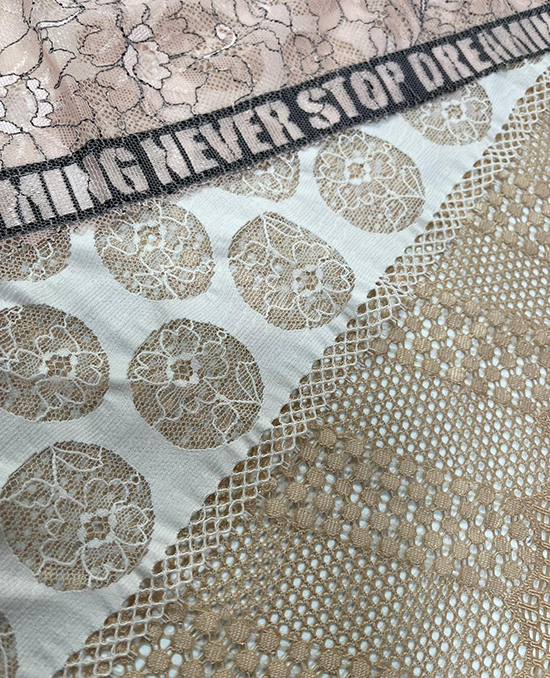 Iluna Group, FW 22/23, Serendipity.
Iluna's FW 22-23 collection brings to light Fluid, a lace range inspired by the abstract art of Alexander Calder, Serendipity, a group that celebrates comfort and inclusion, and Badass, the most sensuous line of laces with strong graphic design. 
Every rendezvous with the Iluna Group, whether virtual or in-person, is an inspiring, mind-opening, and thought-provoking experience.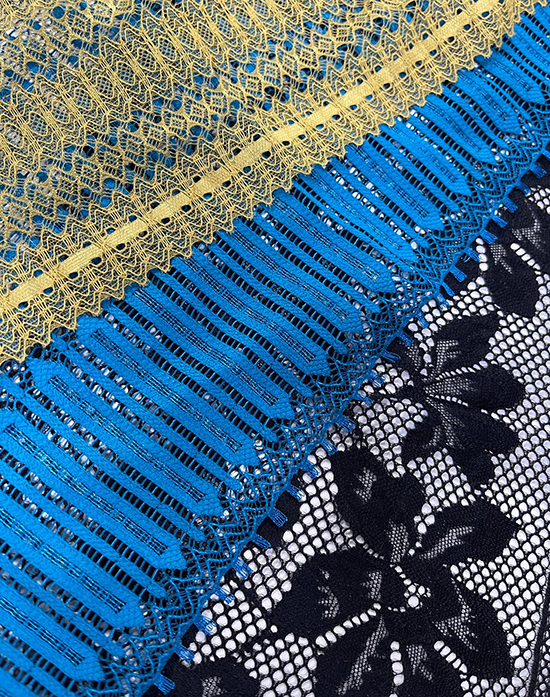 Iluna Group, FW 22/23, Badass
Learn more about the company and its innovative products at www.iluna.com.
Contact:
Iluna Group
Brigitte Cavallero: brigitte.cavallero@iluna.com
Tel: +39 02 97242601
GB Network  press@gbnetwork.eu
Tel: +39 02 97242601