Almost Braless
By LINDA DYETT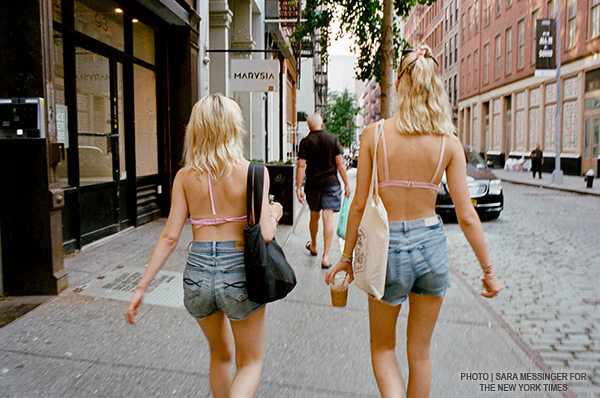 I live in the East Village—notorious for its (fantastic) restaurants, its quirky little retail businesses (a goodly number of which, including Azeleas, the lingerie shop, have survived the shutdown), and the hordes of NYU, Cooper Union, St. John's, and New School students, as well as the oddball artists, designers, and freelancers who occupy the neighborhood. This area, like Bushwick and Williamsburg, is something of a style bellwether. So when I began noticing dozens of girls and women walking around braless beneath their slip dresses (accessorized with Doc Martens boots), their cropped T-shirts inside baggy overalls, and their oversize vintage dresses, I recognized it as a trend. Even larger, pendulous breasts—D-size and up, I'd guess—were in on it.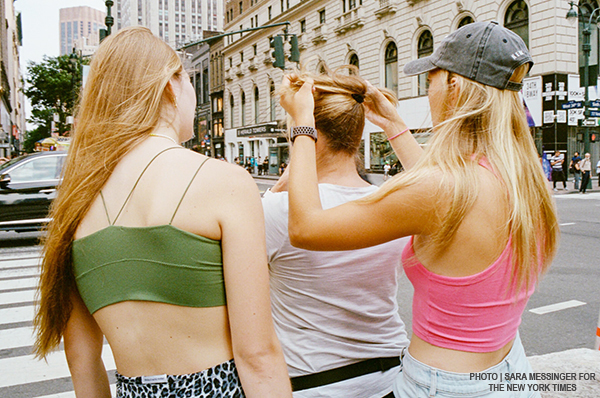 This new direction makes sense. The rampant bralette movement of recent seasons primed women to seek a kinder, gentler decolletage. Going braless from there wasn't a major leap. I also see it as a brazen rebuke to all those Stepford-esque molded T-shirt bras that've dominated the market in recent years.
Others witnessing this phenomenon agree that bras are no longer part of the wardrobe of certain woke women—the latter-day feminists, the Me Too adherents who no longer shave their armpits.
In fact, this 2020s style direction ties in with the findings of a just-published New York Times article documenting the rampant new public nudity, with "people running around half-naked". Here's the link
It helps that the erogenous zone has lately moved away from the breasts to … the rear end, (thanks in no small part to the Kardashians. What do you think all those skin-tight leggings are all about, readers?) So at last the breasts can take it easy; no longer do they have to perform with push-ups or be coaxed into shape by balconettes, underwires, or foam contouring. Added cleavage? Not necessary. For a certain population segment, those artifices have become relics—they're passé.
So here we have a new approach to lingerie–of the lack thereof—for city cognoscenti, at least.
But as for the rest of the country? OK, it's time for a reality check. The vast majority of females aren't going to give up their bras. No way. But a number of women are going to want to approximate the unfettered, low-slung, nipple-baring, who-gives-a-damn look, if not bralessness itself. Which raises a question: what kinds of bras will they wear?
For a response, I contacted a couple of industry experts: Gale Epstein is one. She's co-founder and partner of Hanky Panky, which, since its start in 1977, has steered away from heavily constructed bras. Epstein agrees about the braless trend, adding that it's a Covid cultural carryover—with the accompanying drive for comfort—and it's also evidence that 21st century body-positivity is alive and thriving.
The idea, Epstein said, is for each woman "to look totally unique, without the need to conform."
Already appearing on the market are a number of soft bras with a built-in, almost-not-there appeal. The presence of these bras echoes what happened in the aftermath of the bra burning '60s and the ban-the-bra early '70s. I refer to Lily of France's sheer, stretchy, minimalist, wildly popular John Kloss Glossies bra, introduced in 1974. Thanks to underwires, it offered uplift, but its sheerness hinted at nudity.
Today, we've got lots more choices.
Epstein points to two bra styles in particular that provide coverage and a bare minimum of shaping, letting the breasts lean however they're going to lean, with some degree of jiggle. One style, she proposes, is the triangle, "with non-binding, minimal support, for a natural look."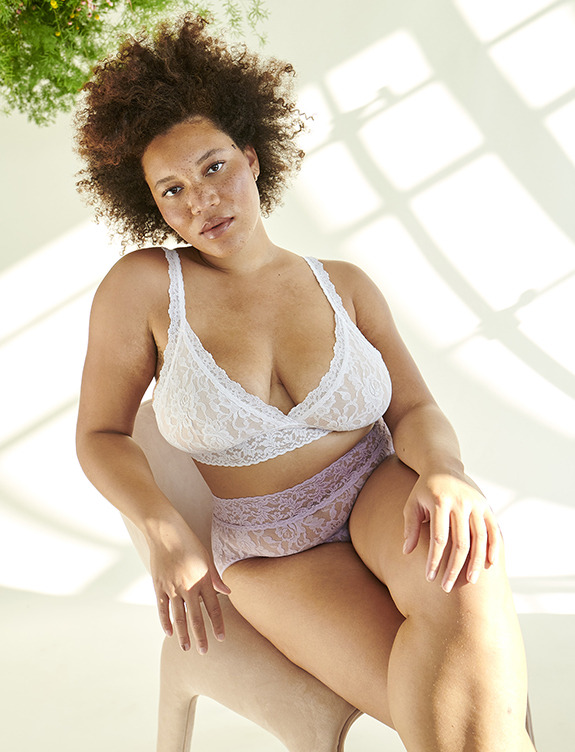 Deborah Marquit, the other lingerie designer I contacted, points to "the sensuality of triangle bra styles, especially for smaller sizes. It provides shaping and lift with a kind of relaxed sophistication. For women who may prefer not to wear a bra, triangle-shape bras provide some character and style to an innerwear wardrobe, while still feeling very bare."
The other minimalist bra style is the bandeau. Non- or nominally shaped, maybe with small darts, it derives whatever support it offers from being stretchy or worn tight against the skin. Today's bandeaus aren't all that different from the women's sports tops worn in Ancient Minoan culture.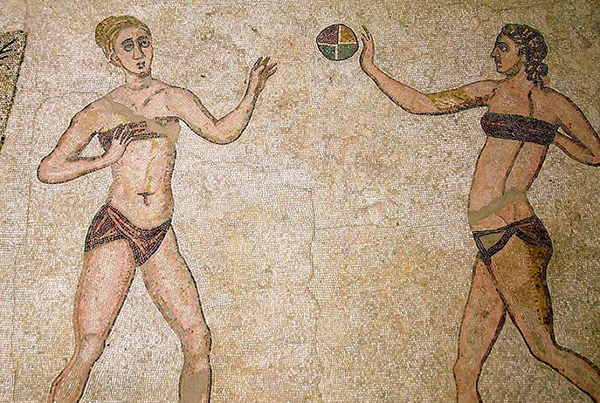 Below are stellar examples of extra-easygoing bras, mostly triangles and bandeaus, now on the market. Inspired by sports bras, many are pull-ons, either sheer (sometimes ultra-sheer) or very lightweight, and almost all are sized numerically, 1, 2, 3, 4, 5, 6 and above, or ExS-2-ExL Traditional A B C cup sizing—that's pretty much gone by the wayside for these stretchy styles that adjust to the breasts—rather than vice versa.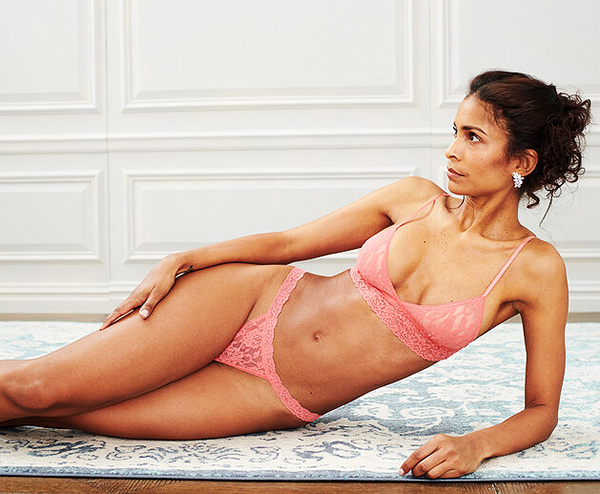 Hanky Panky Signature Lace Triangle Bralette.  A pull-on, made of the nylon-spandex lace Hanky Panky is famous for. Unlined, as here, the lace is especially see-through, for extra appeal. An underband gives a bit of support, but the breasts are free to take any sideway shape or angle they choose. The Hanky Panky Signature Lace Crossover Bralette, (shown a few images above in burgundy) a similar style with wider lace trim is especially wearable for larger breasts. Epstein suggests it can accommodate up to D cups.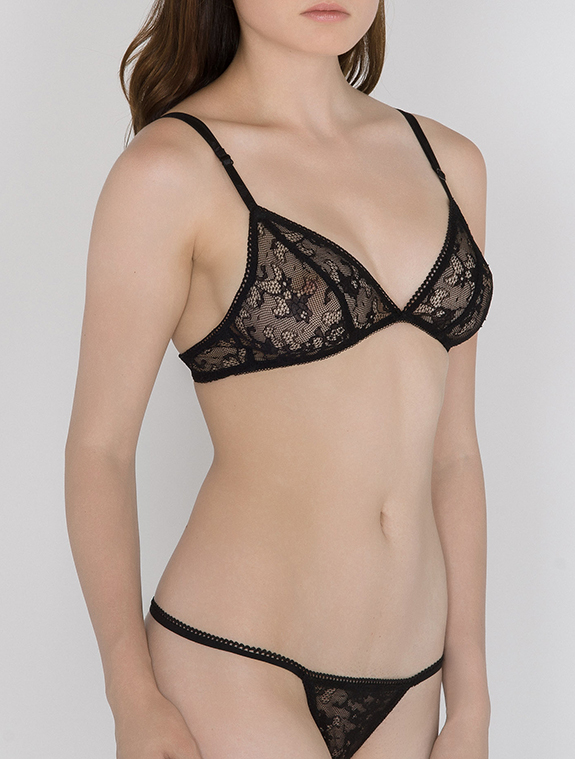 Deborah Marquit Ballet Triangle Bra. It's hand-cut, hand-sewn, and alpha-numerically sized 30A – 38C, with a vertical seam extending from the straps down the cups to a narrow under-band. Available in three fabrics: sheer French tulle, classic lace, and Persian lace—all 100% nylon. The tulle colors include Marquit's signature fluorescents. I love the idea of wearing that bra in fluorescent pink or turquoise beneath an oversize white cotton lawn men's shirt.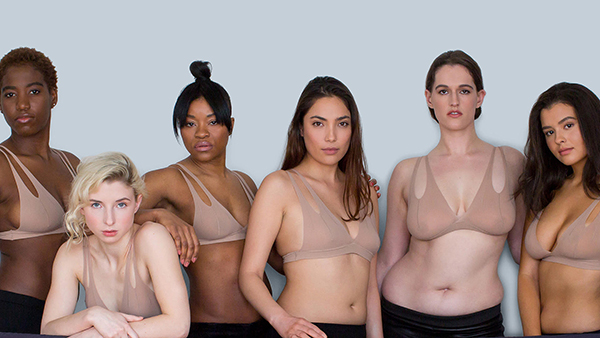 Nuudii Tee System. So formless, it almost disappears. Like a nylon stocking, but even softer, this one crumples into almost nothing in the palm of the hand. That's how unbelievably featherweight this visionary 1.5 oz. re-take of the traditional bra is. But from what I've seen, it fans out to cover even D and larger cups. Hardware-free, and cut from a continuous piece of 360-degree stretch nylon, it's said to cradle the breasts from underneath, hugging their natural shape. Double straps–essential to its design, are cross-able in a dozen and counting ways, permitting versatile styling that can become part of an outerwear look. In fact, the straps are technically strips that extend from the body of this bra.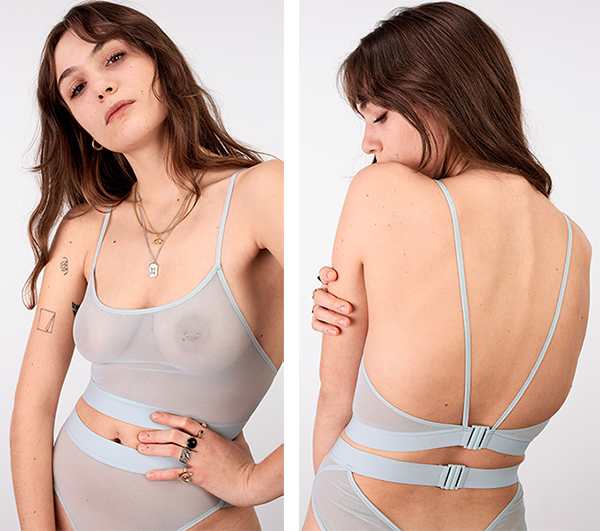 La Fille d'O Land Slide. In polyamide-elastane tulle, this one is so sheer, it approximates nudity. Long-line and shaped like a cut-off leotard, it has narrow straps that are angled inward to meet at the back closure. The Land Slide is just one of many super-modern, super-chic, meant-to-be-seen La Fille d'O bras that give the breasts license to express themselves.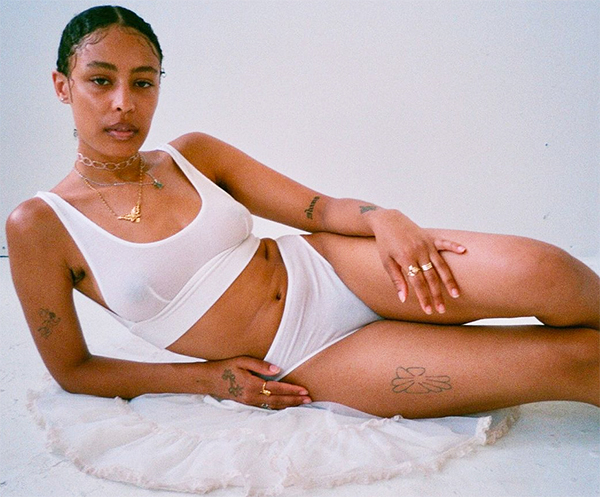 Only Hearts Feather Weight Rib 2-Ply Tank Bralette. A frill-free Tencel-spandex scoop-neck pull-on with wide straps and a generous under-band. It looks like a sports bra, but is a lot less confining. There are those who'll automatically wear this one uncovered.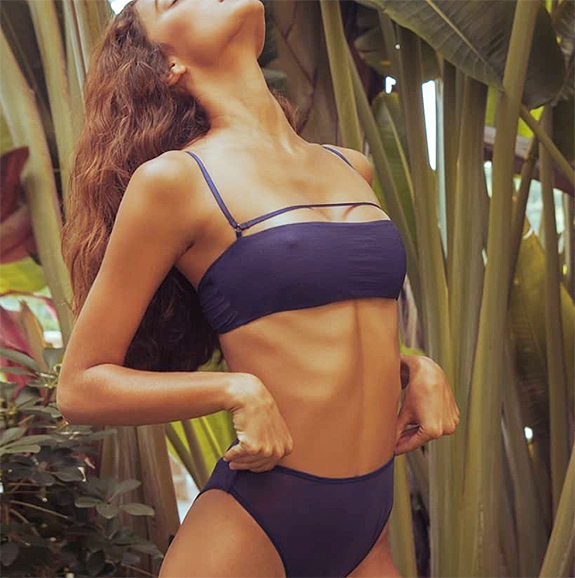 Marika Vera Demi Bandeau. The word demi is right. This minimalist statement bandeau, with a gold clasp at the back, is a narrow, frill-free stretch of polyester with an elegant strip of fabric above it that crosses the chest—more for design than for support, I'm guessing. The straps are linguine-thin. Definitely meant to be seen.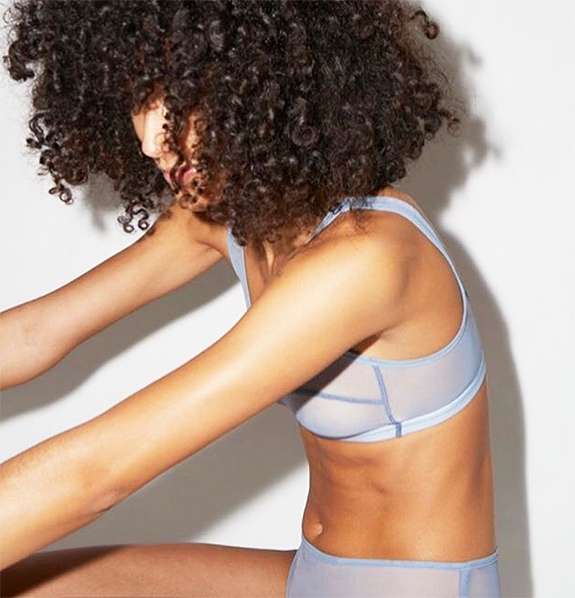 Simone Wild Net Lingerie Top. A pull-on in nylon-polyamide-elastane, with a tank-top cut at the top and a very sexy horizontal seam spanning the cups, crossing the nipples.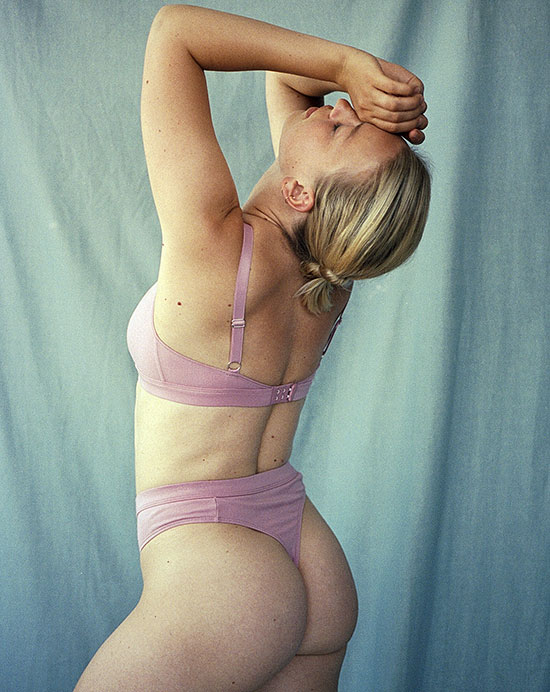 Moons & Junes Juno. A cotton-elastane scoop-neck bandeau with adjustable straps, a back closure, and a soft fit that custom-contours to each body. It's so sporty looking that it's being worn directly beneath blazers and cardigans.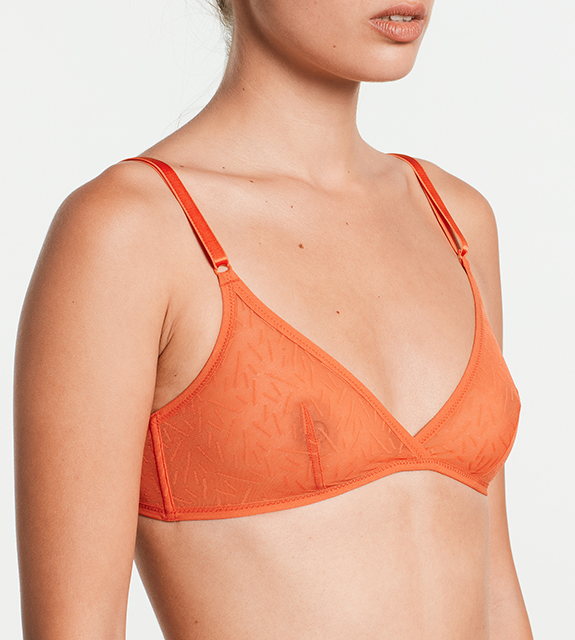 Yasmine Eslami Elisa Embroidered Stretch-Tulle Soft-Cup Triangle Bra. Pared-down but in a lush geometric jacquard stretch tulle, with a front-and-center seam offering a bit of contour.
Based in New York, Linda Dyett is a long-time writer and editor. A regular Lingerie Briefs' contributor, her articles have also appeared in the New York Times, Washington Post, Monocle, L'Officiel, New York magazine (and its Strategist website), Afar, and many other publications and websites.