Embrago – Bra-Free Clothing For Women With Full Busts
By ASI EFROS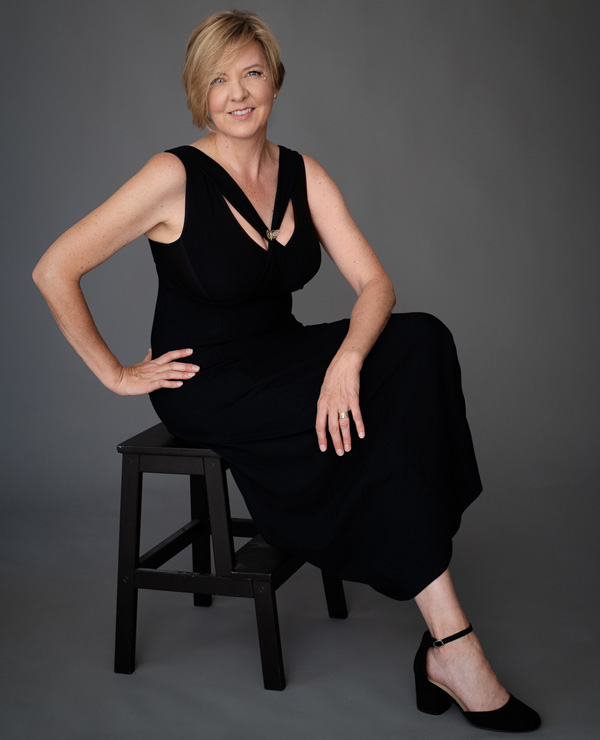 Karen Poirier in Embrago™ Ultimate Dress – Princess Version
Embrago™ introduces a conceptually new hybridized way of dressing that doesn't involve a bra. What drives the design and construction of the brand is an uncompromising commitment to three pillars: SUPPORT + COMFORT + STYLE, all at once and specifically designed for women with fuller busts.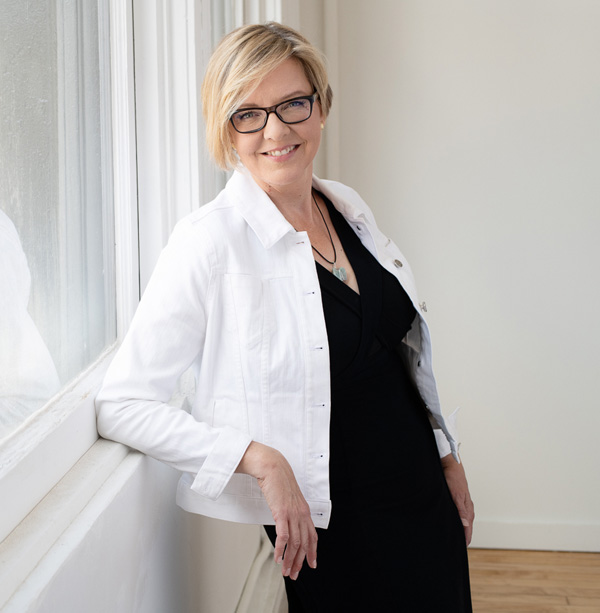 Karen Poirier in Embrago™ Ultimate Dress – Princess Version
Karen Poirier, the designer behind the brand, has spent the last 10 years spearheading the research, development, and wear-testing of her patented system specifically engineered for women with larger breasts. This is what  Karen shared with me about WHY she created Embrago™.
"The heart and soul of this brand is about having compassion for women's curves. So many full-busted women feel bad about their bodies – whether they are young girls struggling with being larger than everyone else, or mid-life mature women whose bodies are getting softer and saggier, or women of any age who struggle with the constant and often unwanted attention that large breasts draw.

Our culture is always telling them they are "too big" or "too soft" or "too round" and that they need to strap it down, minimize it, shape it, harness it, stop it from moving around so much. Or conversely, oversexualizing it and telling them that they should flaunt it. Either way, it's preventing women from just being seen and appreciated for their own distinct selves and their own unique feminine beauty. That translates to a lot of self-esteem issues, shame, and lack of confidence. Embrago™ is the brand that cares enough to give the time, effort, and attention – ultimately, respect – to a full-busted woman's body, giving her what she deserves from fashion: comfort, wearability, and effortless elegance that complements her curves while treating them gently and compassionately so that her personality and soul – and not her bust size — is what people see and remember."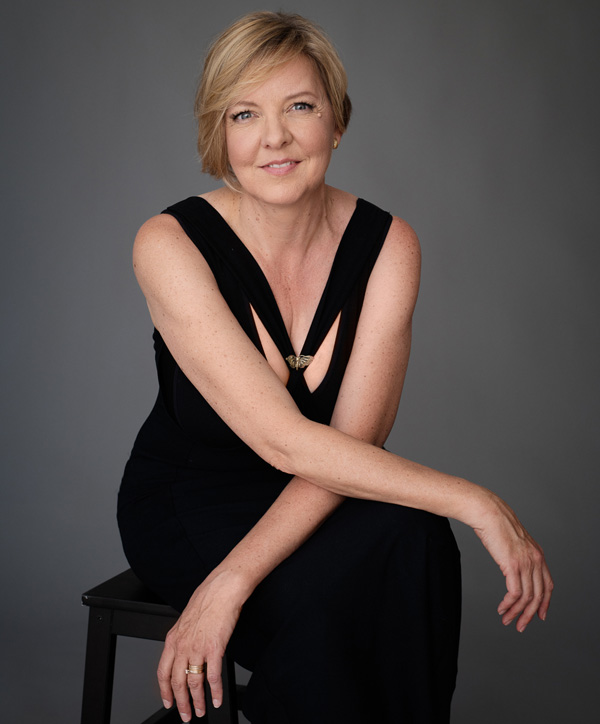 Karen Poirier in Embrago™ Ultimate Dress – Princess Version
Like many women in their 40's, Karen managed a busy personal and family schedule, working a demanding full-time job, raising two children, and caring for her elderly parents. "I was under so many demands! I felt that I barely had time to get dressed some days," remembers Karen.
"I had always been full-busted, and the combined years of life, babies, and hormones resulted in less firmness and a need for more support in general. Ever since my pregnancies, I have had issues with wearing anything too tight around my rib cage and upper stomach area. On top of that, with getting older and working years at a desk job, I also had shoulder and neck pain issues that were aggravated by full support bras," explains Karen.
It was around that time that Karen had envisioned a conceptually new piece of clothing that was comfy enough to sleep in, and elegant enough to wear in front of family and houseguests. Something that would be appropriate to have on while running out to the school bus, answering the door, practicing yoga, stopping at the store, working from home or the office, or going out with friends, all without needing a full bra-and-clothing change for every task and role.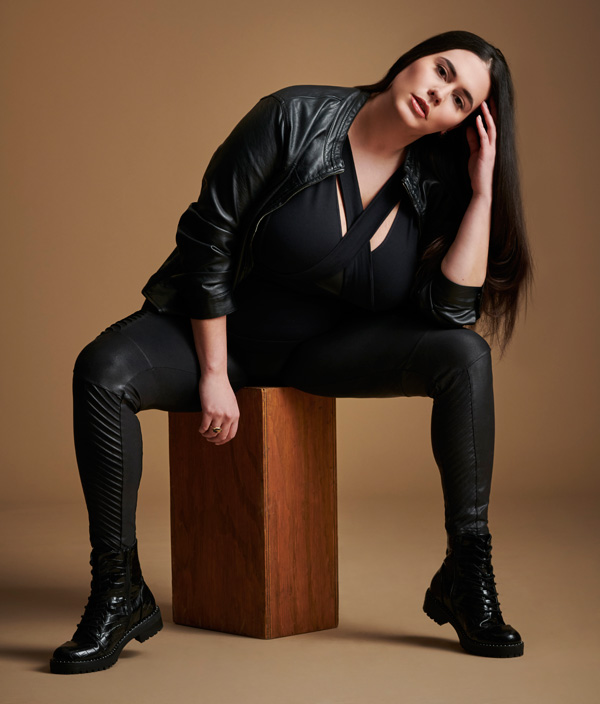 The word Embrago™ is a combination of the words embrace and imago, that convey the philosophical and material ethos of the brand.
Embrace describes both intangible compassion and love, as well as tangible gentleness. "I designed my pieces with the support to feel like a gentle hug. It's very different from the feeling of all-over constriction that you get with a full-support bra or the squeezy compression of a sports bra," says Karen.
The imago refers to a fully-developed adult butterfly, one who has gone through the stage of metamorphosis. It highlights the idea of women fully discovering themselves and falling in love with their bodies. The butterfly association helps to accentuate how ephemeral, and special the feminine mystique is.
"I also wanted to accentuate an idea of lightness and femininity," shares Karen, "because full-busted women are so often given products named "Ultra Max Support" or other names that emphasize how big and heavy their breasts are. Embrago™ support is invisible like a feeling. It allows women to feel lighter emotionally as well as physically and not so gravity-bound."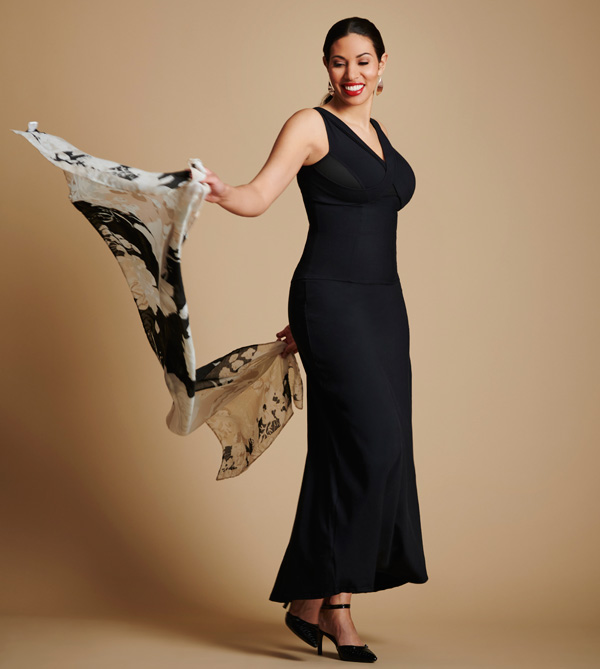 Currently, the Embrago™ collection features three unique styles that run from Small to X-Large (spanning Misses sizes 6-22) and accommodates bust sizes DD – L. 
"The sizes were chosen deliberately to roughly correspond to Misses scale but to be larger in the bust, to allow for forgiveness and play in the size range. Women can choose the style and level of comfort they like. Some like a tighter fit, which shows more skin and feels more secure, others like a looser fit with more coverage, while providing extra ease for lounging," explains Karen. 
The cups and straps, as well as the torso area, support the natural change in the size of a woman's breasts and stomach, which can be smaller or larger over the course of a day, a week, or a month.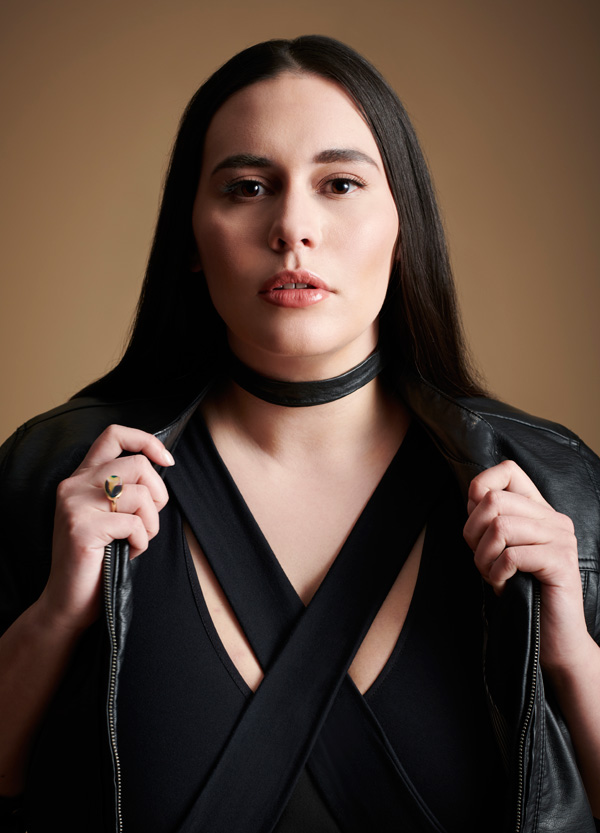 Furthermore, Embrago™ patented support offers the following: 
-Nothing tight around the ribs and stomach. 
-Nothing that slides up or digs in.
-No wires and no elastic band or "shelf bra". 
-No metal hardware, no hooks, no clasps, no plastic, no foam, anywhere. 
-No uni-boob, no side-squash, no down-slippage.
-No scratchy tags. Size and care labels are hand-silk-screened directly onto the fabric, so there are no tags to irritate delicate areas. 
-No painful shoulder indentation created by thin straps. Shoulder straps are wide to distribute weight and reduce pressure and are not anchored at top but behind the shoulder, so they don't cut in. 
-No itchy seams. A special thread is used to prevent skin irritation, the kind that is made for newborn baby clothes.
-No squeezy compression nylon. Most wire-free shaping garments squeeze the body in a painful and unhealthy way. The support comes from the design and construction. It is soft and gentle.
Embrago™ collection is designed and crafted in the USA by women for women, using OEKO-TEX® Certified STANDARD 100 organic cotton yarn. The weight of the fabric and its composition are carefully balanced with specific heft and stretch ratios, strictly controlled to meet the technical requirements of the patented support system.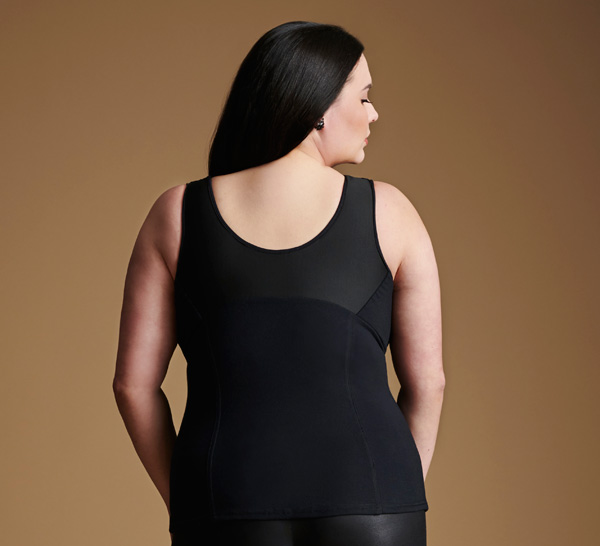 For Embrago™ precise engineering to work, the fabric needs to be just the right weight – heavy enough to support significant bust volume but also soft enough to feel comfortable, not constricting, and breathable. The textile is engineered with a two-way stretch with very specific ratios of stretch in each direction, with more firmness where vertical support is required, and with more stretch across the body where ease is desirable.
Finally, smart textile panels in 55% polyester, 20% spandex, and 25% monofilament yarn were chosen for the strategic anchor points to assure the "up, in, and forward" bust support.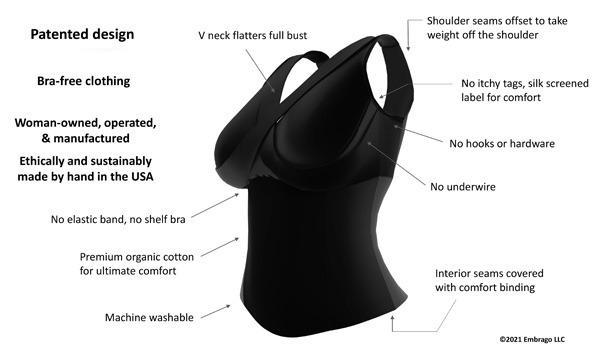 To achieve such precise quality standards, Karen Poirier consulted with a team of technical experts, who had specialized in posture correcting medical products. She also worked closely with the industry professionals, who helped combine elements of corsetry and ready-to-wear to achieve a supportive, slimming silhouette. 
Everyone involved in the Embrago™ creation understood the 'heavy lift' needed to craft a garment requiring thoughtful design, meticulous pattern grading, and sewing with the smallest tolerances. It was decided to assign the production of the brand to a manufacturer well-known for its high level of craftsmanship and expertise in hybrid products.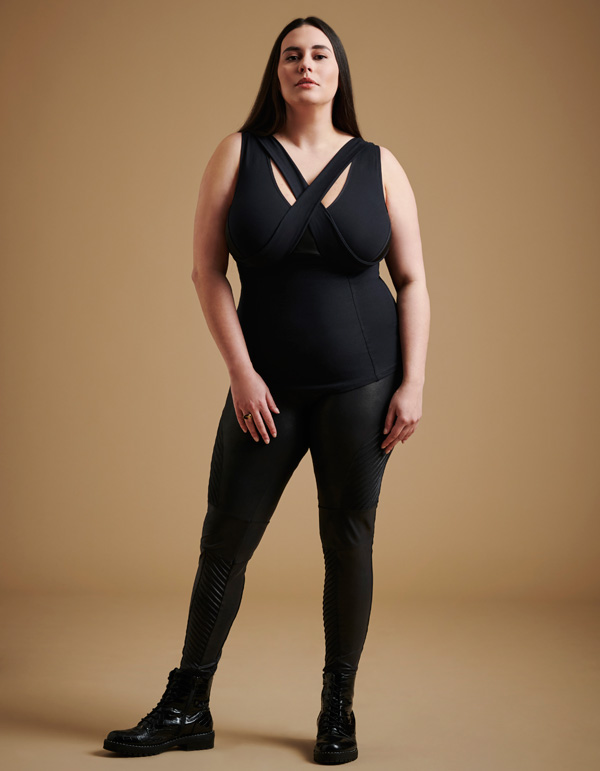 The Ultimate Top is a versatile sleeveless layering base with straps that comfortably crisscross at the front with an option for the neckline to be more or less revealing. Wear it solo or pair it with your wardrobe favorites to be dressed for just about anything.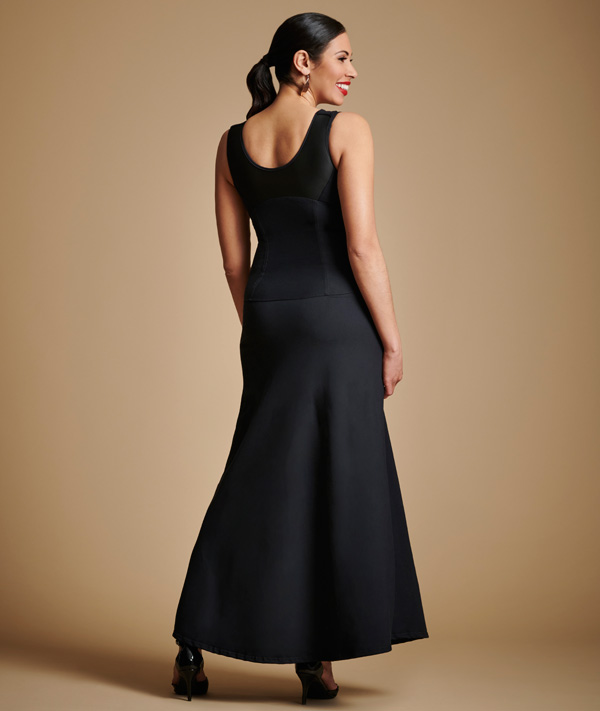 The dress combines the best of The Ultimate Top with the elegance of the flowy skirt that falls right at the ankle. Wear it for any occasion while enjoying the built-in comfort and ease.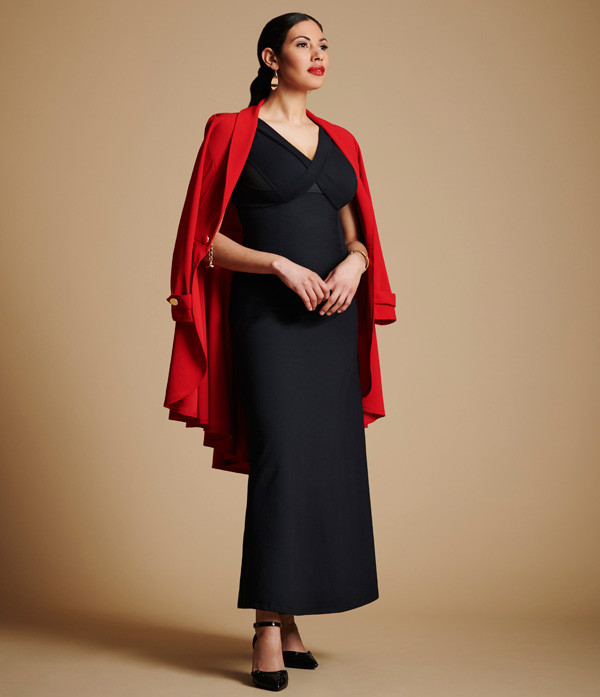 The Ultimate Dress – Princess Version
Slimming princess lines that run the entire length of the garment contour the body for an extra sleek look. Dress it up or down and pair it with your chic pumps while enjoying the added versatility of a mid-calf length.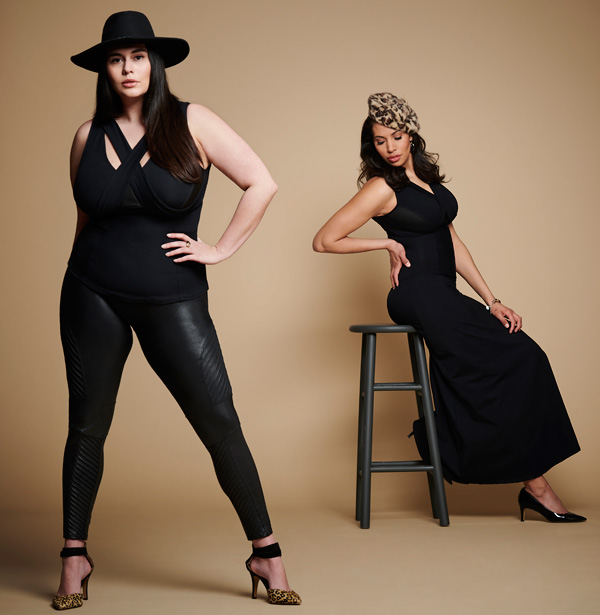 The Ultimate Bra Free Wardrobe
This smart two-piece capsule collection combines the best of two worlds, The Ultimate Top and The Ultimate Dress-Aline into a power duo. Explore the combinatorial nature of both garments. Now you are ready for travel, work, leisure — anything your day or night brings.
"We live in a world where there are great advances happening in material science and engineering.," adds Karen. "The fashion industry as a whole could do better at breaking down some of the walls that currently exist between categories. They are no longer necessary, as in the case of Embrago™, where we combine elements of intimates, loungewear, athleisure, and ready-to-wear." 

"Embrago™ is to the fashion world what the SUV (sport utility vehicle) is to the auto world. It's a hybrid crossover that offers both functionality and sleek design together in one luxurious product. The SUV was a brand new concept in the auto industry once, just as bra-free clothing is a new fashion concept now. But soon bra-free hybrid clothing will be the go-to choice because it just has everything you want in one great-looking package," concludes Karen.
Embrago will be adding several new pieces to the debut collection this fall. The company is currently developing tops with sleeves and shorter dress lengths, as well as adding new color variations and use-specific designs for sports and yoga.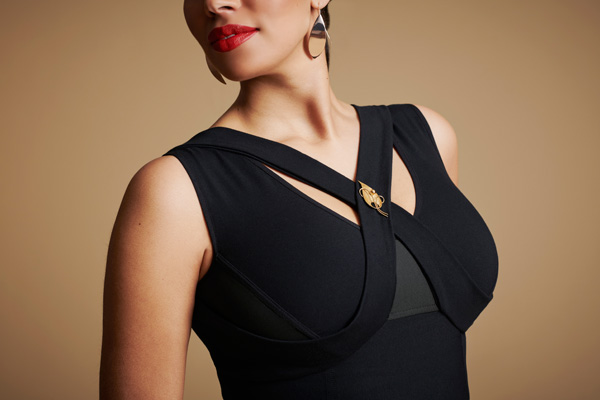 As a result of the thought, care, and expertise devoted to the design and production at Embrago™, the garments are beautifully tolerant, flexible, and accommodating of a wide range of body types and compositions. Whether you're firmer or softer, taller or shorter, rounder or more of an hourglass, Embrago™ designs compliment your curves and show off your shape to its best advantage.
Learn more about the revolutionary bra-free system for women with full busts at www.embrago.com.
Contact: Karen Poirier, CEO/Founder, Embrago™.
Email: karen@embrago.com
Website: www.embrago.com
Instagram: @​​embragoclothing
Facebook: @embragoclothing
LinkedIn: https://www.linkedin.com/company/embrago/
Tel: +1 412 266 0392