Dressing Down in Fall Colors
By TINA WILSON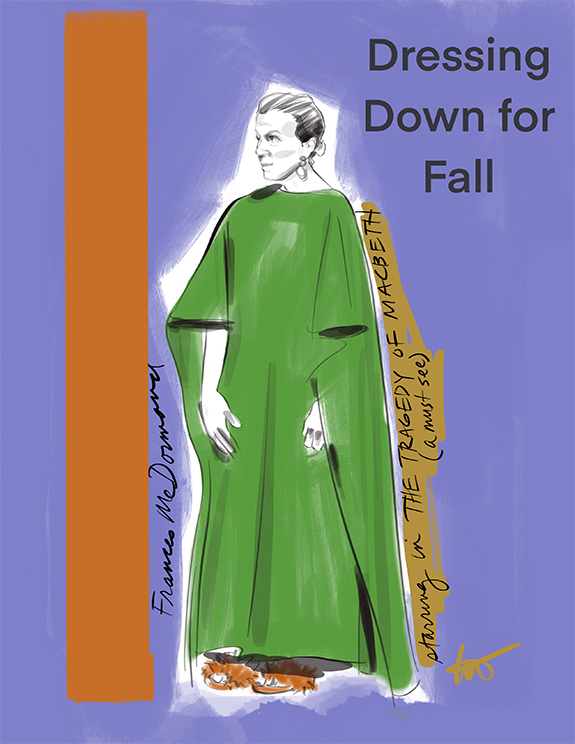 I am beyond excited for fall. It's a been awhile since the change of seasons was felt by us all as the past 18 months have been a blur. We're still in the throes of that 5-letter word but I am pessimistically optimistic that sanity will prevail, and we will not be in this forever.
I kicked off the fall season recently at the 59th NY Film festival, where after the screening of the opening night movie "The Tragedy of Macbeth" I found myself attending the after-party at Tavern on Green, standing next to Frances McDormand. I love her with all my heart, she is real and unapologetic, something we all should aspire to. She was wearing a floor length green capelet dress AND brown fuzzy slipper sandals. I was wearing shearling slipper mules and felt vindicated when she stepped on stage. She was the perfect example of the new dressed down/dressing up way of life. I'm no movie critic but you must see this movie, seriously, Frances and Denzel!!!!
Her ensemble was the perfect segue way to what fall means to me.  It means deep rich earthy colors that are at times  bright and vibrant and sometimes deep and smoky, and it means a touch of black, only so long as its black texture or bold back shapes. I am loving the warm earthy rusts, oranges and browns.  Fall is all about the little things, like pumpkins, falling leaves, fattening pies, thick stews, steaming hot coffee, cedar candles, warm fires, Halloween, blustery rain, juicy novels in bed, thick cozy socks, thick vintage quilts and yes fuzzy slippers…. the simple things that give us so much comfort…and I cannot wait.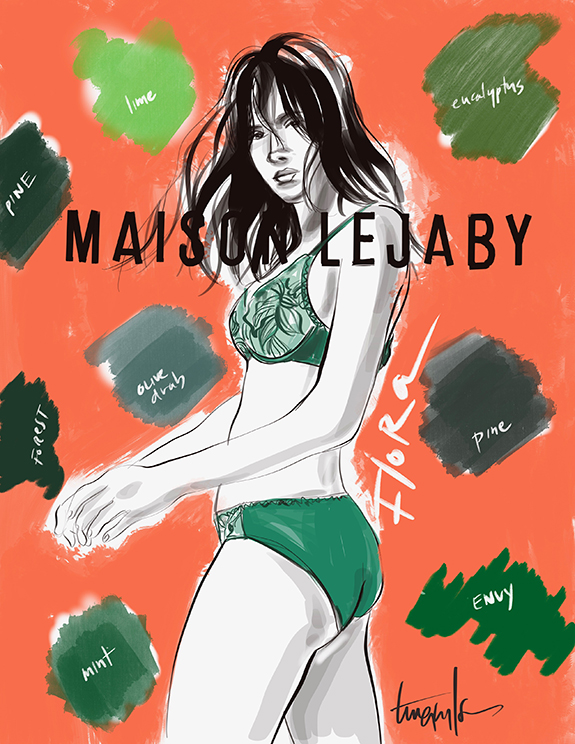 Green is a must; from a deep rich olive to an almost black evergreen to the rich bright-ish seasonless green that Frances was wearing and very close to the beautiful Maison Lejaby green of their Flora Bra and bikini. I want this color in everything, even the walls of my apartment.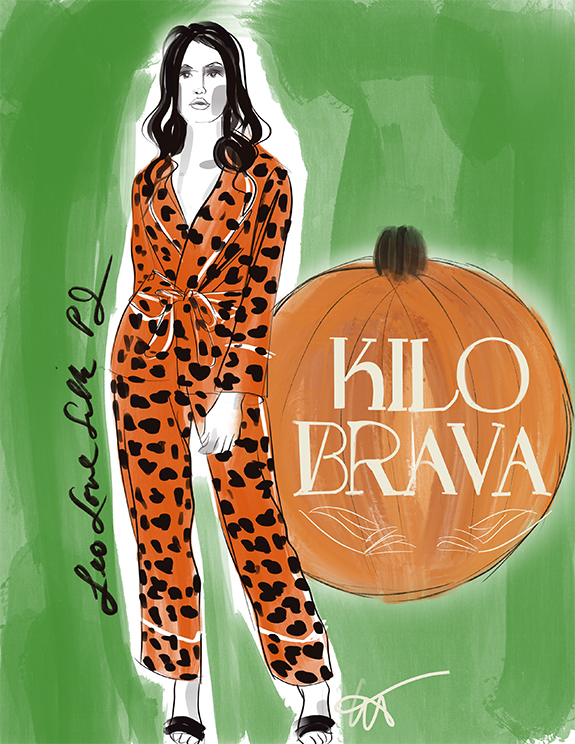 Kilo Brava has the most marvelous animal/heart print pajama in a caramelized pumpkin color that so inspired me, I went online and ordered a pair of orange and black animal print cropped flare leggings. The Leo Love pajama is so fun and mood changing it should not be wasted on sleeping, wear it to that cocktail party, the color is perfect.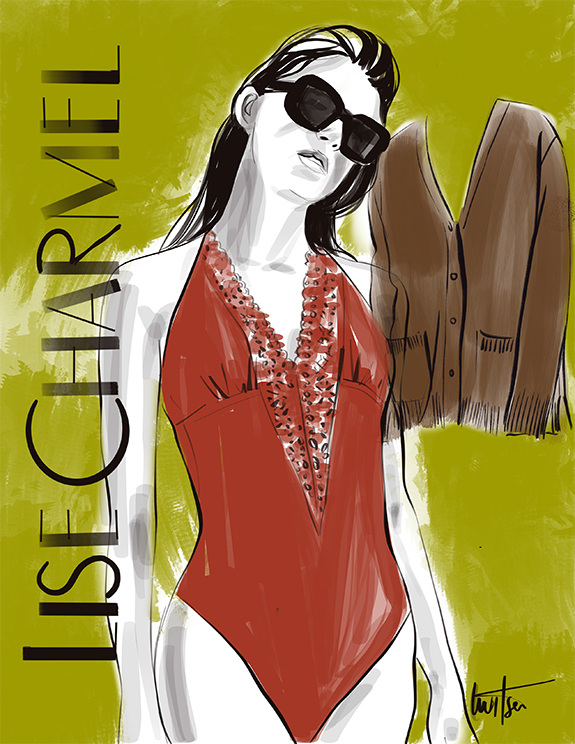 Swimwear is now hot all year round and Lise Charmel has a Plunge Swimsuit in the prettiest shade of fall orange, it is gorgeous, and frankly would make a great "bodysuit" with leggings and a cardigan…perhaps that is a new hybrid, the swim-bodysuit?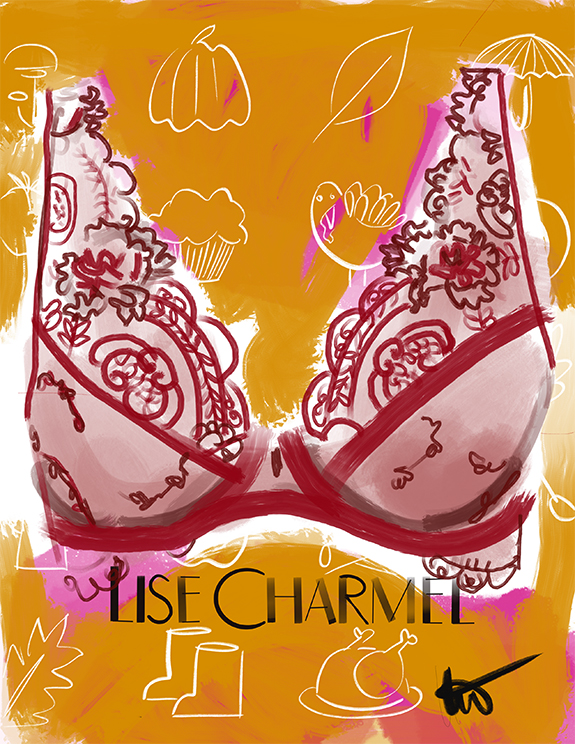 Red. I had to include red because this is our first real holiday in 'forever', last year didn't count and red is all about the holidays. Lise Charmel has a stunning a push up bra, the Tellement Glamour, it's a cool bluish red that MUST be seen peeking out from behind something black, even a black velour track suit. If you want just a touch of red, I love Christine's Sedona Betty gown (featured above), with touches of bright crimson  and ochre, it's so fall yet  so light, I would top it with a chunky cashmere cardigan and chunky boots and wear it out to dinner…there are no rules anymore.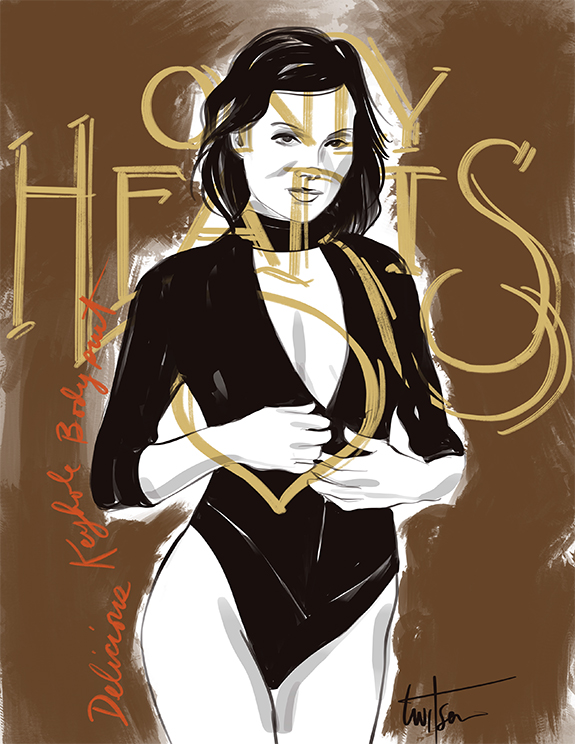 Speaking of black, I'm a bit tired of it except for black textures, cut outs and sheers. I am in love with Only Hearts Delicious Keyhole bodysuit for its deep plunge sexiness combined with its mock turtleneck all-business attitude.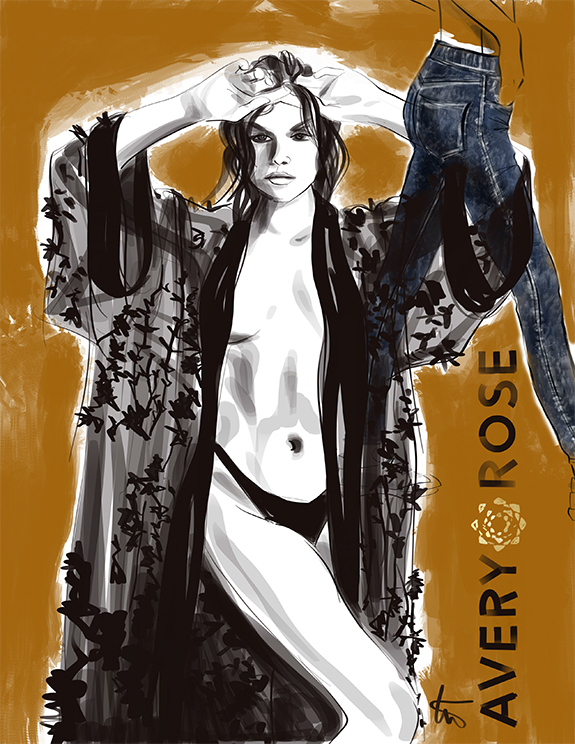 Avery Rose has it all when it comes to luxury, from simple satin slips to embellishment and lace. One of the standouts for me was their Athena sheer kimono. It is a frothy black concoction of 3-D embroidery and beading on a georgette and I see it dressing up a pair of jeans or worn over a simple little black dress. Again, it's a about dressing down when dressing up, it's here to stay. So, the next time you want to dress up, don't. Here's to dressing down  to be seen and heard in our new way of living. Stay safe, stay masked and stay optimistic!
Best,