Ravishing Roses: A Lingerie Exposé
By LINDA DYETT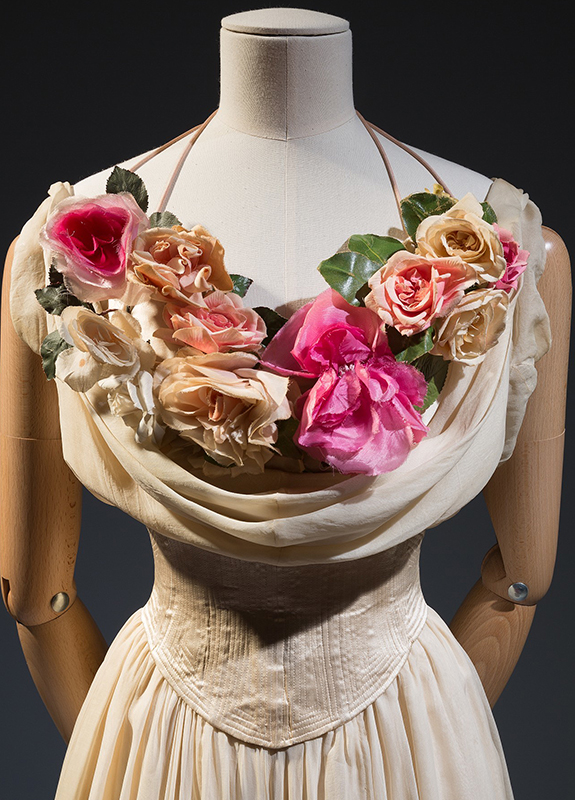 "Won't you come into my garden? I would like my roses to see you."
Richard Brinsley Sheridan, 19th century Irish playwright and politician
There they are, jam-packed profusions of them, jostling for space as they shamelessly beckon passersby in front of every self-respecting bodega in New York. I'm talking about roses (and other flowers too, but mainly roses), brightening our dingy streets—and our lives–in these, fingers crossed, waning months of Covid. And now they're conspiring to lure us inside the Museum at FIT to see Ravishing: The Rose in Fashion, an exhibit of over 180 garments and accessories (Schiaparelli … Charles James … Balenciaga … Dior … Comme des Garcons, Van Noten, McQueen, Rocha—wham!) The whole idea is to show the impact of roses—their shape, their intricacies, their colors, their scent—on attire from the 18th century through to today.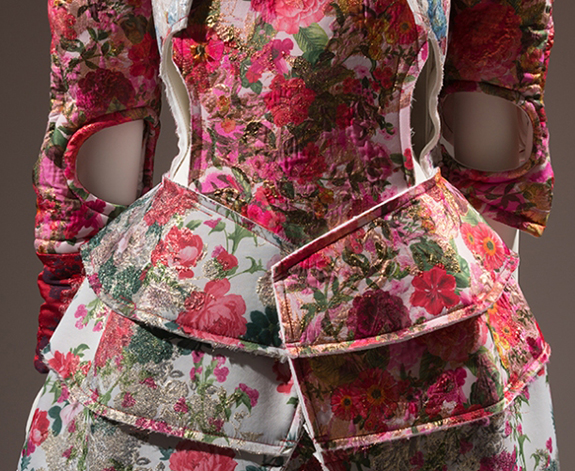 But something is missing from this stunning array: lingerie. Roses have long been mainstays on inner- and lounge-wear, in the form of lace, embroidery, beading, knitting, and crochet, and on prints. After all, these flowers (there are numerous species) are known for their layered loveliness, strong colors, the velvety softness of their petals, their power to entrance–which, arguably, is also a goal of our underpinnings.
Not to overlook roses' intoxicating aroma–some say of cloves, of berries, of nutmeg. I say, the best of them smell of honey. And I wonder if they get that scent from the bees that pollinate them, or if, through evolution, they cunningly acquired the aroma to lure those bees (like attracting like).
Roses are also universal. Every culture prizes them, accumulating a pileup of lore about them. Hindus and Buddhists regard them as symbols of spiritual joy. Here in the West, Napoleon's Josephine was so besotted with roses, she's said to have grown 250 varieties of them. And our goddess of love, beauty, and procreation–Aphrodite for the ancient Greeks, morphing into Venus for the Romans– created the rose from the tears and blood of the love of her mythological life, Adonis.
"I find roses to be feminine and beautiful, the shape of the petals resembling body curves. They trigger a sense of romance and sensuality,"
says Samantha Chang, designer of the lingerie line bearing her name.
"The petals are skin-soft and luxurious–very intimate next to the skin. Their visual unfolding is like Georgia O'Keefe's,"
adds Gale Epstein, co-founder and partner of Hanky Panky.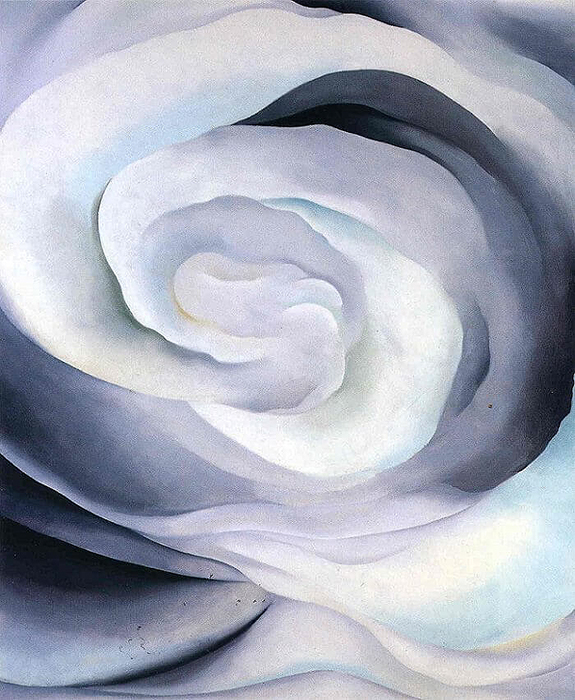 In fact, it's the petals, enclosing the flower's sex organs, that contain the rose's scent (a scent strictly found in the garden varieties). What's more, it's released only when the petals are half-open, ready to be fertilized.
And to be blunt, the sight of those rose petals, whatever else they call to mind, specifically evokes portions of the vulva. Which to me helps explain the continued use of this flower in women's intimate-wear. Its very appearance, in the right circumstance, almost becomes an erotic cue or aide memoire for the wearer and whoever is in her presence.
A propos of which, one of the most stunning traditional roses, a pale pink, was originally called Thigh of an Aroused Virgin, by the French (of course). The name later got shortened to Virgin's Thigh (Cuisse de Nymphe), only to be English'ified by the Victorians into Maiden's Blush. (At least that version isn't so racially insensitive.)
Does my thinking on roses and women's intimate parts seem farfetched? If so, here's a quote from the book accompanying the FIT rose exhibit and bearing its name. As its author, Amy de la Haye, Professor of Dress History & Curatorship at London College of Fashion, puts it:
"Sexuality lies at the core of a flower's existence. More than any other flower, the rose has been personified, with analogies drawn between and the human body, sexuality and female fertility."
So no wonder roses don't just adorn the body, but in lingerie are often adjacent to and pressed against it, as if they were merging with the flesh, turning the wearer into a flower.
Examples abound: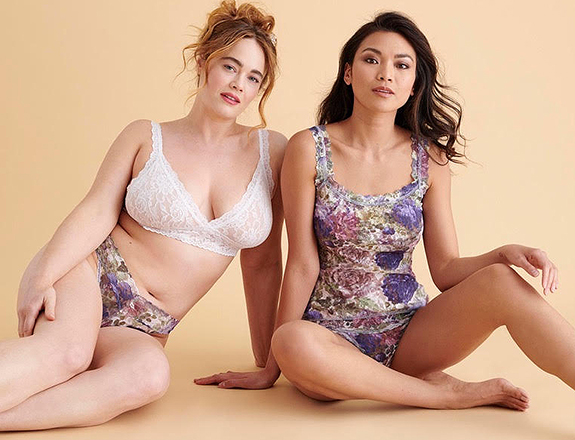 Let's start with Hanky Panky's original core Signature Lace, in nylon, introduced in 1986 with the brand's original thong. The collection expanded over time to include panties, camis, bralettes, teddies, chemises, et al. And to the delight of many seeking special personal gifts, the brand offers "bouquets" of half a dozen long-stemmed roses, in mixed rose colors, that are actually thongs rolled over a leafy stem into a rosebud shape. Clever!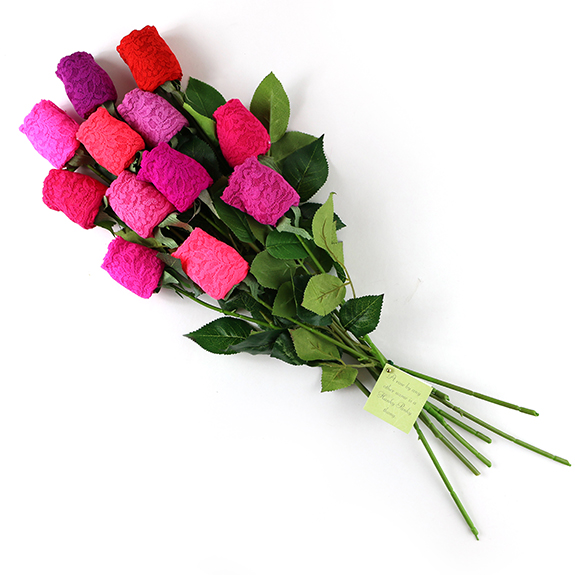 On to the Andres Sarda Raven: in a stretch-polyamide-silk-cotton blend, this is a bralette with roses on a mesh vine occupying the inner half of the cups and the underband. The same lace is available in a thong and briefs.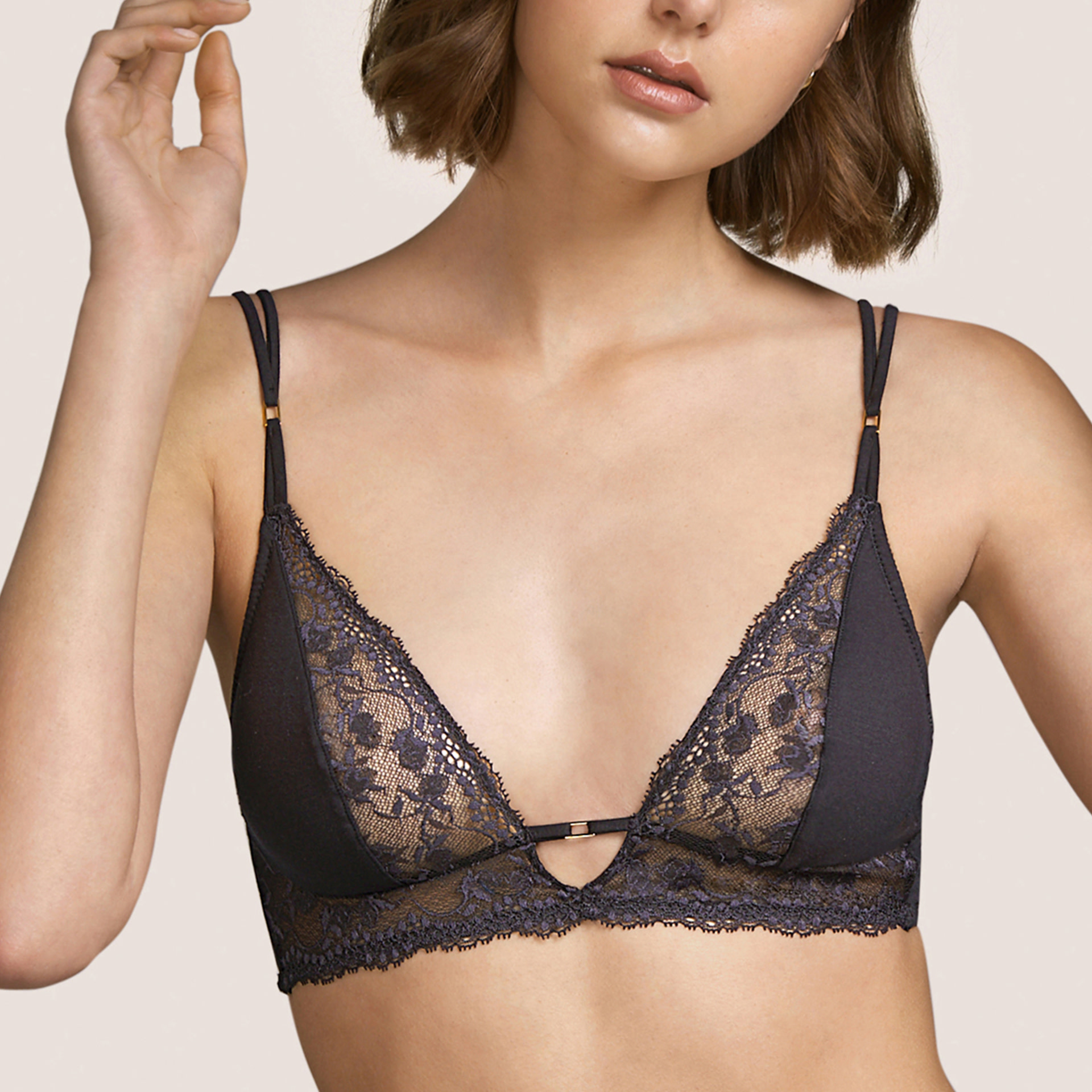 La Perla's cotton-nylon Lawina Rose Underwire Bra features incredibly fine lace flowers covering up much of the sheer tulle background on its cups.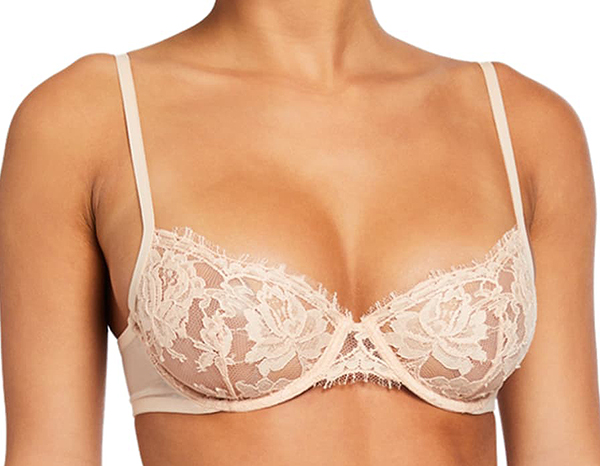 Rosebuds are the allover pattern on Roses and Lace's tailored Lola PJs, the top edged in piping, an optional belt attached. I can see these silk pajamas going for an evening out.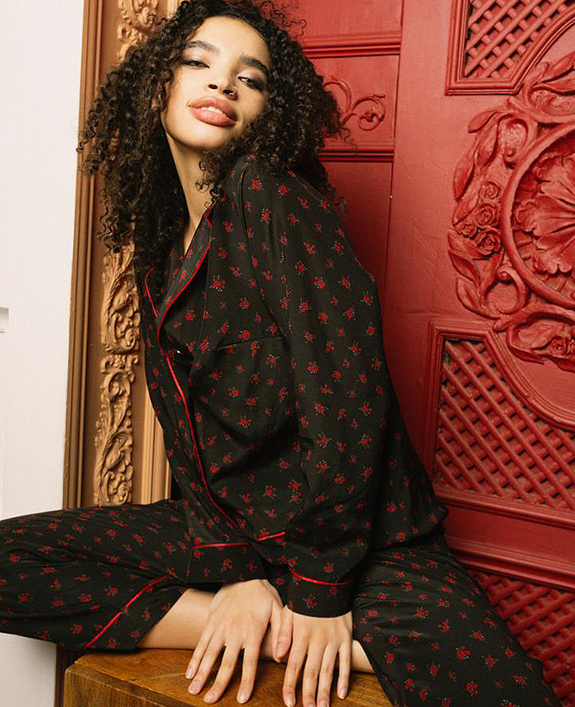 For Spring '22, P.J. Salvage introduces a watercolor-like collection of at-home pants and shorts featuring various rose-centric flowers tumbling in full bloom. Pictured here, drawstring joggers with side pockets.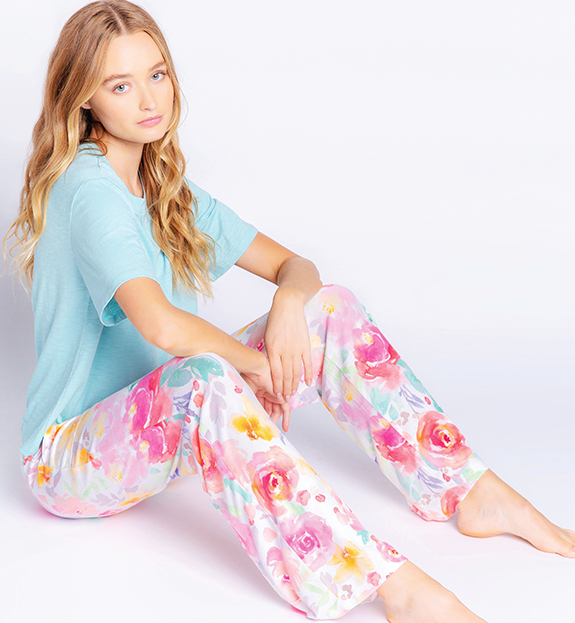 The classic menswear-style pajamas in P.J. Salvage's Pristine Satin PJ Set get charged up with an abundance of white roses, leaves, and stems on a green background.
Transparency
Plenty of lace rose motifs are appearing lately on sheer, net-like tulle, allowing the design to mimic tattoos.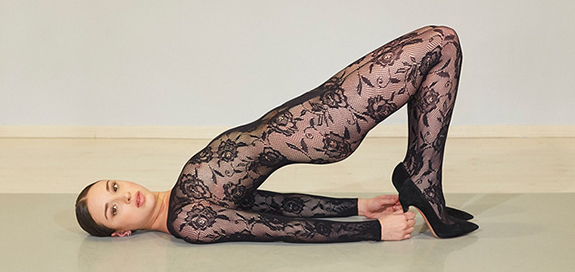 Emilio Cavallini's killer long-sleeve black stretch-polyamide-nylon Roses Lace Bodysuit envelopes everything from neck to toes in rose blossoms and leaves.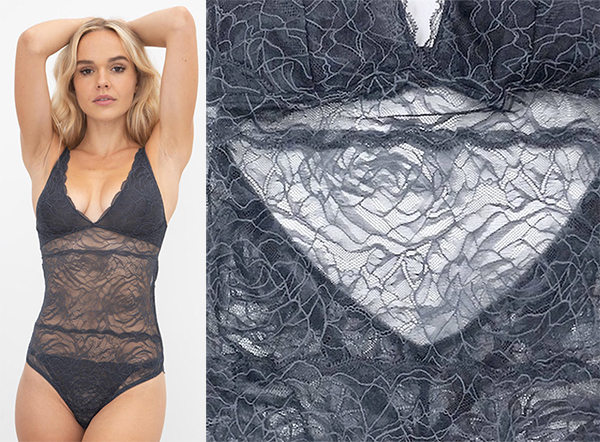 Samantha Chang's unapologetically sheer, deep-plunging All Lace Roses Bodysuit traces the blossom's undulating silhouette. It's lined with what looks like at least the hint of a bra and panty, but the midriff almost looks bare, except for a wash of color.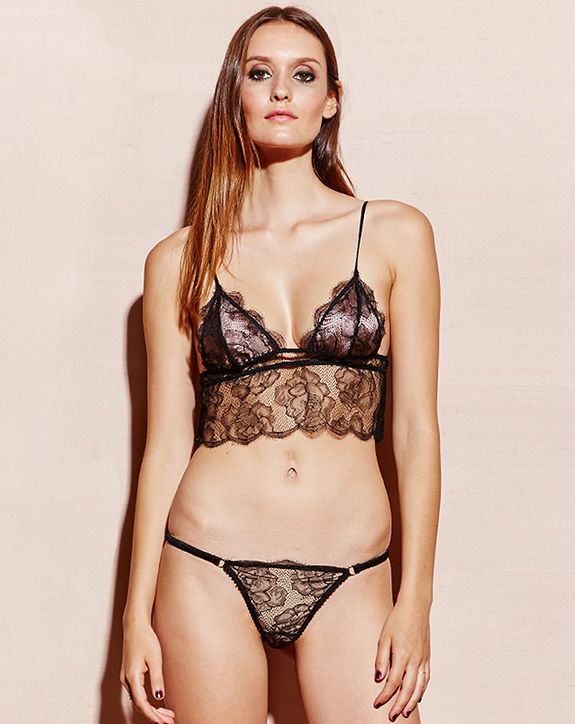 Fleur de Mal's long-line polyamide Rose Lace Triangle Bra has an under-veil of sorts that reaches halfway to the naval. There's a matching Hipster Thong.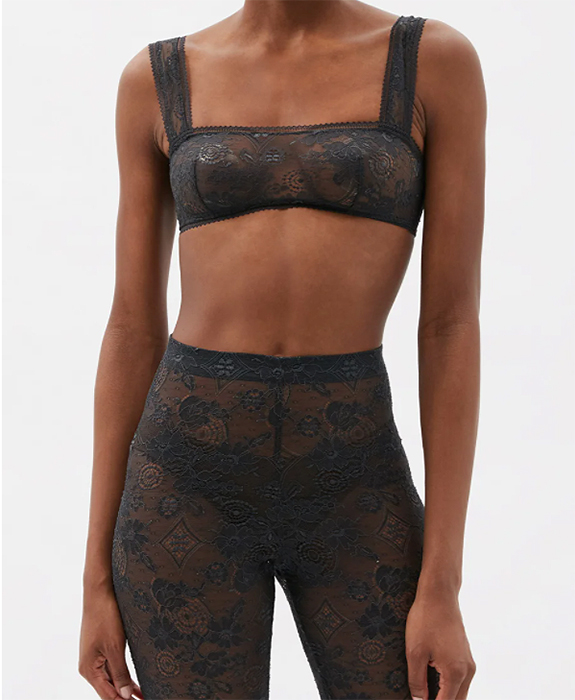 Eres x Julie de Libran's stretch-polyamide Square-Neck Floral Bijoux-Lace Bralette and Matching Leggings are lingerie's version of a contemporary power suit.
The Montelle Moonlight & Roses High Waist Panty and bralette has rose-patterned lace woven with glass yarn at the top and leg edges.
The Leading Edge
Let's not forget that the roses can easily become clichéd, and certain minimalist brands—La Fille d' O, Marieyat, Okko, and Skims come to mind—avoid using that or any flower. But other designers and manufacturers in our weird times are conjuring up contemporary rose imagery with stark, off-kilter, vividly or oddly colored blossoms, leaves, stems, and even thorns.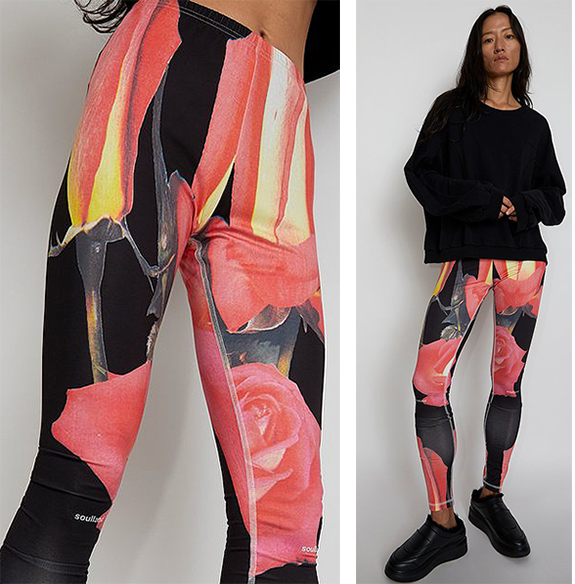 For me, the most intriguing  of these '20s rose designs is Soulland's Ying Rose Print. Available in multiple innerwear and outerwear items, it appears to best effect on its recycled polyester leggings: careening, vastly oversize blossoms and stems, seemingly haphazardly strewn, are in fact carefully placed so they stretch over the front and sides of the knees, thighs, hips, and midriff—as if transforming the lower body into a rose collage.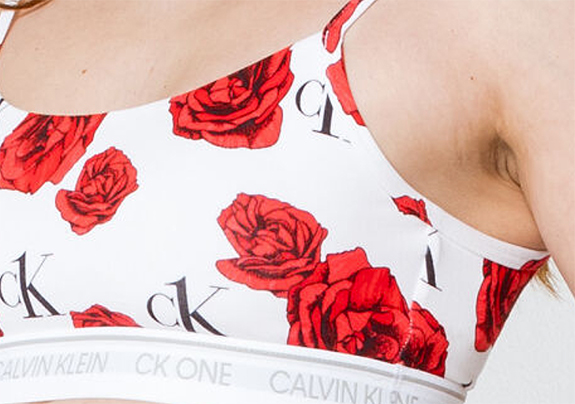 The Calvin Klein stretch cotton-modal Rose Bralette features allover tumbling rose blossoms against a stark white background, with occasional cKs inevitably thrown in, along with uplift provided by the signature utilitarian Calvin Klein One elastic underband. There's no mistaking who this bra is from.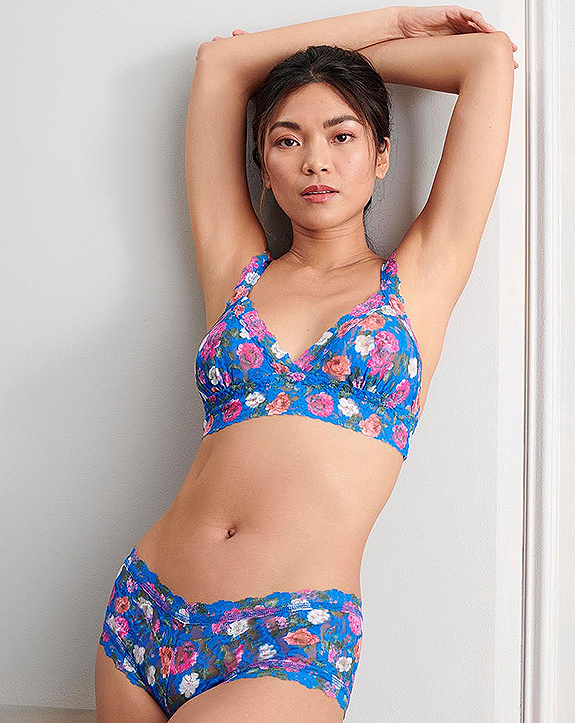 Hanky Panky's Versailles print displays tumbling pink and white roses, some of them blurry, on a light but vivid cobalt blue background. It's available in a crossover bralette, boyshort, French brief, and thong.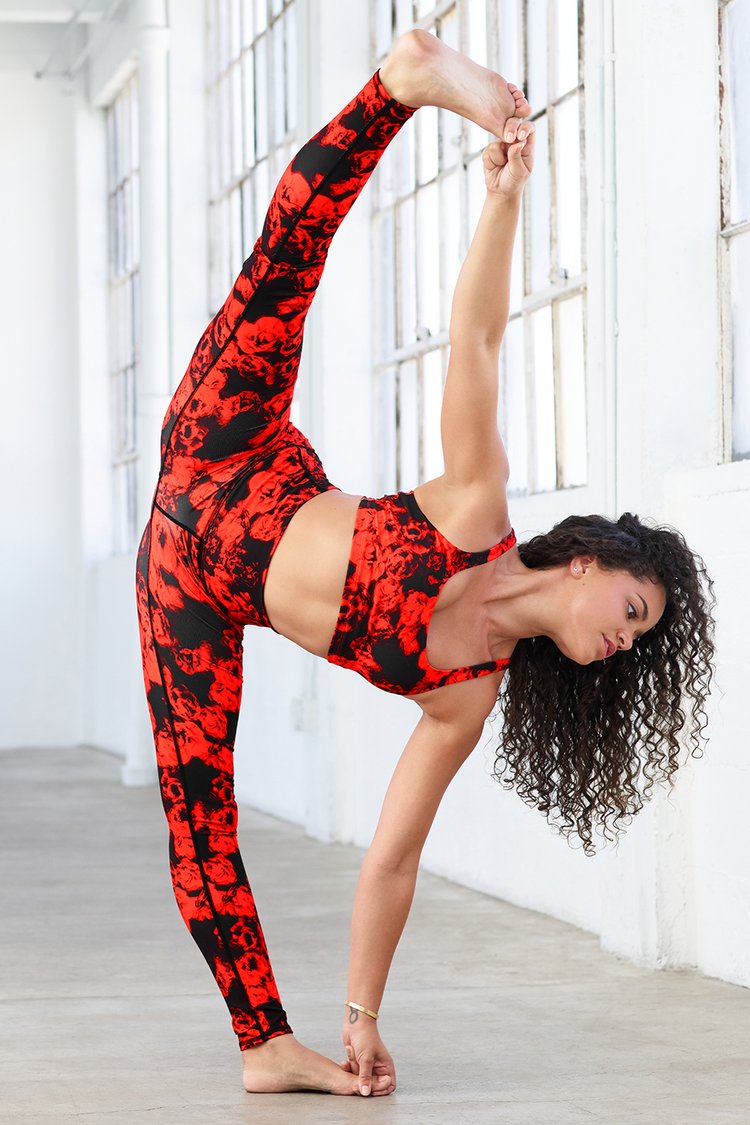 The Alo Yoga Vapor Roses Bra and leggings' print derives from what look like out-of-focus photographed roses on a vivid cherry background. (Vapor is the brand's lightweight performance fabric.)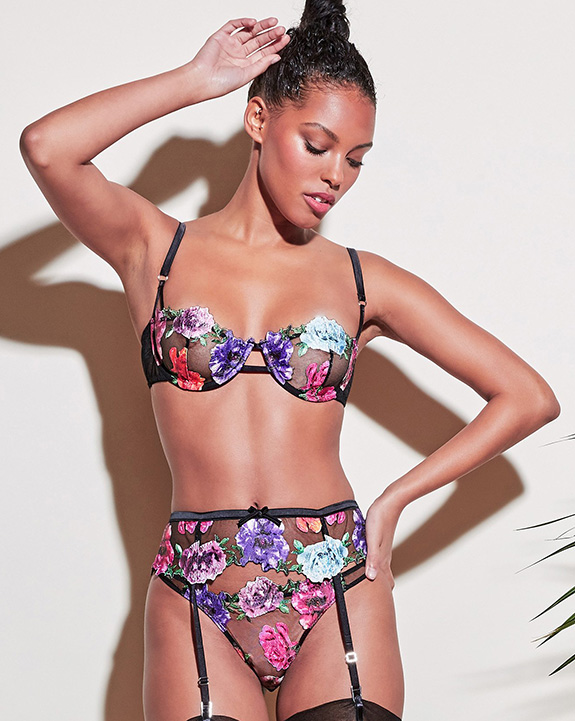 Not to overlook applique roses that stand out in relief—on bra cups! I'm referring to Fleur du Mal's stretch-polyester-polyamide-silk Monet Embroidered Balconette, and Romwe's polyester Women's Rose Embroidered Sheer Mesh Sexy Bralette, the latter with a blossom situated right smack over each nipple. These two are best worn as outerwear or covered with a sheer top.
Finally, here's an accessory to the fact, assisting in the commission of rose lingerie seductions: a rose-scented linen spray with a hint of musk, to mist onto the bedsheets. The perfumer Bruno Jovanovic created it for the Frederic Malle collection.
Whatever else you do, see the FIT exhibit. It's on through November 28th. And while you're at it, buy Amy de la Haye's erudite romp of the accompanying book, Ravishing: The Rose in Fashion.