Green Collection by Sarah Borghi – 100% Biodegradable Legwear
By ASI EFROS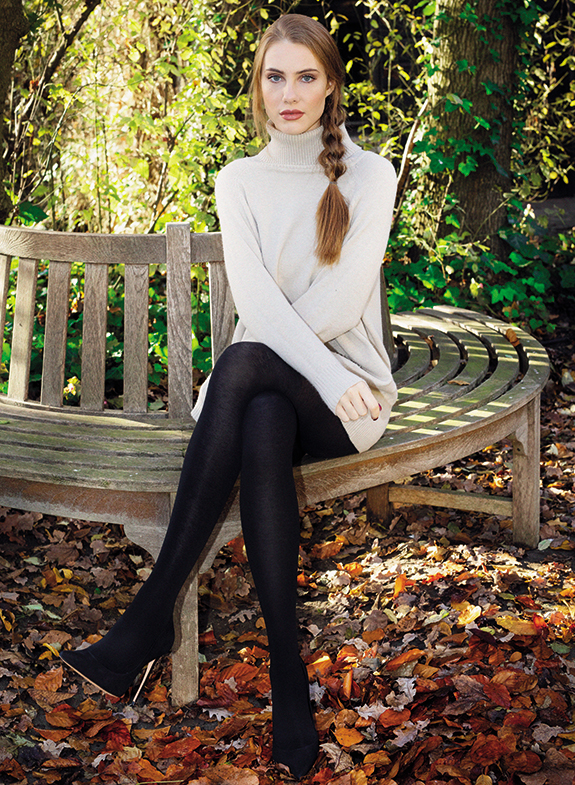 Green Collection – Organic Cashmere Tights
Sarah Borghi vanguards the movement of eco-responsibility by launching the 'Green Collection' — a first-of-a-kind range of 100% biodegradable and ethically manufactured premium hosiery and socks.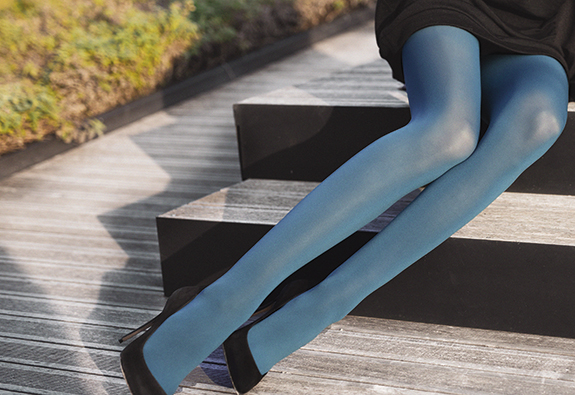 Green Collection – 40 Denier Tights – Oceano Colorway
An Italian hosiery company with a 40-year heritage continues its legacy by expanding into the realm of innovation, progressive technologies, and sustainable fibers. In addition, Sarah Borghi leads in superb craftsmanship and creative product designs, thus giving a new validity to the 'Made In Italy' seal of approval.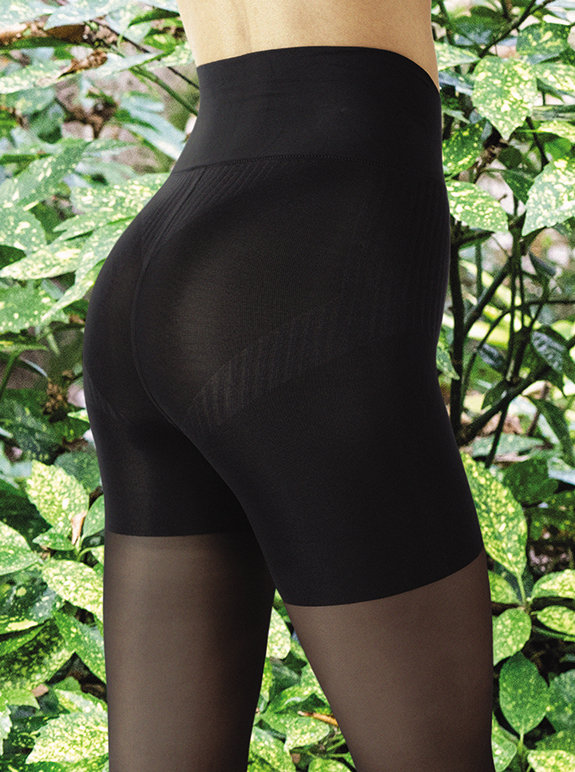 Green Collection – Shaper 20
"Our commitment to responsibility is extremely important. That is why we chose to team up with the market's leaders in sustainable innovation and make use of renewable sources that perfectly match with sophistication in the design and creation of the collections," says Elena Marzocchi, co-owner at Sarah Borghi.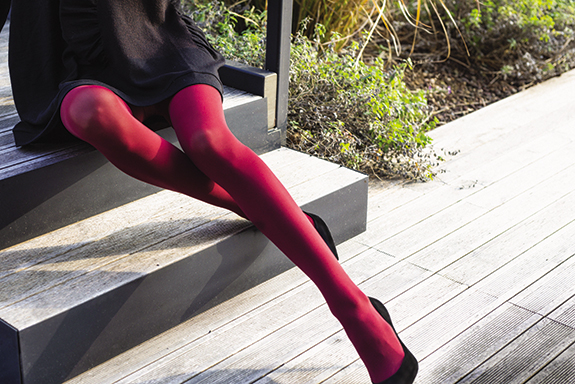 Green Collection – 40 Denier Tights – Borgogna Colorway
The Green Collection features Amni Soul Eco®, the world's first biodegradable in anaerobic conditions polyamide 6.6 yarn, that degrades in around five years in a landfill environment. The yarn was developed by SOLVAY and produced and distributed by FULGAR.
The second miracle yarn is ROICA™ V550. It is developed by the leading fiber manufacturer Asahi Kasei. It is a premium sustainable stretch yarn that received the Gold Level Material Health Certificate by Cradle-to-Cradle Product Innovation Institute after being evaluated for its impact on human and environmental health. At the end of its life, ROICA™ V550 also breaks down without releasing harmful substances into the environment.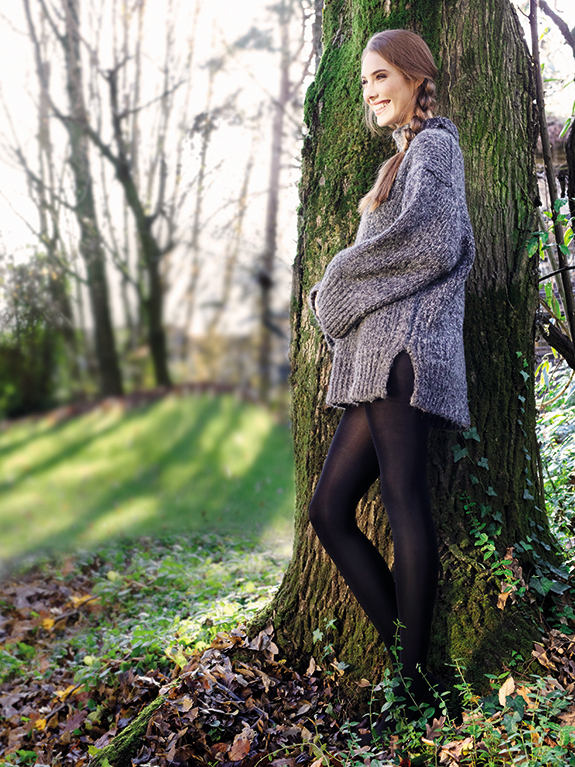 Green Collection – 80 Denier Tights
"Sarah Borghi's Green Collection combines feminine flair with smart innovation and sustainability, and this is what our customers like and look for. It's the result of our 'green mind', which is evident in our first Integrated Report, a complete view of the business strategy, operating model, and governance. The Report can be downloaded from our website: www.gizetacalze.it," says Marta Pangia, Sales and Export Manager at Sarah Borghi Hosiery.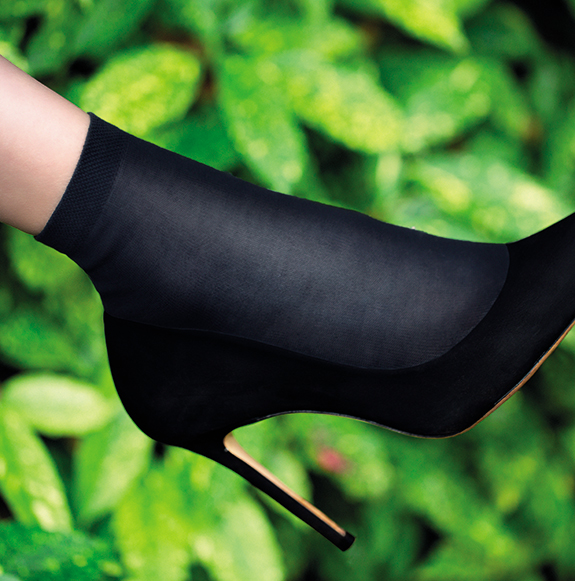 Green Collection – Organic Cotton Socks
Green Tights are available in a rich color palette in three classic styles spanning from a beautifully transparent 20-denier to semi-opaque 40-denier, and finally to a perfectly opaque 80-denier. All tights feature Sarah Borghi's signature super-wide seamless waistband, that blends quality with exceptional comfort. Adding to the assortment is the Green Shaper 20, featuring a unique combination of the sheer 20-denier leg with a tummy-flattering body-contouring shaper, as well as the Green Legging. Versatile, super-soft Green ankle socks round off the collection.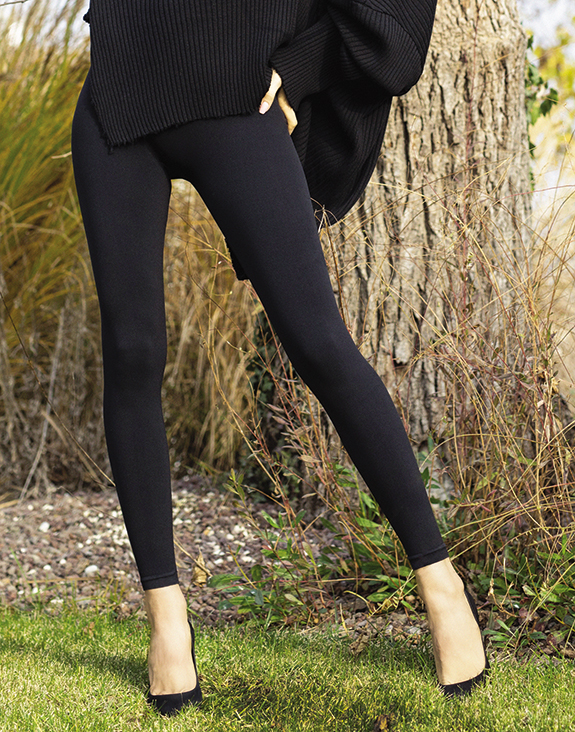 Green Collection – Legging
"Black is the best seller, but customers also like the excitement of color. That is why we added Oceano and Borgogna colorways to our Green 40-denier tights, and we sell them very well.

Starting with AW21 we have enriched the color palette by introducing warm and captivating shades like Rabarbaro, Senape, Cannella, and Girasole, plus the Cobalto and Verde Bosco (dark green)," says Marta Pangia.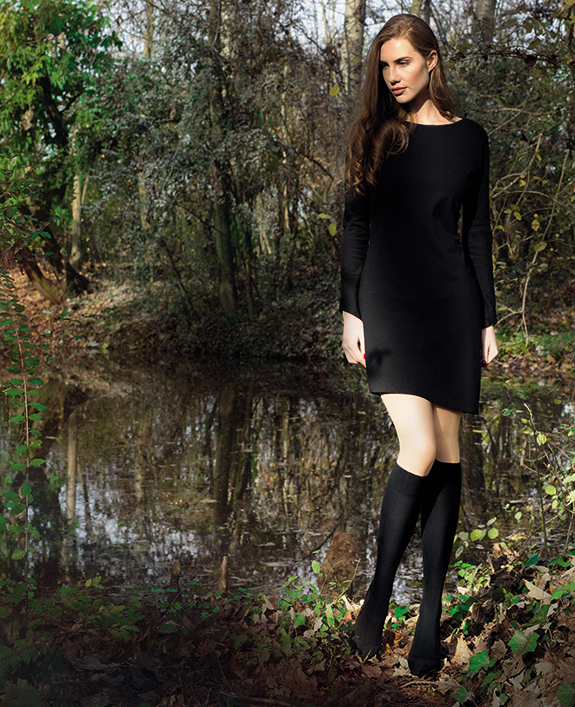 Green Collection – Organic Cotton Knee-highs
The Organic segment of Green Collection employs an exquisite blend of natural yarns like cashmere and cotton, as well as the biodegradable Amni Soul Eco® yarn by FULGAR. This group is comprised of stylistic staples like tights, knee-highs, and socks, which share a superb comfort and heavenly soft hand-feel. The color palette of black, with the addition of blue, grey, charcoal, and chocolate, elevates this vignette to luxe wardrobe essentials.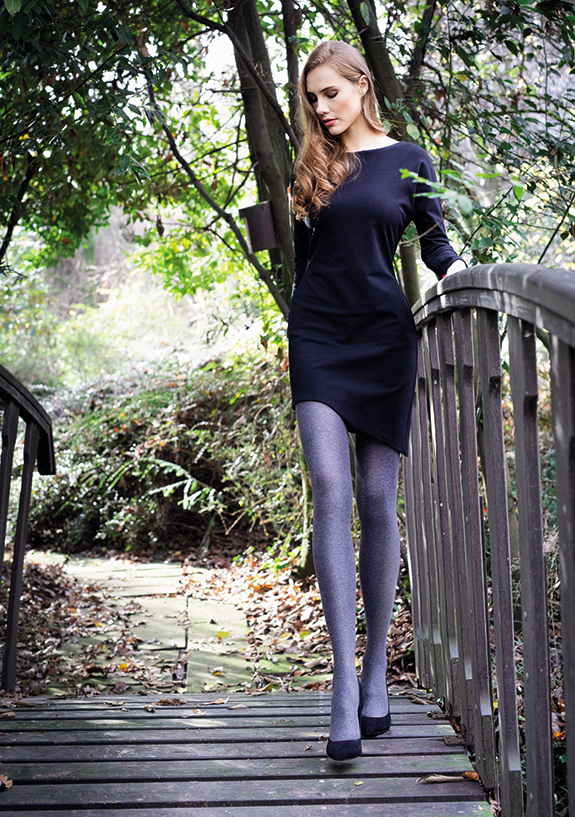 Green Collection – Organic Cotton 100-denier Tights
"The customers who buy our Green Collection, are between ages of 30 and 45. They are attracted to the stylish look and comfort of our tights, and happy to be involved in our challenge to do as much as we can to preserve nature. We feel that the introduction of an extended color palette in socks and knee-highs will capture the attention of the young eco-conscious fashionistas," adds Marta Pangia.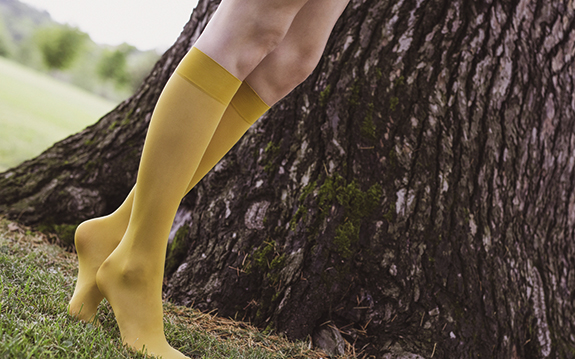 Green Collection – 40 Denier Knee-highs
The Green Collection invites all Sarah Borghi's customers to enjoy the world of luxury legwear, where beauty, comfort, and longevity go hand in hand with social and environmental responsibility. 
To learn more about the Green Collection by Sarah Borghi, visit www.sarahborghi.com or www.luxury-legs.com.
Contact:
Marta Pangia: Export/Sales Department, Sarah Borghi Hosiery
Email: marta.pangia@sarahborghi.com
Website: www.sarahborghi.com
Instagram: @sarahborghi_hosiery
Tel: +39 344 2192004