Ludique ~ Luxury Lingerie for Modern Witches
By ESTELLE PULESTON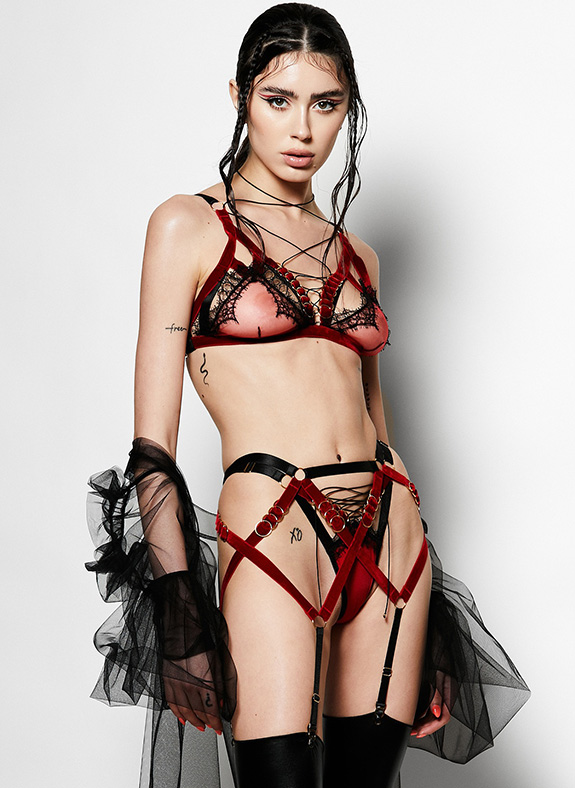 As someone who writes about lingerie for a living, I enjoy looking out for new trends and seeing how different brands put their spin on the same idea. But what I really love is finding one of those rare designers that eschews trends altogether and just does their own thing – someone who has developed an undeniably unique aesthetic, and stuck confidently to it across the seasons.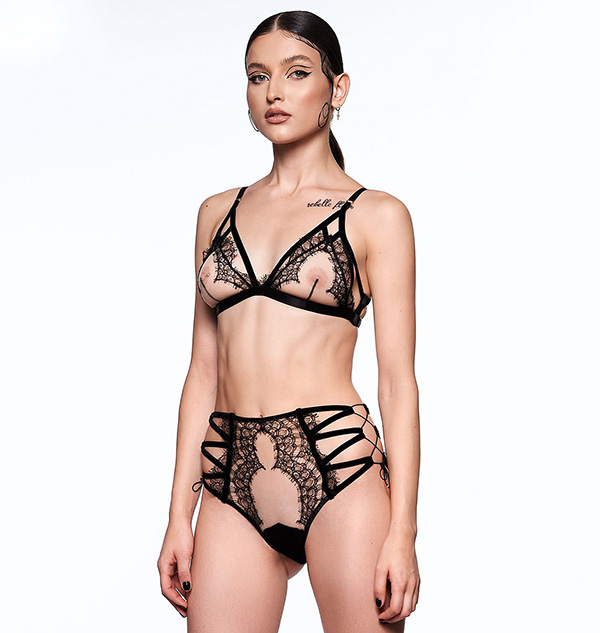 Luxury brand Ludique is one such label. Created by Ruxandra Gheorghe in Romania in 2007, its sharp geometric cuts are instantly recognizable as belonging to the brand. So too is the way Ruxandra blends lines of different widths (through a mix of elastics, graphic seams, and narrow rouleau lacing), and the way her creations are edgy and gothic yet simultaneously imbued with a sense of elegance and femininity.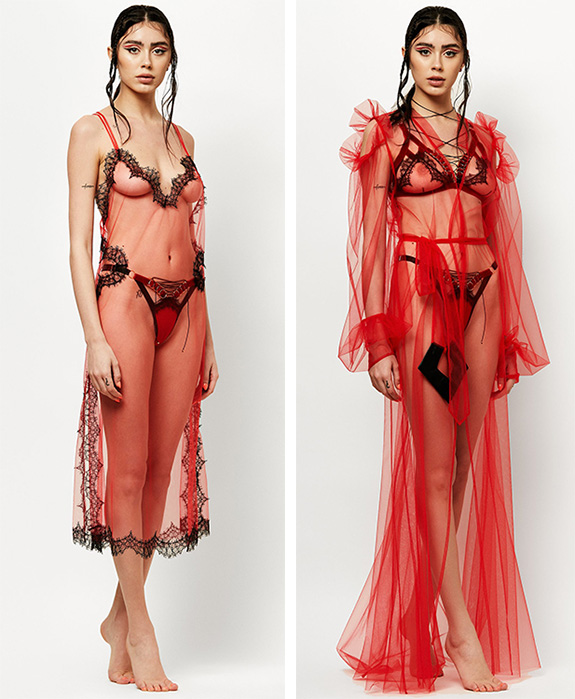 Ruxandra began dreaming of a career in fashion back in high school, and eventually found herself drawn to the lingerie sector because she felt it lacked innovation. "The products I found on the market were too commercial and without personality" she explained, and if Ludique was launched to bring fresh ideas to the world of intimates then it certainly fulfilled its original goal!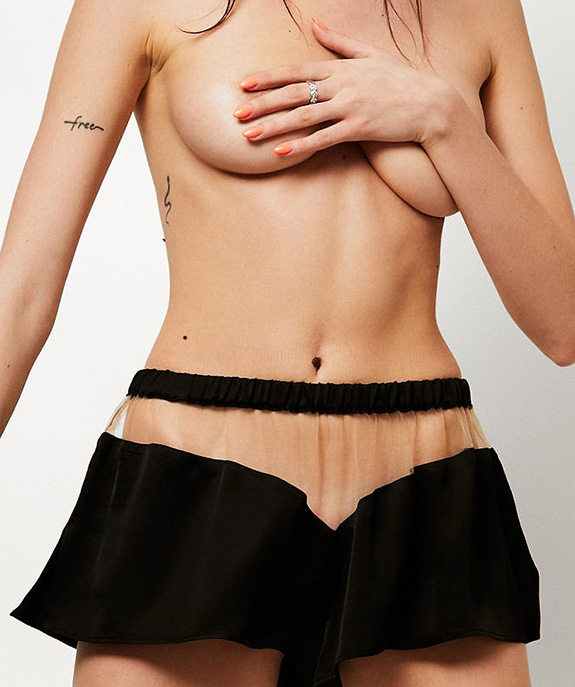 Her latest release is a nightwear range titled Spectre, which is truly unlike anything I've seen before. Made from a viscose-rayon blend satin, each piece has triangular inserts of a mesh that's so sheer, it appears invisible. Put a little distance between yourself and these garments, and you'll see the ruffle of a satin tap pant simply floating around the hips, or the bottom of a pajama shirt suspended in the air as if by magic.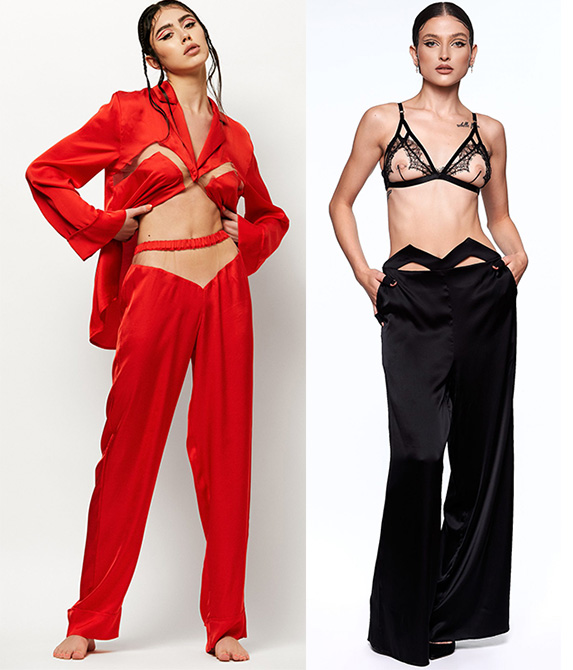 These transparent panels also reveal a cheeky flash of skin in the most unexpected of places – a zig-zag of overboob here, a sliver of butt cleavage there. If you're brave enough to work with that, I think these unconventional pieces have excellent loungewear-as-outerwear styling potential. They'd certainly turn heads!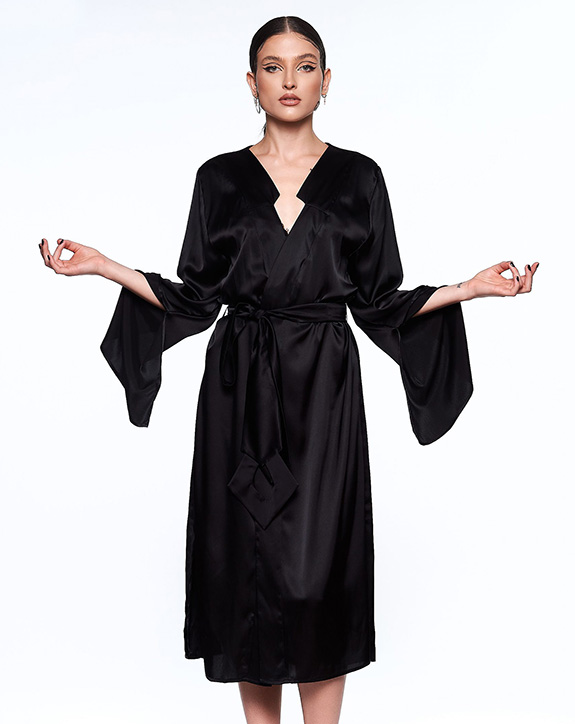 Alternatively, Ruxandra recommends her Infinity robe to wear out and about (as well as at home). Featuring a cut-out back and a tie belt with an oversized diamond shape at one end, she uses it to dress up jeans or even a pair of leggings. Even more eye-catching would be the Infinity pants with cut-out spikes emerging from the front of the waistband. Ludique suggests pairing them with the matching satin blazer; I'm picturing them over a crisp white, tucked-in shirt to really highlight the spikes.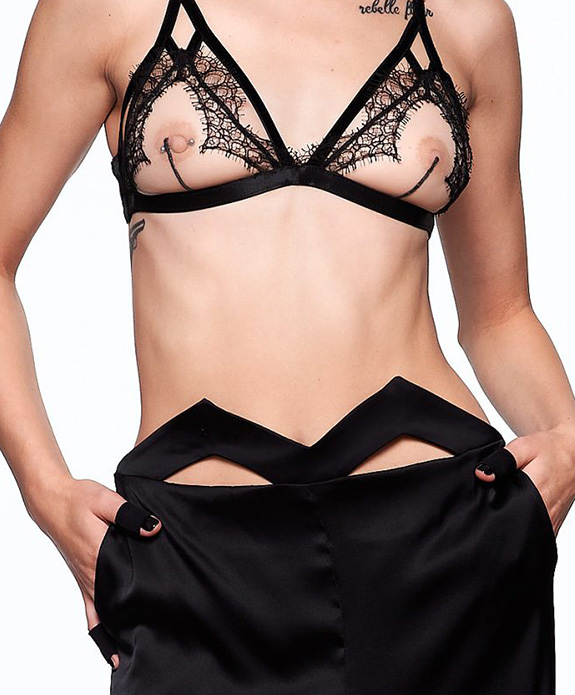 If it's underwear you're most interested in, Ludique offers a range of wireless bralette designs. My favorite right now is the Lustful set (see at top), with its vampiric blood red velvet elastic and cobwebby lace. For those who prefer underwire, the Diamond bra is a wet-look longline with jagged cup edges and small triangle cut-outs. And there are plenty of ultra-sheer chemises and robes to drape over the top, if you want to add another layer without covering up these stunning designs.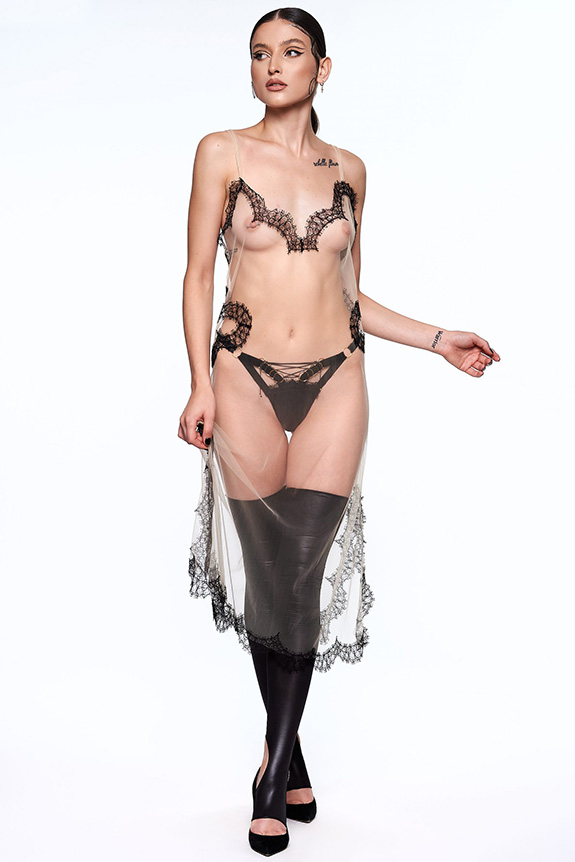 Ludique lingerie is hand crafted in Romania, and costs from 33€-309€ (approximately $37-$349). Sizes cover XS-XL.
Contact information:
Website: http://ludiqueshop.com/
Instagram: @ludique_lingerie
Email: studio@ludiqueshop.com
See More Featured Designers in Our Gallery