Nipples: They're Back
By LINDA DYETT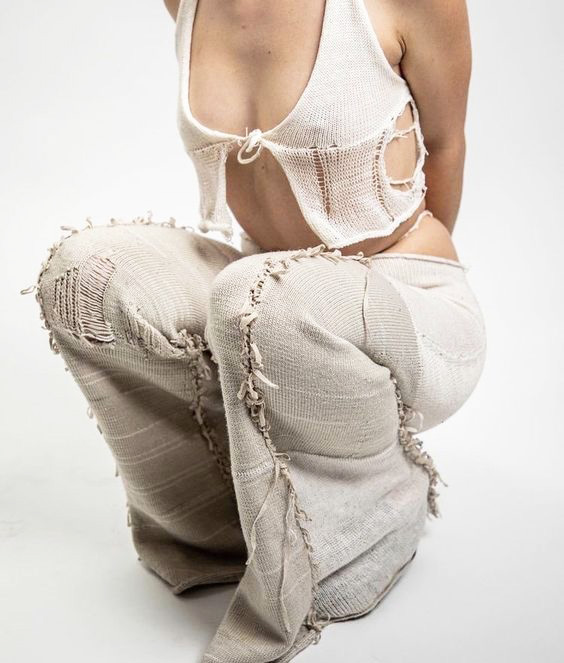 Make no mistake. In this Coronavirus Year Three, we're still—if not so steadfastly–on the alert. Witness the somber, mannish, oversize, protective pants suits that are all the rage. Witness as well all the hoods and balaclavas, even as the weather warms up. And the continuing sales of molded, padded, modesty-invoking T-shirt bras. "They are still strong–for reason of eliminating nipple display," says Gale Epstein, co-founder and creative director of Hanky Panky. Nonetheless, after all the quarantining, the cowering inside, the rampant sanitizing, and the armoring with face masks, we are gradually emerging from the coronavirus. So little wonder that unmistakable tokens of body-conscious sensuality are cropping up. Consider all the revealing ribcage and thigh cutouts, the cold-shoulder tops, the increasingly larger rips and holes in jeans, the midriff baring, and the cleavage-displays at the insides, outsides, and lower curves of the breasts–not to mention the occasional but very visible rear-end decollates.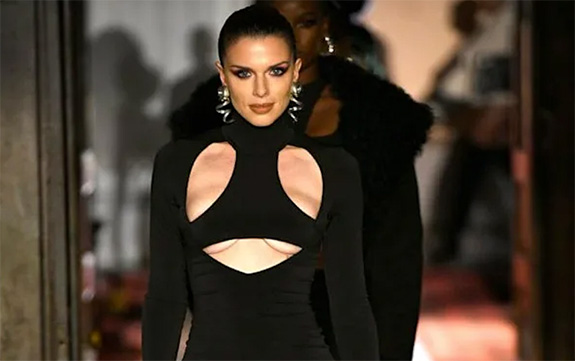 Is any wonder that nipples too are in evidence, covered lately by lightweight, often sheer or semi-sheer, easy-wear bras?
It's a trend, agrees Epstein, "and braless-ness is happening too." She points to the musician, singer, and breakout movie heroine, Alana Haim, age 30, who is getting a lot of play these days. Haim casually went braless beneath her T-shirt in Paul Thomas Anderson's much-praised Licorice Pizza (that's Philip Seymour Hoffman's son Cooper in the background.)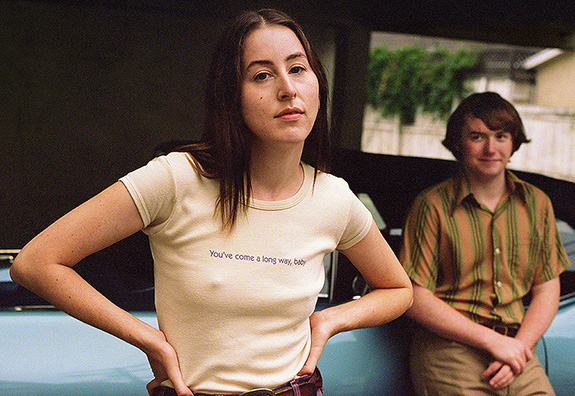 And then there's Rihanna. It isn't only the wildly popular role model of a 34-year-old singer, actress, designer, and businesswoman's expectant stomach that she's been showing off uncovered lately. She's also been seen braless beneath sheer and fishnet tops that are very of-the-moment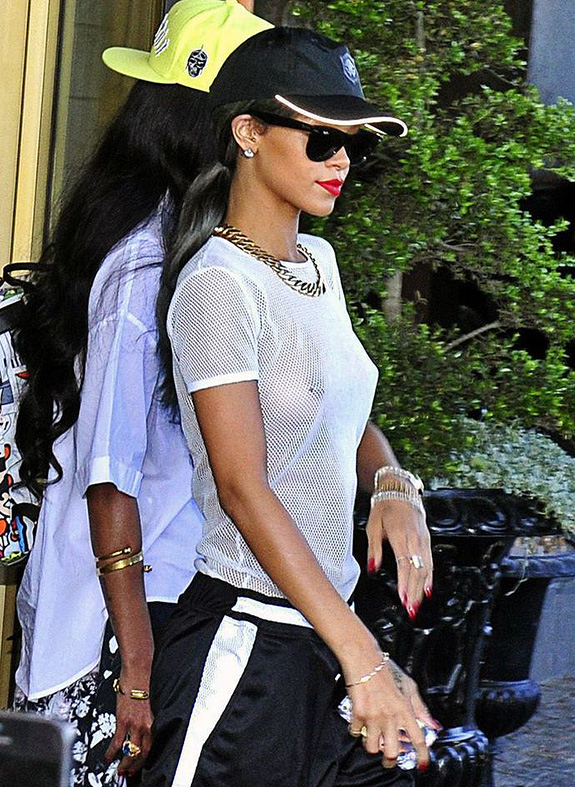 Others, in a wide age range, have joined her in a nipple-revealing cavalcade: the French actress Isabelle Huppert, who, at age 68, is the latest face of Balenciaga, Jennifer Aniston (53), Heather Graham (52), Kim Kardashian (41—another Balenciaga model), Ann Hathaway (39), Zoë Kravitz (33), Kristin Stewart and Jennifer Lawrence (both 31), Kendall Jenner and Gigi Hadid (both 26), and Bella Hadid (25). It's not hard to identify with one or more of the above.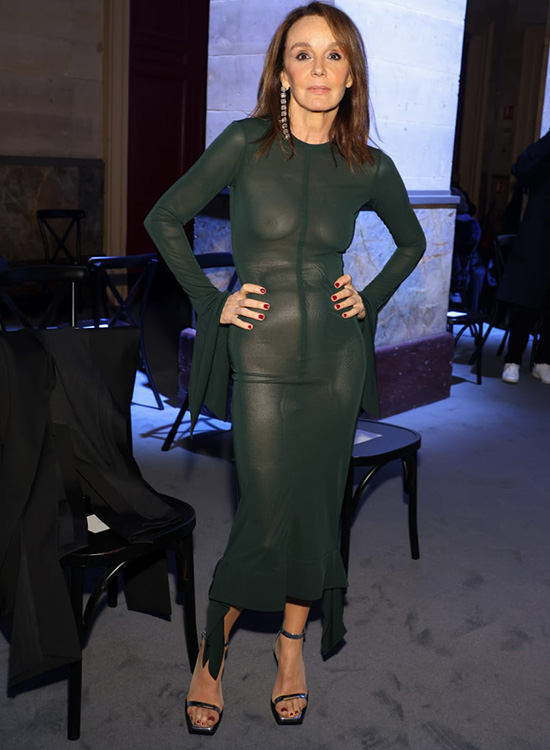 Consider also the effect of:
The '70s, '80s, and '90s Redux Movement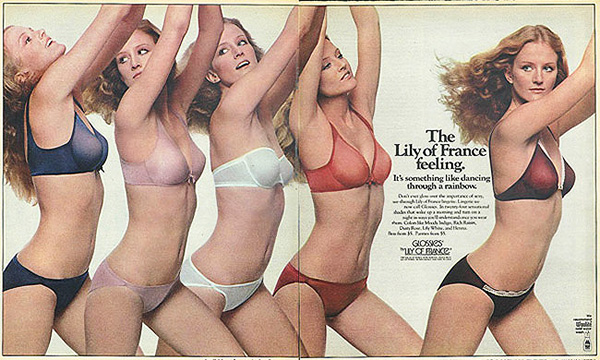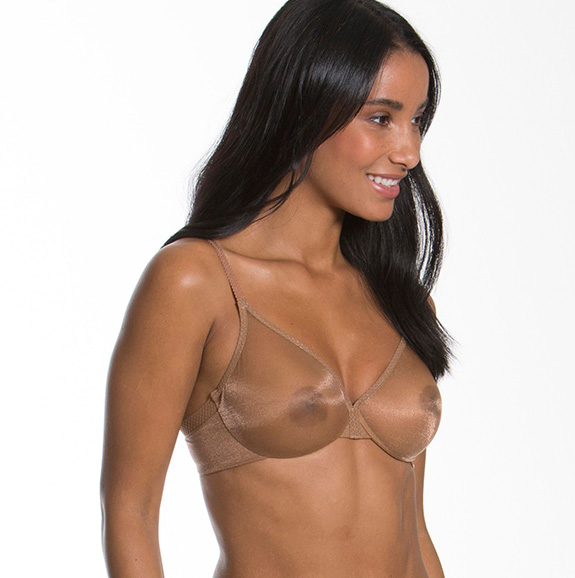 Gossard
Breasts and nipples were shielded and off-limits in the 20-aughts and teens (which is when T-shirt bras and modesty emerged). But many of us who were around back in the early 1970s developed a passion for and have continued to favor the semi-sheer, seamless, minimal John Kloss Glossies by Lily of France sensibility. Now it's back. Even if Glossies themselves are now longer extant, many bras today appear inspired by them. Some of them are displayed below. The New York designer Megan Kinney, who owns Meg Shops, a small chain of insiders' ready-to-wear boutique with branches in Manhattan (the newest just opened in Nolita), Brooklyn, and Toronto, approves of nipple evidence beneath clothes.  "There's a '70s me that loves a little sweater-and-nipple action," she says.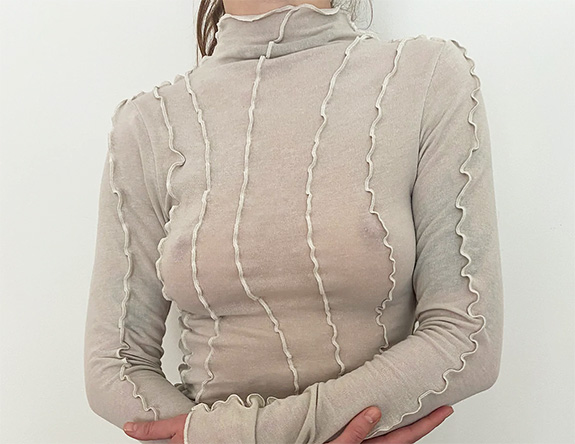 Paloma
The Pandemic During the 2020 shutdown, many, many women, sequestered at home, happily cast off their bras. Then once it was safe to venture out, some of them went for non-constricting choices—such as the items in the next category.
The Bralette/Soft Bra Movement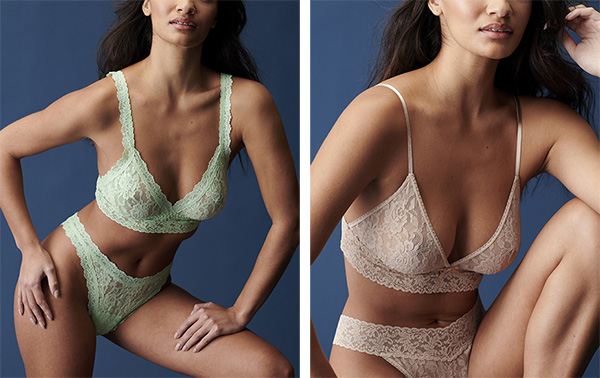 Hanky Panky
It's put a dent in T-shirt bra sales and made breast naturalness acceptable. (Lower-slung breasts are also looking good … but that's another story.) Not surprisingly, Azaleas, a lingerie shop in New York's East Village—a hotbed of new fashion trends–sells no molded bras at all. In fact, most it its bras are unlined.
The gender-nonconforming clothing phenomenon
With young guys now wearing what has traditionally been seen as womenswear, as well as non-specific and gender-free clothes (and makeup too), those assigned the female sex at birth are suddenly feeling the need to parade that identity. How better to accomplish that than by displaying their protruding nipples?
All right, it needs to be acknowledged: breasts–and nipples especially–are secondary sex characteristics, fraught with meaning and consequence. The mere hint of women's nipples in public, however covered up they may be, will arouse glances of lust and maybe disrespect. They're the price to be paid for allowing nipples to appear. Which is why many women understandably avoid revealing even a hint of them. And large-breasted women, no matter their modesty level, automatically tend to avoid such displays (although that, along with changing tastes, may get a shakeup in the future).
Then there are the others–who like (or at least don't mind) their nipples showing through. "Women shop for bras for different reasons. They want their bras to do something. I always think, I want my bra to work for me." So says Bonnie Abrams, Vice President of Marketing, Content, and Creative at Red Ventures, the media company that owns Lonely Planet, CNET, ZDNet, TV Guide, Metacritic, Chowhound, and other brands. Abrams definitely sees the nipple-reveal resurgence, not least in young girls "looking for sheer, mesh, and lace," as a reason to shop for lightweight bras.
Here are the likeliest bra choices for those okay with nipple-reveal:
Sheer, Semi-Sheer and Mesh Bras
"We seeing a lot of plain mesh bras—they're resurgent," says the designer Maddie Kulig of Madelynne Intimates, which sells its own ready-mades and offers instructional classes and supplies. Mesh of course was available in the past, "but now it's super-supportive." Several brands Kulig mentions are Cuup, "for its basic underwire styles," Parade—"with awesome sheers in fun colors," Dora Larsen, "also for its pops of color," and Wolford, "for its advanced fabric technology". But honestly, most unlined and even lined woven and jersey bras can also show nipples (depending on the weather and level of arousal). For instance, with the Negative Underwear styles that I own, see-through is achieved not only via its semi-sheer nylon-Spandex Sieve Underwire Bra, but also with its micromodal Whipped Triangle Bra.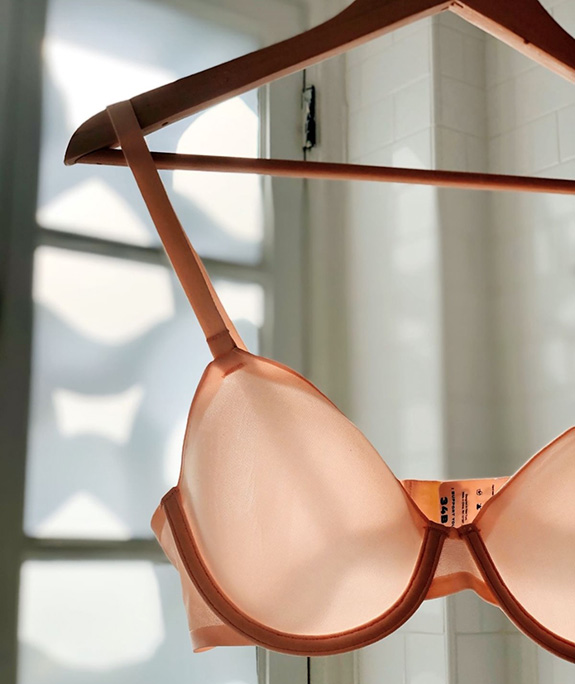 Cuup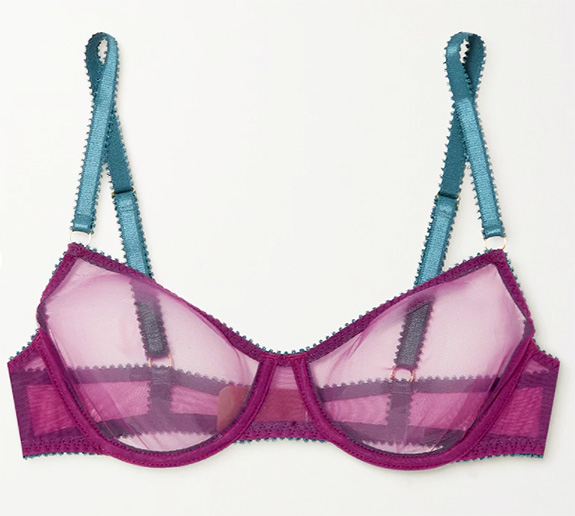 Dora Larsen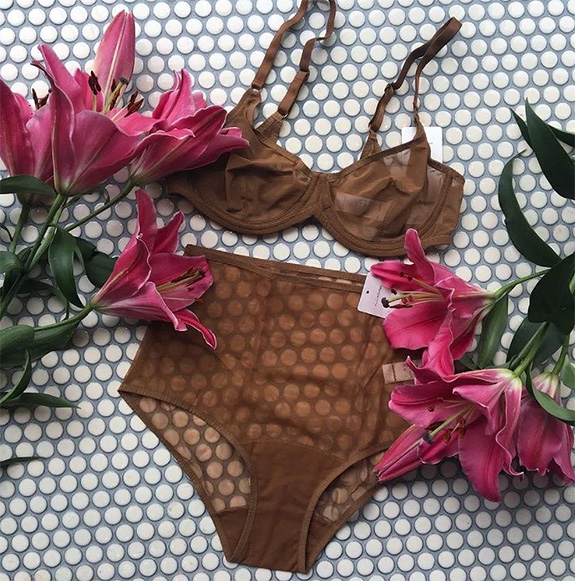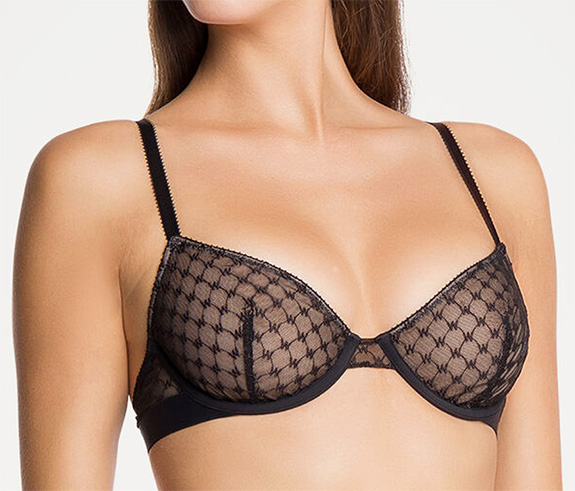 Wolford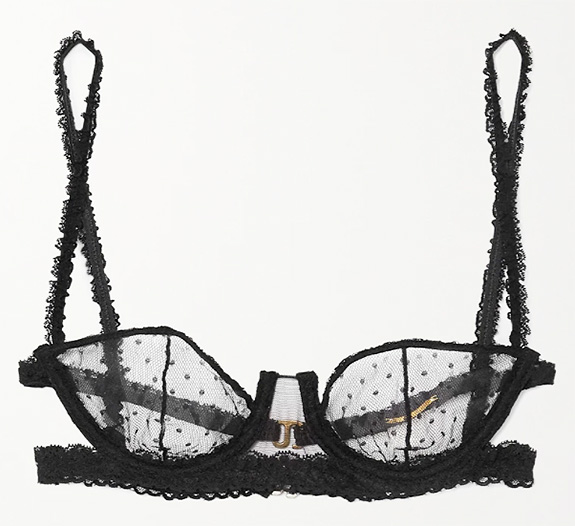 St.Laurent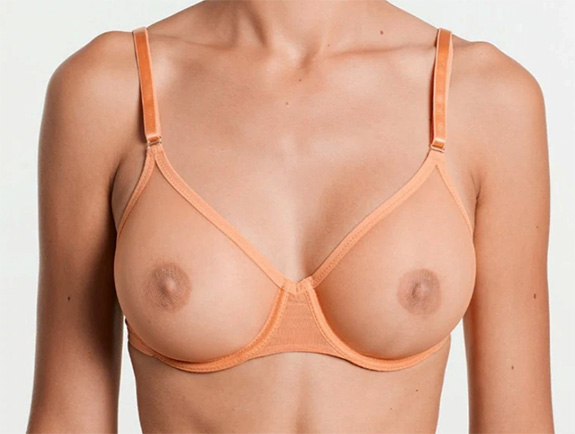 Yasmin Eslami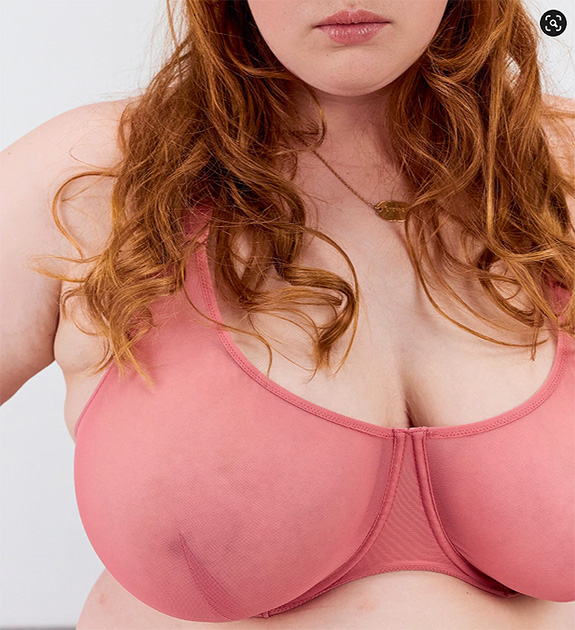 La Fille d'O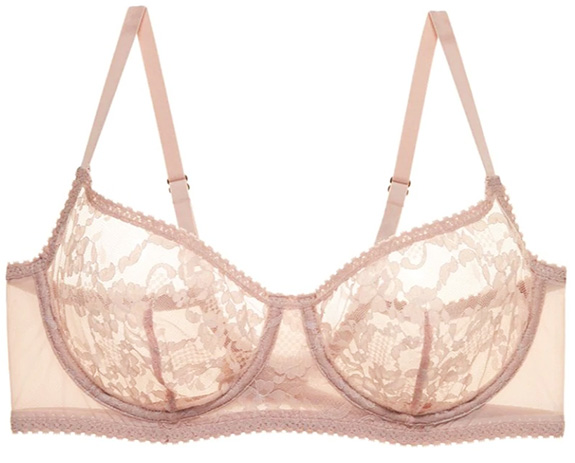 Natori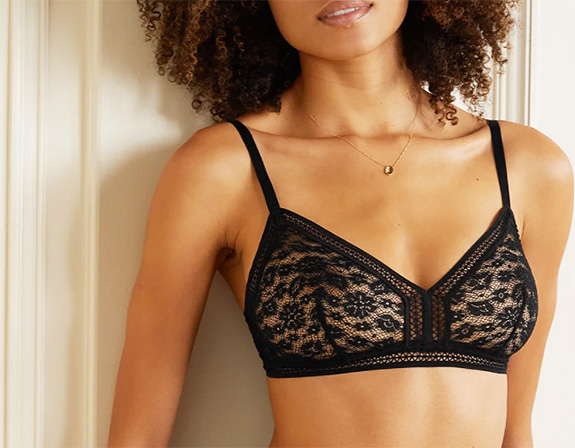 Eres
Quarter- and Half-Cup Shelf Bras
These provide uplift while leaving the nipples and tops of the breasts exposed. They're idea for those who seek to raise their breast visibility but are unwilling to go braless.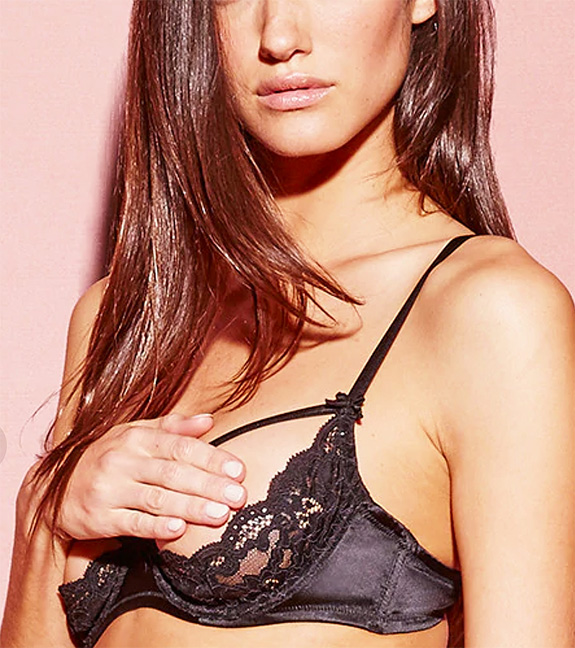 Fleur du Mal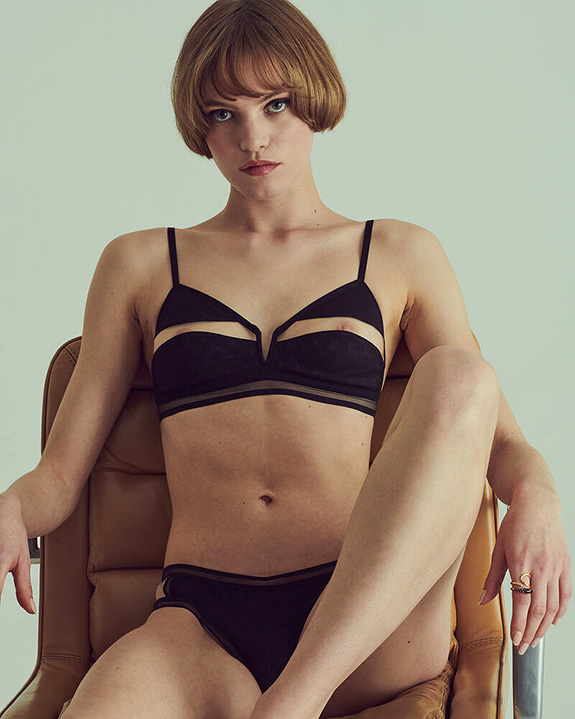 Livy
And finally:  Harnesses–for those who like the braless look but want uplift too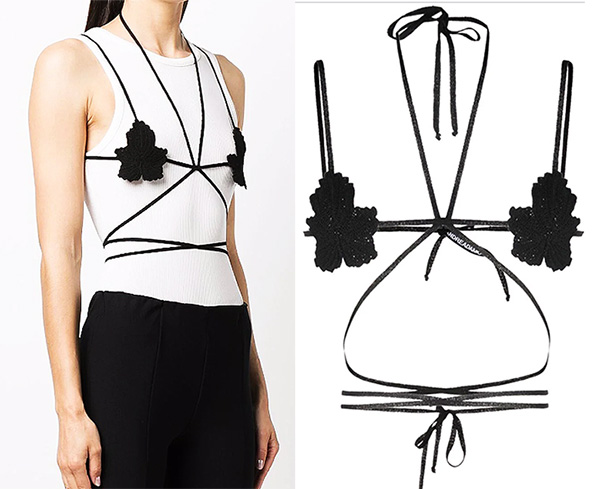 Andreadamo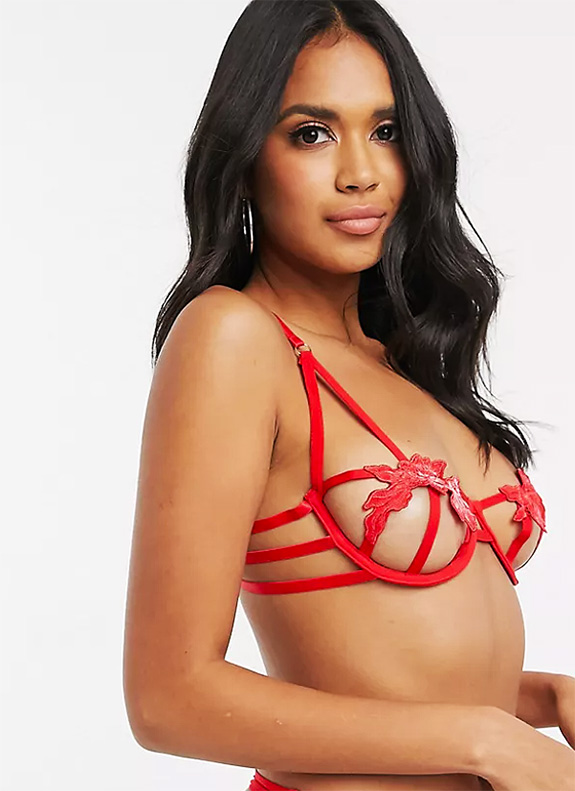 Bluebella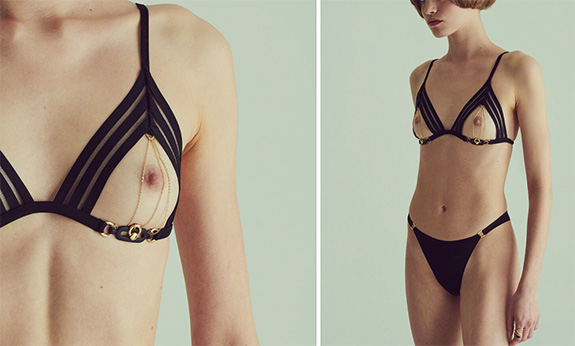 Livy
Click Here to Read More Articles by Linda Dyett