LOVE AND MARRAIGE
By TINA WILSON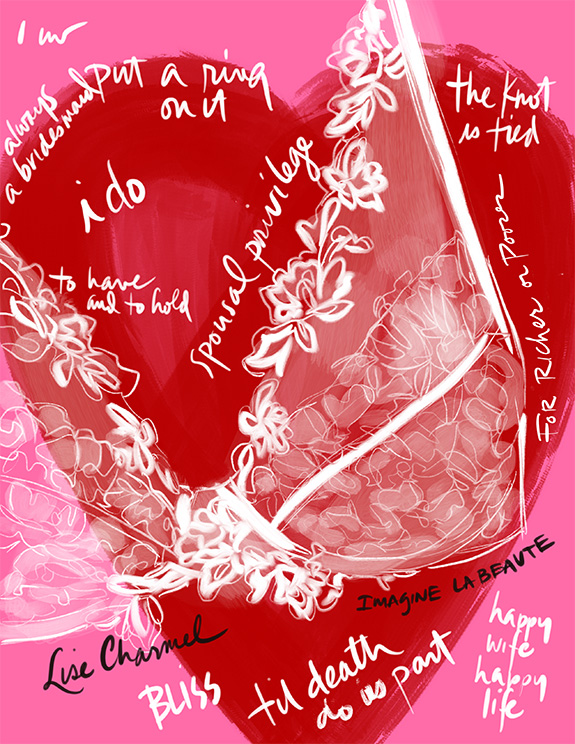 I do. Til death do us part. I pronounce you. I take you. I promise. Happily ever after. Tie the knot. Bliss.
Love and marriage. Spouses, couples, and the ups and downs of matrimony are making the headlines and some big waves. Do you stand by a spouse that encourages and helps orchestrate a government takeover? Do you recuse yourself or better yet resign from the highest court or do you pretend you knew nothing? Maybe you throw her under the bus and try single life for awhile ? Love or the lack thereof  makes us do some crazy ass things.
By stark contrast the love and pride on the face of Ketanji Brown Jackson's husband Patrick gave us all a much needed jolt of joy and a brief respite from the otherwise dooming headlines. The vibe between them was palpable and sweet. It was the moment he wiped away his tears that steered me to the subject of love and marriage and what to wear. I'm a few months early for the subject of bridal but what the hell, if Covid has taught us nothing else, it's taught us that time is irrelevant.
I have a lot of questions about honeymoon bridal lingerie.  Why is it traditionally white? Purity, virginity, innocence? Do men/women prefer their new brides in all white or is it the bride's choice? Why is there no bridal underwear for men, other than boxers with words like GROOM printed across the tush, or do we just assume men are butt naked the moment the honeymoon begins? How long does one wear the white lingerie? Is it technically obsolete after the first night?  When is Black appropriate, the night after?
Don't mistake my questions for anything but curiosity, I have great admiration for beautifully designed bridal intimates and I have chosen a few favorites to share. It is a category for which a lot of design and development is spent and rightly so.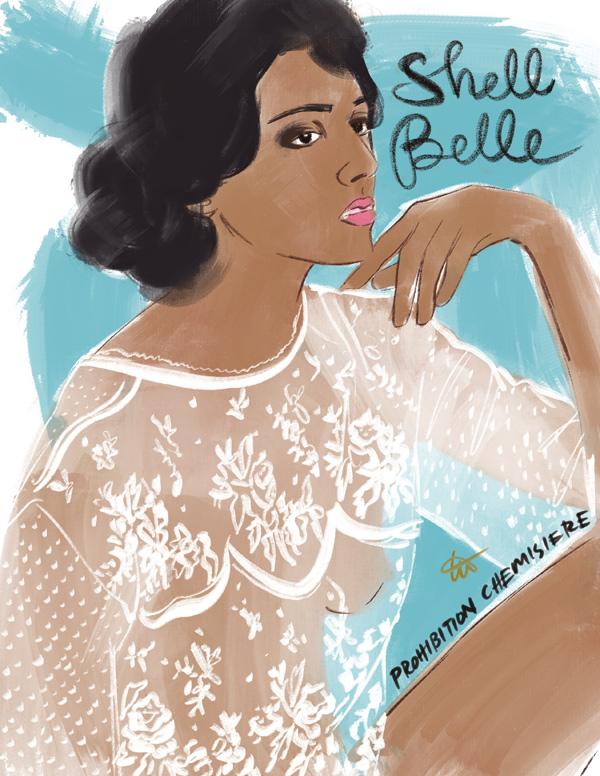 Shell Belle is a new brand for me. What I love about this brand is the retro feel and how modern they have translated it.  The shapes are easy and comfy, its not all corsets and garters, they use gorgeous laces in a casual way, you can look dressed up without feeling dressed. Their Chemisier is a lovely sheer lace top that I see layered with a white tank and some jeans long after the honeymoon is over.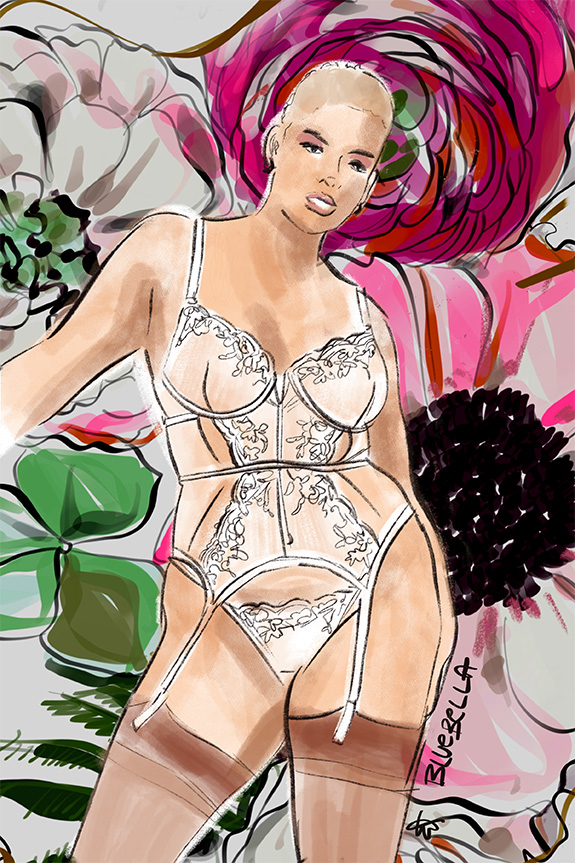 Bluebella a brand out of the UK, has launched new bridal pieces that are particularly sexy. Nice cut outs, garters, open bras, and beautiful embroideries are just a fraction of what is new in the collection.  Featured here is the Marseille Wired Basque and Panty. Of course these also come in Black.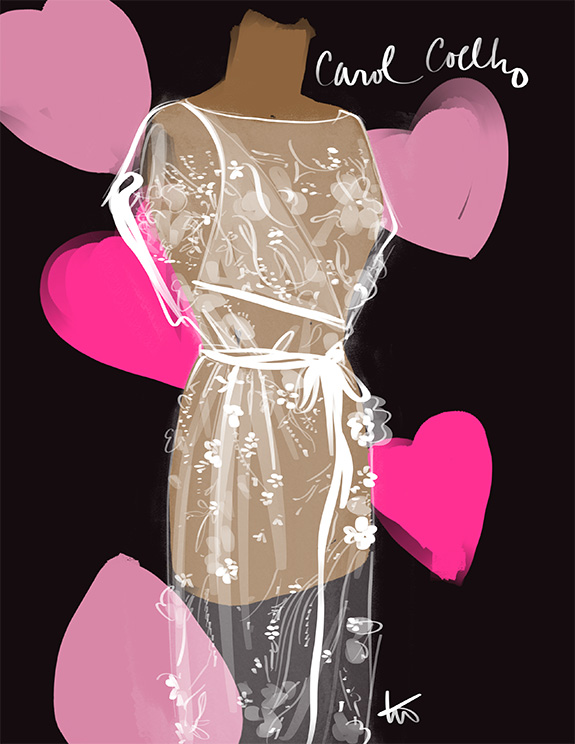 Carol Coelho has one of the most diverse fabrications in her collections that I have seen.  Diverse in a good way, as texture and combinations of fabrics seem to be her specialty and it works.  I love her bridal gown collections and her intimates.  She also doesn't fall into the white only trap, as she uses gorgeous vibrant colors. You can get lost in her website for hours exploring.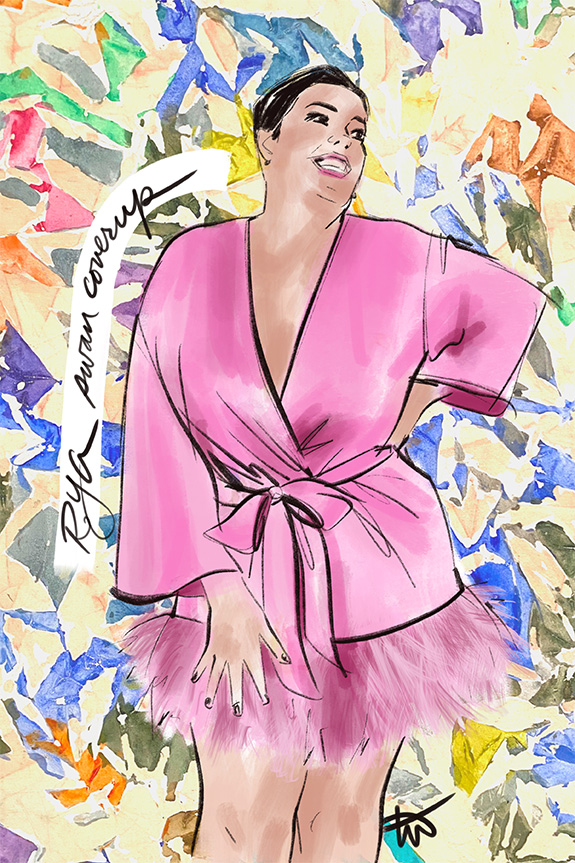 Speaking of color I chose the Rya Swan coverup because it's pink, its pretty, its perfect and it has ostrich feathers dangling from the hem. Talk about "tickled pink"! Rya is a master of color, fun yet sophisticated design and quality.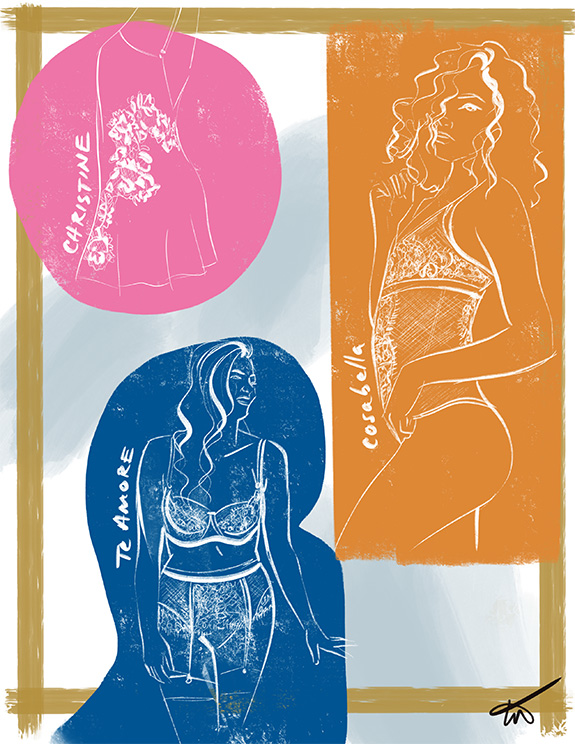 Clockwise from the top is Christine's silk chemise with lace appliqué, consummate Christine and what she is known for, beautiful. Then TeAmore's Dusk Levers Lace bra, suspenders and panty, prime examples of classic, pure bridal intimates. You cannot go wrong with a beautiful Levers Lace. Last and never least is Cosabella, everyone's favorite and they are killing it lately. Their Sicillia Bodysuit is the epitome of young, lacy, meshy,fresh and comfortable.
So whether you're getting married, married forever, or alone it's time to freshen things up. The weather is changing, the world is changing, but Hope Springs Eternal and I wish you all Peace and Comfort.
 Read and See More of Tina Wilson's Posts 
Trousseau Lingerie, based in Virginia, is donating 5% of their Saturday sales to the Jose Andrés World Central Kitchen in their efforts on behalf of Ukrainian refugees. Please help spread the word… tax deductible  https://donate.wck.org/team/411991