Fashion Tribute to AAPI Designers – Honoring the Past & Jumping into the Future
By BECKY YEE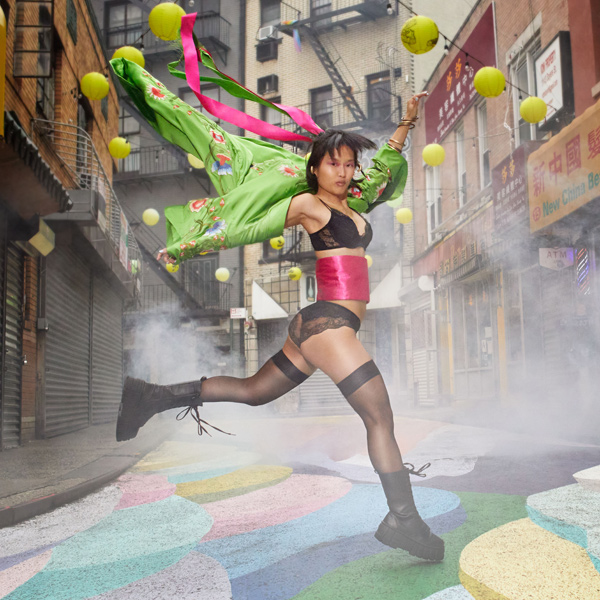 May is Asian American Pacific Islander (AAPI) Heritage Month.  It's a time when we can pay tribute to and celebrate the generations of Asian and Pacific Islanders who have enriched America's history and are continuing to contribute to its future success. (Above photo: robe, bra & panty by Natori, Thigh Highs by VienneMilano & jewelry by Pono)
There are many exciting things going in the lingerie industry and these four women featured in this article are honoring the past of their AAPI heritage but embracing the present and creating a new future for all of us to share their beautiful designs and products.  We celebrate these four AAPI designers and owners, from the elegant and classy Josie Natori to the versatile Samantha Chang who successfully dresses up being practically undressed to Emily Lau whose Little Bra Company who helps petites find the perfect fit to Vienne Cheung of Vienne Milano who makes luxury thigh highs that actually stay up.
NATORI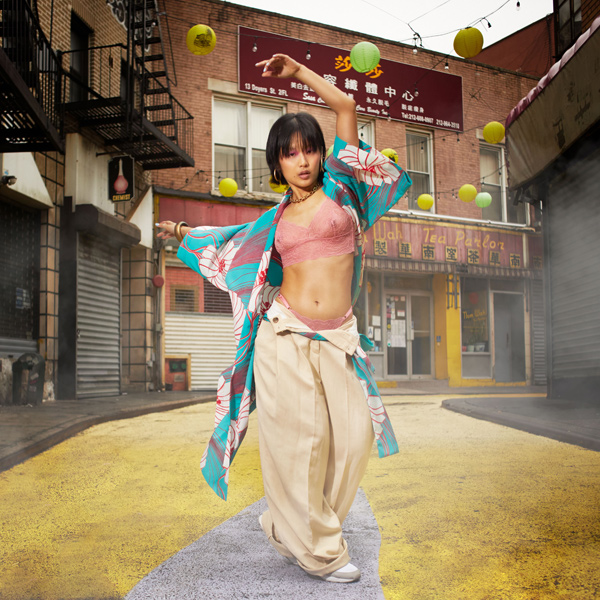 Robe by Natori, Bra & Thong by Samantha Chang, Jewelry by Pono
Josie Natori enjoys combining her Asian heritage with a sense of western wearability. She is inspired by eastern culture that can be translated into wearable art. Clothing that is easy, comfortable, timeless and always glamorous.
Since 1977, the whole essence of Natori has been Josie's Asian heritage reflected through prints, patterns and shapes. Josie initially brought an embroidered blouse from the Philippines to a buyer at Bloomingdale's which soon became her first sleepshirt design and 45 years later, a full-blown lifestyle brand. This original perspective continues to translate through each collection, naturally blending Josie's eastern roots with a modern, western flare. Natori's design process starts at their headquarters in NYC and comes to life at their family-owned factory in the Philippines. Natori very literally stands by their East meets West mantra.
Josie visits Souks around the world in search of one-of-a-kind artifacts and objects that speak to her. As an avid traveler and collector, Josie enjoys bringing the experience of exotic world travels right to someone's home and everyday life. Personal treasures they can indulge in.
SAMANTHA CHANG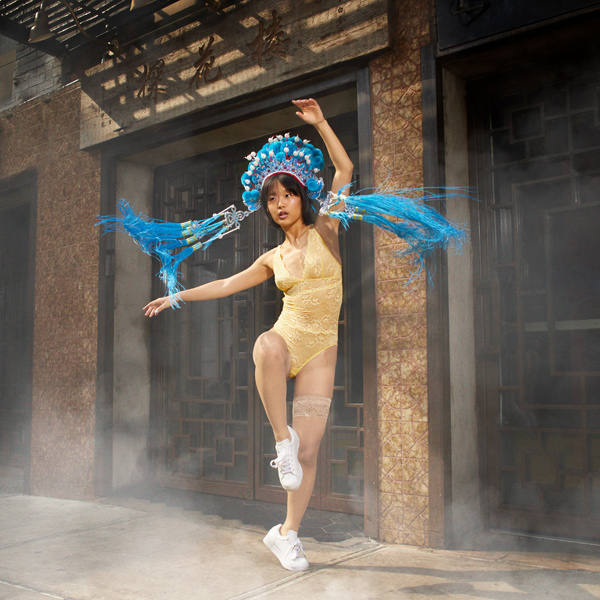 Bodysuit by Samantha Chang, Thigh Highs by VienneMilano
Luxury lingerie designer Samantha Chang was born in Hong Kong. After graduating from the Rhode Island School of Design, she started working for luxury designers. After gaining valuable experience, she launched her eponymous collection.
As an Asian American designer, she has had multi-cultural influences. Her designs include delicate European laces, Asian silks and modern fabrics in silhouettes that coordinate with the American lifestyle. The results are a balanced collection with a broad appeal. Something for every woman.
Luxurious silk kimonos are a cornerstone of the Samantha Chang Collection. Samantha has incorporated beautiful prints, many of which are Asian inspired.
THE LITTLE BRA COMPANY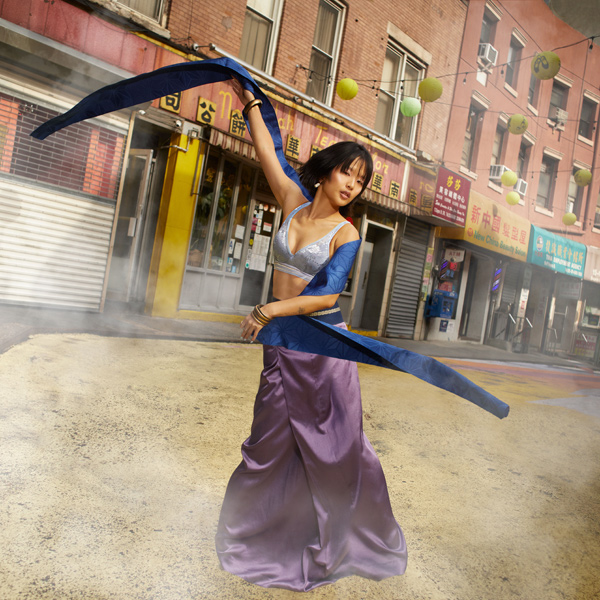 Bra by The Little Bra Company, jewelry by Pono
Asians generally tend to be smaller in body frame than Westerners. Emily Lau, founder of The Little Bra Company® said, "I am a second generation Chinese American and was born with a petite body type. I grew up in a suburb of Los Angeles, CA. My friends and I shopped for bras at the mall with big brand names that had big bra sizes. Even their smallest sizes never fit me right. In my 20s, I continued to search high and low for a bra that fit me correctly and obsessed over all the lingerie I saw in magazines. Salespeople told me to look in the tween section, but I didn't want a training bra. Finally, on a trip to Asia, I found a bra that fit me right, but the styling was all wrong. That's when I decided to design my own bra with the fit that I found in Asia but with more of a European/contemporary styling. I tried this bra on my petite friends who are both Asian and non-Asian, and they loved it. 40% of American women are petite, and they are not just Asian Americans. Just look at famous petites such as Kerry Washington and Kelly Ripa."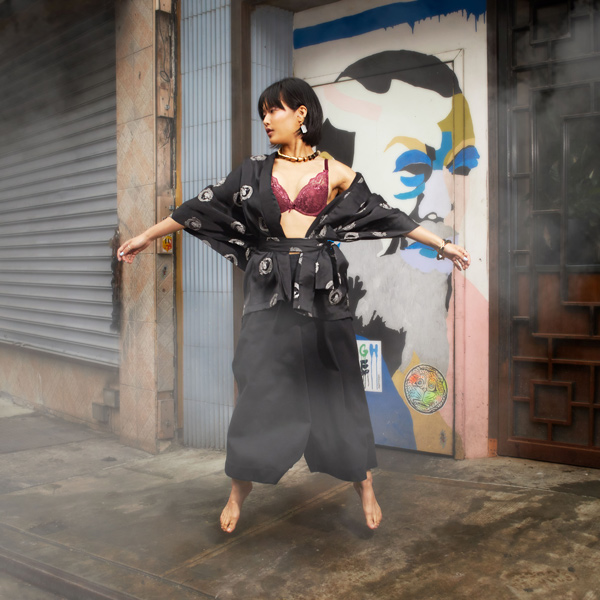 Bra by The Little Bra Company, Wrap by Natori, Pants-COS & jewelry by Pono
"The Little Bra Company® bras are different because we design our bras especially for petite and smaller-framed women. Our scale is based on a petite body type, so our proportion is based on a smaller figure. ALL details are scaled down to better fit and flatter your petite frame."
"In 2007, The Little Bra Company was the first petite-focused bra brand in the U.S. market. Today, the collection has grown to include 21 bra sizes, offering the most customized fit for the smaller chest and body type. We ship to retailers globally including Hong Kong and Asia, and hope to expand our brand in this region in the future because women worldwide deserve a stylish bra that is customized to her body type."
VIENNE MILANO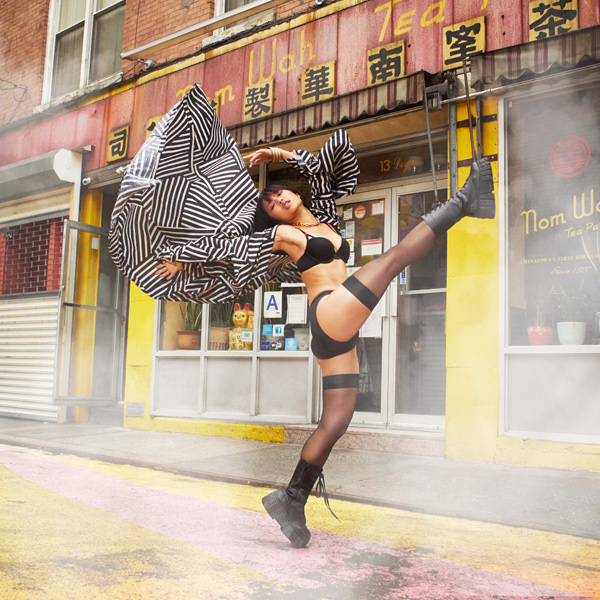 Thigh Highs by VienneMilano, Bra & Panty by The Little Bra Company, jewelry by Pono
How you started this brand and why?
VienneMilano was born out of a real struggle to find beautiful, comfortable, and affordable thigh highs that can be worn in every occasion. Over a decade ago, when I worked in Corporate America, I gravitated towards thigh highs for comfort and style since pantyhose are uncomfortable and didn't suit my figure. I turned to thigh high stockings as part of my corporate wardrobe. The problem was, at the time, thigh highs in the US were either meant for Halloween or too expensive for me to feasibly wear every day to work. I seized this opportunity to find a solution. I researched, visited suppliers in Italy, and began designing and launching my first collection in 2011. I named the brand VienneMilano after myself and the fashion capital of Italy, which happens to be close to where my hosiery is produced.
How does your heritage inform your brand?
VienneMilano encapsulates my core identity and heritage as a Chinese immigrant. Through my family's journey from Southern China to Hong Kong to North America, we faced much adversity entering new cultures, countries, and environments. Despite the volatility in our lives, what remains true is that we remain respectful, harmonious, devoted, and benevolent to others and ourselves. These pillars guide the VienneMilano brand to help every woman who slips on a pair of our thigh highs to look and feel beautiful, respected, empowered, and fabulous! Building Vienne Milano requires hard work, dedication, and inspiration every day, which I draw from my family's journey.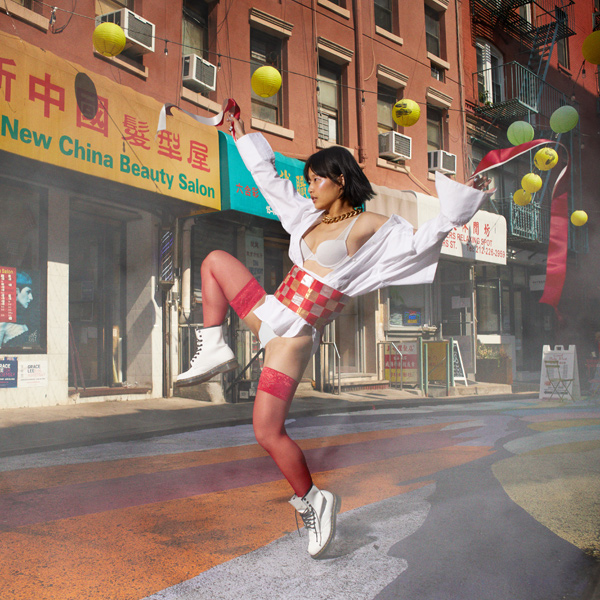 Thigh Highs by VienneMilano, Bra by The Little Bra Company, Thong by Commando, jewelry by Pono
What can you tell me about how your Asian heritage influenced your company and what you and your brand is doing to create a new future for the lingerie market?
From a philosophical standpoint, VienneMilano embodies the Chinese saying, "Yu Gong Yi Shan," (愚公移山), which is about completing an enormous task in the face of adversity (old man moving mountain). My goal is to reintroduce thigh highs as a mainstream fashion accessory. Progress is made through one pair of stockings at a time.
CREDITS:
Model: Haze Kim
Photographer: Becky Yee
Production – Color Wheel Studios
Photo Assistant Mikkel Schwitzer Justesen
Stylist – Georgia Cruz
Hair and Makeup Jeanne Froissart
Location – Chinatown NYC Doyer and Pell Street
See more Becky Yee photography and feature articles