What Lies Beneath?
By BECKY YEE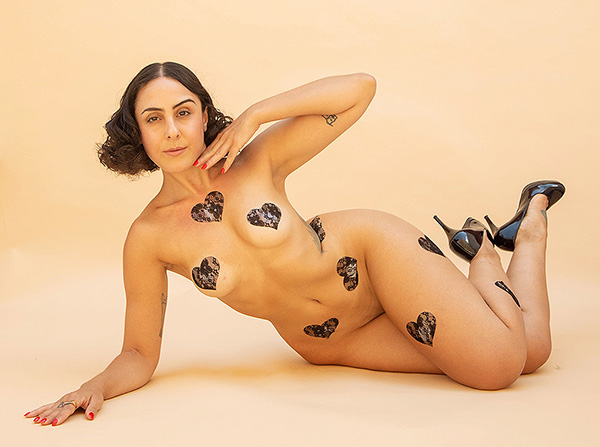 What lies beneath? How do we highlight the innovation, beauty and luxury of intimate items meant to be hidden under clothes? A bit tongue and cheek and creatively wrought, here is our showcase of nipple covers, boob tapes, camel toe concealers and pads that enhance your curves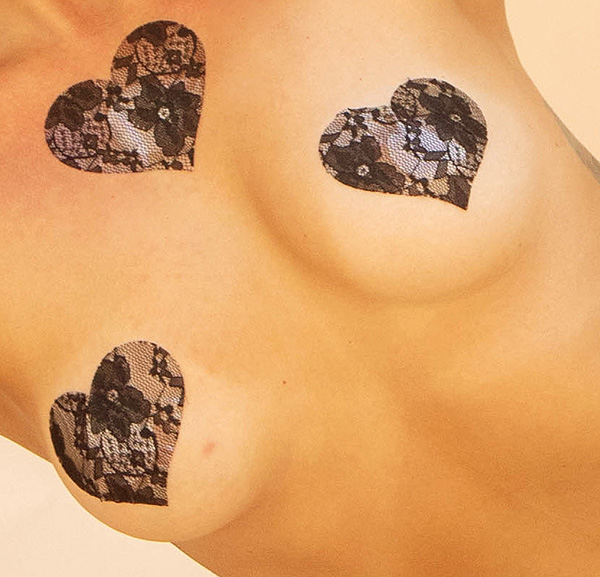 My Perfect Pair makes luxury nipple covers and boob tapes. Their stunning black lace nipple covers are so beautiful you may not want to cover them up but rather show the world how delicately delicious they are.  Who knows maybe you will even want to do what we did and wear them all over your body.  The only drawback for these lace beauties are they are one time use.  We were sad as we'd love to use them again and again.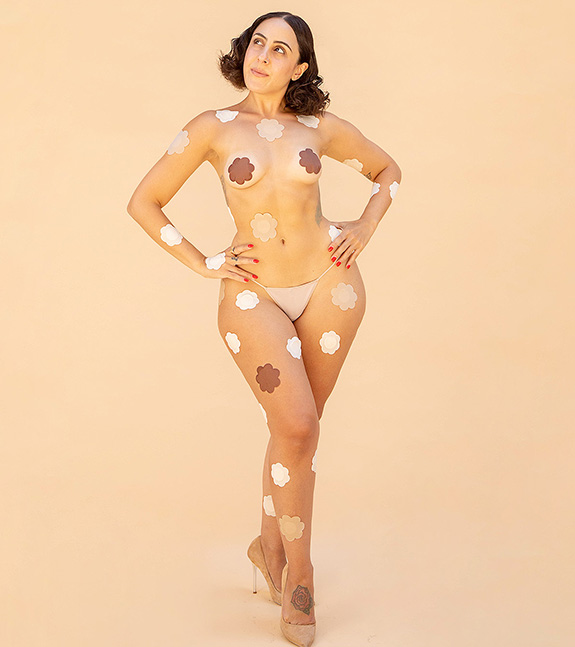 We also had a great time playing with these adorable petal shaped nipple covers by Brazabra.  They come in cocoa and beige.  You can go for the one-time use Petal Tops that uses an acrylic adhesive applied around a center pad or you can opt for the Petal Tops® – reusable silicone nipple covers. These reusable nipple covers boast a patented knit fabric so they stretch in all directions and can mold easily to the contours of your breast.  They are slightly larger than the disposable Petal Tops and boast a silicone adhesive on the skin side.  Not a fan of the icky sticky adhesives that attract lint, hair and dirt then try Braza's round No-Adhesive Silicone Tops.  Brazabra spends a lot of time developing new products and is always working on concepts to improve what is in the market. These round thin nipple covers use innovative technology that makes use of the body's natural heat to hold the nipple covers in place, easier to care for than the adhesive ones and can be used 100 times or more.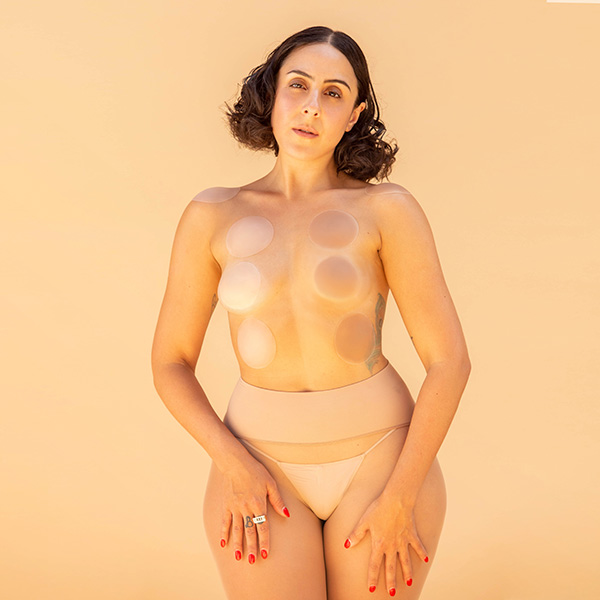 If you like the thin edged silicone nipple covers but want the pretty petal like motif look no further than at Nood's No-show nipple covers.  The smooth matt finish has a hypoallergenic and dermatologist approved adhesive.  The precision thin micro edges melt seamlessly in with your skin.  They also have a thicker center for more coverage and allows you to go braless in any outfit. Coming in 4 different shades of beautiful you can't go wrong with these scrum delicious nipple covers.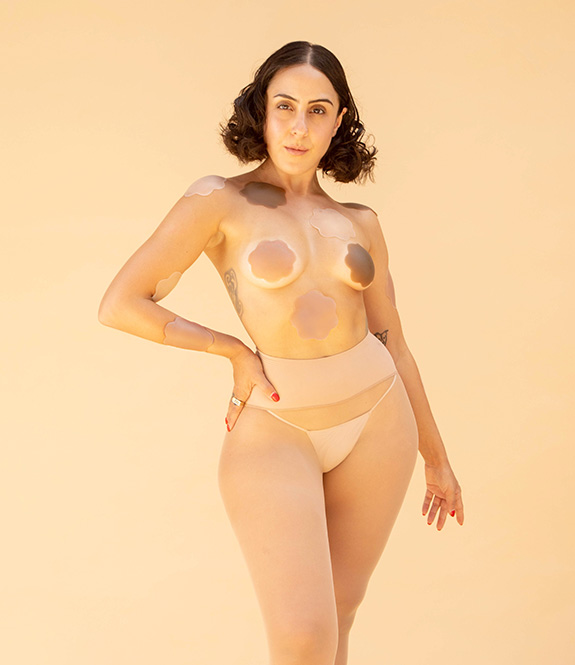 Nipples aren't the only things that need a little covering up, Khloe Kardashion gushes on social media "I love this person" when a fan sent her a camel toe concealer from Silcone Valley.  We don't want any woman to have those embarrassing moments like Khloe so we think these camel toe concealers should be a part of every woman's wardrobe. Wear them with tight leggings and they have a new petite size for bikinis and swimwear that is even water resistant.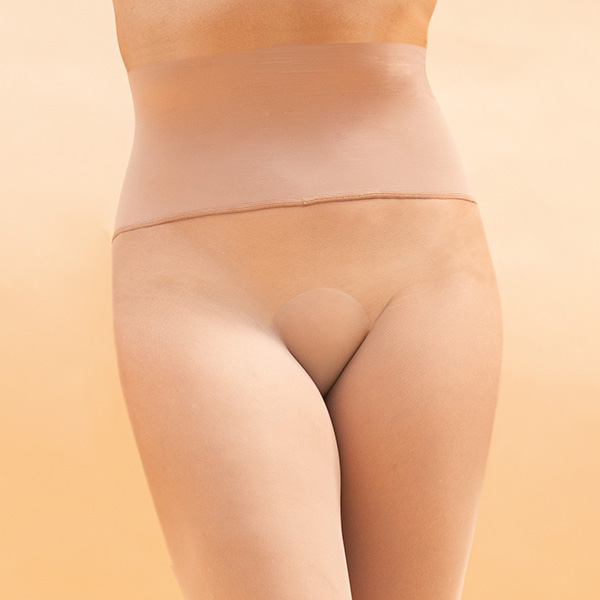 Want to achieve that hourglass figure and a cute bubble butt?  How about trying Love My Bubbles butt or hip pads.  Karen Jones, owner of Love My Bubbles said, "I have always had a very straight figure (aka: a flat butt and "boy hips"). I was teased in high school and became pretty self-conscious about my figure or lack thereof. Fast forward a couple years after launching the company, I couldn't ignore all the requests we were getting for a "bigger boost" so in 2008 we introduced our first Sticky Buns in Foam."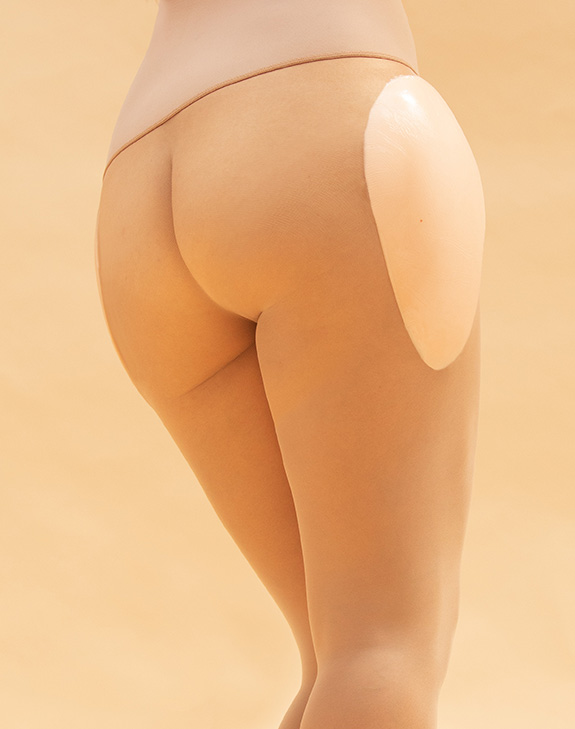 We tried Love My Bubbles and yes they work, giving you some more volume and roundness in your butt or hips which makes your waist look smaller for a sexy curvy hourglass shape. They come in foam and silicon. The foam is more economical and lighter, but the silicon has a more natural movement and feel.
Unlike nipple covers, the Sticky Buns and Sticky Hips actually have the sticky adhesives on the outside.  The reason for that, Karen said, "Butt and hips are the center of significant movement throughout a typical day. The act of walking, running and especially sitting or standing are all activities that would compromise the position of the pads. The pads are much larger than nipple covers and because the skin doesn't breathe under adhesives, the pads can cause discomfort, excessive perspiration and may lose adhesion after just a short period of time wearing. There are also a significant number of people with an allergy or sensitivity to adhesives.   So when sticking to an outer garment rather than the skin, our customers feel more comfortable and confident knowing that their padding is being held securely in place – even during lots of movement, long periods of wear and warmer weather."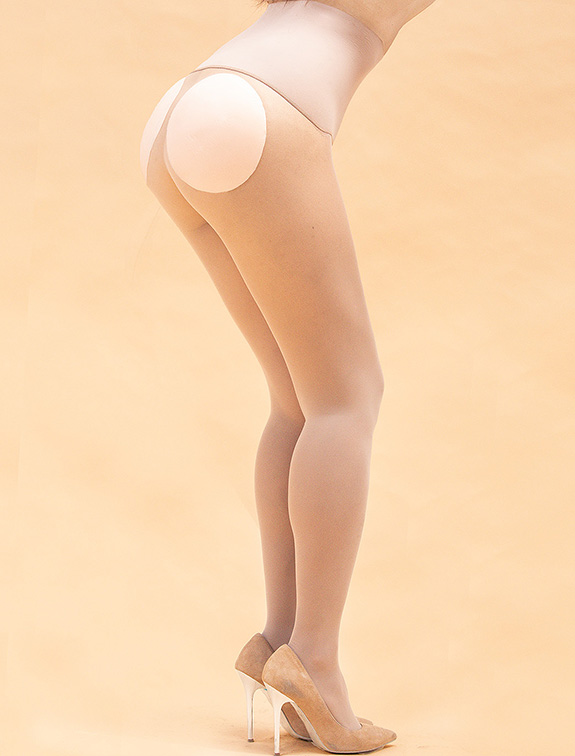 One last product that is beneath your clothes or at least part is Les Belles (shown above) seamless crotch panty hose. Made in Italy from recycled yarn with a 3d knit technology that allows them to stretch in 360 degrees. Owner says "They are beautiful and discreet under clothes and are perfectly and truly unisex. Our male/nonbinary customers consistently say that they are the most comfortable tights they've ever worn."
They really had a very durable feeling and we found out why.  All the buttery soft tights are made of a luxurious double-covered yarn that ensures that our tights are extra durable, strong, while remaining beautiful and sheer.
Sheerness coupled with durability isn't the only thing we loved about this brand, they are also made with recycled yarn in an emission less factory that is to say the factory recycles large amounts of water from production, uses only recyclable energy, recycles large amounts of chemicals, etc.  So, you can feel great under your clothes and do good for the environment and the best thing – the price point.
Owner says "Les Belles is an ultraluxe yet pocket-friendly, eco-conscious tights brand on a mission to make tights for everybody and all genders in a sustainable and responsible way. We're forever inclusive, never conventional, a bit mischievous and a lot independent. "
See More Articles and Photography by Becky Yee on Lingerie Briefs
Photography: Becky Yee
@BeckyYeePhoto
Assistant:Jeanne Friossart
@froissartfilms
Model: Samantha Rose
@xo_samantharose
Studio : @colorwheelstudios