Azaleas ~ A Downtown NYC Bastion of Intimates, Swimwear & Beguiling Extras
By LINDA DYETT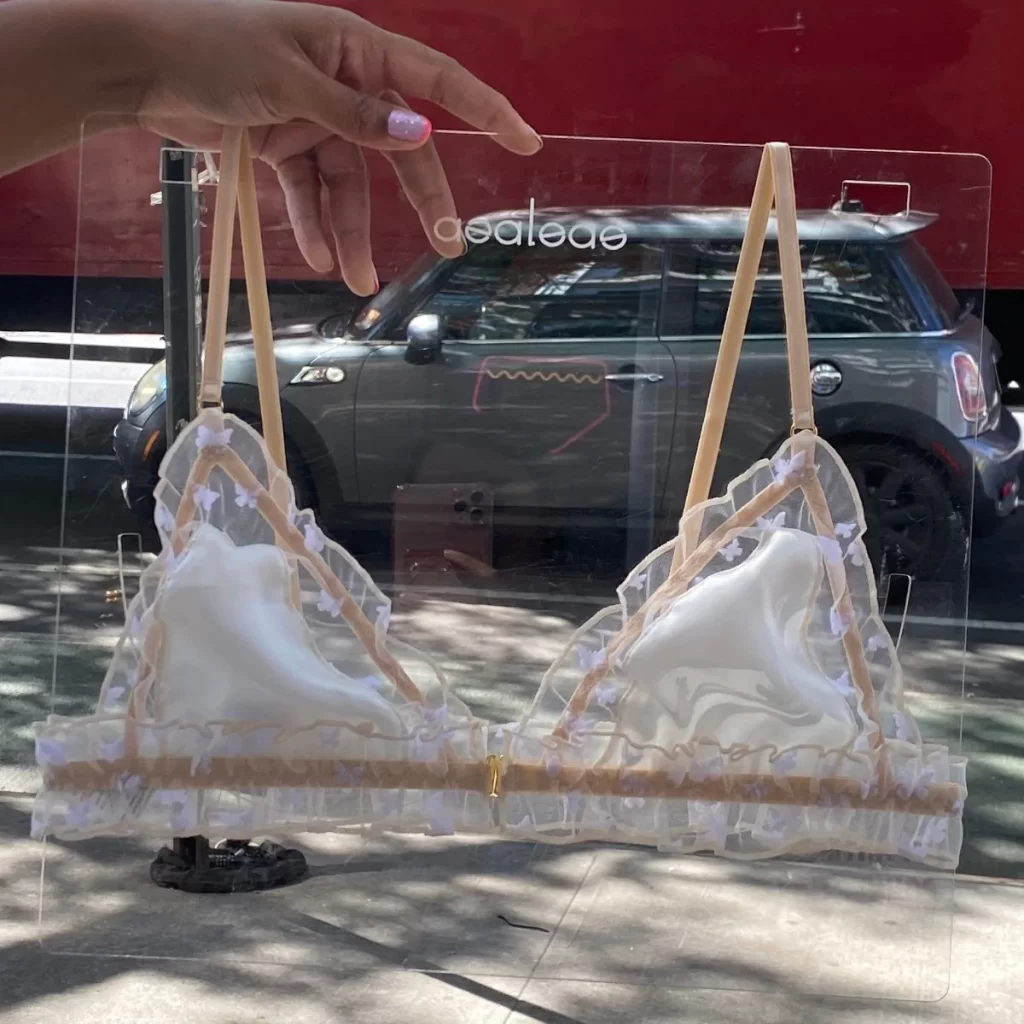 Le Petit Trou
Full disclosure right at the outset: I'm a lingerie aficionado who happens to live a tantalizingly short block-and-a-half away from an absolutely knockout-terrific underthings store—Azaleas, located in the heart of New York's East Village. The ultimate indie retailer, this is a white-walled intimates general store—a Downtown lifestyle mart filled with essentials and esoterica that takes its cue from and is a perfect fit for my offbeat Downtown neighborhood–a hippie hangout back in the '60s that continues as a bastion of artists, musicians, counterculturals, rebellious trust fund kids, and throngs of college students. (NYU, Cooper Union, and the New School are all down here.) The East Village is also a Ukrainian enclave, whose borscht- and pierogi-wielding restaurant, Veselka, just up the street from Azaleas, has lately been drawing throngs of visitors from all over the world.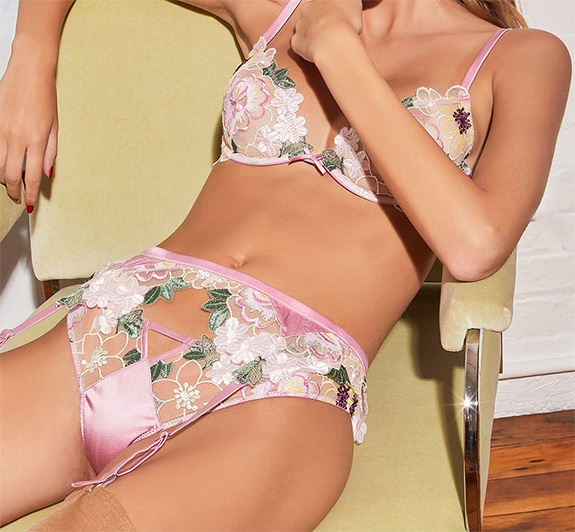 Fleur du Mal
Named for a flower that figures importantly in Korean art and literature, Azaleas is owned by Cindy Kahng, a Korean-American. She debuted her shop in 2002 in a side street hole-in-the-wall. Business was good. Ten years ago, Kahng relocated to more spacious quarters on Second Avenue—prime see-and-be-seen strolling turf. There, despite minimal marketing, it not only attracts numerous loyal locals (some of whom have been coming back since the outset) and former locals, but destination shoppers from all over New York and tourists too—eager to try its hard-to find-brands in an easygoing, no-pressure atmosphere. For one thing, the manager-buyer, Carly Hampel, tells me that she never wields a measuring tape, instead non-intrusively handing customers a likely size to try on as a starting point. Then, they take it from there. And Azaleas accommodates an extra-wide size range. Bras, for instance, go from 30A to 42H. It also sells a few men's items and is queer- and trans-friendly.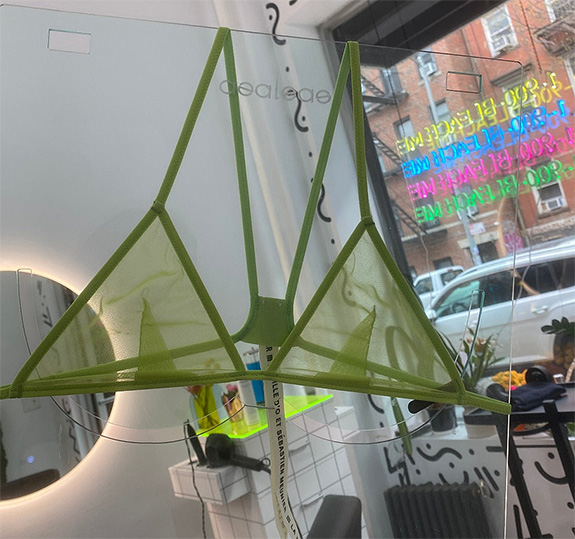 La Fille d'O
The stock in trade, from unadorned basics to ultra-frilly and sexy, and the range of brands—many of them otherwise impossible to find in one location—is (for an aficionado like me) so-o-o gratifying. Natori is there, along with Hanky Panky, Only Hearts, Fleur du Mal, Yasmine Eslami, and Commando (specifically, its seamless briefs and thongs). So are more esoteric international brands: La Fille d'O, from Belgium (the lingerie world's pacesetter, in my opinion); Fortnight, from Canada (known for its craftsmanship); Moons & Junes, from Denmark (great for mesh, and size-inclusive—its Extra-large "fits like a 38G" says Hampel); Marieyat, from the U.K. (with its signature diagonal straps and a bra with sleeves attached). and Ownbrown, also from the U.K. (offering four neutral shades for all skin colors, and, let me add, one of the most form-fitting bras I've ever owned–the Plunge V Wire Mesh number).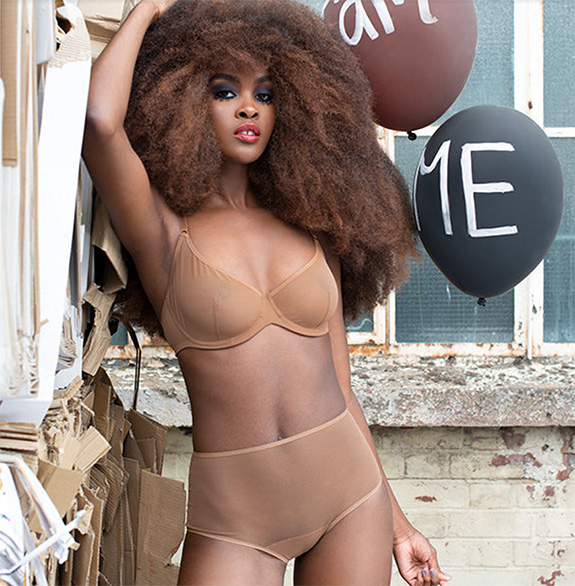 OWNBROWN
The main attraction, for me, is small, indie brands found not at trade shows, but through sleuthing. These include several American labels: Hello Beautiful, out of California (with great string panties and a wireless triangle bra); The End, an outre-sexy brand (its Carrie Bralette and Complicated Brief are big on fabric strips); and Acacia, from Brazil (check out its Humuhumu Crochet Bikini.)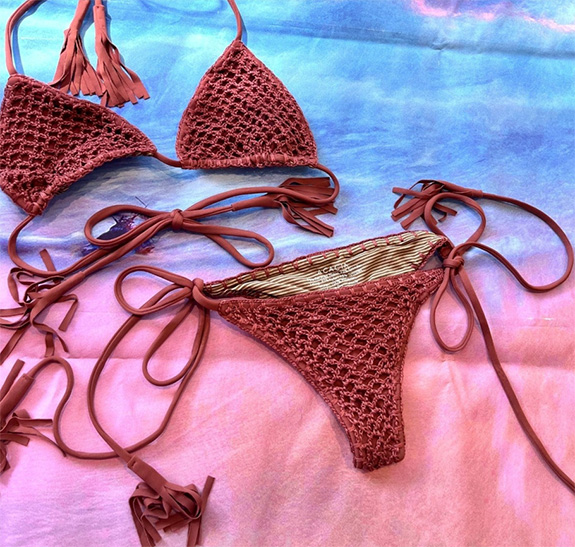 Acacia Swim
A close relationship is maintained with the Canadian brand Bully Boy, collaborating, for instance, on apricot-pink-tan and magenta-orange mesh color blocking on the bestselling Keyhole Wireless Bra, sold exclusively at Azaleas. I'm intrigued, meanwhile, by that brand's Highwaisted Brief with cutouts at the sides–and tiny hook and eye closures at the outer thighs. (Why, I can't imagine, but they're adorable.)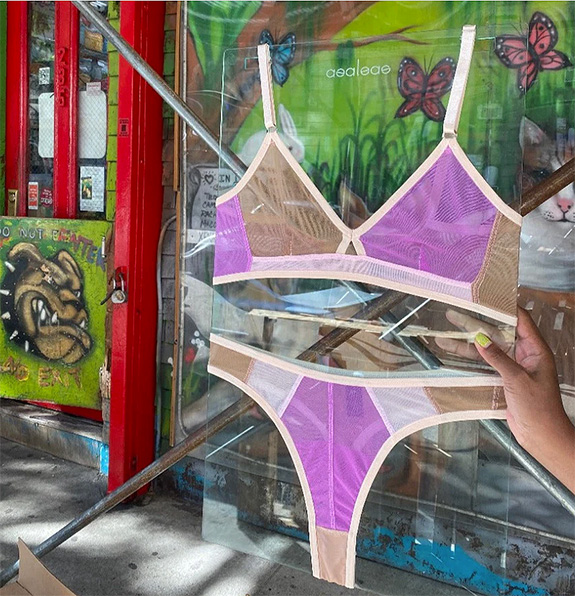 Bully Boy
Most endearing of all, Kahng and Hempel go out of their way to locate and stock small-scale labels out of New York: lingerie from Araks (spare and clean-cut), Luelle (designed locally, but ethically made by an all-female workforce in Albania), Skin (its Gracelynne organic cotton plunge bralette is the shop's bestseller), and Clo Intimo (designed by a transplanted Colombian who's excels in lacy underwire bras), along with swimwear from Nu Swim and Sherris.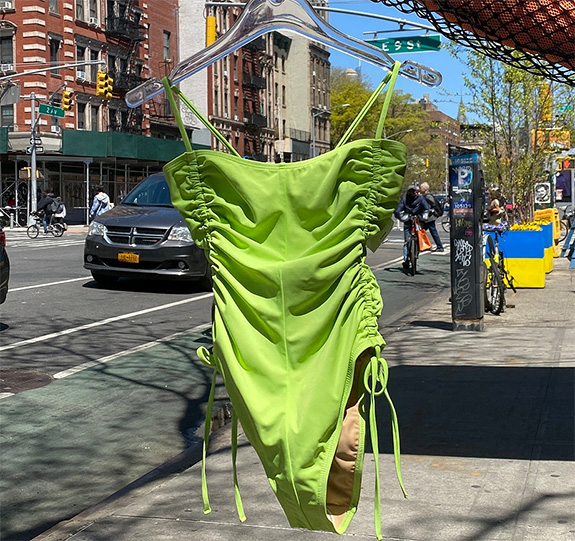 Nu Swim
Swimwear, in fact, is an Azaleas mainstay, with an extensive year-round collection from brands like Hunza G, Palm, Laura Urbinati, Siyu, Melissa Odabash, and Mikoh. Two-piecers are often sold as separates in different sizes.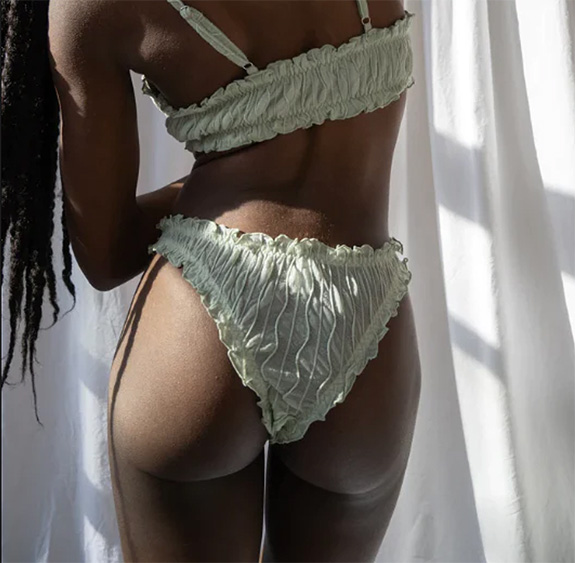 Find Me Now
Among the lounge items, standouts are Skin's white cotton Radika chemise—essentially a full-length undershirt; Find Me Now's apricot-color Ross smocked mesh Mini Dress, with a turtleneck, as well as its seafoam-color Posa Tank, with embroidered squiggly vertical lines; and Acacia's strappy Capri Cupro Dress, displaying huge flowers in full bloom.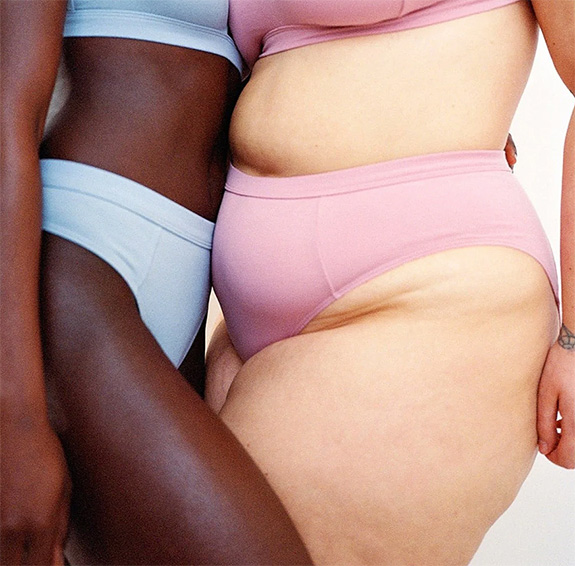 Moon and Junes 
And then there are the extras: Hansel From Basel socks, Falke tights, Brandback's Ales Slides, the charmingly droopy Beklina Lavoro Cotton Hat, Celsious sustainable laundry products (produced for the much-talked-about Brooklyn laundromat of the same name), Lohn and Piera Bochner scented candles, Saalt Menstrual Cups, Domestique's O-ring pins for nipples, and—occupying their own wall—various vibrators from a brand called Dame. (Azaleas doesn't flinch in addressing women's needs and desires.)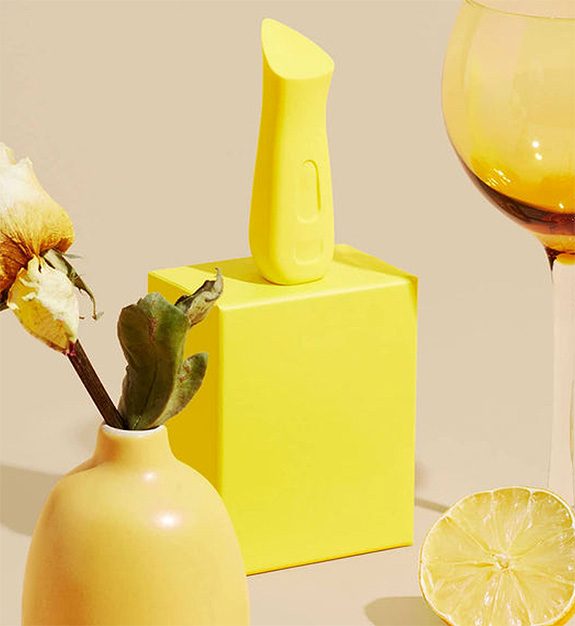 Dame
The shop has a jam-packed website, azaleasnyc.com. Yet the emphasis is solidly on in-store shopping. As the About page puts it, "brick and mortar is the foundation of our business: we believe in the sense of community and personal connections with our customers …" For those who want intensive assistance, 30-minute stylist consultations are available. The customer fills out a brief questionnaire in advance, a rack is pulled, and decisions are made during try-on time. There's a $25 fee refundable towards a purchase.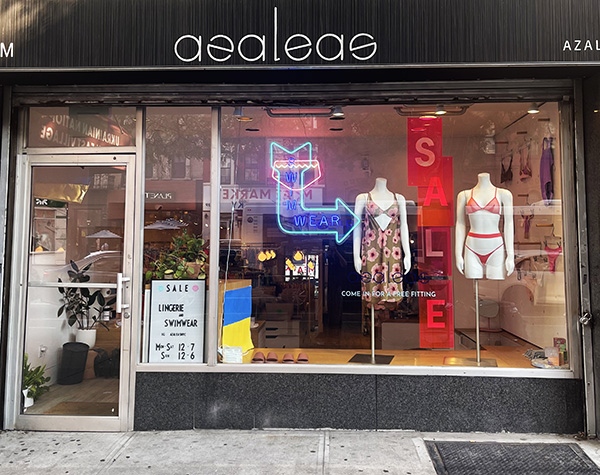 Azaleas is totally in sync with the edgy neighborhood it's in. Its beckoning plate glass front window not only offers prompts for putting ourselves together, but displays the Ukrainian flag. This is the kind of place with such a savvy sense of Downtown New York style, and so many intriguing items, that it's worth checking out on a regular basis. Me, I'm lucky. I get to pass by every day.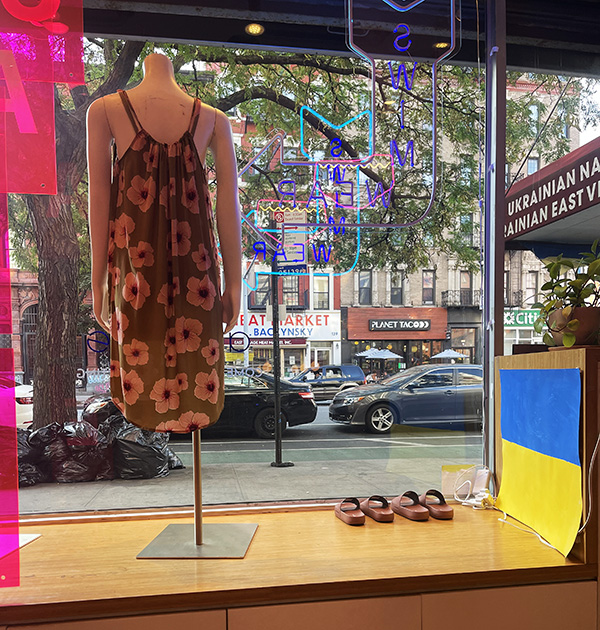 Acacia cupro sundress in Azaleas window
To see more stories by Linda Dyett click here