Cleavage ~ What's Concealed & What's Revealed
By LINDA DYETT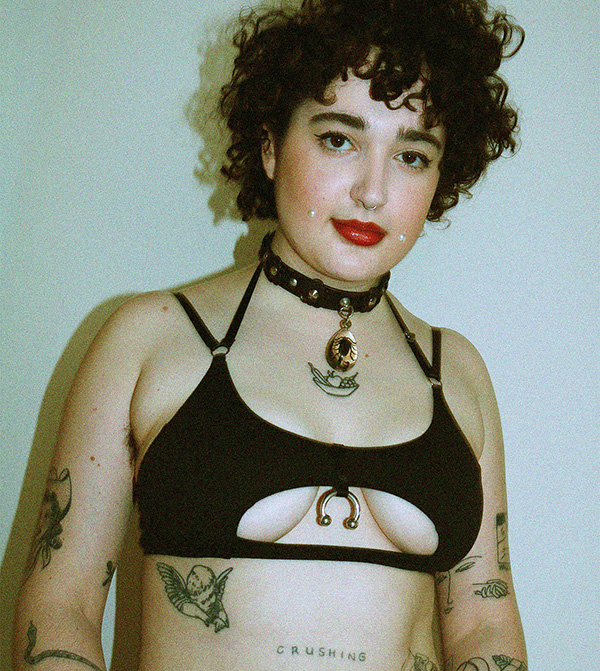 Fashion mayhem has been happening lately. Strapless dresses worn over button-down shirts … transparent skirts … combat boots under cocktail gowns. Rule-breakers such as these are having a shakeup effect on lingerie too—as is evident in our current approach to breast coverage—what's concealed and what's revealed.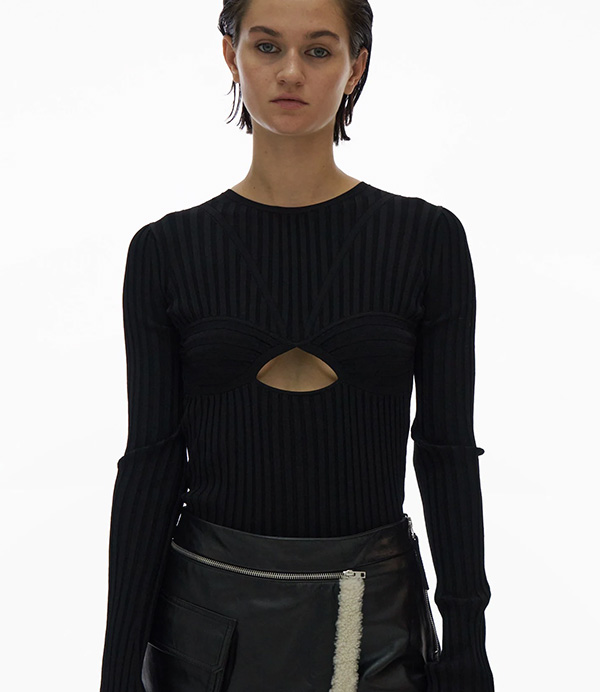 I'm talking specifically about cleavage here. For centuries–enabled by revealing decollete and V-neck and plunge tops, and speeded along in modern times by underwires–cleavage in the Western world limited itself to the upper curves of the breasts and the inner corridor between them. Today, we're seeing formerly taboo outer-edge and under-breast cleavage too. What might've looked like the ungainly overspill of a too-small cup size is now acceptable in certain circles—okay, not in workplaces, not on the street–but for informal, festive, and intimate occasions, the new cleavage is now a look.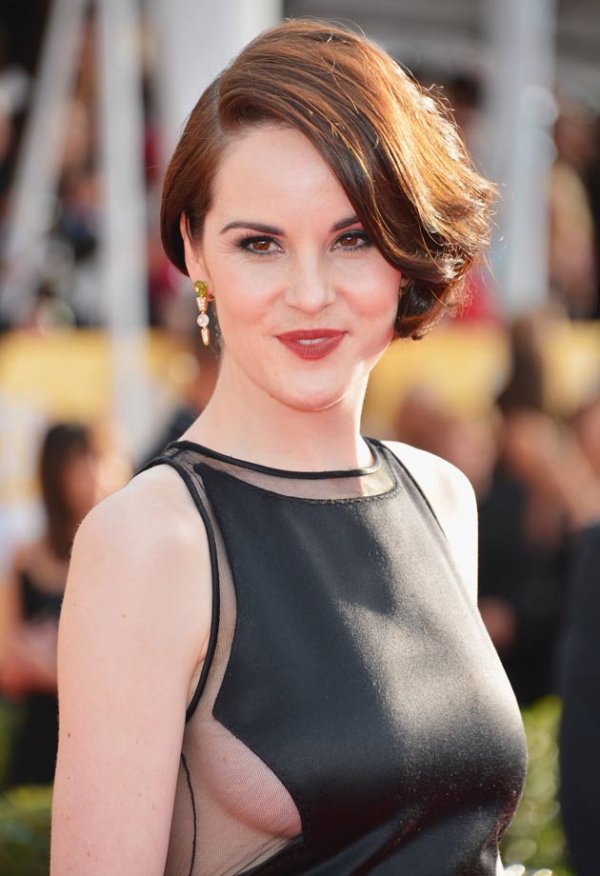 Why is this happening?
For one thing, it has to do with the emergence of the latest It body part: the midriff–starting just below the bust and dropping down to the hips or sometimes the pelvic bones, with the navel as the focal point. And if the navel is now on display, why not under- and side-cleavage too, their curves finally drawing attention?
What's more, strategically placed cutouts—sometimes filled in with lace or mesh inserts– are showing up everywhere in tops and dresses these days, permitting unexpected glimpses of flesh, as at the side edges of the ribcage, or peeking out from the lower third of the breasts.
One intriguing example is the Livy Muller Top, displaying a bare-skin-revealing rectangle cut into the front.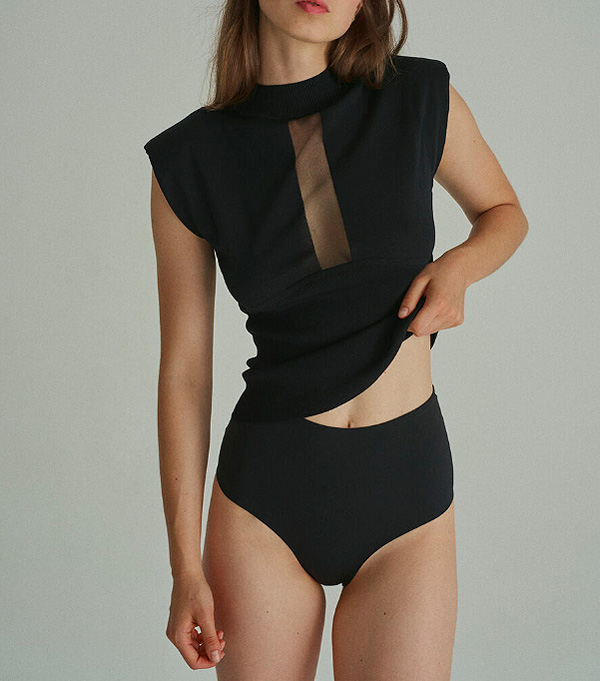 Another is the Maje Mabille Cutout Top, with openings teetering down the front.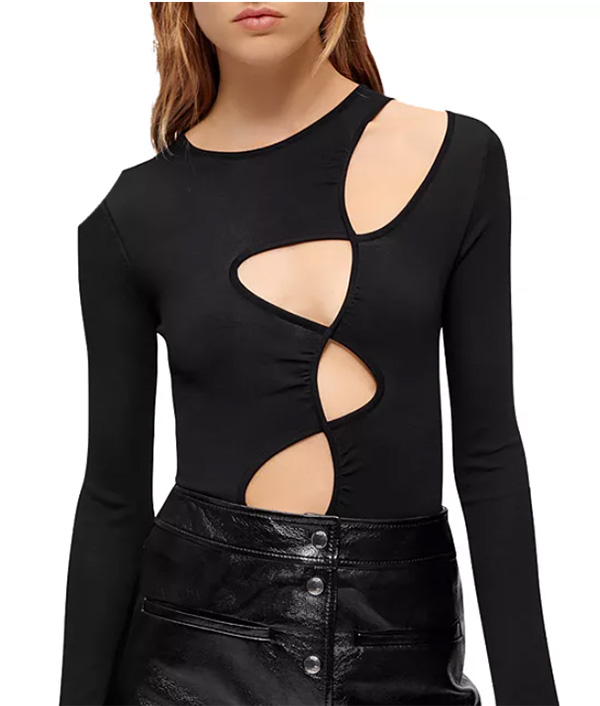 As for side cleavage, it's showing up under tops with extra-low-cut armholes, or beneath tops with minimal sides, no sides (imagine a close-fitting poncho), or just one side.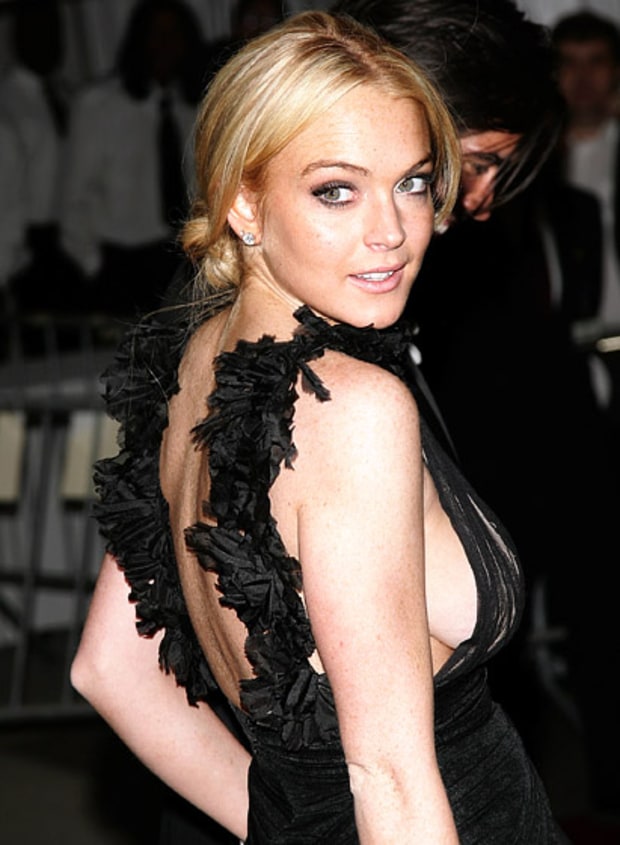 These tops are best worn over a cropped camisole-bra or bustier, or with gravity-defying breast petals—or with nothing at all underneath.
For items like the above, Ida Prosky, co-owner of Supernatural Lingerie, with branches in Los Angeles and Birmingham, Michigan, suggests Nippies Nipple Covers—adhesive silicone paste-ons, leaving all the outer edges of the breasts unencumbered with fabric.
At the New York lingerie shop Azaleas, the owner, Cindy Kahng, proposes these two solutions:
Le Petit Trou's Papillon Triangle Bra—with a ruffled, embroidered border that adds décor at the sides of the ribcage.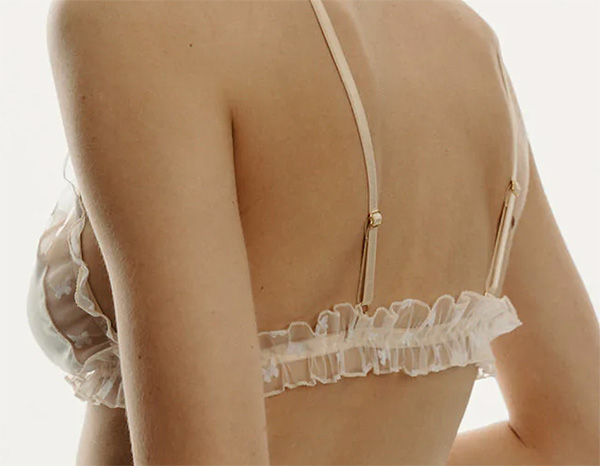 … and–an homage to under-cleavage, if ever there was one–the Opaak Lea Crop Top, in which lace appears on the lower part of the bust.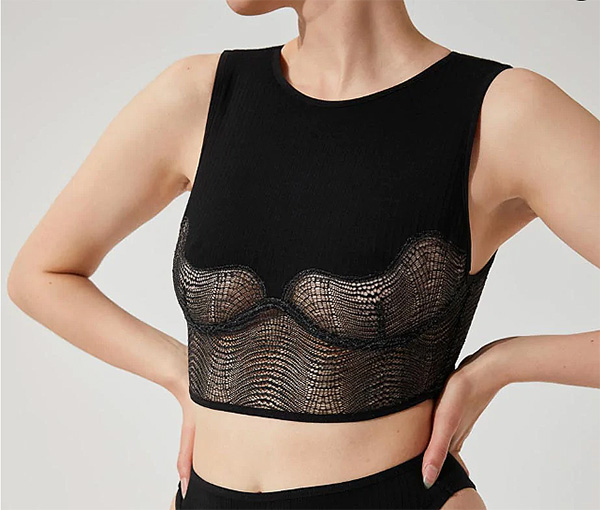 I see two kinds of bras accommodating the new approach to cleavage.
First, what I consider to be the lingerie item of the moment: the triangle bra (the skimpier the better), providing a modicum of support while also displaying cleavage—not so much up top, but more at the sides and under-curves of the breasts. Sure, thanks to the underband, triangle bras give a bit of uplift. But isn't the main idea with these bras overspill. So cup sizes? What cup sizes? They're all but non-existent. Sizing here is alphabetical. Exactitude? What exactitude? We're basically talking about extended nipple coverage.
Correct me if I'm wrong, but I suspect the new approach to cleavage may bring about a shakeup in the way bras are fitted, with triangle bras leading the way as they scuttle alphanumeric sizing with the ExS, S, M, L, ExL, etc., system. After all, if overspill is okay, what is the need for exactitude in cup sizing?
Which raises yet another question:  What about those with large breasts—say, D cup and higher?  Are they ineligible for the new cleavage? Maybe so. Opinions are welcome on this issue.
Cindy Kahng recommends the stretchy, hardly-there Fleur du Mal Silk Satin Luxe Triangle Bra, for one; here, geometry has never been so alluring. She also favors the Araks Silk Triangle Harper Bra, whose cups have sheer chiffon on the inner half, shiny silk on the outer.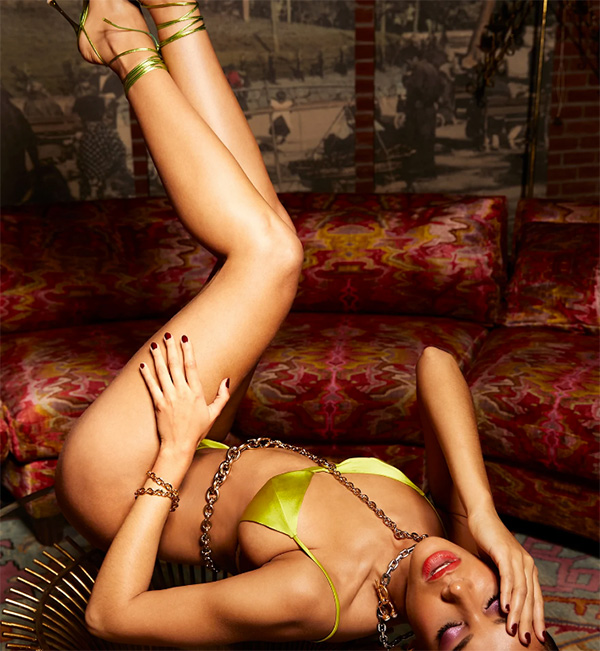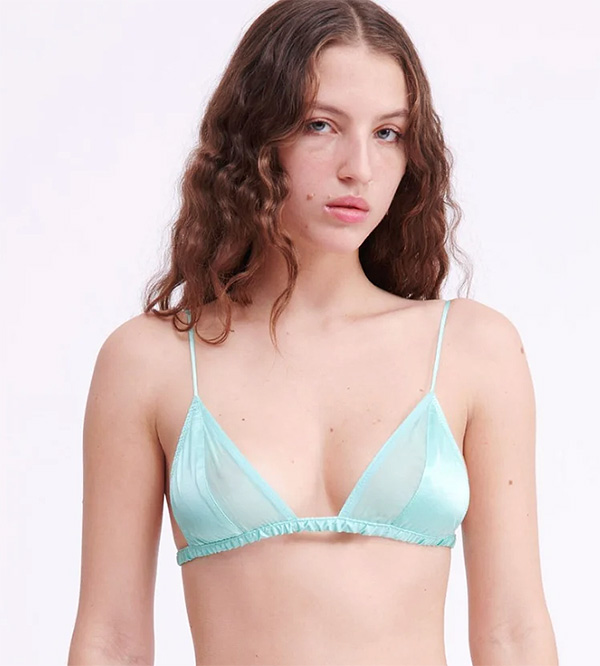 These two triangle bras also fill the bill:
Wolford Beauty Triangle Bra, a bit more substantial than most, with a wide, sturdy, stylish underband.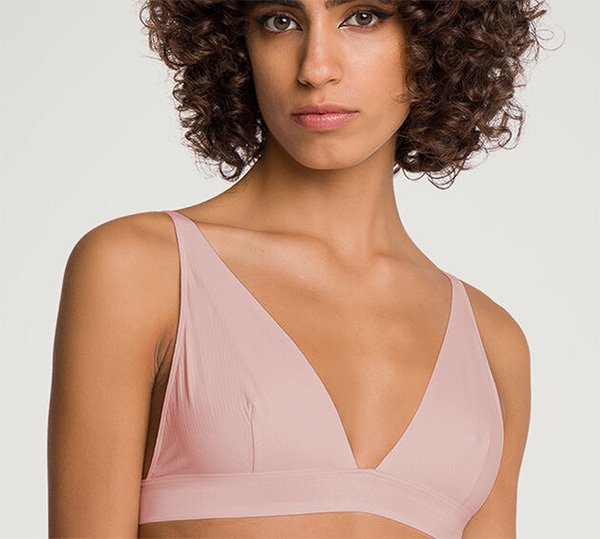 Luelle Tibi Mesh Bralette, with the straps continuing, like vectors, down onto the cups.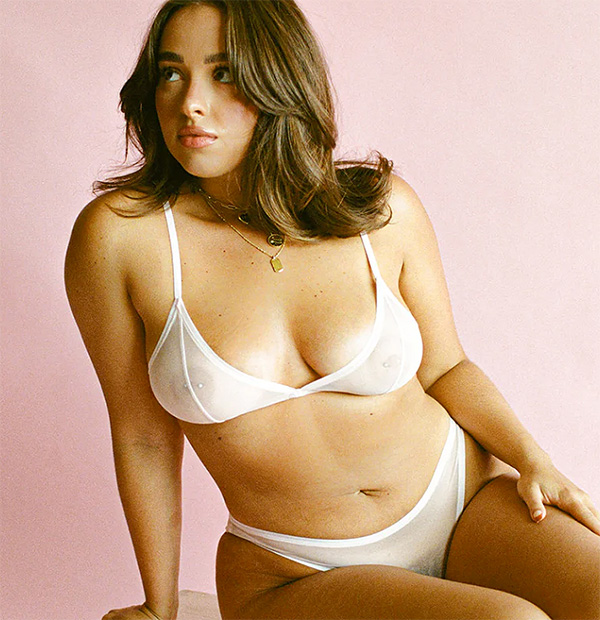 I especially love the idea of wearing a nearly nonexistent bra under a sheer or semi-sheer top, especially when that top has a high neckline—creating a modest contrast to the curves below. The message it gives is … covered up, but with curves in evidence. I can readily imagine triangle bras being merchandized alongside such tops. Two examples:
Issey Miyake Chiffon Twist-3 Short Sleeve Shirt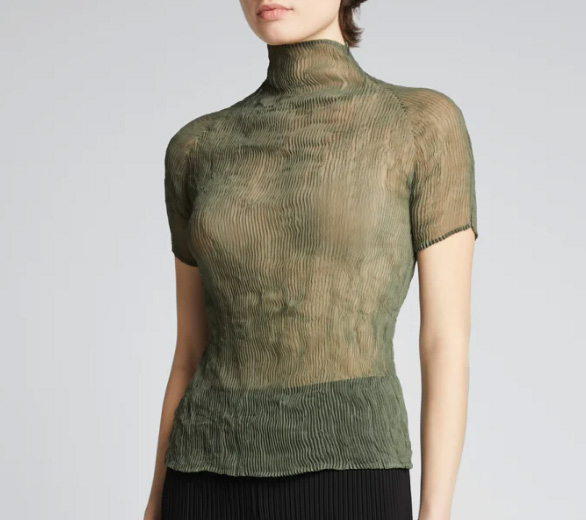 Marine Serre Monogram Flocked Sheer Mesh Top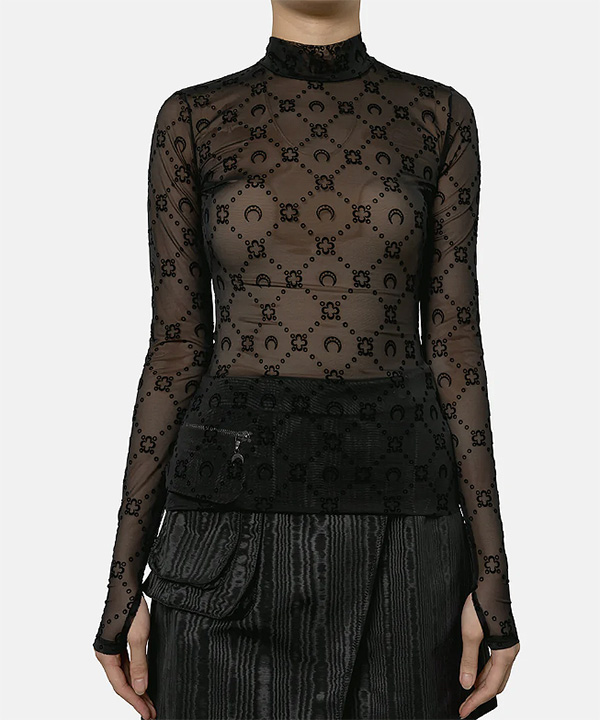 Second, bras with their own built-in cutouts—a major direction, in which this utilitarian foundation garment hints at new possibilities. Such bras send a message to the wearer (for one), encouraging her to feel sensual. Three examples:
Arriving this month at Azaleas in NYC from the The End Label is the bralette featured at the top of this story.
Negative Underwear Sieve Cutout Bra, deliberately missing a center. Or rather, instead of a center, there's a horizontal band connecting the cups. It and the bra's supportive lower band, a couple of inches beneath it, create an attention-getter frame or "window" for displaying the lower, inner cleavage. Clever.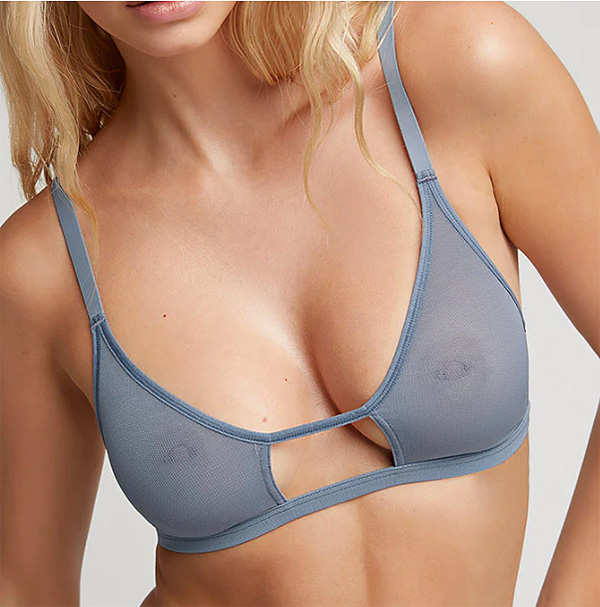 Nensi Dojaka Layered Silk Halter Bra, made of cups, spaghetti straps, and almost nothing else.