Waist Not, Want YES! Body Trilogy Part II
By TINA WILSON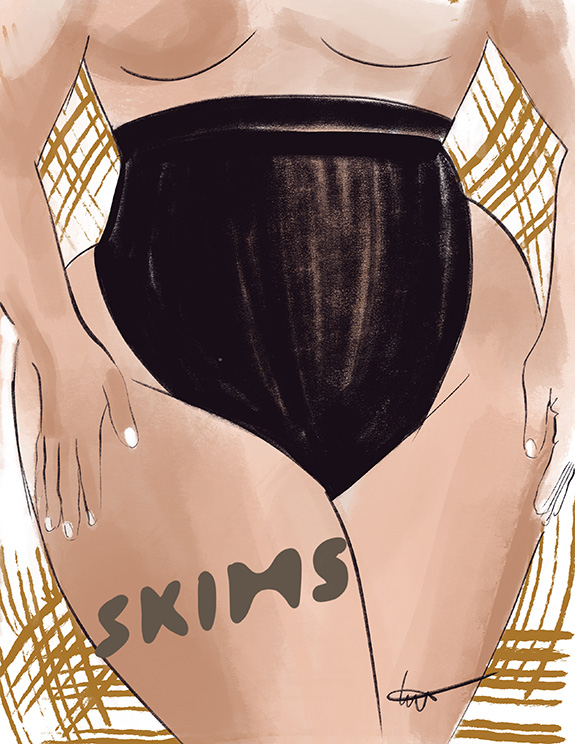 As we move on to the WAIST, I will admit I don't have very much of one, never have and I have made peace with that long ago. Unlike the breasts and the butt, it seems no one is in the business of enlarging the waist, but you never know, lifestyle and fashion are fast moving targets. In fact, advertising for many intimate brands seem to feature bodies that resemble the Venus of Willendorf more than the Barbie doll and that's pretty cool.
The aptly named Hourglass figure 36-24-36 makes one a "brick house" according to the Commodores, but that outdated ratio is a now a myth, a fallacy, and while once aspired to (RIP Raquel Welch), that is no more.  No one in the last decade has done more to shatter AND simultaneously exaggerate that myth than Kim Kardashian, and she has created the SKIMS empire around it (seen above). Remember when everyone started calling all shapewear "spanx", well now women are calling their undies, "skims", I need say no more.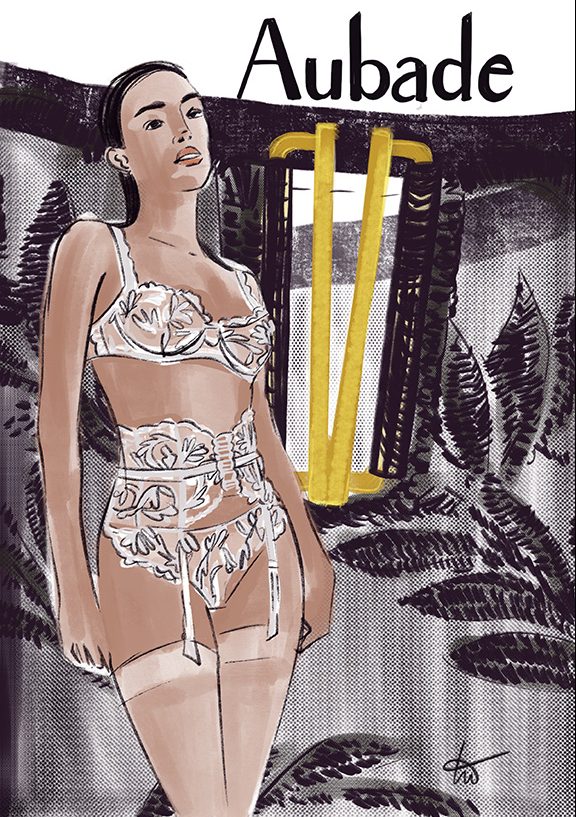 Last month I spent a great deal of time at the many trade shows held in NYC in February, in particular Evolution and Curve, the perfect venues to preview what lies ahead in intimates. In paying particular attention to the waist, I commend Aubade. Accentuating the waist with beautiful hardware, embroidered motifs and engineered laces Aubade is taking luxury to a new level and down an invigorating road.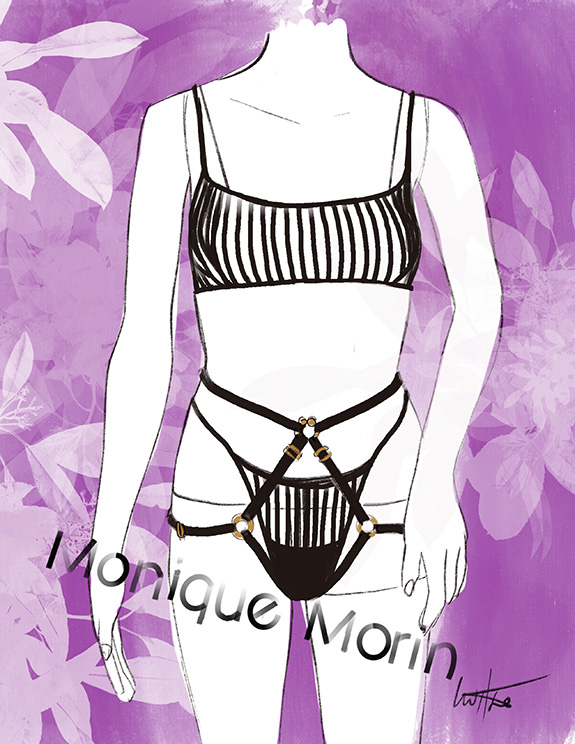 I intend to get more familiar with Monique Morin as I am becoming a fan. Her Vertigo graphic sheer stripe bra let and thong are superb examples of modern minimalism, but what caught my eye was the Amphitrite harness with gold hardware perfectly placed to mimic a navel piercing, LOVE IT!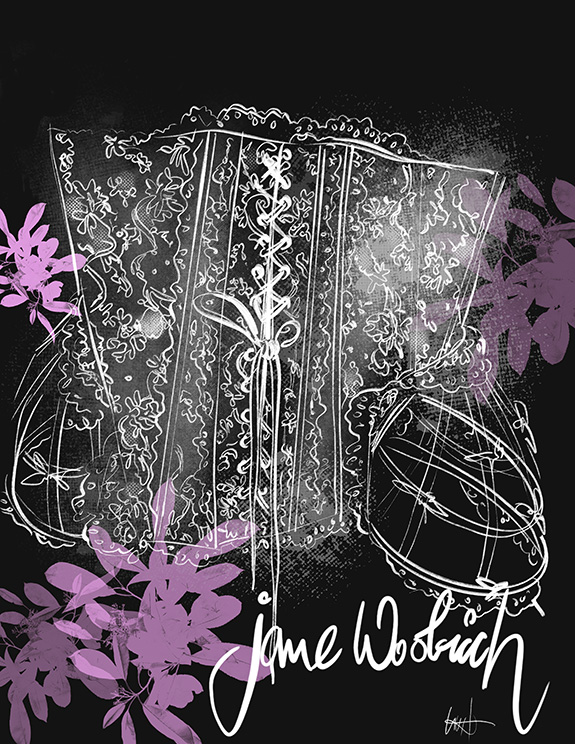 I purposely illustrated Jane Woolrich's corset/crinoline unworn, no body necessary.  To see the actual structure, the way her garments seem to float, alive and standing up on their own is genius engineering by an artisan who is trained in real life, you can't create this kind of workmanship from a cad drawing, you just can't.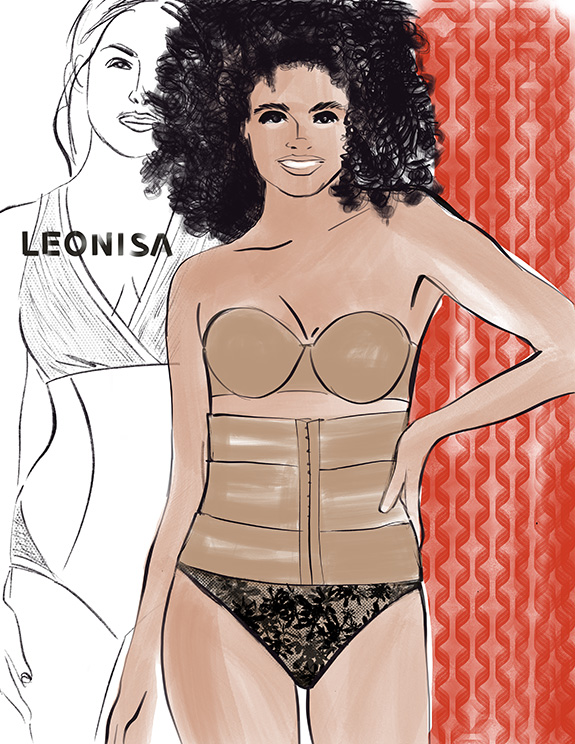 Spoiler alert! Leonisa will be featured in all blogs in this trilogy. As with the butt, they pay homage to the waist like no other brand. The vast assortment of pretty fashion AND clinical approaches to waist containment is astounding. I visited their booth at Curve, and I can honestly say I have never seen so many styles dedicated to shape, yet none seemed extraneous or unnecessary, they all seemed to have been designed with purpose.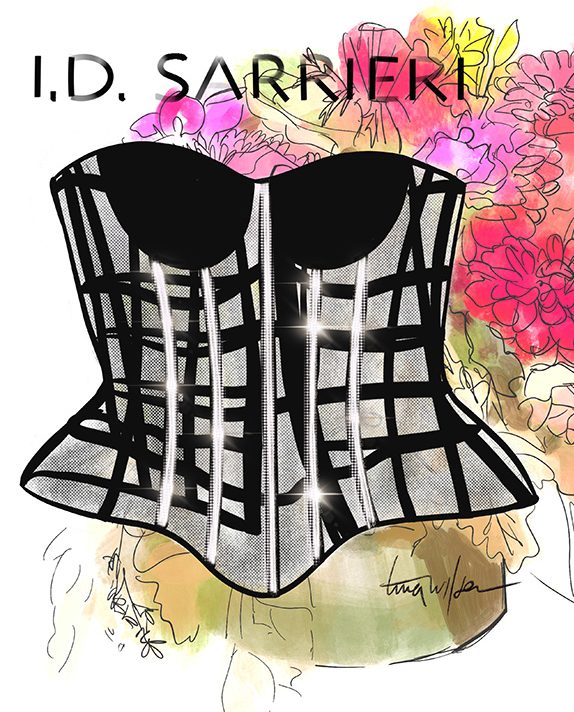 I.D. Sarrieri has always stood for supreme luxury.  Their Nuit Interdit line of corsets, bustiers and intimates is luxury on steroids with its rows of Swarovski crystal embellishment. The bustier should not be hidden under anything.  Wear it black tie with a sparkly sequin skirt or with a tuxedo stripe trouser.
So whether you are a Venus or a Barbie or in between, there is so much innovation and beauty awaiting you, enjoy!
Peace and good health.
Tina
See More Illustrations by Tina Wilson in our Fashion Illustration Column on Lingerie Briefs