Playful Luxury: Sleepwear by Karen Mabon
By ESTELLE PULESTON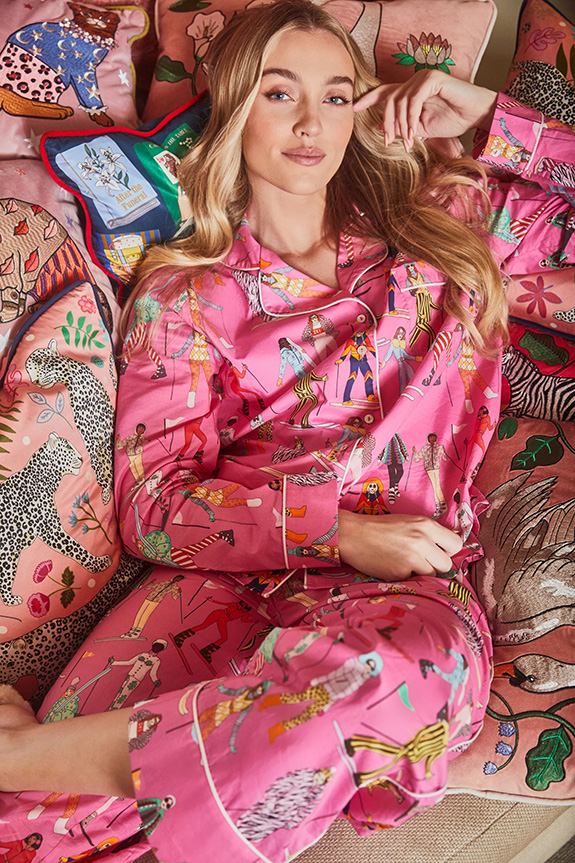 Launched in 2013, Karen Mabon's eponymous label is the place to go for high-end pajamas with a playful vibe. Crafted from silk or premium cotton and decorated in the designer's signature illustration style, this is sleepwear that will satisfy your grown-up self while also delighting your inner child.
A graduate of London's Royal College of Art, Mabon says she has "always loved the eccentricity of high-end fashion, and the contrast of having something so beautiful (like a silk scarf) with an illustration that makes you do a double take." Her colorful and joyful prints are exactly that: an ornamental jumble of unexpected details where the longer you look, the more you discover.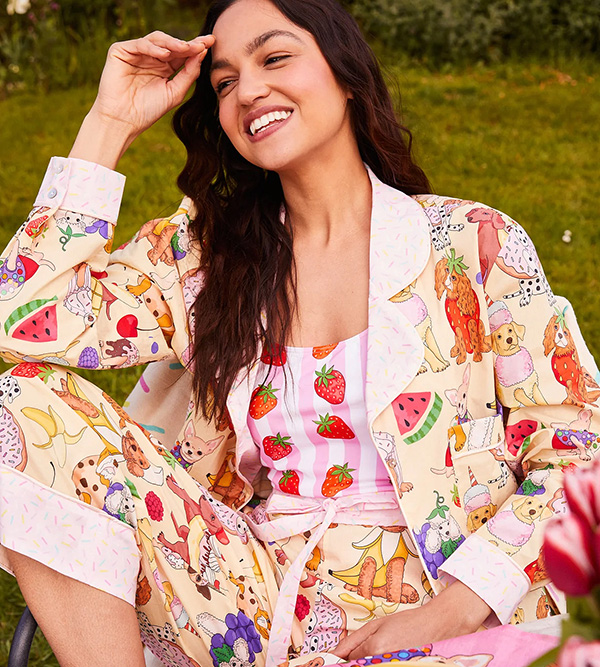 She grew up surrounded by nature in Scotland's Black Isle, and plants and animals both feature frequently throughout her designs. Cat and dog lovers in particular have plenty to choose from! There's plenty of whimsy to be found too, whether its dogs dressed up in fruit costumes, or a 'zodiac' nightscape with some rainbows thrown in.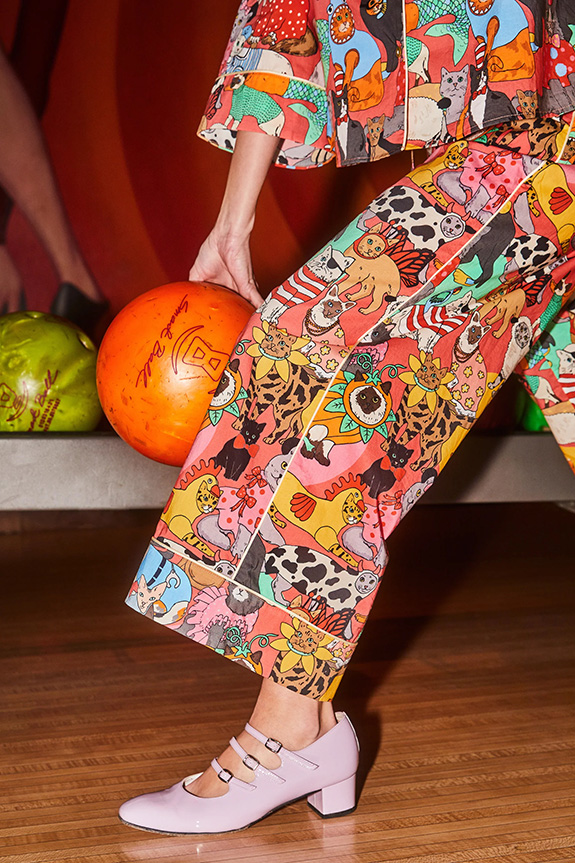 The biggest testament to Mabon's talent as an illustrator however is her ability to turn even the most mundane of objects or scenarios into head-turning prints you'll love to wear. Think chopped vegetables and kitchen utensils, or foxes scavenging for food scraps from a pile of trash. "Inspiration really strikes me at random points," she told me, "so I tend to just create what I want to see in the world."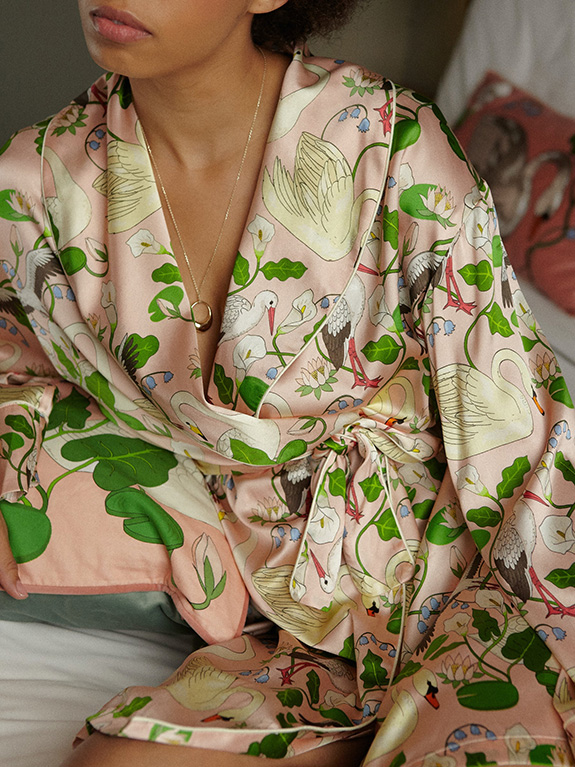 There's even a print titled Bedroom Floor; strewn with toys and objects such as jelly shoes, secret diaries and Tamagotchi keychains, it's a nostalgia-filled throwback to Mabon's own childhood bedroom which many of us who grew up in that era can relate to.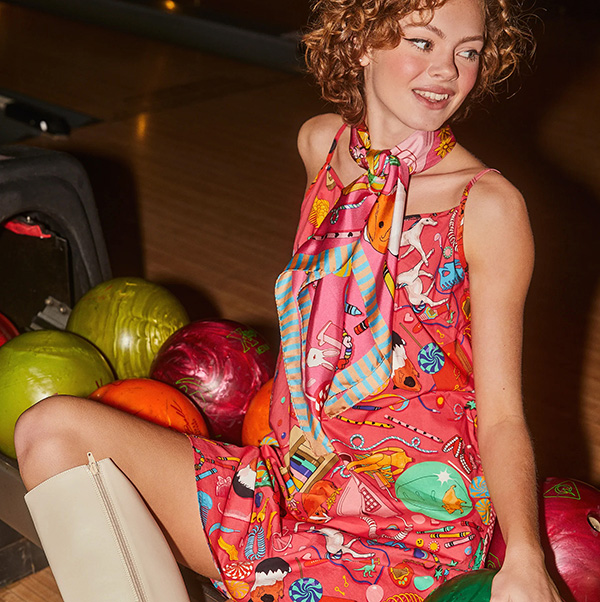 This year, Karen Mabon is reviving some of its most-loved archival prints in celebration of its 10th anniversary. It has been a very eventful decade – unsurprisingly, the designer's work caught the attention of more than just customers. It was also noticed by some big names, both in the celebrity world and in the form of other brands which wanted to collaborate.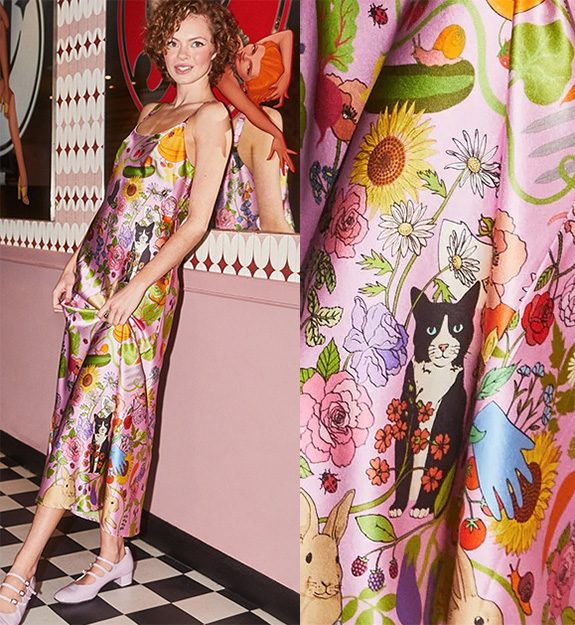 There's been an official Agatha Christie collection, an official Peter Rabbit collection, exclusive creations for retailers such as Nordstrom and Anthropologie plus the V&A Dundee museum, and more. She even designed a collection of products for Buckingham Palace!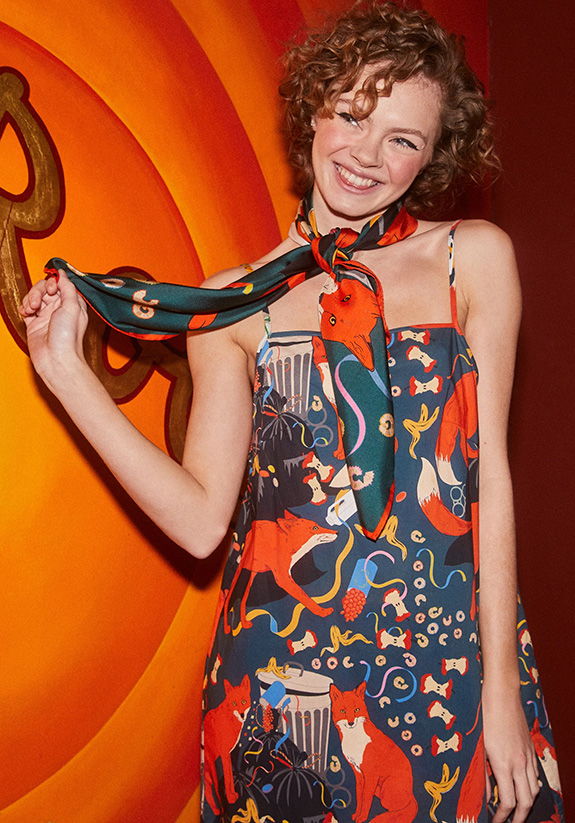 For Mabon, one of the most incredible experiences of them all however was her collaboration with Monoprix. "I got to design shop windows for the Champs-Élysées," she recalls, "…to see my brand on such an iconic street and store was something I will never forget." The resulting collection included around 130 items of everything from homewear to homeware, both things she offers via her own website today.
Karen Mabon initially started as a silk scarf brand, which is still a key product category, but as Mabon explained, "I have always loved the luxury of putting on a matching pajama set at the end of the day, and thought it would be an amazing way to put my own designs into people's daily routines." Also currently available are slip dresses, robes, swimwear, children's pajamas, accessories such as eye masks, and soft furnishings such as cushions and tablecloths.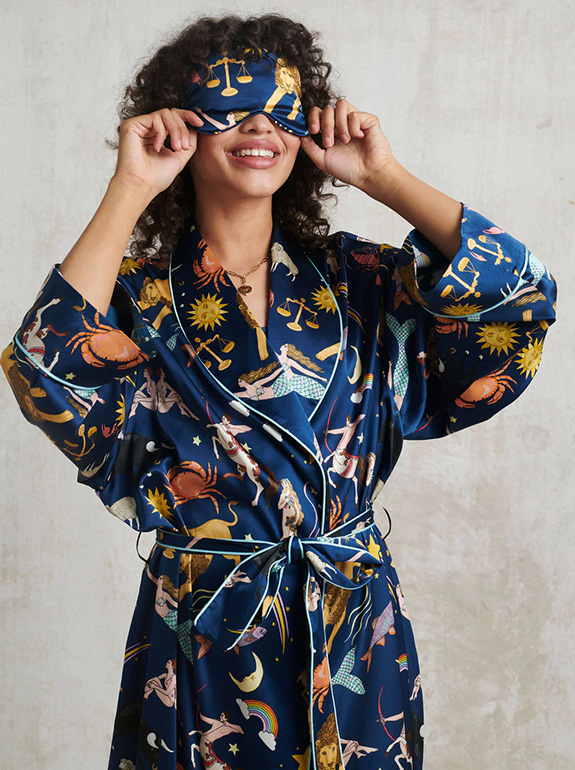 Karen Mabon's size range covers XS to 5XL, and prices start from £49 for accessories and £110 for adult-size clothing (approximately $60 and $135 respectively). Monogramming is available on many items for an extra fee.
Contact information:
Website: https://www.karenmabon.com/
Instagram: @karenmabon
Email: shop@karenmabon.com
See Other Articles by Estelle Puleston in our Featured Designers Column on Lingerie Briefs