By Moira Nelson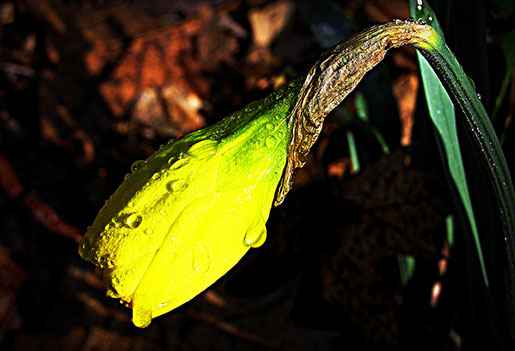 March is such a whimsical month… She can't decide if she wants to get warm and stay warm or to simply tease us with sporadic moments of glorious sunshine and warmth which leaves us wanting.
Early on Saturday morning, I awoke early as per my usual routine…  I wandered over to Starbuck's for a Venti Early Grey Tea and some quiet time.  Along the way, I was amazed at nature's conflicting character.  The ice was crunching under foot; I had to watch my step to avoid an unfortunate slip n' slide.  Yet the birds were chirping in particularly joyous song.  I even heard a seagull squaw in the distance (which reminds me to be grateful that I live so close to the shore.)  As I passed the garden at Grace Van Vorst Church, I noticed the blue-green sprouts of early daffodils emerging from the earth… No buds quite yet.  And the most glorious moment came when I stepped into the crosswalk at Bay & Erie Streets…  Facing east, the sun was rising and beaming through the mega luxury high rise homes and international banks that reside along the Hudson riverbanks.  She shone through the steel erections and reflected off of the mirrored facades with a dynamism and grace that took my breath away.  We've now sprung forward and as such, I'm anxious to embrace the awakening that inherently happens as Mother Nature starts to show us some mercy!
Late last month, we experienced a tempest of Intimate Affairs within just a few days span.  Between February 18th and the 26th, buyers, brands, media, press, and other intimate apparel professionals made appearances at the leading trade show Curve in Las Vegas and in New York, at the first Fashion Week dedicated exclusively to the intimate apparel industry, LingerieFW™, and at the debut of The Lingerie Collective boutique trade show in New York.  Not to mention, there was a host of launch events and cocktail parties interspersed between business appointments.  For in-depth coverage of these Intimate Affairs, peruse the online publications and blogs dedicated to the lingerie industry such as Lingerie Briefs, The Lingerie Journal, The Lingerie Lesbian and Lingerie Insight in the UK.

I would like to highlight the work of internationally respected veteran sex authors, Em & Lo.  Their sophisticated, smary, sexy and funny book, "150 Shades of Play: A Beginner's Guide to Kink," was featured at the LELO booth at the Curvexpo in New York, and is a sort-of companion guide to the original "Fifty Shades of Grey."  Lingerie retailers should consider purchasing this item as it encourages your customers to invest in their sex lives and to purchase the kind of products you may already be selling in your store, from lingerie to pleasure products and other accessories.  It works well as part of a kit, especially for any fans of "Fifty Shades of Grey."  You could package the book with lingerie and a silk blindfold.  You can use it as a promotional tool, e.g. every book sold could come with a 10% coupon off any item mentioned in the book that you happen to sell.  And, it's a great way to engage your customers in conversation, especially as so many customers in lingerie stores are already chatting about "Fifty Shades."  Why not display a copy for your customers to browse?  You could even bookmark specific pages in the book that discuss products you stock.  Find out more about the book and its authors, Em and Lo, at www.150shadesofplay.com.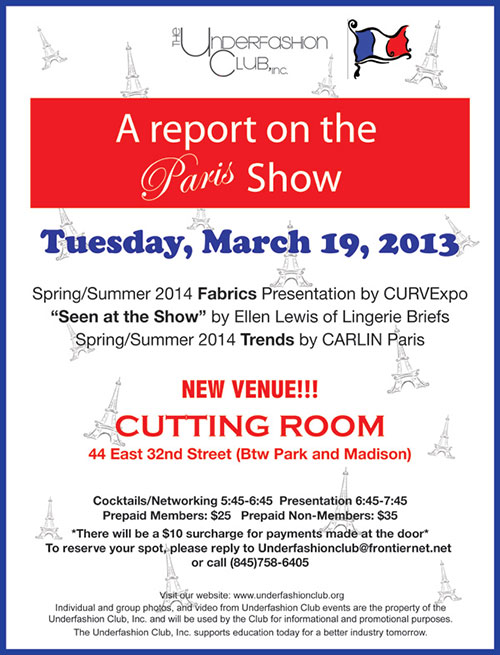 On Tuesday, March 19th, the Underfashion Club is hosting "A Paris Report."  The Intimate Affair will be held at The Cutting Room on 32nd Street between Park & Madison in NYC.  Cocktails will be served starting at 5:45pm and the presentation will begin promptly at 6:45pm.  The event program will feature Spring and Summer 2014 Fabrics from Curvexpo, "Seen at the Show" by our very own Ellen Lewis, and Spring and Summer 2014 Trends presented by CARLIN Paris.  Additional details can be found at: www.underfashionclub.org

The IASC is hosting an Easter/ Passover Party for children suffering from life-threatening and debilitating diseases and other disabilities at the RUSK Institute and Tisch Hospital at NYU Medical Center on Thursday, March 21st.  Meet these courageous children, have your picture taken with the Easter Bunny and meet and mingle with current members of the Club.  The Intimate Affair will be held at 6:00pm at the Hospital for Joint Diseases (in the Center for Children Rotunda,) at 301 East 17th Street, 3rd Floor, NYC.  This is a great opportunity to learn more about the Club's mission which is to raise funds to support the pediatric services department of The Howard A. Rusk Institute of Rehabilitation Medicine and Tisch Hospital at NYU Langone Medical Center.  The IASC and its annual gala fundraiser, The H.U.G. Award, have donated approximately $4 million to the medical center over the years.  The donations are earmarked for specific programs such as Art Therapy, the Music Program, Fellowship and Rehabilitation.
Got Insight?  Having an Intimate Affair?  Let us know!  Everyone can be an Intimate Insider!