What Lies Beneath ~ L'Aventure by Marie Jo
October 30, 2012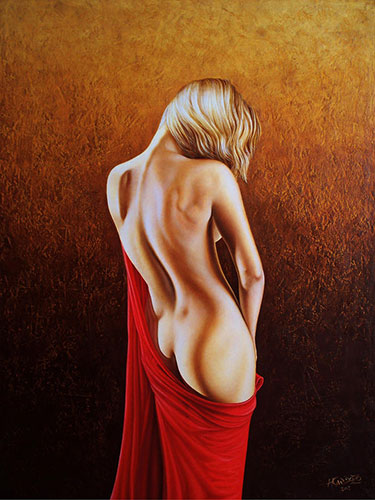 I was reminiscing yesterday about the huge Holiday dinners we used to host at our house while the kids were growing up. My husband's famous stuffing, a family dish passed down from his grandmother was a magnet for our guests.  People were always asking for the recipe, which he preferred to keep to himself, adding to the aura of the meal.  In truth, it was a very simple dish, compiled of very basic ingredients easily found on the supermarket shelf.  He claimed that the superior taste was really a matter of his cooking style, but I know he had a few delicious additives up his sleeve.  It was not the main course, hidden as it was beneath the Turkey's breast; but without a doubt, it was the center of attention.  Sometimes, it's what's inside that really counts.
I started thinking about the furtive preparations that took these holiday meals to another level of culinary luxury when I saw the bestselling Tom collection from L'Aventure by Marie Jo in scarlet and learned about their proprietary dye formula that allows this sophisticated lingerie to disappear, even beneath a white blouse.  Known for its contemporary design, the Tom styles have been transformed by this red hot color from an elegant basic to a seductive secret in a woman's intimate wardrobe, once again defining the L'Aventure as a brand focused on perpetuating feminine confidence. I know a bride who actually wore her underwire bra under her wedding dress.  Available in sizes 30-40, A-F cups, it is pictured here with the slim fit shaping dress, XS-XL.  Personal, provocative and very private, only she knows for sure what lies beneath.
"That, My Dear, Is What Makes A Character Interesting, Their Secrets."  ~ Kate Morton
Available At: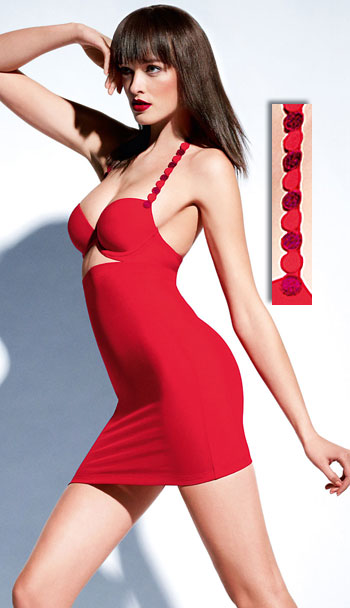 Charmelle 28: Palo Alto, CA
Ela Lingerie: Menlo Park, CA
Miks: Glendale, CA
Purrmission: Santa Barbara,CA
Zovo Lingerie: Seattle, WA
Sol Store of Lingerie: Denver, CO
Bra-La-La: Fulton, MD
Derriere De Soie: Charlottesville, VA
J.Alanes Lingerie: Cary, NC
Bellissama Lingerie: Crystal Lake, IL
La Femme Lingerie: Fayetteville, LA
Necessities by Sherrie: Snelville, GAR\
Ruth Lingerie Shop: Cranston, RI
The Fitting Touch:  Birmingham, AL
Underthings: Chicago, IL
Iria Lingerie: Brooklyn, NY
Lingerie On Lex: New York City, NY
La Petite Coquette:  New York City, NY
Complements: Bridgehampton, NY
Lulabelle: Scituate, MA
Intimacy: All Stores
Bliss Lingerie: Cold Lake, AB
Bratopia, Calgary, AB
Dianes Lingerie: Vancouver, BC
The Lingerie Shoppe: Regina, SK
Lyla Collection: Montreal, QC
Diva Lingerie, Winnipeg, MB
Bravo Fine Lingerie: Barrie, ON
Brava Boutique: Ontario, ON
. 

READ LITERARY LINGERIE: "Hurricane Sandy Has Me Thinking" by Morgan O'Neill

READ LINGERIE WITH A CONSCIENCE: "Panda and Silk" by Jacalyn Bennett