Over the years I have made a few savvy personal purchases, mainly on instinct.  Something unexpected about the item alerts my style radar. That is how I felt when I found this pair of UGG boots 20 years ago in a small cold weather shop in the Hudson Valley. It was like discovering a hidden treasure. Preferring fashion that lives comfortably outside of the box, I was glad that the UGG brand was not well known on the East Coast. But even when the label went into hyper drive, I have to admit that the warmth and luxury factor have remained hard to beat.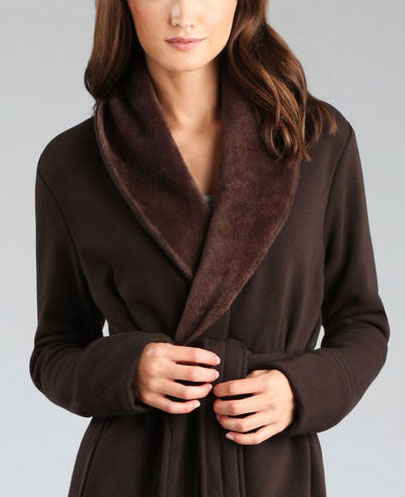 Perhaps, then, you can appreciate my excitement when I first saw the new UGG Home collection at Curve. I zeroed in on this Duffield robe available in stout and cream XS-XL for fall. All I could imagine was my soft sheepskin boots wrapped around my body. My boots have taken me through some incredible winter memories and have never let me down. Maybe a little worn on the outside, but still perfectly functional after all this time, they appeal to my tendency for shabby chic and my respect for longevity.  I have no doubt that the integrity of the UGG brand will insure the same for this beautifully made loungewear line.
.
"Luxury Must Be Comfortable, Otherwise It's Not Luxury
~Coco Chanel
.