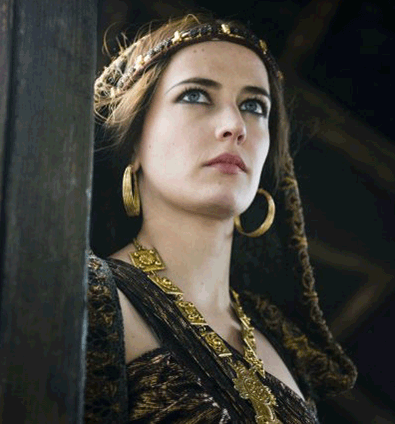 The witching hour is approaching. On October 31 witches will appear everywhere, young, old, good and bad; an affirmation of our national obsession with Halloween. Certainly, sorceresses are long time inhabitants of literature, poetry, drama and the arts. But for me, the greatest of all times was Morgan le Fay. I was only 12 when I first watched her cast her spell in the original Broadway musical Camelot. She shared my moniker (Morgan being my middle name) and I was entranced as I watched. Her evocative and tantalizing presence influenced the entire drama. How good such beauty and power be wicked?  Never mind that she was a temptress, manipulating Arthur and Guinevere into a destructive destiny.  This is just one side of history's story. She was also educated and highly intelligent, perhaps too much of an enchantress for the macho Knights of the Round Table. Her magic is infamous and her myth so controversial that she remains forever a woman of mystery.
Envoûtante means captivating in French and when I first saw the new premium collection from Lou Lingerie, I was once again reminded of this brand's provocative mystique. Created with a modern floral motif, the fairy light levers lace is reminiscent of an exquisite web, mesmerizing in its effect. Seen here, the full cup underwire bra, constructed to fit 32-38, B-F cups with matching bikini and garter belt are just some of the charms in this 9 piece premium collection. Both sophisticated and beguiling, its seductive elements are only matched by the charisma of the woman who wears them.
"You Had the Power All Along, My Dear"~ Belinda the Good Witch
.
Available At:
Journelle: NYC, NY
The Brooklyn Fox: Brooklyn, NY
Kaori's Closet: NYC, NY
New Vision Lingerie: Lake Placid, NY
Alla Prima: San Francisco, CA
French Theft: Santa Cruz, CA
Toujours: San Francisco, CA
Yves Fine Lingerie: Roseville, CA
Oh Baby: Portland, OR
Zovo: Seattle, WA
Underthings: Chicago, ILL
The Hope Chest: Philadelphia, PA
Suelto: Bozeman, MT
Nancy Meyer: NancyMeyer.com
BareNecessities.com
Collage Deux: Montreal, QC
Deuxieme Peau: Montreal QC
Lingerie Emma: Repentigny QC
Brava Boutique: Toronto, ON
Avec Plasir: Toronto, ON
For The Girls: Toronto, ON
Feinine Form: Langley, BC