Bottoms Up ~ Sassybax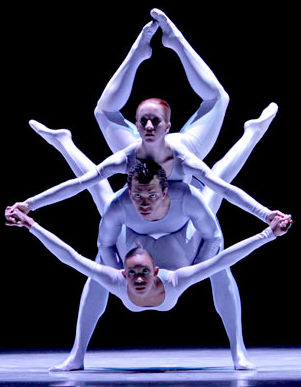 As a little girl, I imagined myself a ballerina, fully anointed in a tutu and pink ballet slippers.  I would be the reincarnation of Tinker Bell, floating on air, whisper light with the charming mystique of this charismatic fantasy, a fairy princess.   It was not until I was a teenager when my mom gave me tickets to the Joffrey Ballet dress rehearsals, that I became acquainted with the pulsating power of modern dance and the beauty of pure form.  This dance troupe, often void of props even in production, provided a naked landscape in which the dancer's anatomy took center stage.  The shape of their bodies dominated my vision, stretching my mind to a place where design and function merge to create living sculpture.  Free from the diversion of costume or scenery, the message was clearly about the essence of the human figure and its position in space.  My impression was that the torso is organic, molded by movement, balance and strength.  This really was choreography from a whole new perspective.
Unfortunately, as an adult of a certain age, the prospects of a dancer's body have eluded me.  Even though I am generally defiant when it comes to control, I have recently acquiesced to the problem solving benefits of certain shaping products and have been exploring alternative options.  As leggings are an essential part of my life, and I know the attributes and shortcomings of this style, usually in the rear end, I decided to try the opaque Bottoms Up Leggings (BUL01) from Sassybax.  I was impressed.  Not only am I intrigued by their ready to wear potential, but they remain unbelievably comfortable even as they boost and contour the butt.  Seamlessly engineered with eight separate knitting techniques, Sassybax has developed a patented age defying support system that lifts and shifts the torso into a tighter and more sensual shape.  Available in sizes S – 1X, they are seen here with the original built in support  tank (TT03) that defined the brand's character of function serving fashion.   This really is shapewear hiding in plain sight.
"Form Follows Function."  Louis Henri Sullivan
Available At:
Damsels in This Dress:  Worthington, Ohio
Christopher Don Boutique:  Circleville, Ohio
Lemon Twist:  Ponte Vedra Beach, Florida
In the Olde Manner:  Los Gatos, California
All About the Girls:  Los Angeles, California
Body Talk:  Avon & Westport, Connecticut
Top Drawer Lingerie:  Uptown Park, Illinois
Simply Meg's:  Greensboro, North Carolina
Harem & Company:  Springfield, Missouri
Morgan Abbigail:  Longview, Texas
Elizabeth Maar Boutique:  Haverford, Pennsylvania
Corset Shop Epsteins,- NYIntimates:  Saginaw, Michigan
Just Like a Woman:  Portland, Oregon
Comfort Zone Boutique:  Medford, Oregon
Bardot Lingerie:  Milburn, New Jersey
Saks Fifth Avenue:  New York City, New York
Classic Shapewear: Far Rockaway, New York
.
Join me at CurveNY at the  SHAPEWEAR seminar presented by Francesca Spinetta, CEO of Intima Magazine: Tuesday, February 22 at 3PM, conference room 4E Terrace.
.
.
..