Imagine Beauty ~ Chantelle Lingerie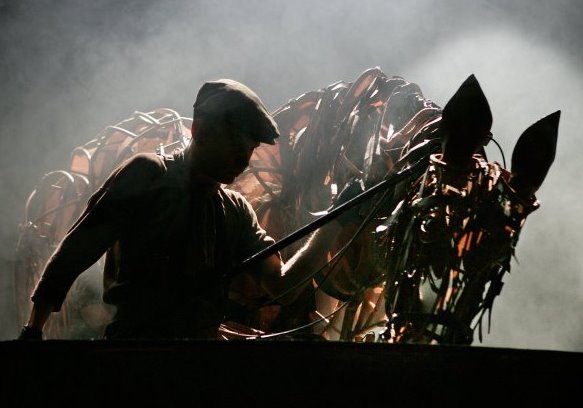 What makes a horse such an intoxicating animal is the combination of extreme sensitivity, majestic beauty and soft love.  This 1000 pound animal can feel the touch of a tiny insect, hear the sound of an acorn on a barn roof, smell an animal cloaked by trees and see the flicker of a tiny movement in the distance.  To ride a horse with grace, you must partner with his breath in a delicate dance.  Ears pinned back, tail lifted, head tossed, every subtle motion relays a detailed message.  That is why when I saw the Broadway sensation, War Horse a few weeks ago; I was literally blown away by this extraordinary production.  Michael Morpurgo's 1982 story of the plight of 8 million horses during WWI is brought to life through the animation of charismatic  equine puppets, which are so full of personality, they actually have soul.  The talent of the puppeteers who manipulate these enchanting marionettes constructed with wood, mesh and steel, reflects the magnitude of perfection resulting from the performance of skilled professionals.  These moppets with quivering flanks, heaving chests, and twitching ears are transformed into sensual warm blooded creatures that steal the show.
Having watched this inventive theatrical phenomenon, I was reminded of Chantelle's Icone Fashion Collection delivering for summer in Papillion.   This semi sheer design in a smoky color touched by gentle highlights is embroidered with a unique curvilinear pattern that recalls the transparent framework of the elegant puppets that dominated the Lincoln Center stage.  Just as the puppeteers' master craftsmanship is a source of life for these  passive equine actors, this demi bra is an intimate coupling of Chantelle's expert engineering and seductive fashion savvy.  An imaginative interpretation of the wings of a butterfly, the Icone demi bra (2225) is aptly constructed to fit sizes 32 -38, B –F cups. Embracing the breasts with a  gossamer beauty, this bra induces an  exquisite metamorphosis of the female body.  A provocative magic emerges.
.
"Everything You Can Imagine Is Real" . . . Pablo Picasso
.
Available At:
The Fitting Touch:  Birmingham, Alabama
Bra & Girl:  Great Barrington,Massachusetts
Claire De Lune:  Overland Park, Kansas
The Dain Shoppe:  Morristown, New Jersey
Bra Smyth:  New York City, New York
Embrasse-Moi:  Pittsford, New York
Sugar Cookies:  New York City, New York
Rebecka Vaughn: Nashville, Tennessee
La De Da Lingerie:  Webster, Texas
Petticoat Fair: Austin,Texas
Blythe Lingerie:  Richmond,Virginia
La Bijou:  Bellevue, Washington
Nancy Meyer Lingerie:  Seattle, Washington
La Lingerie LLC:  Madison, Wisconsin
Allure Intimate Apparel:  Maple Grove & St. Paul, Minnesota
Bra Bar:  Toronto, Ontatio, Canada
Tres Jolie:  Toronto, Ontario, Canada
Secrets From Your Sister:  Toronto, Ontario, Canada
Close to You:  Parksville, British Columbia, Canada
Night Owls Lingerie:  Victoria, British Columbia, Canada
Crimson Lingerie:  Calgary, Alberta, Canada
Diva Lingerie:  Winnipeg, Manitoba, Canada
.
.

.