Clear Cut ~ So De Mel
by Rhea Cortado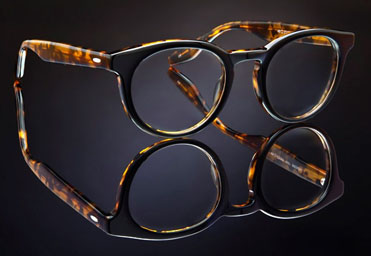 I was craving a new pair of spectacles, so I tried on like 10 pairs of tortoise shell frames that were some variation of Ray Ban Wayfarer glasses at the darling Gogosha Optique.  All in a row on the glass table, they looked nearly identical. But when one is actually on the face, the miniscule differences became deal breakers—too much scoop in the bottom, too straight across the brow, too thick of a frame, too gaping or too narrow. Owner Julia Gogosha empathized that when matching glasses onto a face, "Every millimeter makes a difference."
I'm no expert in knowing which glasses compliment which face the way Julia is, but I know it's the same way in swimwear (and lingerie). There is such little fabric and so much skin, every single millimeter and degree in the angle of curve cuts makes the difference between a sexy décolletage and an unflattering vacation photo. A solid triangle or bandeau bikini and brief may look similar on the rack, but once you get in the dressing room, it's clear which brands did their pattern homework. Sonia De Mello's line, So De Mel, in simple and understated designs with seamless edges makes the wearer look great without looking like she's trying. Coming from a Brazilian and Italian background, the designer's fit is a combination of Brazilian and European that's sexy, but not overly revealing. The outcome is the simplest triangle bikinis, bandeaus and maillots cut with the most flattering precision so that you see the wearer first, not just the adornment.
Available At:
Tropical Affair:  Santa Barbara, CA
Cabana at Four Seasons: Maui, Wailea
Seaside Beach at Hualalai Resort:  Kona, Hawaii
Bacara resort:  Esperanza, Mexico
Yemaya:  Sayulita:  Navarit, Mexi
The Palms:  Turks and Caicos
Auberge Du Solei:  Napa, California
Ritz:  Cayman Island/Puerto Rico/Hawaii/Florida
.
Wholesale inquiries:
Sonia De Mello
info@sodemel.com
(805) 969-2955
3 Femme Showroom in New York,