The Retro-Porn Provocateurs
by Richard Vincente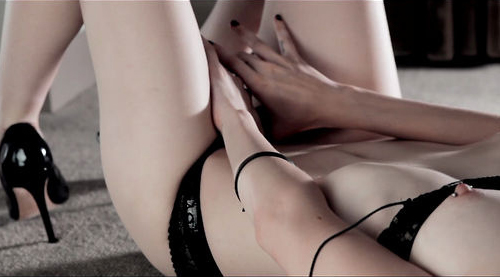 Lingerie and pornography make strangely uncomfortable bedfellows.
You might expect the two industries would be as close as kissing cousins, since they're often selling the same thing — human arousal — to the same people. The opportunities for cross-promotion should be endless.
But you won't find La Senza product placements in your favorite Ron Jeremy flick or Hanky Panky ads on the hotel room adult channel. Most reputable fashion lingerie brands don't want to be associated with porn culture, its explicit and often demeaning products or its grubby commercial values.
Of course, some people still think all lingerie advertising is by definition pornographic (remember the fuss that greeted the first Victoria's Secret catalogue?), but that's an outdated misconception. With some notable exceptions, most lingerie brands rely on predictably genteel, PG-rated marketing — even if the goods they're selling are downright triple-X.
Censorship laws and community standards play a role in this, but that's not the only reason you don't see raunchier lingerie promotions east of Vegas.
Many designer labels aspire to be much, much more than simply a disposable boudoir accessory. They are also promoting a refined appreciation of beauty and new sociological archetypes of confident, empowered women. Their customers aren't sex objects, and neither are their products. As a result, they prefer to focus on selling the sizzle, and not the steak that is the inevitable (and intended) payoff for their customers.
Explicitly sexual marketing is a bit too gutter for the lingerie industry, which instead likes to perpetuate visions of a fantasy world that is erotic but nonthreatening, sensual but surprisingly lifeless, and populated by gorgeous, but solitary, women.
There's nothing really wrong with this, even though it reveals the inherent conservatism — even timidity — of the intimate fashions industry, which too often tries to ignore the obvious link between its products and sex.
But that paradigm is changing, as more (and more brazen) labels push the envelope and remind the libidinous public what this business is really all about. It's a trend that's been building for years, and it's risky since it means stomping — instead of tip-toeing — through the minefield of public morality and standards of decency.
In 2010, Aubade literally stopped traffic with its live, girl-next-door-stripping-behind-the-curtains public peepshow in Paris, which served to introduce its French Art of Loving website and new branding strategy. The same year, New Zealand newcomer HOTmilk ignited a worldwide debate with its video depiction of a sexy pregnant woman preparing to pounce on her mate after a hard day at the office. People are still talking about that.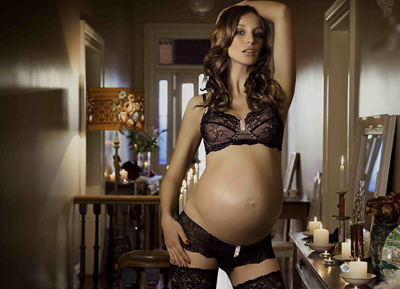 But even those examples are starting to look tame. Today, a few brash brands are testing censors and consumer tastes by producing increasingly explicit promotions that cross into porn territory. And here's a surprise: some brands are even embracing vintage pornography both in their marketing and as an inspiration for their fashions. Yes, everything old is fashionable again, including your grandfather's smut.
One young label, The Loved One, isn't just named after a 1960s sexploitation flick; its designs and style names ("Sin in the Suburbs") pay homage to the X-rated film pioneer Joseph Sarno. It's a provocative approach but, ironically, not the least bit exploitative. You'll find yourself thinking, "Yeah! About time Joe Sarno got some love!"
And later this year we'll see the Barbarella-inspired second collection from hot Mexican designer Marika Vera, a fearless newcomer whose website includes not just some explicit imagery but a catalogue of landmark erotic classics from film and literature to put you in the mood.
But the most dramatic example comes from the smart Scandinavian lifestyle label Forrest & Bob. F&B's intimates collection is fairly minimalist, but its marketing is as graphic as it gets these days. Last year's five-minute video The Fallen was pure in-your-face, 60s-style porn, a group grope featuring a bevy of models stripping, writhing and fondling one another. And it was a smash. Since its launch last fall, the stylish film has been viewed online more than 350,000 times (although I doubt many of those viewers were shopping for underwear.)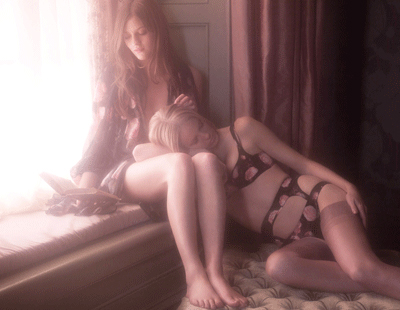 Of course, the trailblazer in this area has always been Agent Provocateur, which has been expanding the definition of "naughty" for over a decade. AP's recent seasons have seen the UK label exploring themes seldom seen in major brand marketing: voyeurism, exhibitionism and domination (who can forget those hypnotically creepy hooker-in-a-hotel-room videos?). Throughout all that psycho-sexual button-pushing, however, one thing prevented AP from crossing the line into Forrest & Bob territory: the models kept their AP goodies on.
For 2012 (and perhaps in reaction to being trumped by Forrest & Bob?), Agent Provocateur has found a new way to turn up the heat in its marketing — with a romantic, gel-focused photo and video campaign (above) that mimics the 1970s soft-core erotic films and books of David Hamilton, the infamous photographer who has spent a career dodging censors and accusations of pedophilia for his use of suspiciously young-looking models and actresses. (Don't get me wrong: I adore Hamilton and, like most other people, in my next life I want to live in his universe.)
And what's most interesting about AP's new look is that they're not the first major lingerie brand to invoke the retro-porn spirit of Hamilton films such as Bilitis and Tender Cousins. Last year, Dutch designer Marlies Dekkers delivered a summer collection (below) called Electric Bilitis for her Undressed label, with a photo campaign that was a note-perfect copy of Hamilton's style and a video that included Bob Dylan's "Forever Young."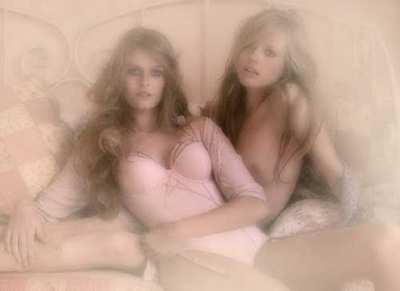 Both brands and their collections have a couple of things in common — an odd, almost gushing nostalgia for erotica that is still widely available, and lingerie fashions that, while lovely, bear no resemblance to what Hamilton's pubescent nymphets wore in his enduring classics. (The Dekkers line included soft pink hotpants in a snakeskin print with Swarovski embellishments!)
It's hard to tell if these are authentic efforts to celebrate another artist, or deliberately opportunistic devices that aim to trigger associations in the minds of a client base that grew up debating — and consuming — this most controversial of all photographers. One thing is certain, though: the typical customer for both AP and Marlies Dekkers is neither as young nor as innocent as all the nouveau Hamiltonia would suggest.
This retro-porn movement won't change the lingerie industry overnight, but at the very least it reminds marketers that boundaries are meant to be pushed and that their public is much more adult than we sometimes given them credit for. (Ann Summers and others in the erotic novelties marketplace built their brands on that premise alone.)
Censors will still require that lingerie companies play inside the lines with their promotions based on mildly suggestive imagery, clever innuendo and teasing edits. But, as Forrest & Bob showed us, the power and reach of the Internet allows bolder brands to try anything, sidestep the censors, and reap exceptional results.
Personally, I'm all in favor of a more open, more adult treatment of sexuality by the lingerie industry in general. But if anyone ever tries a Russ Myers-inspired collection, that's where I draw the line.
You can read more about the new Agent Provocateur collection on Lingerie Talk today.