Undressing For Success
by Richard Vincente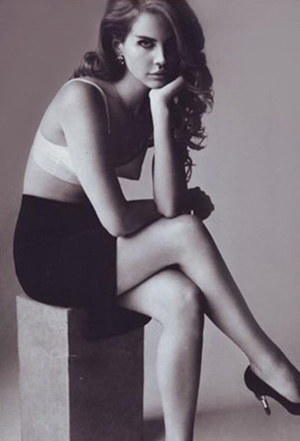 Lana Del Rey had barely started her new life as the pop music world's new 'It Girl' when she made a curious career move: posing in a What Katie Did bullet bra for I-D magazine and, soon afterwards, a Prada bodysuit for V magazine.
Both photos were published a month before the release of Lana's first album and her sleepy, much-discussed performance on Saturday Night Live. Even though many people still didn't know who she was (or whether she could sing), we had already seen her half-undressed.
Sounds a bit calculating, doesn't it? But it shouldn't come as a surprise. The lingerie photo shoot has become an essential stepping stone on the path to success for young starlets, especially pop singers, whether they like it or not.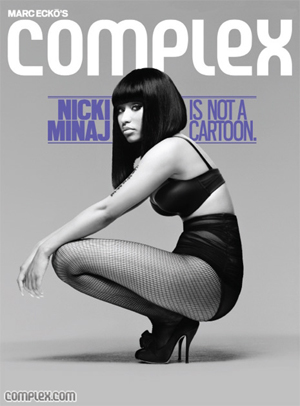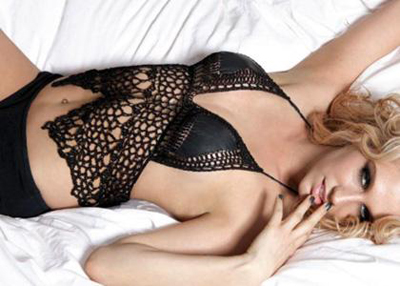 A year before Lana started undressing in public, Nicki Minaj (top) was doing the same in a memorable editorial and cover for Complex magazine, and Ke$ha (above) followed suit with an explicit spread in Maxim. Many, many more have followed the same path.
It should be noted that none of these performers are, strictly speaking, fashion celebrities (although they may aspire to be style icons some day) or underwear models or even Kardashians.
Posing in lingerie is simply a dependable self-promotion strategy that can attract attention among a wider audience and help elevate a newcomer above the clamoring horde of other fame-chasing wannabes.
Does anyone really believe Taylor Momsen (below) would have sold many records if she hadn't spent the past two years parading around in corsets and suspender belts in public?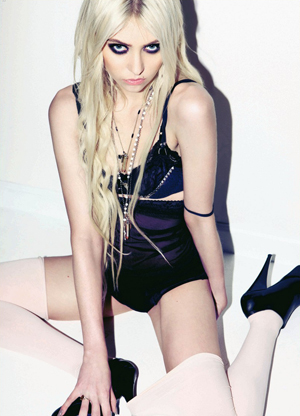 But there's more than just self-marketing involved here: it's a way of announcing to the world that you're a public commodity, right down to your skivvies. And it's hard to put that genie back in the bottle.
It's equally hard to avoid the temptation to undress for success. With role models like Madonna, Rihanna and Lady Gaga; aggressive publicists and managers; and the incessant appetite of magazine editors for photos of semi-clad celebrities, the pressures on young stars are enormous.
None of this is new, of course, but the celebrity landscape changed dramatically in the post-Britney decade. Today, no amount of self-exposure is too much (just ask Lindsay) and flaunting one's assets is a proven formula for success. And even if it's not something you'd do willingly, there is an army of paparazzi lying in wait to catch any errant upskirt, nip-slip or side-boob photo and peddle your most embarrassing moments to an ever-growing number of websites and scandal sheets. No wonder so many starlets simply yield and give the public what they want.
It's a development that should make advocates of fashion freedom and self-expression think carefully, too. Can you support the lingerie-as-outwear trend, for instance, and yet still be troubled to see so many young performers flaunting themselves so recklessly?
I think the answer is yes, because it's still important to have boundaries between our private and public selves.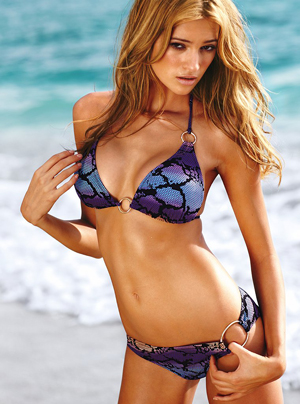 We saw a fascinating illustration of that last month when Kylie Bisutti (above), the 20-year-old California beauty who won the Victoria's Secret model search a couple of years ago, announced she had quit the VS team because it conflicted with her values.
"Victoria's Secret was my absolutely biggest goal in life, and it was all I ever wanted career-wise," Kylie said. "But the more I was modeling lingerie, and lingerie isn't clothing, I just started becoming more uncomfortable with it because of my (Christian) faith. … My body should only be for my husband. It's just a sacred thing."
You don't have to share Kylie's fundamentalist values to respect the clarity of her decision. She still wants to model, she says, but there is a part of herself that she's not willing to reveal for the camera and the public. We should all know ourselves so well.
Other young celebs find their own ways of dealing with this issue. Some, like Candies spokesmodels Lea Michele and Vanessa Hudgens, take lingerie modeling jobs partly as a way of satisfying public lust and getting paid for it on their own terms. It's not a bad strategy, since it tends to dissuade magazine editors seeking the same thing and can reduce your market value on the celebrity-photo circuit. Plus you have more control over the final product.
Many of our biggest female stars have mastered that artful dodge. You can still find revealing candid photos of RiRi or ScarJo or Zoe on the Internet every day, for example, but they're not nearly as good as the meticulously composed images that Armani or D&G or Calvin paid them for.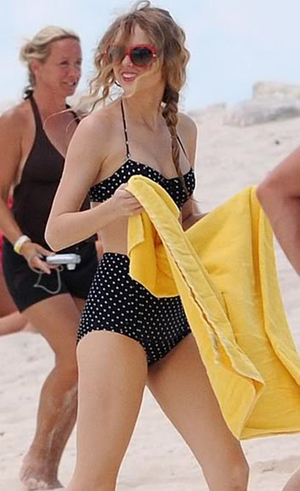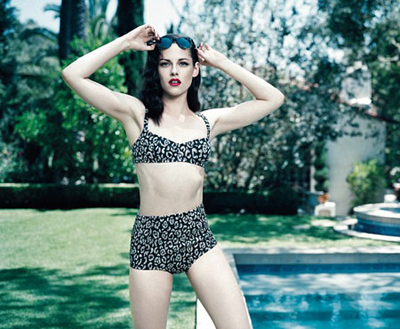 And despite all the pressure, some young superstars (and their handlers) routinely ignore big-money offers for semi-explicit modeling gigs, preferring privacy over self-promotion. Two of the most highly prized celebrity "gets" right now are singer Taylor Swift and actress Kristen Stewart, both of whom have guarded their privacy with astonishing determination and success.
In Taylor's case, a candid vacation photo (top photo) of her in a high-waisted bikini hit the Internet in 2009; it's notable because the famously shy star was mortified by the exposure and has never let her guard down since then. In Kristen's case, the Twilight mega-star consented to a single, unremarkable bathing suit photo (above) for GQ last year — probably to get the publicists off her back and as a way of declaring, "This is all you're going to see."
You don't have to be a prude to see there is courage in such modesty.
But many young performers don't have the luxury of saying no to the public appetite for celebrity skin; they do this to survive in an industry that will quickly move on to the next girl if you don't play the game.
That's why this is as much a political issue as a moral one. There's a virulent, deeply rooted sexism that courses through the entertainment industry which demands that young female performers strip for the cameras, regardless of what their actual talent might be. Few performers have the leverage, or the guts, to just say no.
Funny thing about Lana Del Rey: her debut album went to #1 worldwide. She comes across as a bit self-absorbed, so I imagine she enjoyed those modeling gigs. But it's instructive to realize she didn't need them.
Richard Vincente covers lingerie news daily on Lingerie Talk.