Technological Lingerie
By Ali Cudby
Innovation has many faces.  While I often discuss garments in this space, there are many more aspects to innovation in our industry.
Here are a few new ways in which technology is improving the lingerie buyer's customer experience:
New website for Prima Donna and Marie Jo brands.  For consumers, one of the biggest challenges can be finding that elusive favorite lingerie piece in stores nearby.  The new website for the Prima Donna and Marie Jo family of brands addresses this issue by telling shoppers which of their 5000+ stores carries the pieces you're searching for.  This search engine is more than a simple listing of stockists – it actually knows which stores carry your specific searched item, and even further refines by seeing which carry significant stock in that item.  The goal is to make shopping more pleasing and fruitful for the person searching for that special piece.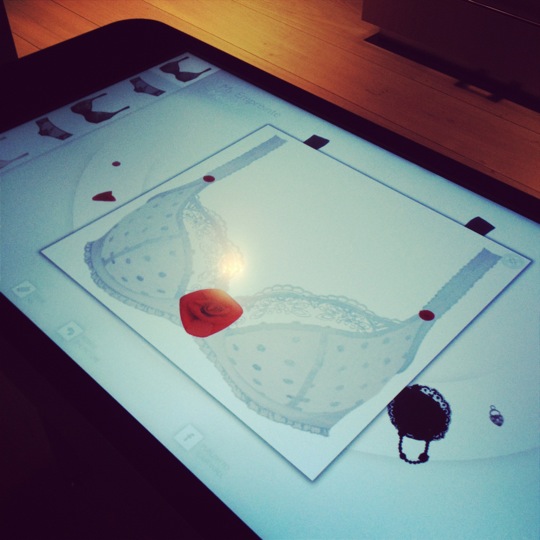 As part of its new flagship store in Paris, Empreinte has added a new level of luxury via their L'Atelier Lingerie.  L'Atelier first ignites the imagination with interactive digital displays of the entire Empreinte collection.  Using these tabletop displays, shoppers are able to select their favorite elements and colors to create lingerie customized to their specifications. These unique pieces are then crafted on-site.  Another innovative touch was the 3D hologram that appeared in the store windows to herald the store's grand opening.  http://www.youtube.com/watch?v=2LTXZZuedxQ
Retailers – especially online – are always seeking new ways to help women find their best bra fit.  As the latest effort in this worthy quest, HerRoom.com recently introduced a "Know Your Breasts Bra Finder" questionnaire to help women identify the best bras for their unique bodies.  While starting with size and brand, the quiz zeros in on specific questions about breast shape and placement on the body, then makes recommendations accordingly.  As HerRoom founder and Chief Executive Tomima Edmark recently told The New York Times, "I want to take away the misery of buying a bra."  For many women, the only possible response must be "bra-vo."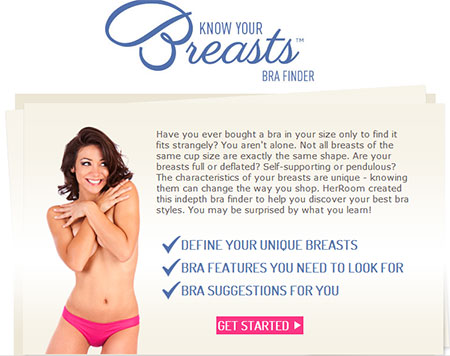 Newcomer True&Co has gotten a lot of press for its top-secret algorithm for directing women to their ideal bra matches.  Their approach is slightly different, as women sign up for the True&Co expertise by filling out a questionnaire, and receiving a selection of bras – some the customer selects, while others are chosen by the company's bra wizard.  Shoppers then return the bras they don't love.  It is still too early to determine the accuracy of this concept, but an interesting approach to track.
With technology already integrated into most aspects of our lives, it seems only fitting (no pun intended) that it's now woven into the fabric of our lingerie.