Damaris Stands By Her Girl
By Richard Vincente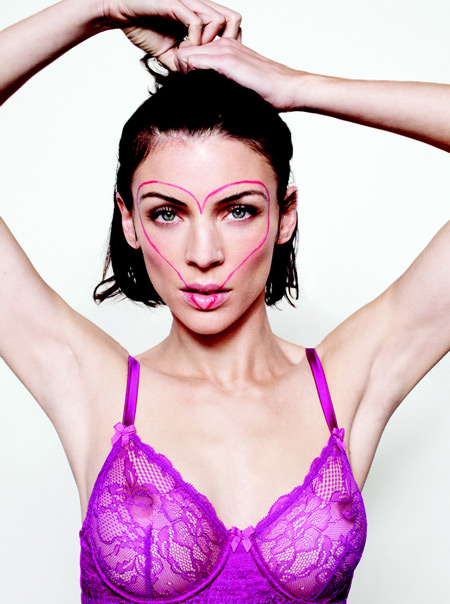 Kristen Stewart was just down the road from me in Toronto last Thursday night, walking the red carpet at the film festival and basking in some sisterly love from a throng of sympathetic fans. Being polite Canadians, no one – not even the press – asked her about the affair.
Kristen had been photographed the night before wearing one of ex-beau Robert Pattinson's T-shirts as she zipped through Toronto's airport with her head down – an image that caused hearts to heave across the land.
It was her first public appearance since word leaked in July of her fling with film director Rupert Sanders, scuttling her fairytale romance with Twilight co-star. The girl was clearly still in mourning and still (one would assume) crippled with shame.
A day later she was resplendent on the red carpet, offering contractual-obligation smiles to promote her new film, hugging fans and saying nothing except that she might apply for Canadian citizenship. Poor thing. Let anyone who has not made the same kind of stupid mistake she made cast the first stone.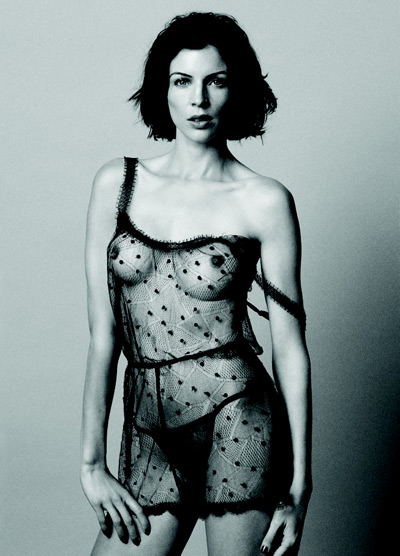 But enough about KStew and her colossal blunder. The person more deserving of our sympathies is Liberty Ross, the other woman in this wretched saga. She is Sanders' wife of 10 years, mother of his two young children and a castmate of Kristen's in her husband's film Snow White and the Huntsman.
Since news of the cheating scandal broke, Liberty has kept a low profile and shunned the media amid reports that her marriage is (understandably) in trouble.
But she made a dazzling return to the spotlight late last month as the face-and-body of the fall lingerie collection from the sexy UK brand Damaris.
Damaris's photo campaigns always attract lots of attention, but this time there's an added context – a kind of perverse, prurient shiver that comes from seeing a victim of adultery so nakedly exposed. Anyone who has ever been in Liberty's position will be familiar with the torment caused by the silent scrutiny of outsiders peering into your life and presuming to judge.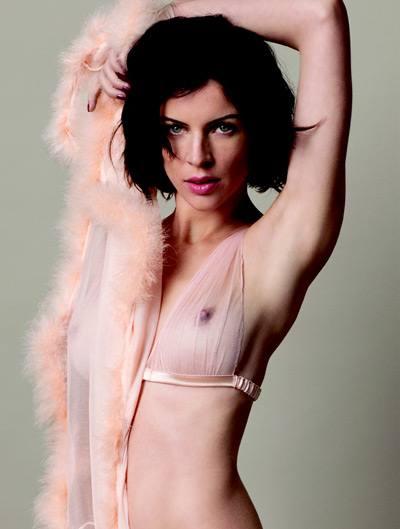 The campaign could have turned out very badly for both designer Damaris Evans (who might have been accused of exploiting Liberty's suddenly elevated public profile) and Liberty (who might have preferred keep out of the public eye until her life settles down again). Just imagine being the humiliated spouse in an adultery scandal and then having to be photographed in NSFW undies for public consumption only a few weeks later!
Instead, I think it's turned out remarkably well for both women.
The fall photo campaign for Damaris was likely shot last winter, making its release only weeks after the scandal a matter of cruel-but-unforseeable bad timing. Damaris reps have been showing the fall collection (and the marketing materials) to retail buyers since the spring, unaware that their cover girl was about to become a household name overnight. The release date for the images and the collection would have been carved in stone a long time ago.
Still, there must have been an extraordinary "Oh, s**t!!" moment in the Damaris offices in July – as workers were getting orders ready for delivery and finalizing their press materials – when news of Liberty's misfortune hit the tabloids.
Damaris has worked with Liberty in the past – she starred in last year's film noir video Packing Heat for the label – and she has become one of the faces associated with the brand. Another company might have made a corporate decision to scrap the campaign at the last minute so as not to be sullied by any of the backsplash from the scandal – but not Damaris. She stands by her girl, damn the torpedoes.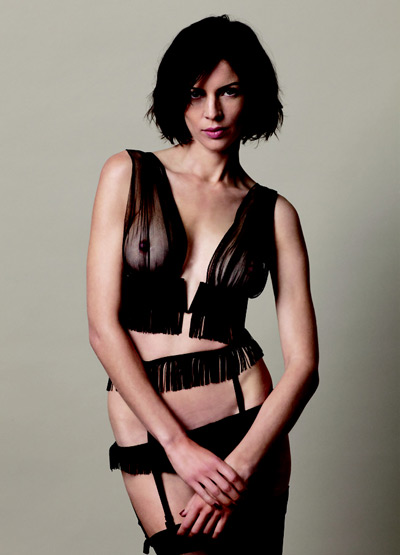 And what about Liberty? She could have asked that the campaign be shelved, rather than be ogled around the world in a see-through lace bra with a heart painted in lipstick across her face only weeks after her husband is caught sleeping with the world's most famous actress. Instead, as these images show, she literally lets it all hang out there.
Both women, I think, showed real personal bravery in letting this campaign reach the marketplace, and a kind of defiance in the face of unpredictable, crushing adversity.
It's worth remembering what the Damaris label and sister brand Mimi Holliday are all about – self-confidence, sexual vitality and a kind of boldness that announces itself without shame or shyness.
If you think about it that way, Liberty Ross is the perfect model for Damaris – today or any day.
Richard Vincente is the editor of LingerieTalk.com.