Chantelle's Hybrid Minimizer is Magnifique
By Ali Cudby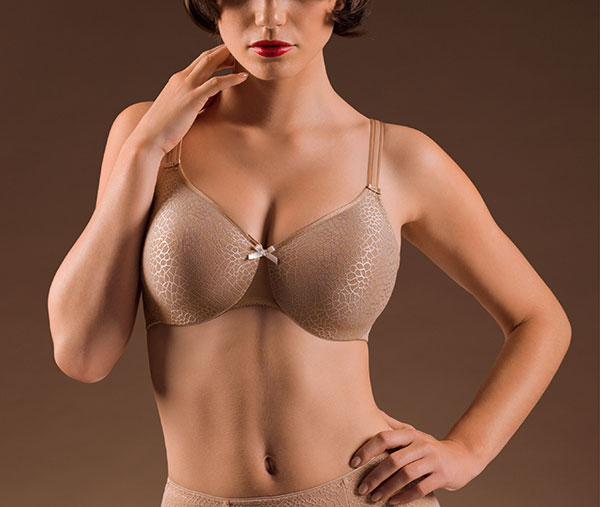 A lot of women want minimizer bras to "make their breasts smaller" as if there was some miracle of physics to actually shrink breast tissue.  What minimizers can do is make breasts appear smaller by creating a cup with a lower apex.
The challenge with minimizers, from a fit perspective, is that in order to achieve the lower breast profile these bras promise, the cups redistribute the breast volume into a lower – but wider – package.  The end result is that minimizers tend to make women look somewhat thicker.  Not exactly the outcome women are looking for – has any customer ever come into a store saying, "Gee, I'd really like to look heavier…and shorter, too?"
Addressing this challenge is what makes the new Chantelle C Magnifique bra an innovative new entrant into the field.  C Magnifique is, at its essence, a hybrid of a minimizer and a traditional bra, offering the benefits of both without the downsides.  The profile is somewhat lower but manages to avoid the silhouette pitfalls of many other minimizer options by ensuring that the sides of the cup don't stray too far out.  In that way, the inherent shape of a woman's torso is maintained.
C Magnifique is a full coverage bra and stands squarely in the category of every day comfort vs. special occasion or date night.  It's made for wearability, with tone on tone pattern in its smooth jacquard lycra knit and foam padded underwires.  C Magnifique runs from C-H cups and up to a 44 band, meaning that not only is Chantelle providing the perfect button down shirt bra, it's enabling a greater number of women to enjoy its benefits.
C Magnifique
More Centered Shape
Slightly Minimizing without East/West Effect
More Lift from Bottom of Cup
Narrower Leotard Back
Lower Center Gore
Thinner Straps
Lower Neckline
Closer-Set Straps at Back
Molded underwire that provides a T Shirt bra shape
Slightly minimizing without flattening