The Kestos Bralette Roars Back
By Layla 'Obatti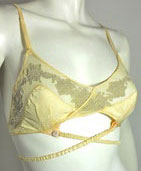 I started noticing a trend, and not a subtle one among indie designers. We've mentioned the strap details of the Bordelle corset and their possible origins, and a myriad of other modern lingerie looks that seem to reference styles from the 20's through 50's, but I was so surprised when I saw these vintage Kestos ads on pinterest and immediately connected them to their modern day counterparts. They saw what's old is new and these three indie labels have breathed new life into this signature style with different materials and styling. The result is a silhouette that although inherited from previous generations is remarkably modern and fresh for a new generation.
Hopeless Lingerie's Death Collection & Lillian Bassman's Photo of Kestos bra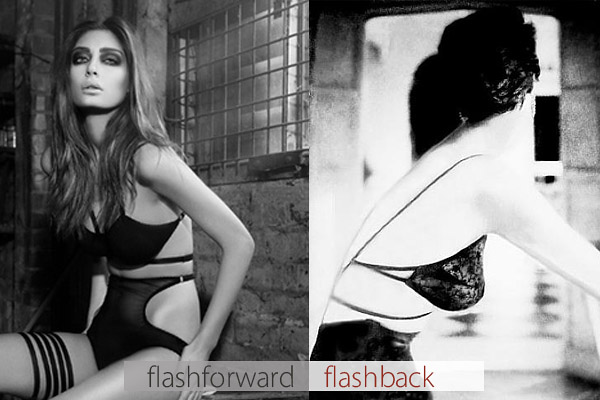 Flashback: Iconic Lillian Bassman photographed this lovely black lace Kestos style bra, with that innovative strap architecture that looks so modern and inspires designers today.
Flashforward: Hopeless Lingerie's Death collection features a bralette similar to this Kestos style, among other styles with strap details that further upon that theme.
Kestos shapewear Ad & The Loved One's Nouveau Romantic Kestos Style Bra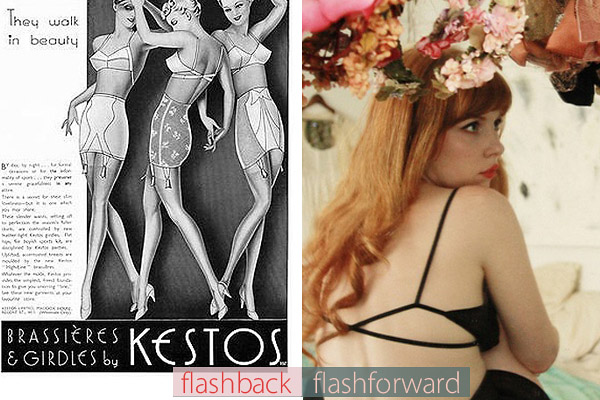 Flashback: Another Kestos ad showing the strap architecture of their iconic bralette
Flashforward: The Loved One's romantic and voyeuristic look at the Kestos style bra, paired with other retro styles like bloomers and dressing gowns paints the portrait of the modern day flower child.
Lonely Hearts Bodysuit and Kestos Shapewear Ad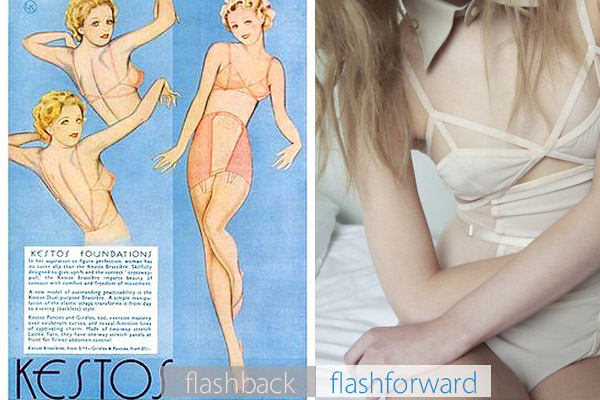 Flashback: Striking Kestos ad showing the iconic foundations and the strap architecture of different styles.
Flashforward: Lonely Hearts modern bodysuit evolves the trend one step further by extending strap details further down the body like the style in the Kestos ad far left.