Loungewear for Maternity and More
By Lindsey Borchard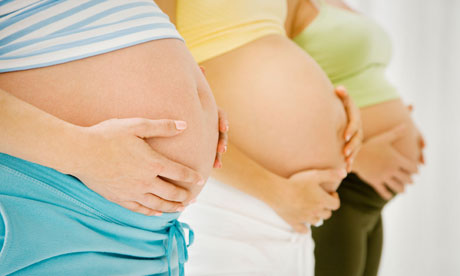 Hello my name is Lindsey and I am addicted to lounge wear.
If you're like me, when you get home from work you immediately change into some form of lounge wear for the night. If any of you know me personally then you know I am queen of lounge wear and have drawers full of pretty comfortable items for home. This was my favorite part of my research/shopping for maternity items. Especially in my eighth and now ninth month I have no shame in wearing some of these items out. I know what you're thinking so please don't judge me, I blame the incredibly large alien inside me for making me do it. I could probably write several posts on this topic alone and you might even see another one post baby but for know I'll leave you with my top items and items I was lucky enough to sample and try on from other brands. Enjoy!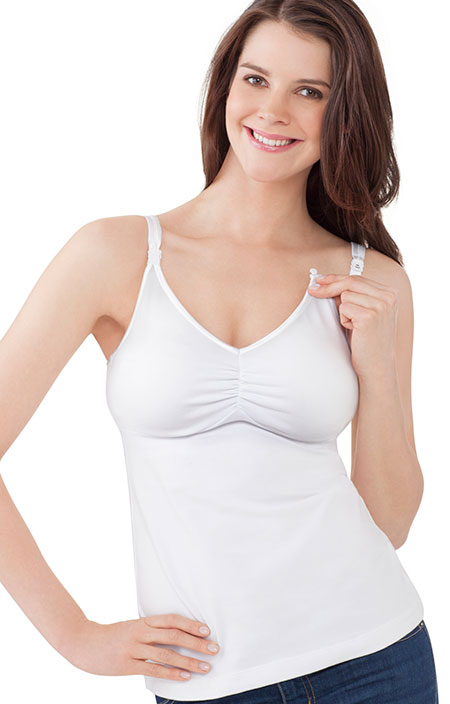 As many of you know I was lucky enough to get some goodies from Bravado a few weeks back. Along with my nursing bras they also sent one of their Essential Nursing Tanks. I. AM. OBSESSED! First of all, let me just say right now it's a little hard to wear because I have a huge basketball for a stomach right now. So it was a little snug. But I know I am going to wear this all the time after he makes his arrival and by "wear" I mean, "LIVE" in. The top was so supportive, and it goes up to a 44G! It has a built in bra so you don't feel like your breasts are hanging to your knees and also has adjustable straps. Win and Win! It's so easy to hook and unhook the nursing clips and gives you full access to your breast for baby. The best part about this tank is that it's long in length. Making this a great piece for working out, or under blouses. And provides supportive coverage to your tummy, an area that you might not be as confident about as before. It's also not see through, even in the white. Another great plus! This tank comes in three essential wardrobe colors, white, black and brown. And three fashion colors, Dark Plum, Tiger Lily and Turquoise. And by the end of this pregnancy I will probably own all 6 colors!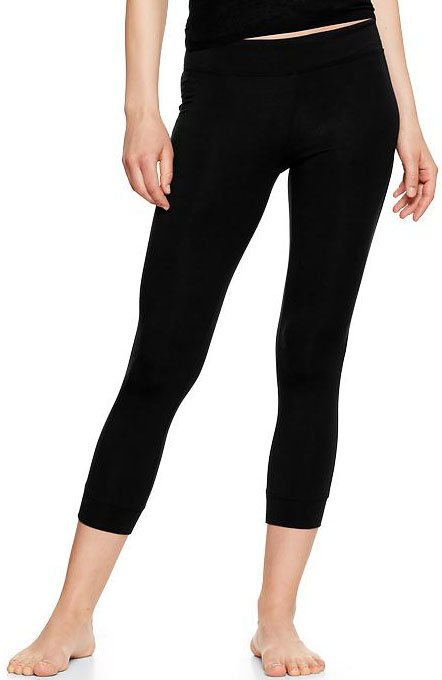 Even though Gap Body isn't maternity it certainly has a ton of items you could wear. I buy A LOT of my loungewear pieces from Gap. And my favorite has to be the Pure Body leggings. I actually wore these all the way up until I was 35 weeks pregnant. Then I needed to make the switch to maternity leggings for my non-stop growing belly. I own about 5 pairs of these. They are the softest, most comfortable things you will EVER put on your body. I love that they are thicker then most cheap leggings, they NEVER loose their shape and they come in several different lengths and colors. I wear these out, in my home, to bed, and anywhere I can get away with it. And here's a tip for you girls that don't want to spend $30 for leggings. They sell them at Gap outlet stores for about half off. So hurry up, run now and go get a few pairs. I promise you won't be disappointed.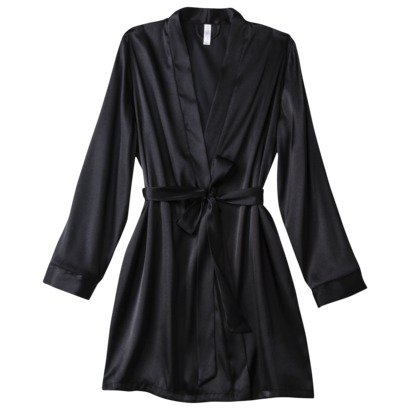 I'm not a huge robe person, but I do think every girl should have two in their loungewear wardrobe. A silk/satin boudoir robe, and a comfortable, everyday cotton robe. This one is my favorite coming to you from the great people of Target! I found this Gilligan & O'Malley jersey modal robe at target for under $30. It hugs my body without feeling like too much fabric. It's super soft, has long sleeves and is above the knee. What more do you need in a robe? This wonderful item is currently packed away in my hospital bag as we speak.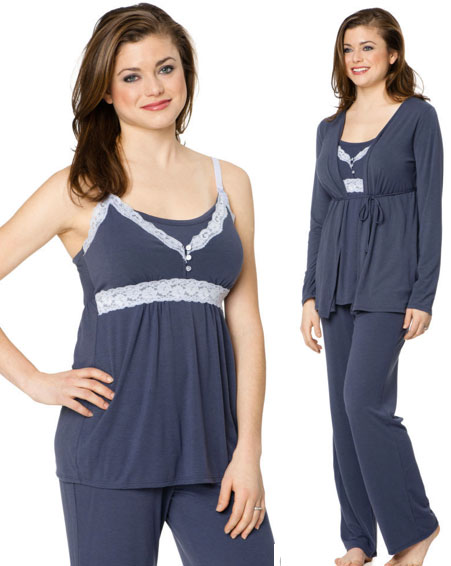 Destination Maternity stores have been a lifesaver for me during the times I feel like I need a boost to my maternity wardrobe. I have found such great pieces there to help me through this time and that includes some great loungewear. I have a few of their chemises and can't say enough good things about them. But today I wanted to talk about my favorite item I got there. And all for $50! Talk about a steal! This is a three-piece set which includes pants, a nursing tank and short robe. It's perfect for when your body temperature is constantly changing.  And it's pretty with its lace details and cute little buttons and lovely blue color. This is perfect to wear around the house to feed, be comfortable in and covers up when you have all those guests over to swoon over your new baby.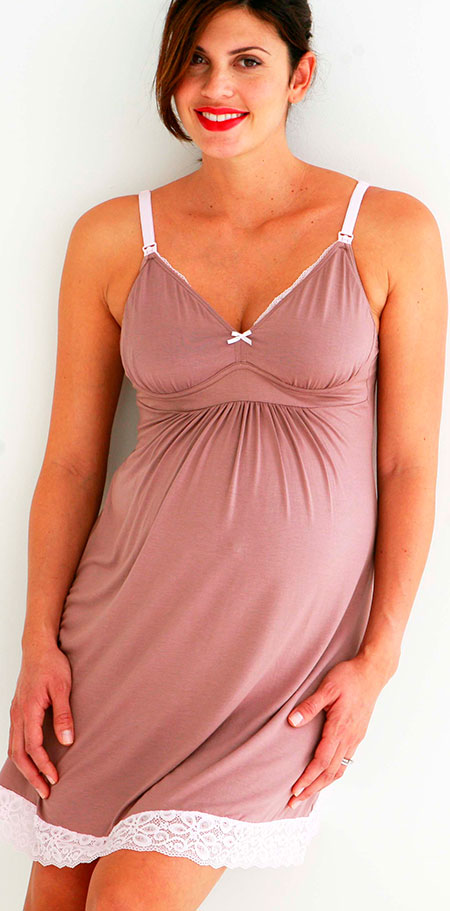 The last item I tried was the Lotus Nursing Chemise by Belabumbum. This is Belabumbum's best selling maternity/nursing silhouette and I can see why. Let's start off with talking about all the pretty details. Lace trim around the cups and bottom, cute bow detail in the center front, pink adjustable straps and beautiful draping around the belly. This piece is great to get as a shower gift as you can wear it during all the stages of your growing belly and use it after for nursing. The fabric made from baby Jersey is soft and luxurious. Feels like butter on your skin.
There's a ton more items I would love to share with you and I know after baby when I'm stuck inside all day I'll have a ton more posts on all the loungewear I love. Until then I hope if you're like me and love to be comfortable at home you run out and grab a few of these items if you don't already have them. And if you have a particular brand or item you love, PLEASE share it with me below. As you know I have a soft spot for all things lounge and I'm always looking for new items to add to my collection.