What Defines Real Breasts? Curvy Kate's Star In a Bra Challenged
By Elisabeth Dale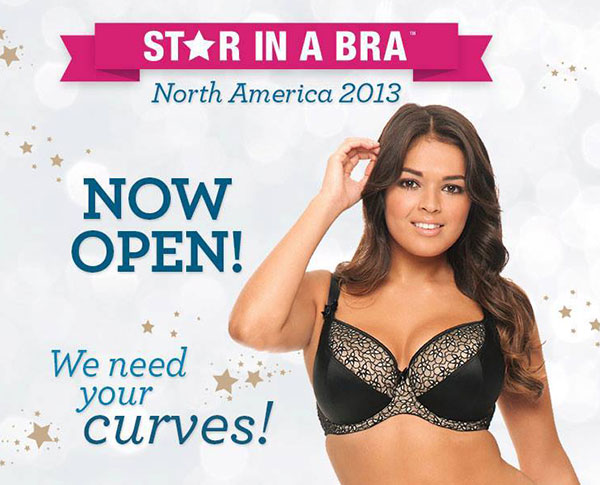 Curvy Kate, the brand that brings sassy style and fit to the D-K crowd is under fire for their "Star in a Bra" contest. Some wearers of this popular and well-liked bra brand aren't happy that contest rules specifically exclude women with breast "enhancements." And, according to the blogosphere, this rule applies to any woman who has had breast surgery, be it reduction, reconstruction, or lift.  Curvy Kate has responded to criticism by asking for input and may consider revising the rule.
But should they? Some believe Curvy Kate is right to make this breast distinction. After all, the brand was created to celebrate the regular, full-busted female body. It's falsely assumed that many naturally larger breasted women are that size because they bought a pair. Women who choose implants are seen as cheating; purchasing breasts that Mother Nature never intended. And while other breast surgeries seem somewhat more acceptable (reductions, reconstructions, and lifts), implants are the one most "politically incorrect." They're even ridiculed and called "fake," unlike any other cosmetically altered body part. So the Curvy Kate caveat underscores that natural D and up cups are normal and beautiful.
But it could also help perpetuate negative and false assumptions about women's breasts.
First, by exclusion, surgically altered breasts are deemed less worthy, because they've achieved some false perfection. Yet the surgery and the patient's objectives aren't the same for each person. There's no evidence that augmented breasts are of some uniform or much larger size. Implants are measured by cc's, not bra cups. And a 300 cc implant will appear radically different on a woman of one build or height than another. Scroll through the American Society of Plastic Surgeon's gallery of post-surgical breast augmentations, reductions, and lift patients and you'll find that women's breasts come in all sizes and shapes. And nothing lasts forever. Surgically altered breasts don't retain their post-surgical look over a woman's lifetime. Many women see their breasts change again within a few years.
The second assumption is that women turn to breast implants to get attention from men or to obtain an "unfair advantage" (the unfortunate choice of words Curvy Kate used on their Facebook page). Bigger busted woman are often the object of unwanted sexual attention. Not to mention adolescent teasing, difficulty finding bras, or feeling awkward because clothes don't fit. There are dozens of full bust bra bloggers out there helping women navigate the trials of this most favored status. Men haven't been shown to prefer a specific larger size of breasts either; except those who are sexist, according to one survey. Curvy Kate's success confirms that women in the D-K cup range have more complex fit and style issues.
The third myth is that acceptance of breast cosmetic surgery somehow encourages young women to turn to achieve an unrealistic ideal breast size or shape. Despite media headlines, few girls get implants as high school graduation gifts. According to 2012 ASPS statistics, there were only 8,012 such surgeries in 2012 in the 13-18 year old category. By contrast, there were 33,673 girls who had their noses reshaped. There were also 15,142 young boys who had breast reductions (for gynecomastia, an often temporary physical condition). Young girls have already learned that its okay to alter some body parts, but not others.
The ASPS statistics confirm that the majority of women who undergo breast augmentation are between the ages of 30 and 39 (followed by the 40-49 segment and then 20-29 year olds). Many of those women choose cosmetic enhancement for the very simple reason that it is the only way to regain breast volume lost through pregnancy. Women can return to their pre-pregnant body shape through exercise, but for some individuals, nothing short of surgery will restore former breast size. It's never going to be a choice that all women make because no two boobs are alike, even on the same woman.
The Curvy Kate Star-in-a-Bra competition was created to celebrate D+ bra sizes. But the focus isn't solely on a woman's boobs. It also judges contestants on qualities of poise, personality, and intelligence. Curvy Kate will have to decide whether a woman's decision to choose breast surgery, for whatever reason, outweighs all other criteria.
What do you think of Curvy Kate's "Star in a Bra" competition's rule about augmented or surgically changed breasts? Do you agree or disagree?
**Full disclosure: the author had a breast lift at age 47. Ten years later, her boobs are a different size and shape.