My Top Five Reasons I Say "Hurray for Lingerie!"
By Kim "Kimmay" Caldwell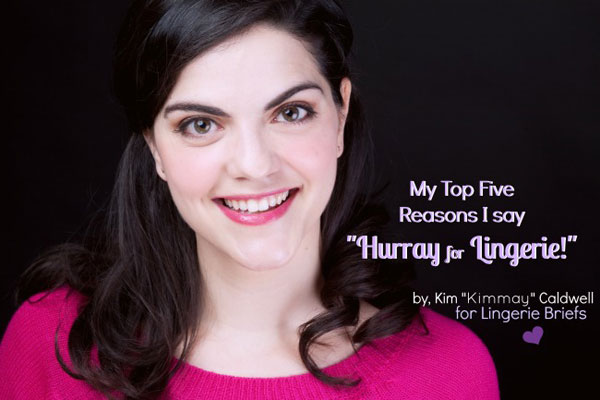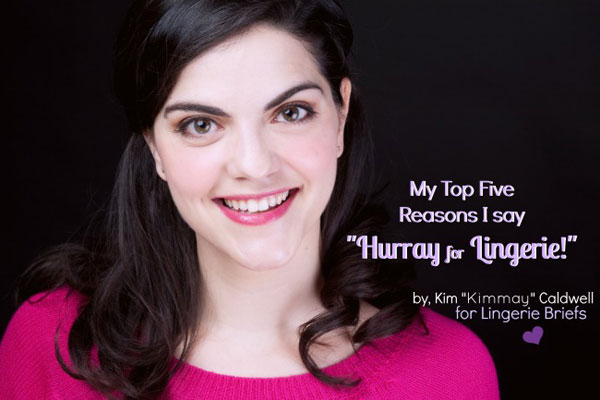 My first official introduction to the world of lingerie was going behind the scenes. I'd been wearing a bra already for years, and tried some "fancy" (meaning itchy, lacey styles from the mall) underwear here and there, but at 19 years old I was pretty uneducated when it came to the world of lingerie. I was also new to New York City and new to quite a few other things. My "braducation" began at Linda's bra shop in SoHo when, after being hired as a bra fitter on the spot by her son, Linda 'The Bra Lady' pulled me into a fitting room and asked me to take off my top. Having heard horror stories about sketchy casting directors asking actresses to take off their clothes during an audition from my musical theater classmates, I hesitated. But it turns out she just wanted to fit me, and taking off my top and letting Linda measure me for a bra in the right size was possibly one of the best decisions I've ever made.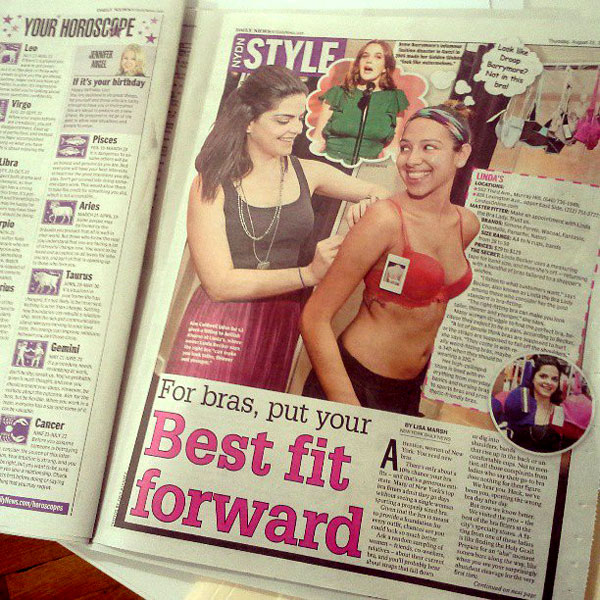 Almost 10 years later, with experience at Linda's, La Perla, Saks Fifth Avenue, Bergdorf Goodman and more under my belt, I have a unique viewpoint of lingerie. I understand the need for lingerie for both foundational purposes and sex appeal. I have a (possibly obsessive) love for lingerie and love spreading the word about what it can do for a woman. Helping women find that power from bras and swimwear is one of the most rewarding aspects of my job and my life. In short, I say Hurray for Lingerie!
Here are my top 5 reasons for why I say "hurray!" for lingerie.
1) Confidence: Wearing a bra in the right size or a sexy piece of lingerie will instantly help a woman feel more confident, and confidence is ultimately what creates sex appeal. I cannot tell you how many before and afters I have done, and how many of those women feel supremely more confident than when they stepped into the fitting room. All because of a bra that lifts their bust, undergarments that fit well, and a little encouragement.
2) Comfort: While the sexy, strappy, crazy lingerie styles have their moments, I really say hurray for undergarments that fit well and feel great. Whether that's a great bra in the right size, a comfy Hanky Panky thong, or even a sexy slip, style has its place but comfort is key to feeling fantastic.
3) Foundations for Style: Speaking of style, great fashion starts with the right foundations. In my years at Saks Fifth Ave, Bergdorf Goodman and Just Cavalli I helped women who were wearing the best of the best when it came to their clothes. They'd be dripping in gorgeous jewelry, hot off the runway dresses, and major heels. And underneath it all? A bad bra and worn out underwear. What were they thinking? Bras, underwear, legwear, shapewear, slips – they're all foundations for your closet full of gorgeous clothes. I always say that you can wear a $500 dress and a crappy bra and look like a slob… or you can invest a little time and money into a great bra and undergarments, wear a $50 dress, and look like a million bucks. I know what choice I make.
4) Excitement: Having a bad day? Just broke up with someone? Feeling upset? That's the day to take out that hot pink, push up bra that makes you feel like a rock star, or that sexy pair of underwear that means business and mixes in pleasure. A bright pair of underwear or a well-crafted bra is just one way to remedy a bad day. And considering the alternative remedies out there, I'd say this one is pretty easy to do and less life threatening.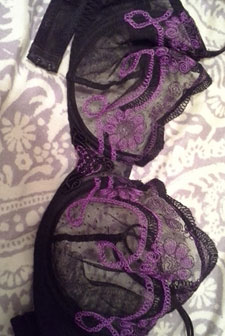 5) My Little Secret: The last (and certainly not least) thing that makes me say hurray for lingerie is the secret pleasure I take from wearing it. You may think I'm some kind of exhibitionist who goes around showing off her undies to strangers and says "hurray for my lingerie!" Not true. While I'm not shy about spreading the word, and have certainly shared the status or color of my current bra or underwear (even on live TV), I like to keep my lingerie as my little secret. In the fitting room, women will often wonder aloud, "Will my boyfriend/husband/partner like this?" I say: "Listen, if someone sees this, lucky them. If not? YOU know you're wearing a sexy little something underneath your outfit. Just knowing that will put a little pep in your step." And it's true! My (rugged, handsome, wonderful) husband doesn't always get the direct benefit of my lingerie. I wear lingerie for me. I wear it to feel confident, comfortable, stylish and excited. And you know what? He gets the benefit of a happy woman that says "hurray for lingerie!"
I'm thrilled to be working with Ellen Lewis and Lingerie Briefs, and can't wait to share my opinion, advice and finds. Stay tuned for more articles in my column, Hurray for Lingerie, and check out my blog Hurray Kimmay for the people, places, products and projects that make you say "hurray!"