Should You Wear A Longline Bra With Your Wedding Gown?
By Kim Caldwell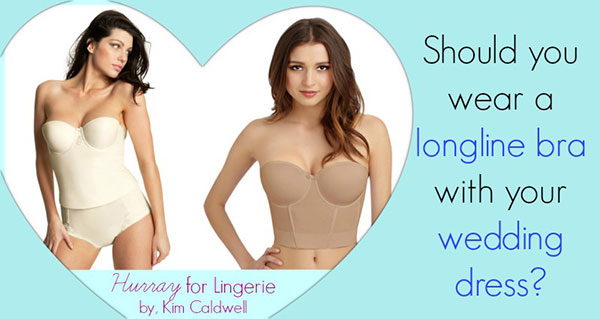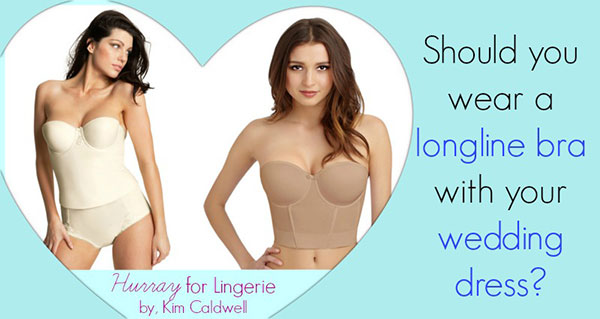 Hurray! It's wedding season, and that means I'm helping a lot of women find the perfect bra for their bridal gown, bridesmaid dress, mother-of-the-whoever frock and wedding attendee attire. Everyone needs supportive bras for their outfits!
And that includes my lovely cousin who is getting married this summer. She sent me a Facebook message asking for bra help, and her question is a very common one:
Hey cousin!
My first dress fitting is in a month and I am gathering all necessary apparel for the fitting. The link for my dress is below: (Sorry but I'm not going to share Steph's actual dress here and ruin the surprise! So the two below are similar styles from David's Bridal.)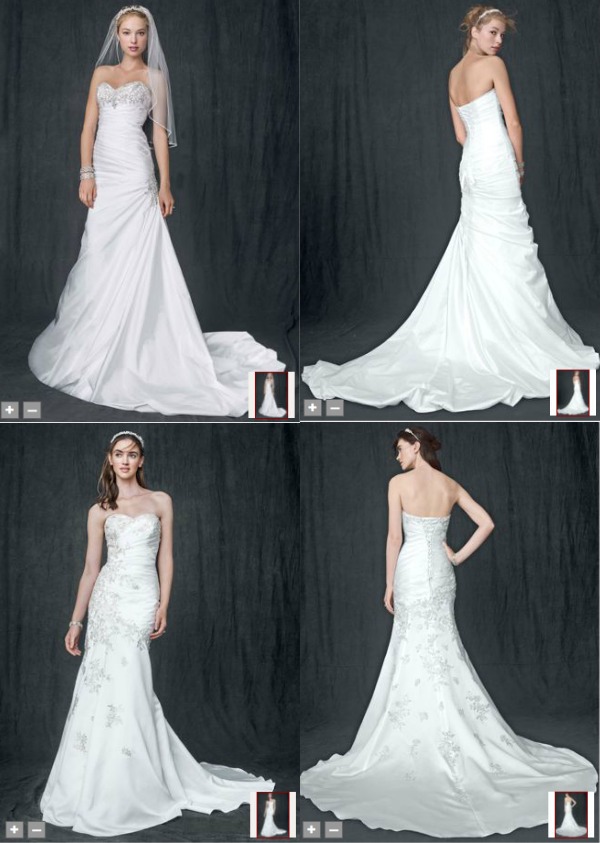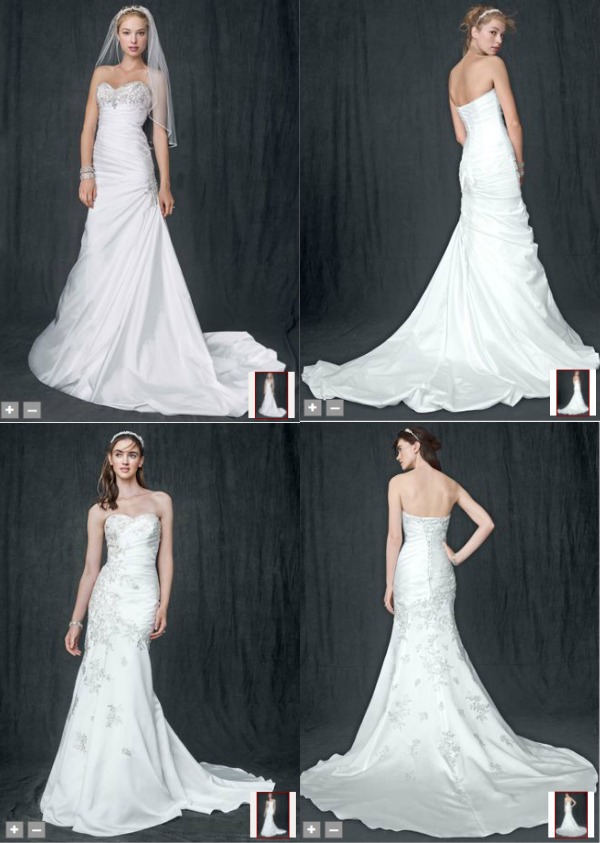 I bought the dress last March and I am still in love – so I guess it was the right one!
I recently purchased shoes and a fit and flare slip (see below), to make the dress appear to be more mermaid/trumpet.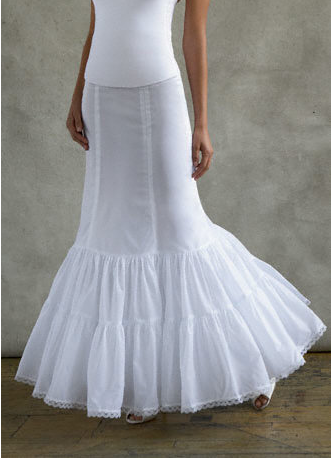 The only additional alteration would be to make the front into a sweetheart neckline and a French bustle.
My issue lies with the bra/corset – and since you are the bra expert I thought I would ask you! The wedding is in July – therefore I know it will be rather warm – much like your wedding day! What did you wear under your dress? What would you suggest I wear?
I know this is short notice – with only a month to go until the first fitting, when I will need all undergarments but it was a shot in the dark! I would like to get something new, although with the new house absorbing all of our disposable funds, price is an issue; so the cheaper, the better. Thank you in advance for any advice – I feel so lost here! 
Talk to you soon,
 Stephanie
I wrote Steph back (albeit, after I forgot a few times and after her gentle reminder) with a very frank cousin attitude. So here is my response with a little bit less family frankness, and a lot more girl-you-need-to-know-this information:
First, I always suggest that brides purchase a few well fitting undergarments before they even buy their wedding gown. You can bring them to try on with different gown silhouettes and make sure that you feel comfortable in both the bra and the dress. This is especially true for very busty ladies. So many women want to go with the popular strapless gown silhouette and will try on a dress with their basic bra, fall in love with it, and think "well, I'm sure I can find a strapless bra to work." While this may be true for many women (and strapless bra options have come a long way in the past few years), that doesn't mean you'll be the most comfortable or look your very best. I have to get very creative with a lot of J and K cup women who have already purchased their wedding gown and then realize that their undergarment options are not everything they'd hoped for. Just a friendly dose of reality for you.
It's no surprise, as a bra fitter for years, that I suggest purchasing your undergarments with a trained fitter. If you can't make it to a bra fitting shop, use the myriad of online resources (like my Braducational Videos) to educate (or braducate!) yourself before you try on bras.
If you didn't bring several bra options with you when you chose your dream dress, certainly bring a few to your first fitting. If the dress is already purchased, as in Steph's case, it's still beneficial to try several undergarment options. And if you leave the tags on and just use the bra for trying on the gown, you can usually return any bra options that do not work to the lingerie store.
Next, consider the construction of your gown. To answer Steph's question about what I wore under my gown, I sent her to a blog post on Linda Unhooked that chronicled the wedding undergarment journey of my friend Britney and I. Britney (on the right) wore a very structured, corset top gown while I wore a very sheer, flowing dress. Because of our very different body, bust, and gown needs we needed very different undergarments.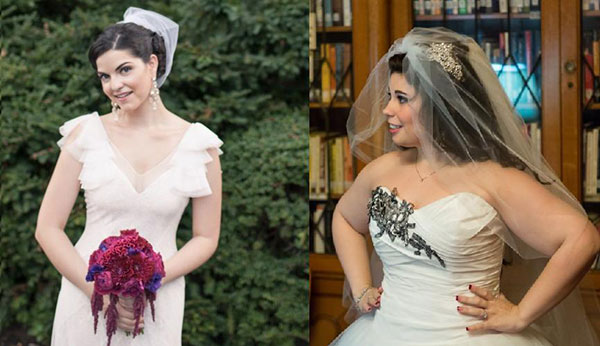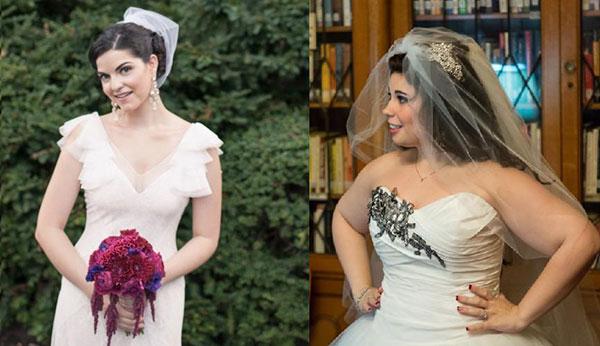 Women like Britney and Stephanie who choose a heavier gown with lots of construction, boning, lace up back, bra cups, layers, etc have a few things to consider.
First, you may be able to get away with a basic strapless bra because your dress already has so much built in shape and construction. It will be altered to fit your body perfectly, and you may just need some support for your bust. Or, you may want to try a longline bra to actually provide more support for your bust or your gown. Some gowns are HEAVY, and having a more structured undergarment can provide a solid foundation for your dress.
Second, does the gown dip in the back? Many strapless wedding gowns do. If so, a traditional strapless bra, which goes straight across the back, may show. If your dress is very solid, you may be able to pull the back band down a bit and tack the bra in place in the back just for the day, or even sew the bra into your gown so that the back will lay perfectly with your dress. Not ideal, but stranger things have been done. The loneline bra, however, can often offer a dip in the back because of it's longer front. No sewing or fancy solutions required. Below is an example from David's Bridal.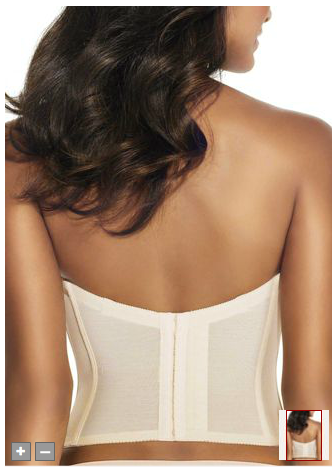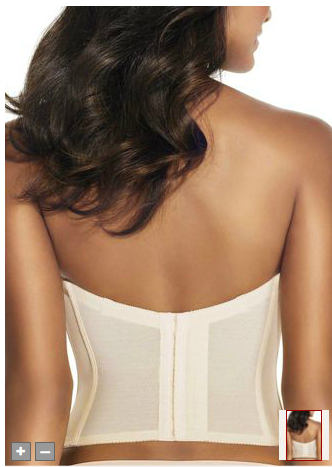 Third, does your body need silhouette shaping? My cousin is in phenomenal shape. I mean, the girl basically has a six-pack. She doesn't need the help of a longline bra to nip in her waist or flatter the shape of the gown. If you do, or even if you just want a little extra help, there's no shame in that. No one wants to hold their breath or suck in for the entirety of their wedding day. A longline bra offers support and shape, but you may also get the same effect from wearing a basic strapless bra and a great piece of shapewear ,like Spanx or the Squeem. Keep in mind that sheerer dresses, like mine, may show the bumps and boning in a corset or longline bra. A more structured, layered gown with textured material can hide those details.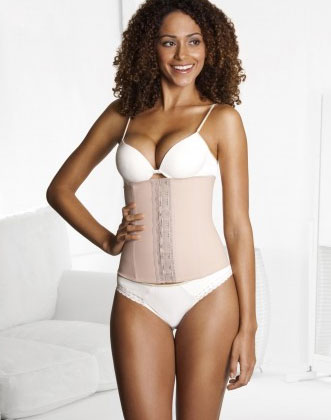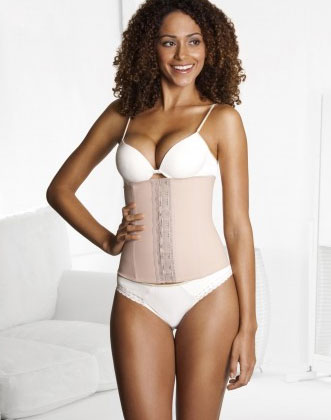 Fourth, the heat factor. As Steph mentioned, going with a longline (or even a basic strapless and a Squeem, for instance) can really up the temperature inside your gown. Large bridal gowns are not like wearing shorts and a tank top. They are hot. And adding more layers underneath means more heat. You may just have to suck and up and deal, or make sure that your wedding venue is air conditioned – mine was not, so I was never more glad to be wearing a sheer dress and barely there undergarments on a hot August day in my whole life! If Steph could go with a basic strapless bra and no shapewear, she may save herself from having to wear an extra layer of fabric around her mid-section.
Fifth: price. One of the most popular longlines from LeMystere is $125, while a great basic strapless can range from $40-$90. In the end, weddings are expensive, and putting off your undergarments with a "maybe I'll have some money left over for this" is a big mistake. You don't have to spend a fortune on bridal undergarments, but as the foundation to the gown you're wearing on one of the (if not THE) most important days of your life, they're worth your investment. The great thing about investing in a great strapless bra is that you'll get lots of use out of it after the wedding!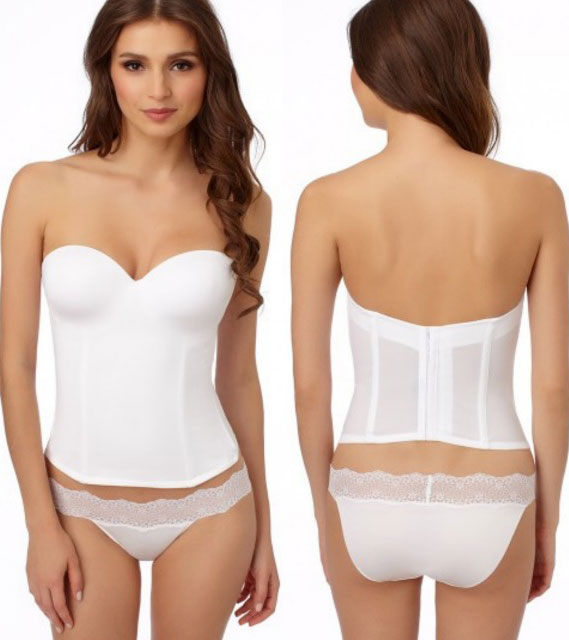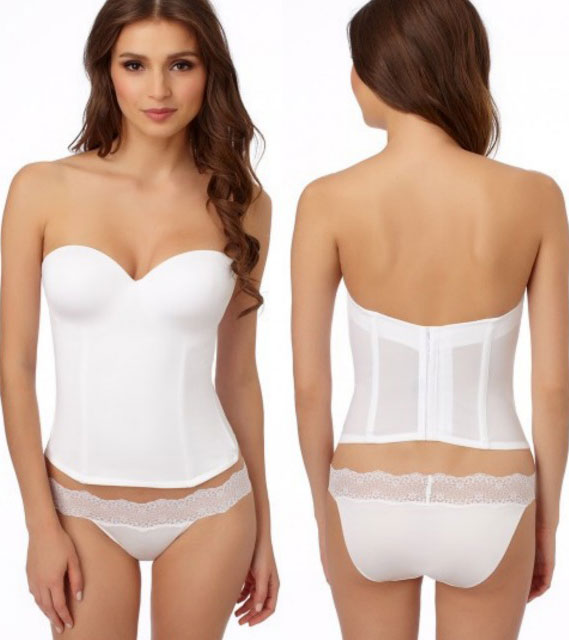 And finally, how does it make you feel? Britney chose a very traditional, satin, bridal-looking longline to wear with her full gown because it fit well and made her feel like a "real bride", while I enjoyed not having to wear "so much stuff" under my gown. If something makes you feel like a million bucks, and it serves its purpose for your wedding gown, go with it.
Photo by (M G B Photo)
I did not have the luxury of being able to wear shapewear, a longline bra, or a fancy bridal bra set on my wedding day. My dress was so sheer that you could see my belly button through it. No joke! So I did a lot of Zumba and wore a seamless slip from Commando, a light blue Hanky Panky thong (my something blue!) and a stick on feather lite seameless NuBra. That's right. A stick on bra. Not exactly the most glamourous of bridal undergarments, but I looked great, the dress looked great, and those puppies stayed in place even in 90 degrees and 90% humidity while I was sweating rivers of sweat down my body. I wore what worked for me and for my gown, and that's what I suggest you and Steph do, too!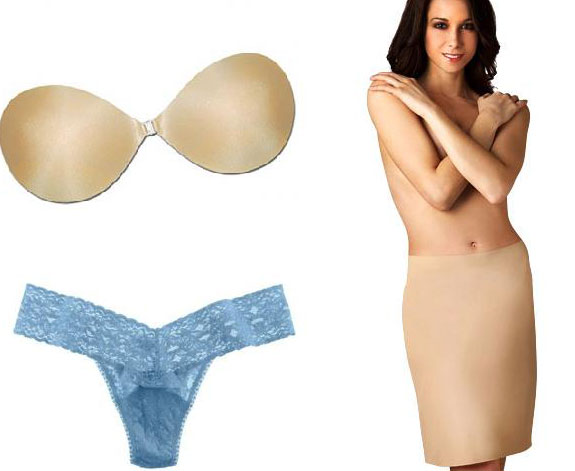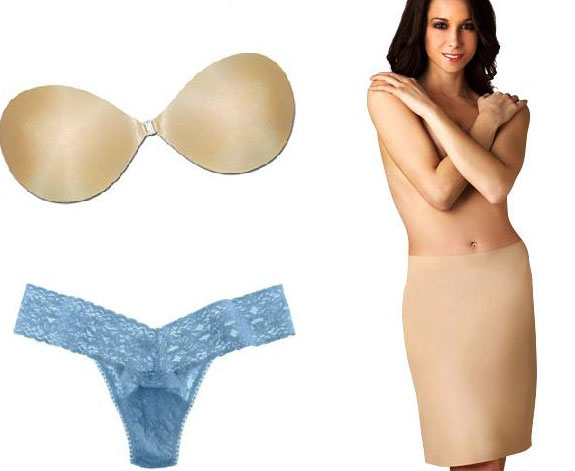 Let me be clear: you do not HAVE to wear a bridal longline bra on your wedding day. I know it's the traditional thing to do, but with the various bridal gowns and bust sizes out there, you need to wear what feels great for you! Trust me, you can always slip into something sexier later that night, but the majority of your wedding guests (hopefully all but one) will see you with your dress on, so make sure you purchase undergarments that help you and your dress look their very best!
Check out my blog, Hurray Kimmay for more people, places, products and projects that make you say "hurray!" Have a bra question? Send me a tweet @hurraykimmay!
Xoxo
Kim "Kimmay" Caldwell