Swimwear Just Like Mom
By Jennifer Cermak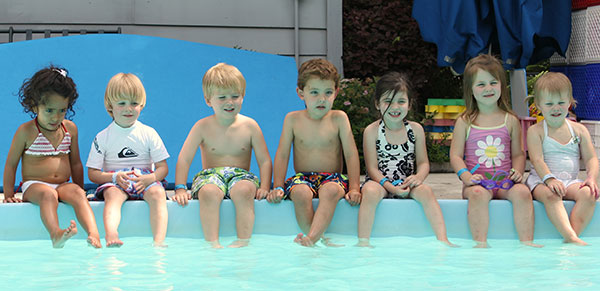 As spring rolls into the lands and we joyously see the snow melting away and temperatures reach tolerable levels, it sparks a hint of hope that a summer does in fact exist, and it is on the way. The season also brings swim lessons starting and the rush of children looking for suits.
There are many options for kids swimwear outside of designer suits, Gap and Janie & Jack both offer quality options to get both boys and girls kids swimwear through the season at under $30 a suit. But if you are a swimwear fanatic, like me, nothing is more fun then to dress your little one up in your favorite designer. My daughter, Lily Sunshine, has 5 suits waiting in a suitcase for our upcoming vacation. She is only 19 months old, but already can rock an Ondade Mar bikini with the best of them.
Seafolly – My daughter has a few of these, you cannot beat the quality of these little suits. If you are a lover of ruffles and frills you can always find a great piece. Sporty styles are also available if you are training in the next pro surfer.
Maaji – One of the coolest brands making suits for cool kids. These mix and match prints are trendy and bold, a statement that splashes in fun. Not to mention if you are lucky enough to be a mommy that can wear a woman's Maaji bikini – countless matching opportunities!
Pily Q – Great prints in sizes from baby to tween. I adore that sisters all could have the same matching suits and different styles
Ondade Mar – I adore the playfulness of these little suits, with just a hint of girly for our little ladies. Great cover-ups too! Many of the prints match into the woman's collection, including matching tunics!
Melissa Odabash – A collection of exquisitely detailed mini suits and cover-ups. Nothing is cuter then a half pint rocking an embroidered tunic and a pair of Haviana's, right? Mommy just may have the matching outfit too.
Lux Finds – Gucci- yes. Oscar de le Renta – Yes. Little Marc Jacobs – Please. Might be worth the splurge for the picture opportunities!
Lilo Tati– Fantastic prints with just the right details to be delightful. These little suits are so darn cute, it is easy to get carried away with how many you "need". The boys style is a perfect fit for any beach vacationer
Tiger Joe – Manufactured by Seafolly, these great little shorts have style and edge perfect for the up and coming surfer in your life.
Tucker + Tate – Adorable board shorts with waves and whales and all things boy worthy for the beach.
Quicksilver – Great little shorts at a good price point. (Dad can get matching shorts too!)