Swim With Confidence
By KIMBERLY BERGER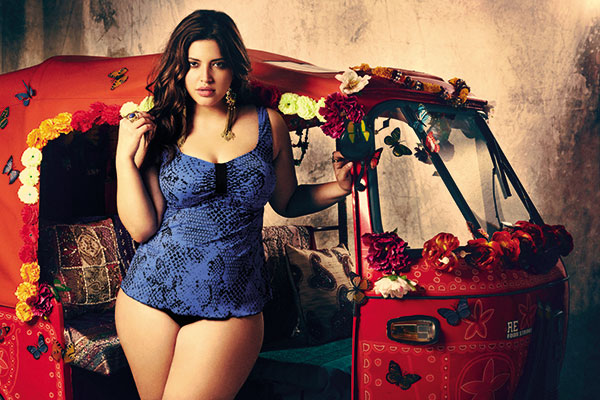 Elomi
Winter is here and it is time for comfort foods and holiday treats, to warm our selves by the fire and to sip hot cocoa.  It's a time to daydream about tropical beaches and our upcoming winter vacation. But with all of this comes the dread of baring our sun-starved yet overfed bodies for all of the world to see and the intimidating process of finding a bathing suit that fits.
Fear not, the world of swimwear has finally woken up to the fact that most of us don't have a size 5, rock hard, bikini body. Here are some simple tips to help camouflage your trouble areas without compromising your desire to be comfortable and fashionable.
Think tankini tops when looking for tummy coverage:
Many women who are feeling the effects of too many slices of pie at Thanksgiving automatically think a one piece suit is the way to go. But tankinis offer so much more variety and versatility! Choose a print or color blocking to distract from unwanted lumps and bumps. Mix and match your tankini top with a solid bottom to add length to a short torso. Wear it with a skirted bottom to distract from larger hips and thighs. Most tankinis are designed to be long enough to overlap any bottom you may choose, not to mention that tankinis are just plain easier to get in and out of when wet.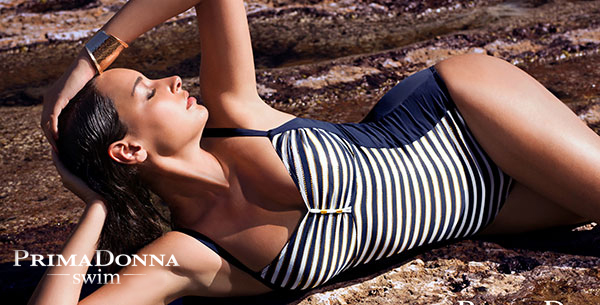 Prima Donna
High waisted bottoms and underwire bras are 'in':
Women who don't need these figure shaping garments are flocking to them for their retro look, so use this to your advantage! The higher you wear the waistband of your swim bottom, the less muffin top you will have.  Wear a bottom that comes up to your rib cage under your tankini for maximum tummy control. This also offers modesty and coverage protection from any 'float factor' of some looser fitting tankinis. Underwire offers lift and support for larger busts. The better supported you are the higher your bust will sit. This adds length to your torso, definition to your waist, and gives you the appearance of instant weight loss.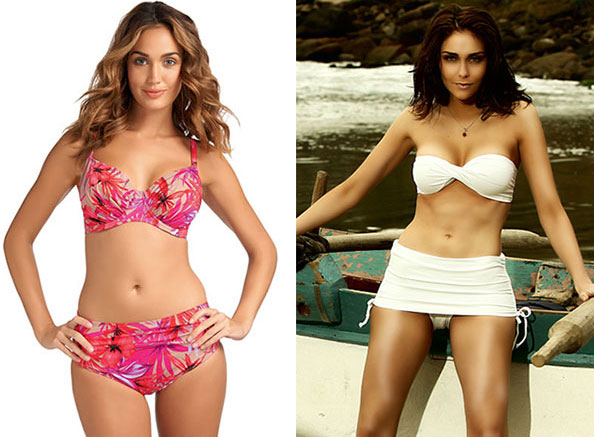 Fantasies & Guria
Sometimes less is more:
Its common practice to try to hide behind more fabric when in reality the opposite is much more flattering. If you are confident enough to wear a bikini, try a variety of bottoms, including those offering less coverage than you would normally gravitate towards. More often than not, a fuller bottom attracts the eye to the area of concern rather than distracting from it and a briefer cut will not draw the eyes to the hips like a fuller cut will. If you struggle with fluctuating weight, a tie side bottom can offer adjust-ability in size that may be perfectly suited to your needs.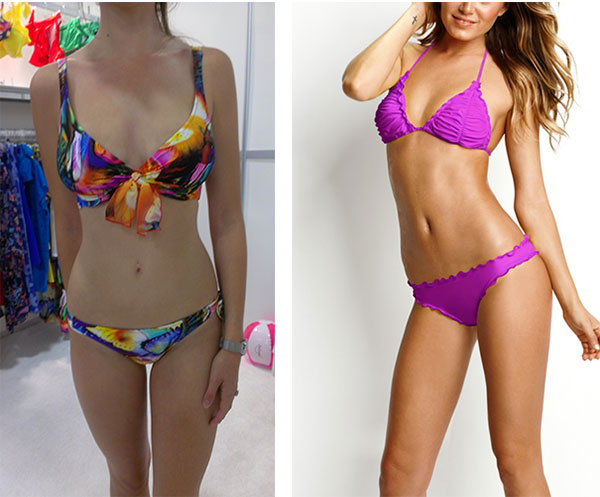 Antigel & Sea Folly
With so many styles to choose from, and mix and matching becoming more readily available, I hope these tips will help you find a suit that allows you to enjoy your next vacation to its fullest. Bathing suit shopping is rarely on our list of happy experiences but being comfortable enough to enjoy the sun and water with family and friends most certainly is.
Kimberly Berger is the owner of  Lion's Lair Boutique, www.LLSwim.com