Smarty (Under) pants ~ Isosceles Lingerie
By ALISON CONNOLLY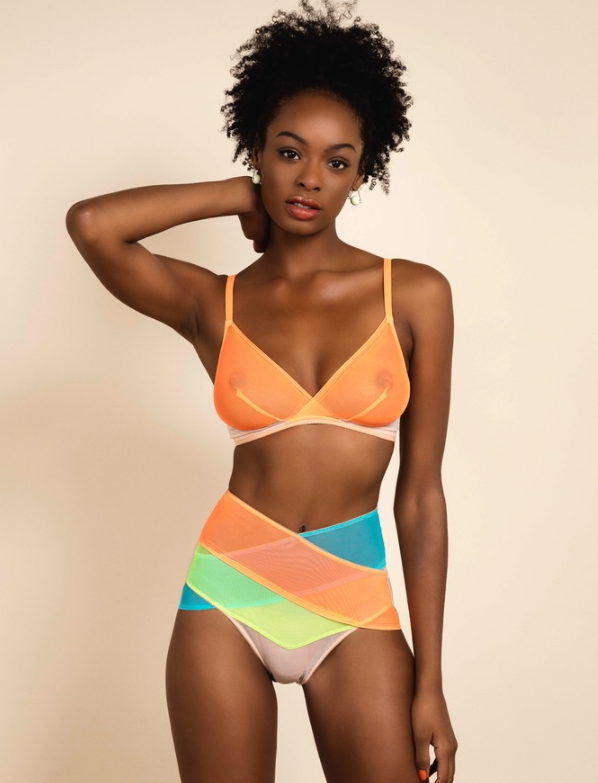 For some women, myself included, beautiful lingerie can serve as a wonderful mood-boosting pick-me-up.  When I know I have a special day ahead, I tend to select a special lingerie set to match the occasion.  Or sometimes I plan my outfit with the intention of showing just the slightest detail of my bra underneath.  With Isosceles Lingerie, you can't help but want a reason to share the vibrant story these designs tell!  Each piece beckons for attention in the most sophisticated way, whether it's from the dazzling neon color palette or the artfully placed geometric lines of the designs.
If you do not recall from your school days, "isosceles" is a triangle with two sides equal in length.  Now take a look at each piece from Isosceles Lingerie; you see bras, panties and garters that were created utilizing geometric shapes that are perfectly balanced on the contours of the body.  Naturally such smart designs are the reflection of an experienced and talented designer.  Founded by Cicely Travers,  Isosceles Lingerie is the culmination of a DeMontfort University education (Contour Fashion degree), and work experience at the Jean Yu NYC Atelier and the Royal Corsetieres, Rigby & Peller.
We are eager to see this brand develop into the superstar it deserves to be!  The following images are from the brand's debut collection made from citrus bright stretch tulle with a creative nod to 1980s style that's part Patrick Nagel painting, and part Miami Beach scene.  This striking combination certainly caught our eye!
Luckily for those of you in the lingerie industry, you can see what's coming up next from
Isosceles Lingerie at Mode City, Lyon from July 9-11, 2016.