Lingerie Francais ~ Paris 2017 Show
by TINA WILSON, Illustrator ~
"2.5 days", that was my response to the immigration guy at JFK when he asked me how long I'd been away. He said that I was very precise and chuckled, deciding my trip was too short for me to have done any major shopping, he ushered me through without the usual luggage search. I broke my record for shortest overseas trip, and what it lacked in time it more than made up for it in pleasure. On my last full day i.e my second day in Paris, Ellen invited me to join her at "Lingerie, Mon Amour" a fashion show given by Lingerie Francais showcasing the biggest French lingerie brands. After a bit of a logistics issue we hopped on the first of the buses and left Porte de Versaille and on to the Pavillion Cambon situated on Rue Cambon, one of my favorite streets in Paris, home of Chanel, the legendary Hotel Castille and a little known bistro named Flottes.
We entered the Pavillion and immediately made our way to the "beverage" table, we discovered we both loathe champagne and asked the bartender if he might have hidden somewhere, a bottle of white wine. We maneuvered through the crowd, Ellen introduced me to some lovely boutique owners and we tried to figure out where to position ourselves for optimum viewing. The signal to sit was given and we dashed to the runway bleachers…. I'd rate our seats at a 7.5 on a scale of 10.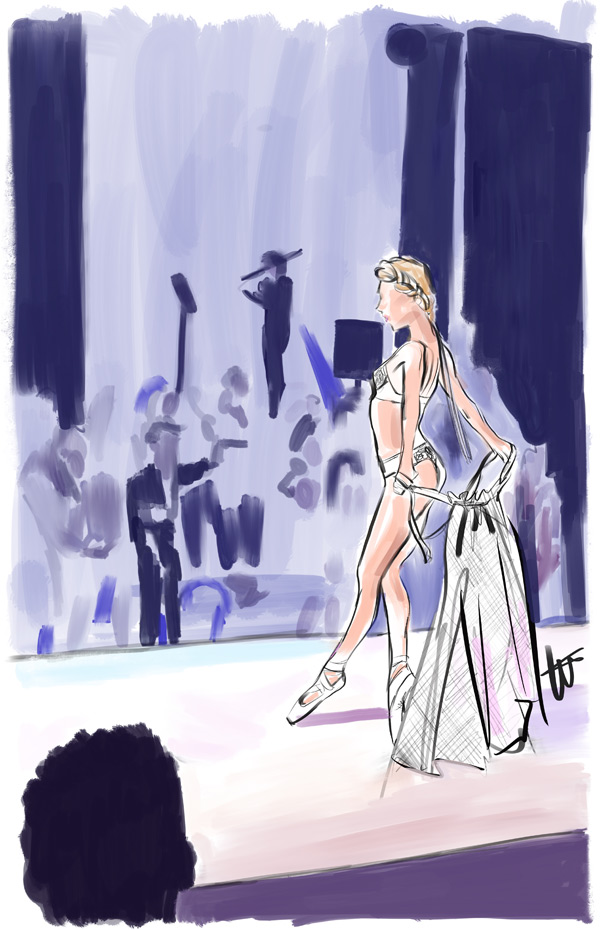 The music started and it was glorious, fourteen suit clad musicians began to play, the violinists being my favorites. There were four "portraits", all spectacularly choreographed with real dancers, real ballerinas and models with bodies that defied nature. The opening was "Marie Antoinette" and the entrance of the white lingerie, white wig and "cerceau" clad dancers was lovely and carefree, and it only got better. Next were the "Ballerinas" with the perfect bodies I previously mentioned, they lined up at the entrance to the runway "en pointe" and proceeded down the runway tulle skirts in hand. One by one they twirled, arabesqued, plied, and pirouetted their hearts out and we loved it!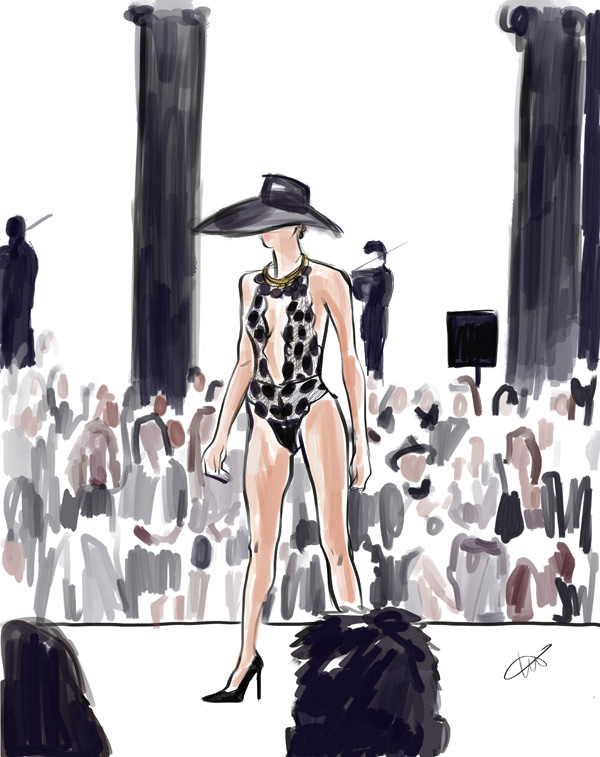 We were then treated to "The Look", which was an all-black, all sexy, display of sensuality covered by a trench coat entrance. The coats did not stay on long and underneath were gorgeous bodysuits, lace slips, bras and panties that were ornate but somehow clean and precise. The finale was The Dandy Girl, another black themed segment in which the girls entered wearing only a tuxedo jacket later unveiled to reveal more sexy, pretty things. The show ended with enthusiastic applause and we all scurried from our seats to find dinner amongst the hor d'oeuvres. I left the Pavillion with all five senses grateful and satisfied and I Ubered myself back to the other side of Seine.