Beautiful Bodies
By TINA WILSON, Illustrator ~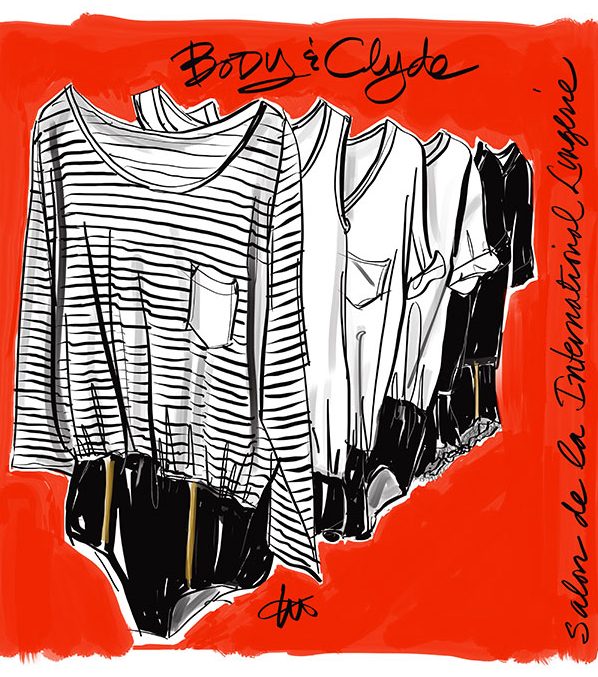 The Body is everywhere.  You may choose to call it a bodysuit or a teddy. I call it long overdue and I attribute its resurgence to the bralet.  The undeniable consumer embrace of the unconstructed, comfy, wireless bra has given designers permission to take that philosophy further. There is also no better category of intimates so well suited (no pun intended) for wearing "out" than the bodysuit.
There was a time when the bodysuit focus was on wired, controlled, figure enhancing garments worn as much for support and shape as for sexiness, and while they are still a must have for some women, there is a new body being ushered into our lives.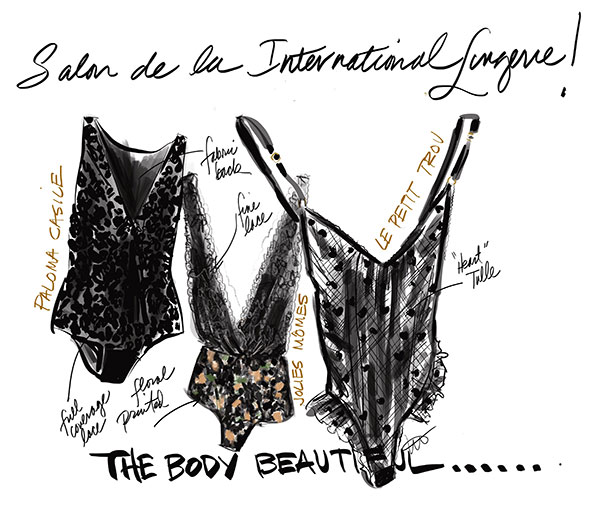 Some of the stand out examples I saw at the Salon de la International Lingerie last month in Paris were from Body & Clyde, which was all about the young, collegiate "pair it with your jeans" look.  The brand is rooted in the classic white t-shirt of varying shapes and necklines paired with a black brief.  Another favorite was by LYS, a hot new brand (new to me) that combines quality fabrics, trims and eclectic embroidery for a gorgeous clean yet embellished look.  Another striking body was a full coverage black lace number by Paloma Casile, it was just opaque enough to peek from beneath a jacket.  Jolies Momes had a printed floral panty with a sheer lace bodice suit that while it may not be worn out, it would surely be memorable worn for a private audience.  Le Petit Trou had a few sheer tulle and mesh bodies with ruffles, ties and gold findings that were epitome of wispy "enticement wear".
Long sleeved.  Short sleeved. Functional.  Dysfunctional.  Wrapped.  Cut out.  Harnessed.  Chained.  Printed.  Lacey.  Clean/Edgy.  Soft/Cozy.  Unconstructed or deconstructed, all were worthy of attention.
Which brings me to my contribution to the body movement, a stretch velvet, plunging back and strappy piece I designed for the Chinese E Commerce site 02bra.
Whatever your body, there is a body for you….