Oscar Underpinnings & Red Carpet Fashion Illustrations
by TINA WILSON ~ Illustrator
Watch in action, the drawings of Best Supporting Actress ~ Viola Davis




& Best Actress ~ Ruth Negga's gowns on the Red Carpet

.
We watch and we judge. We judged the performances they gave and the dresses they will wear to receive their accolades. I love the Oscars and I don't believe I have missed….blah blah blah
Okay, that was my opener BEFORE the Oscars aired last night, so let me start again WHOA! WTH!?? I am over the moon that Moonlight won Best Picture, I adored that movie, no slight to LaLand but Moonlight was magical…..
I loved the Red Carpet, I loved seeing who was with who, and I loved the acceptance speeches. I loved everything about last night's Oscars as I imagined what might be worn under some of those magnificent dresses that came down the red carpet, and there were some beauties last night. "Live sketching" the Oscars or any awards show involves a bit of dexterity, and two iPads. The first is to take pics as each nominee or presenter arrives on screen and the second Ipad is for sketching in between those moments. I make no claims to actually know anything about any of the star's undergarments, this is pure conjecture.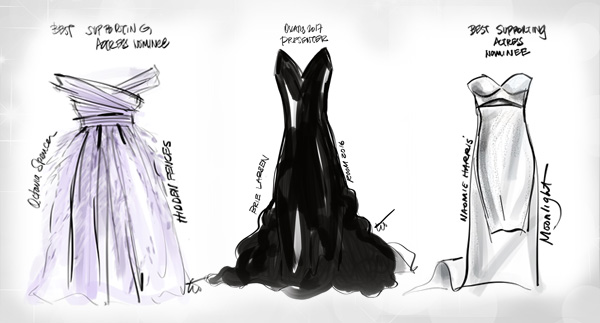 In my next life I want to be Viola Davis, it is her stature, her humility, her power and that red dress on her flawless brown skin that made me envy her and I am almost positive she was wearing Wacoal Red Carpet Convertible Strapless and Janira's Bodyshaper or the VaBien Low Back Bustier.
Let's face it most of these women don't need shapewear but apparently they wear it anyway so I will play along. The "Best Nude Shapewear" goes to Halle Berry who might have been wearing Simone Perele's Top Model High Waist Shaper and Hailee Steinfeld who I hope was wearing Janira's 31053 because that wisp of a sheer confection dress held back nothing.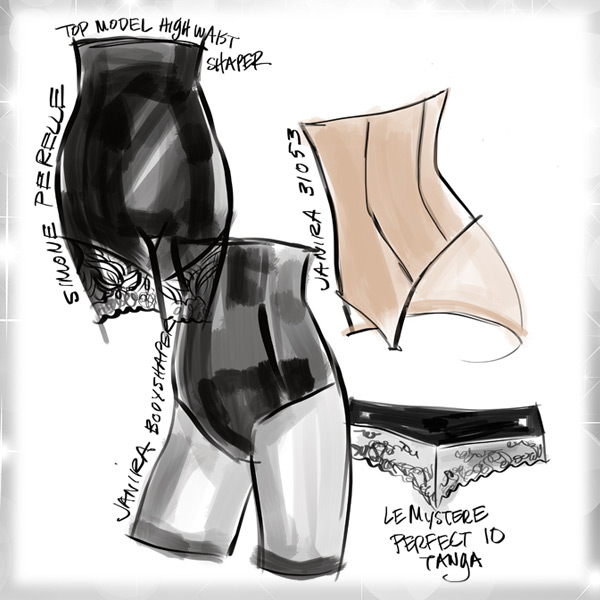 Ruth Negga was stunning, I love the fact that she doesn't feel the need to bare it all and was probably wearing the Wacoal Halo Convertible Underwire bra or the Wacoal's Amazing Assets Convertible Underwire Pushup Bra.
Naomi Harris had to have been my favorite, that train on that short skirt had me the first second I saw it, I bet she was wearing Fashion Form's UltraLight Nubra! No shapewear needed.
Watch: Michelle Williams & Nicole Kidman gown drawings at the 2017 Oscars
Michelle Williams is one of my favorite actresses, I'm in love with her hair, and her dress last night was one of the prettiest, she may have been wearing Le Mystere's Perfect 10 Tanga, just to feel good.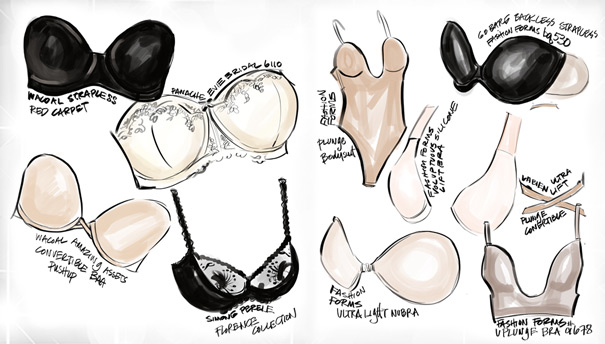 There didn't seem to be much opportunity for a traditional pretty lacey bra with straps, so I'll just hope someone was wearing something from the Simone Perele Florence Collection.
Octavia Spencer is a queen and I imagined her in the Panache Evie Bridal strapless with the Elomi Shaper 8118 to reign it all in.
Oscar gown drawings video ~ Hailee Steinfeld and Halle Berry
There were too many backless, frontless, plunging numbers to count and the award for "Best Gravity Defying Options" must go to Fashion Forms, no one does the "hold up your boobs in a weird dress" better than Ann Deal with her U Plunge bra and bodysuit, Backless Strapless Bra or the Silicone Liftbra.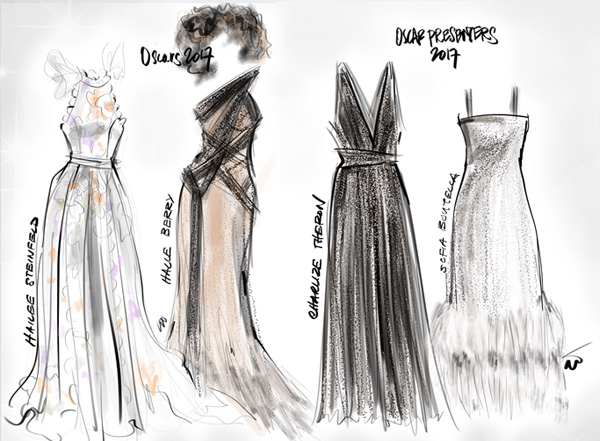 Charlize Theron is always a stunner and she probably didn't need anything at all so I won't even try to guess what she was wearing underneath, and the same for Emma Stone.
It was an amazing cliff hanging night and the finale was historic in many ways.