Youth, Beauty & Strength ~ Studio Pia
By ALISON CONNOLLY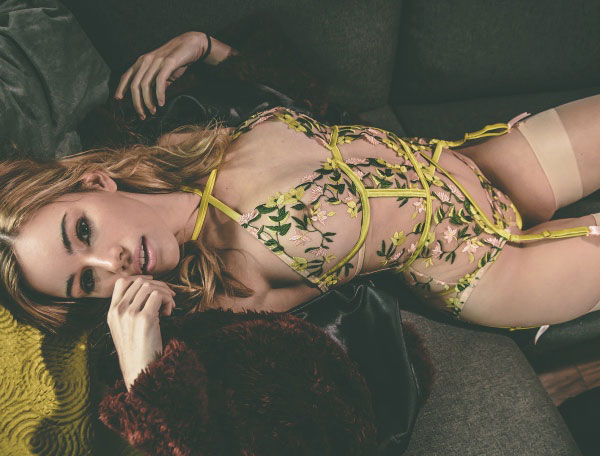 It is my pleasure to introduce Studio Pia; a luxury lingerie brand that represents beauty on many levels.  The obvious allure is visually represented in its debut collection (made up of three ranges featured here), and its not-so-obvious beauty is revealed in its ethical design/manufacturing process.
Founded by Pia Conaghan in 2016, Studio Pia established itself as an ethically-crafted label based in the UK.  The company's ethical ethos is to create eye-catching lingerie while minimizing the environmental impact of its products.  This means that its organic fabrics are sourced from factories that create cruelty-free silk (look up 'peace silk' if you aren't familiar), its tags and marketing materials are from recycled products, and its manufacturing process is run by local London artisans to help support their national economy.
The three new groups from Studio Pia's debut collection are Liana, Bella and Adria, which respectively mean youth, beauty and strength.  The Liana group, with its illusion of jungle embroidery, is inspired by the paintings of post-Impressionist artist Henri Rousseau.  The Bella group is all about indulgence, and enveloping the body in fully silk-lined luxury.  Lastly, the Adria group is cheeky and playful with its peek-a-boo contrast panels of silk and tulle in brilliant 'jungle green.'  It even includes a pocketed mastectomy bra style, which gives yet another example of the designer's thoughtful design process. All of these styles were created to be investment pieces that flatter a wide array of body types. Studio Pia is a wonderful example of how ethical, sustainable luxury products can be created without compromise.