Big Little Lies
Illustrations and Text By TINA WILSON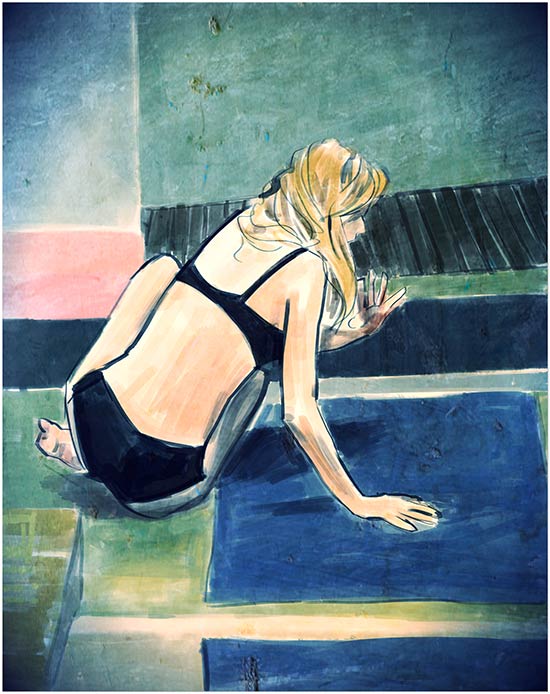 I wasn't prepared for the impact of Big Little Lives on my Sunday evenings. I was even less prepared for its departure, leaving an entertainment void I don't know how to fill. I'm not one to gravitate to films or TV shows centered around entitled people with problems most of us would be happy to have, yet I was captivated for 7 weeks.  I was captivated by the acting, mesmerized by the California coastline, horrified by the secrets, obsessed with the soundtrack (do your soul a favor and download the soundtrack on Spotify) and envious of the wardrobe, the underpinnings in particular and how they helped to define these women.
Being a human mannequin, Nicole Kidman received the most opulent of the intimate apparel, as well as the most airtime wearing them.  Her bras, panties, slip dresses and robes should have received their own credits.  It was as if the director wanted us to see her at her most vulnerable while she was being physically assaulted by her Nordic godlike husband. Stripping her of her daytime armor and replacing it with silk and lace was all too effective; the scene with her sprawled and sobbing on the bathroom floor wearing a minimal black bra and bikini in the final episode broke my heart.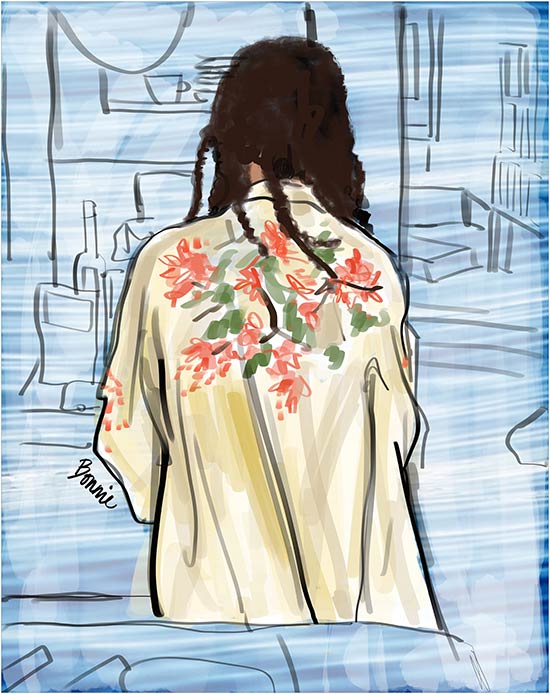 Zoe Kravitz, the peaceful "warrior" of the group was the subject of my envy for her Boho wardrobe and her hippy vibe, it spoke to me, as did her house. While all the other women lived in minimalist mansions by the ocean with views most people live and die never having seen, she and her slightly annoying, hot husband were nestled in a woodsy canyon. Living in a cluttered beauty of a home dripping in ferns, dreamcatchers and wind chimes, she ruled it with way cool compassion and understanding for all who entered.  Her vintage kimonos and camisoles with yoga pants were the only "real life" ensembles in my humble opinion. And spoiler alert*, as my mother always said "Don't mistake kindness for weakness", Zoe may have had less airtime than I would have preferred but she stole the finale.
Shailene Woodley's sporty attire outshone her underpinnings as a topic of discussion.  Her character's "jogging on the beach" scenes, were great self-reflective moments and oddly my favorite scene of the mini-series is of her dancing violently by herself to "Dance This Mess Around" by the B'52's, try it, I did and it felt like I had shed a layer of skin, stress and worry, it was sooooo good! There is nothing more cathartic than wearing a tank top (and no bra) and leggings and yes…. dancing like no one is watching.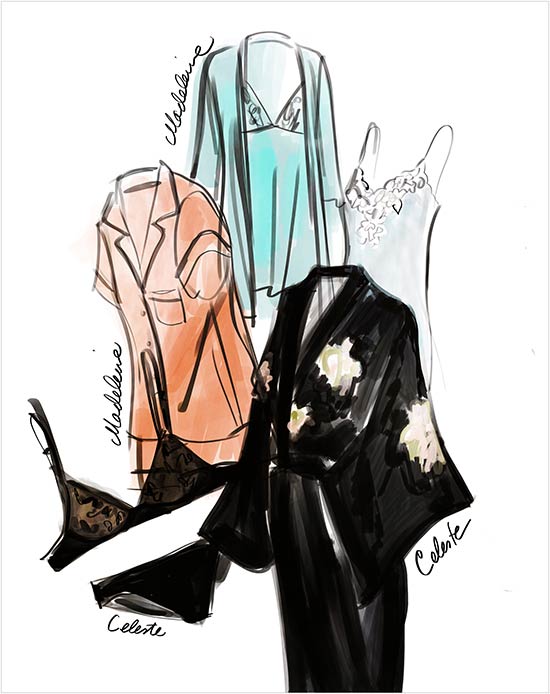 I save my final commentary for my favorite character played by Reese Witherspoon. Her house was my favorite dwelling, the kitchen being the "star" of the family meal gatherings and if you watched the show, you know why. Never have I had love for and a desire to know such a gossipy, meddling, woman until now, I wanted her to be my new best friend.  What made you love her instead of wanting to climb through the screen and strangling her was her character's genuine desire to empower the women around her even while she conspired against them in defense of another. It was fitting that she sometimes wore pajamas, the button front kind that take a little time and effort to remove. She seemed to want the layer of protection from the loving, devoted, funny and nearly perfect husband she took for granted.
There was irony, detail, and layers in just about every minute of the series. I absolutely loved the precocious kids and their musical choices especially little buzz cut Ziggy, I wanted to take him home and buy him every piece of candy and every toy he ever wanted, his lip syncing of "Papa Was a Rolling Stone" gave me chills.  I must give props to Laura Dern, she is an acting goddess, but she dared not show us her undergarments, so just let me say, I haven't enjoyed such a bitch this much since Elizabeth Perkins as Celia in Weeds.
I will be reviewing each episode over the summer in hopes of unearthing more and more, I need to savor it and make it last…..