Couture Icon ~ Carine Gilson
By ALISON CONNOLLY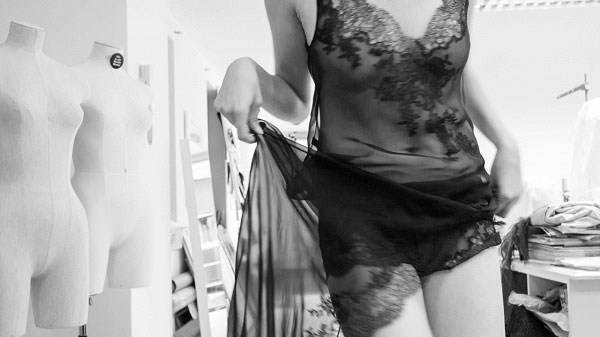 Whenever I'm in need of lingerie inspiration, my go-to brand is Carine Gilson.  Even though fashion styles come and go, Carine Gilson's designs remain a constant; which is a good thing considering her works are costly enough to be considered "investment pieces".
If you're familiar with the concept of luxury lingerie, then you are undoubtedly familiar with this brand.  In fact, Carine's eponymous label is the industry standard upon which many other luxury designers measure themselves.  In reality there are only a handful of designers that are fortunate to stand upon the Carine Gilson pedestal, but none of them have surpassed her (yet) in longevity.
This made-to-measure label was founded in 1990, with its first boutique opening in Paris in 2004 (in the heart of Saint-Germain-des-Pres, no less).  Since then, the brand has established itself as the leading expert in luxury lingerie craftsmanship.  Each season brings us a unique color palette of hand-dyed Lyon silk that is often paired with Calais or Chantilly lace.  Carine's lace work is the hallmark of her label, and often what makes her pieces instantly recognizable.
The current Summer 2017 season presents a refreshing citrusy color story of golden mimosa and brilliant purple cassis.  We also see some sumptuous options in classic black, vanilla and even a soft-blush metallic material (Lurex).  See the brand in motion…
Shop (or simply covet) the current season, as well as last year's looks on the Carine Gilson website.