New, Innovative Design: Cassiopee Spacer Bra ~ Empreinte Lingerie
Well-Being Innovation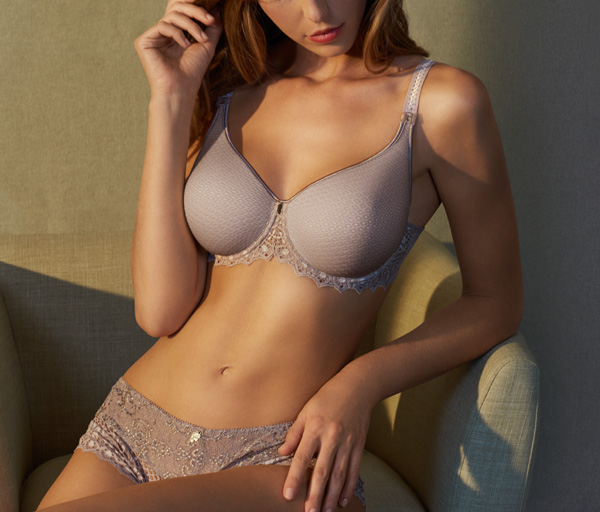 Launched in 2015, Cassiopée quickly became one of Empreinte's best-sellers, praised for its style combining lightness, invisibility, perfect fit and total sophistication. The design has been enriched and Empreinte presents a new form of Cassiopée, an innovative concentrate of well-being.
36 months of research and development to develop a unique bra, in a brand new material, with 5 stand-out major advantages:

~ Second skin comfort
~ Lifted silhouette
~ Perfect breathability
~ Protective invisibility
~ Brand new design
The structure of the material, also called Spacer, guarantees breathability and longevity. A super-light and soft material, featherweight lingerie that is so enjoyable to wear you forget it's there. A flexible structure, 3mm thick, which provides a reassuring "protective cocoon" around the breasts, enabling perfect invisibility under the clothes at the same time. A brand new design of a slightly satiny, super-flat modern fabric with a little geometric pattern. The performance to guarantee the Empreinte fit for this new spacer which signifies a comfort revolution. The foundations of a new Must-Have. Arriving this month ~ sizes: 30 to 42, C to G cup in Black Rose Sauvage and Summer Blue.
Read Ellen Lewis' personal review of Empreinte's new Cassiopée Spacer here.