Summer Whites
By TINA WILSON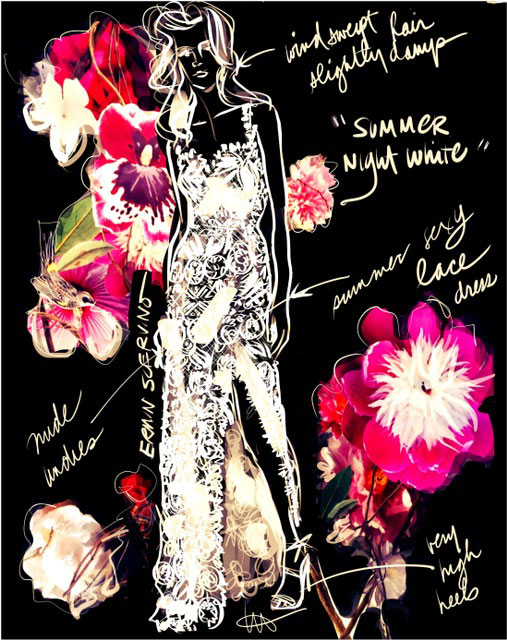 As much as I am loving the summer, I'm rather looking forward to Fall and all it brings…but wait not so fast.  Let's talk about the color white, this is the best time of year to wear it, whether it be a crisp cool shirt or an off the shoulder ruffled top (wish I had a dollar for every one of those I see on the street) or anything in crinkled gauze embroidery.  It's also about to get thoroughly nasty, clammy and exceptionally smelly here in NYC as we approach August, I can feel it and as incongruous as it is to wear white in that scenario, it really does keep you cool and it gives the perception of being clean and put together.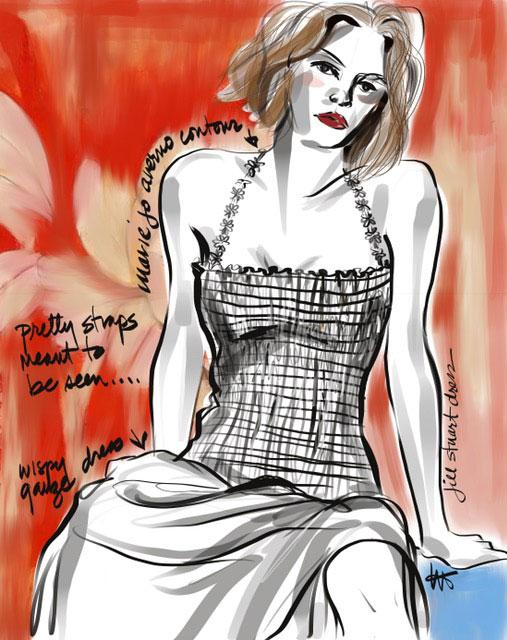 With white comes a few old rules that seem archaic now, one being you must wear nude underwear when wearing white.  And yes I was one of those people who gawked and sometimes rolled my eyes at women who wore white pants and any color but nude underwear, but I've matured, I don't do that anymore.  In fact, I have a new perspective…. show it all off, throw caution to that summer breeze and wear whatever the hell color you want underneath and you sure as heck shouldn't care anymore if you straps show.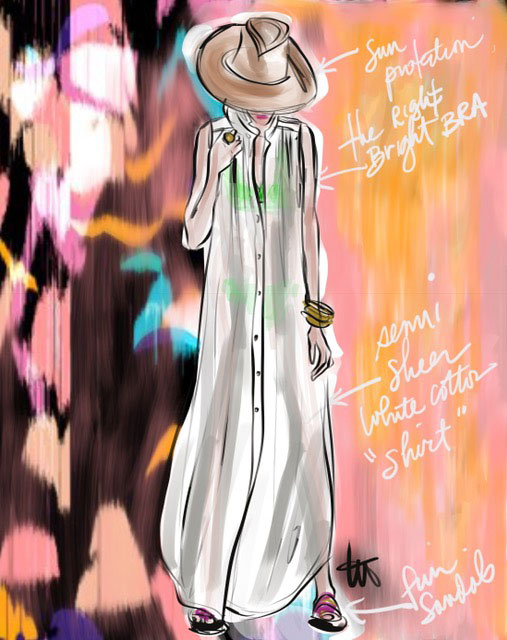 I have only a few statistics but it's safe to say strapless bras are selling like hot cakes since the off the shoulder/cold shoulder/bare shoulder look has taken over society.  Why else would Wacoal's Red Carpet strapless bra have reached a number one position for all bras selling today in the USA? It is the first strapless bra in history to attain this ranking. Convention tells me to suggest a strapless or a bandeau be worn under such looks but I prefer a bra with straps that are in your face, that are pretty and bold, and one of the prettiest for summer is any style from the Avero group by Marie Jo, the "daisy-like" guipure straps are worth showing off.  An equally pretty strap adorns Simone Perele's Andora Spacer or Demi.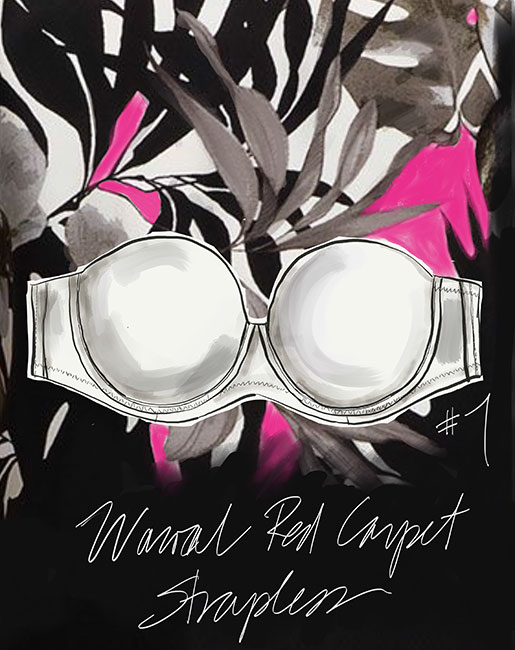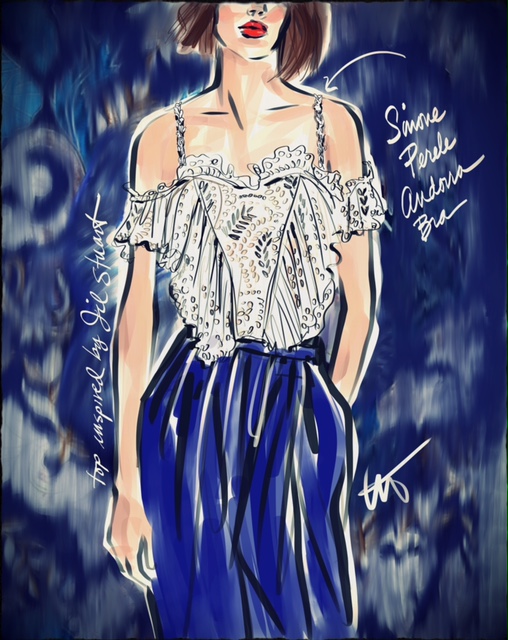 If you want to be daring and show more cleavage than your mom raised you to show, I would try one of I.D. Sarrieri's lace bandeaus such as the Jamais Le Premier or Juliette Dans La Nuit .  Frankly they are somewhat pricey but they are gorgeous, and for all that money, they should have full exposure, I like them worn with a really deep V T-shirt or his favorite button down, not buttoned at all but tied at the waist, it doesn't get much sexier than that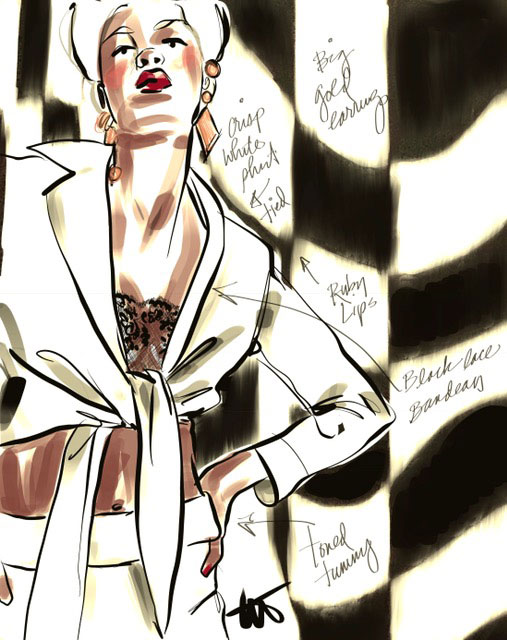 I have always admired the blindingly bright shades of Deborah Marquit bras, her fluorescent Persian Lily or French Tulle 50's bras cry out to be seen in summer, I want to see them peeking from beneath and even through sheer long white shirts to the ankle or perhaps a whisper light sundress made of gauze.  They are the perfect summer accessory.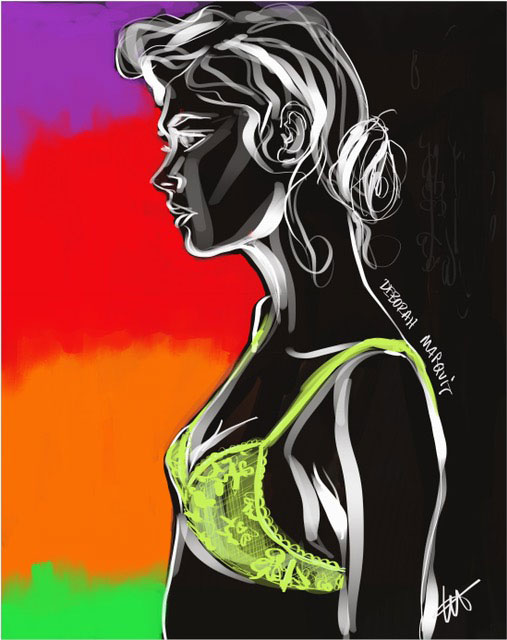 Initially nude was not be a color choice for this topic and then I saw the prettiest nude  I've seen in a very long time, Spanx has the glorious new Spotlight on Lace group with a high waist brief and a bralet I adore.  But it's the color that drew me to it, Vintage Rose, a pinky nude you shouldn't be afraid to show, wear it as "body stocking" layer under a see thru white lace dress and have them guessing is she or isn't she.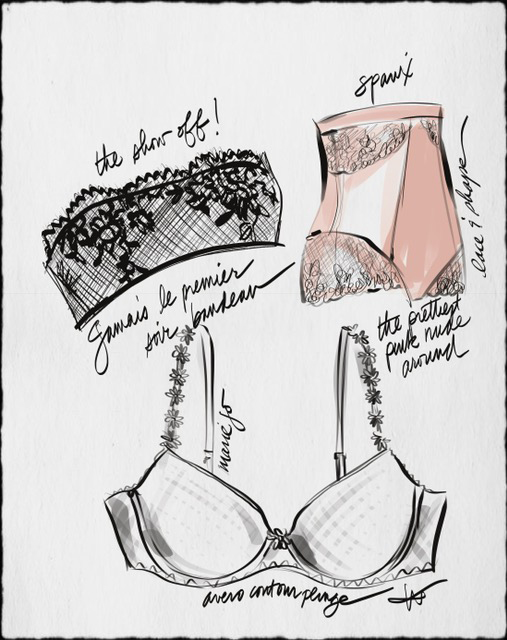 It's summer, it's sweltering and soon enough you will be wrapped in scarves, bundled in parkas and strutting in boots, now is the time to show off your undies.