The Hybridization of Design
By TINA WILSON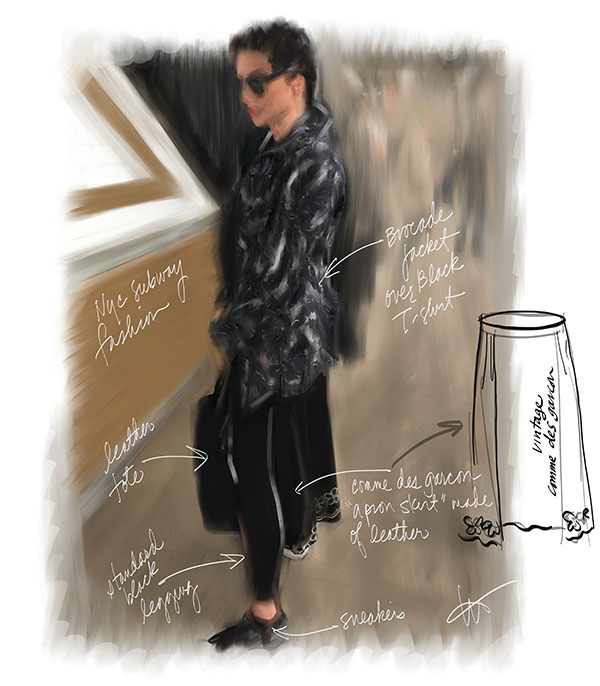 I believe by the turn of this century there will no longer be categories of clothing, no sportswear, no intimates, no outerwear, we will have 7 articles of clothing, period …I will be dust by then and it's probably just as well but in the meantime I will happily prepare for the inevitable and so should any forward thinking designer or retailer of apparel.
hy•brid (ˈhaɪ brɪd) n.
1. the offspring of two animals or plants of different breeds, varieties, or species, esp. as produced
through human manipulation for specific genetic characteristics.
2. a person produced by the interaction or crossbreeding of two unlike cultures, traditions, etc.
3. anything derived from unlike sources, or composed of disparate or incongruous elements; composite.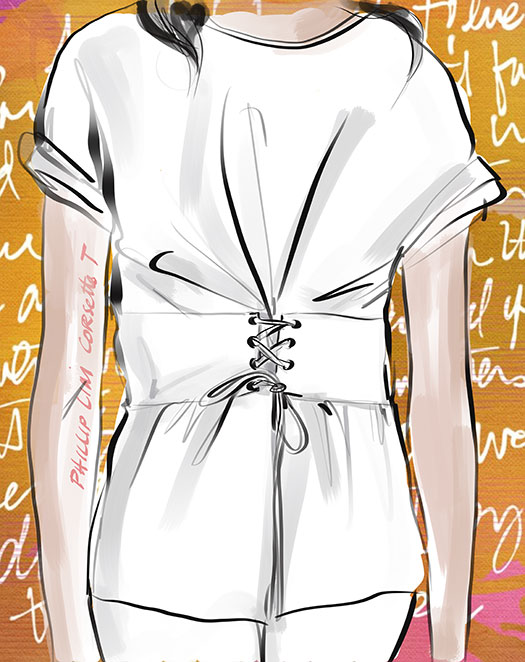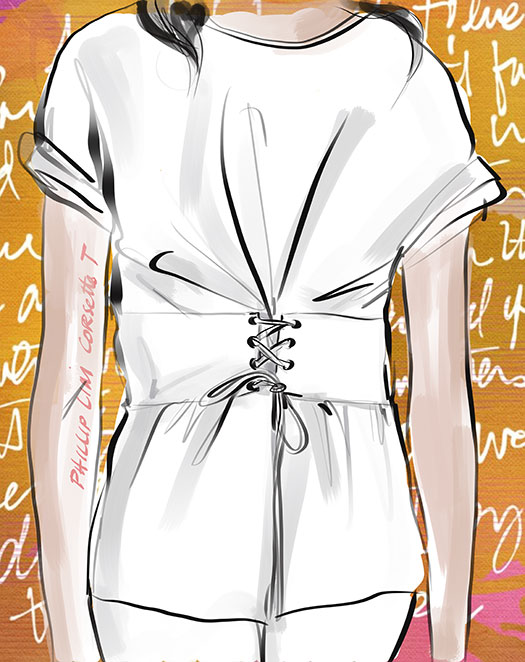 My current fascination is the garment hybrid, I see the makings of them everywhere, I am constantly compiling photos of innocent strangers, wearing innovative and sometimes bizarre combinations of clothing that inspire me.  I want to create the 21st century wardrobe. I accosted a woman in the subway earlier this year who was wearing half (only the back half, no front) of a long leather skirt with leggings and sneakers and she looked incredible, she told me she was wearing Comme des Garcon, I could not tell if she was just leaving work, going to the gym or on her way to cocktails.  And speaking of leather, Commando's new bodysuit is one example of genius, saleable hybridization. It's meant to be seen and the raw cut faux leather bodice combined with their signature fabric panty is soft and supple making this bodysuit an outerwear piece that is intimate and flawless. Using unexpected yet familiar fabrics in unexpected but familiar silhouettes is one of my favorite ways to design and is its own form of hybridization.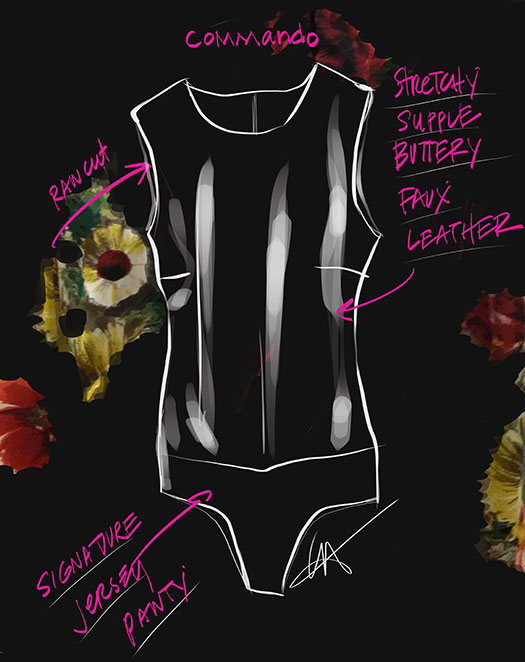 How many times have you worn something and wished you could run home and put on something else before going out in the evening, what if you had it on already and only had to reveal it? Le Mystere has created the Perfect 10 bra, a brilliant day-into-night combination of two bras in one that can be separated or not, expect to see many imitators.  Or Phillip Lim's corset Tee, simple, white, easy with a little sexy thrown in, the perfect casual day into nightwear.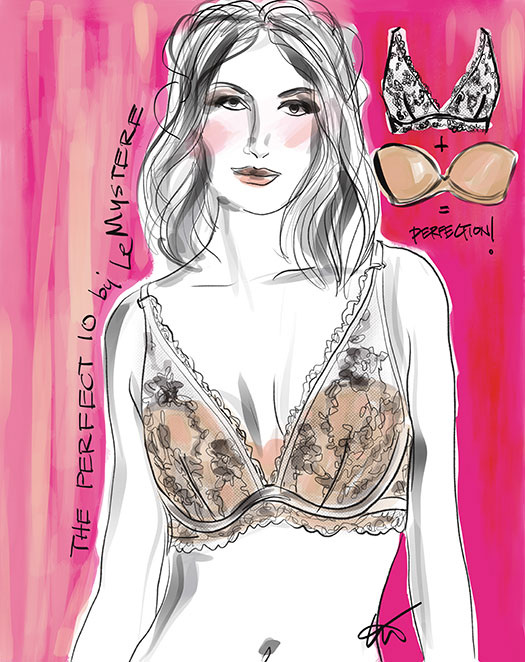 I will deny it if confronted with this, but I love leggings, I wish I could attach them to everything I own.  Why not re-purpose the legging and attach it to your nightshirt?
And don't get me started on all the places I'd love to have pockets…The possibilities for reinventing our wardrobe and ourselves have no limits.  Start your own list.
Pajama + chemise
Legging + dress
T-shirt + scarf
Shorts + leggings
Pajama + sweat suit
Panty + bra
Cardigan + tank top
Bodysuit + pajama
Bodysuit + kimono 😉
Pantyhose + bralet
Designer + illustrator + aspirational cook + blogger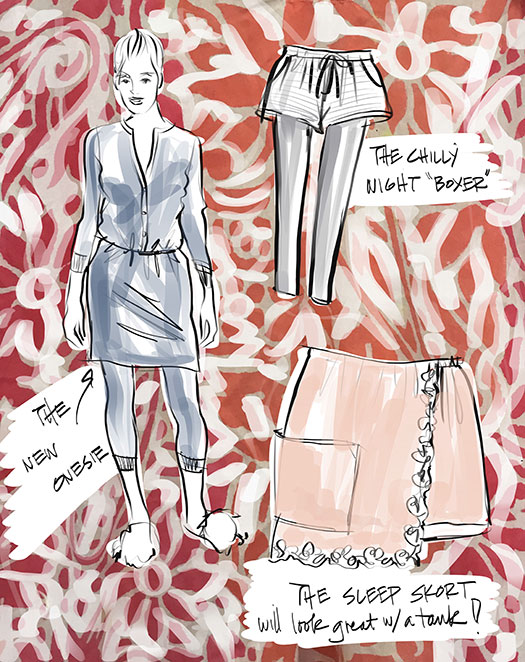 Reinvention, hybridization and re-purposing are words often used lately and it is because of the uncertainty of the present.  We are living in times of fear and fear will ultimately lead to hesitation. Those of us in the world of retail fashion are feeling vulnerable and unsure of the future.  There was a time when freelance consultants lived with this fear but it has consumed everyone, most of my fashion friends with full time jobs live in trepidation of losing them, but it is times like these where we must open our eyes, shine, reinvent and retain the optimism.  I may sound a bit "Pollyannaish" but I have no choice, I cannot create under a cloud. Not having a full time gig recently is teaching me to be fearless, it is a work in progress and I am relishing it.
For all you nay-sayers, just remind yourself of one of the largest companies in the world and perhaps the best known…they reinvented our phone, our radio, our camera and our TV into one device and named themselves after a piece of fruit.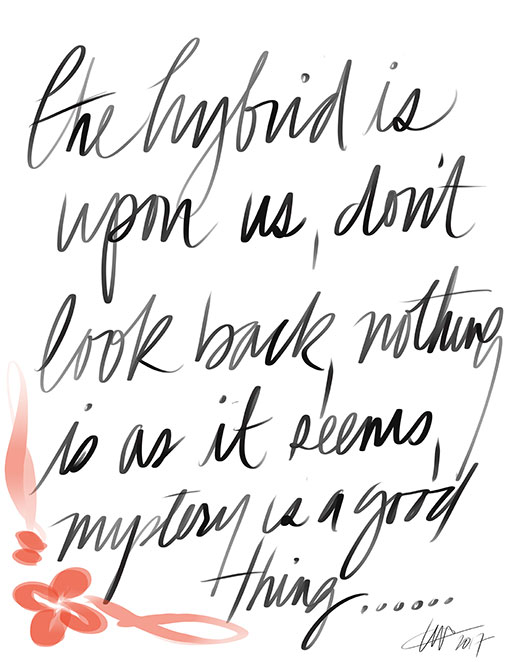 *for more illustrated hybrids over the coming weeks please go to tinadesignchef@instagram