Pure Chemistry ~ Exquisite Luxury Lingerie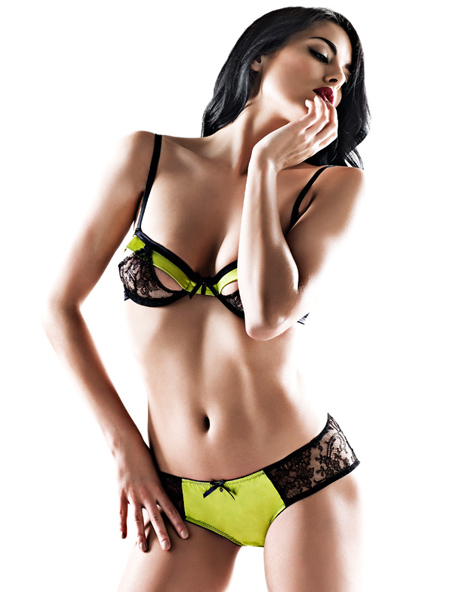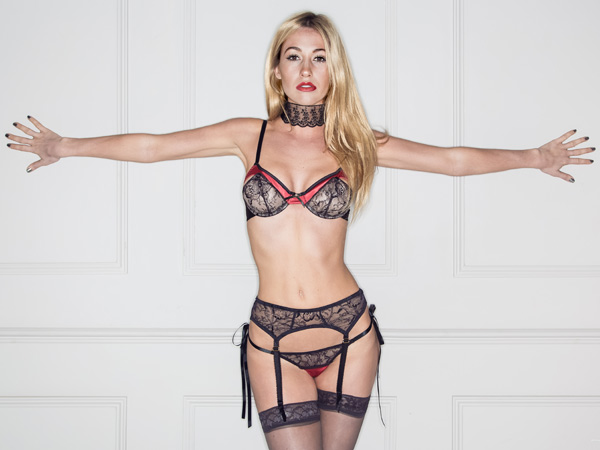 British luxury lingerie brand PURE CHEMISTRY, has a contemporary take on the traditional chic lingerie style, where classic elegant styling is contradicted by the use of bold colours & touches of playfulness. The brand features several exquisite collections created with the finest silks and lace. SPELLBOUND Collection (shown above in scarlet) a flirty peek-a-boo button bra in silk with matching Tempt Me Tie Side thong and garter.
Pure Chemistry illustrates a reciprocity of playfulness and desirable elegance that boldly incorporates the classical yet never compromises on comfort. For coquettish sheer insets, plays of leather ties, strategically placed cross effects and cuts that show off the female silhouette – look no further.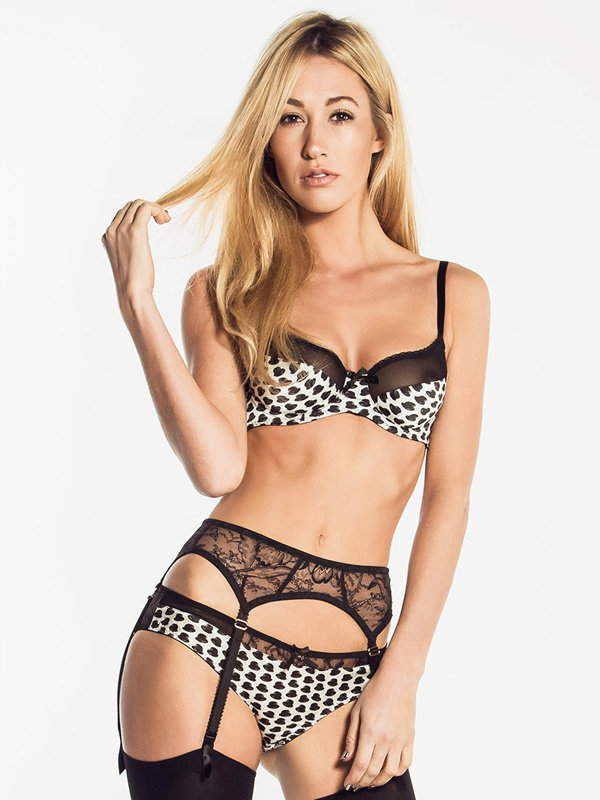 PURE ROSE – BOWL ME OVER Collection features a whimsical, on-trend bowler hat print. The printed monochrome silk is flirtatiously trimmed with sheer black mesh and lace, while the sides of the bra feature a fashion-forward trio of straps finished with 24ct gold hardware. Matching stretch silk briefs.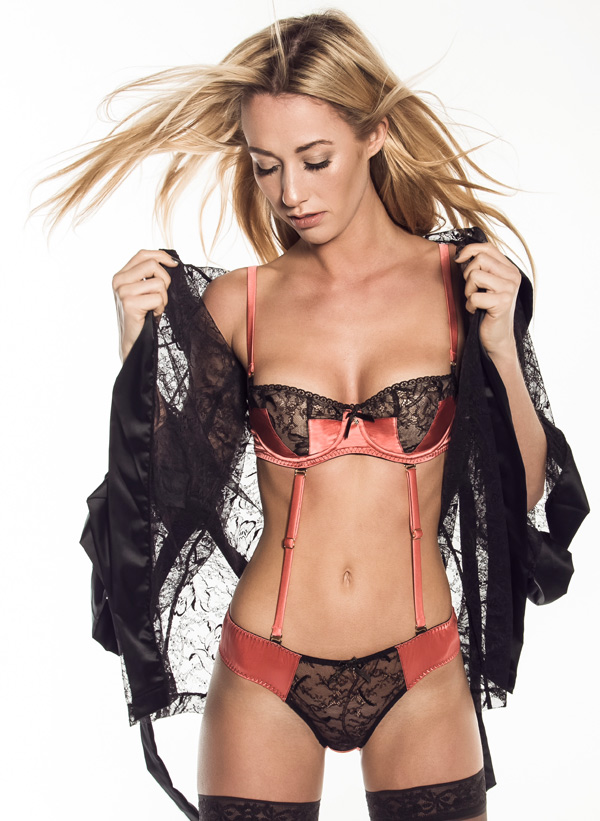 Pure Chemistry LOST PARADISE Collection in vibrantly hot 'Papaya' orange silk is sassy with flirtatious cut-out detailing that reveals sheer black Chantilly lace. Paired with matching briefs and connecting straps.
Be enchanted by a sumptuous colour palette of vibrant fandango, wild berry, intoxicating lime, playful papaya and sophisticated black. The amalgamation of these fabrics and textures allows the Pure Chemistry Woman to express all the facets of her femininity. Pure Chemistry's luxury collection is no doubt the ultimate portrayal of a dual personality, the innocent damsel and the provocative rebel… a real masterclass in the art of the alter-ego. Whether you are a control babe or the dreamy Cinderella, Pure Chemistry Lingerie designs strikes the perfect balance of playfulness, strength and sensuality for every woman.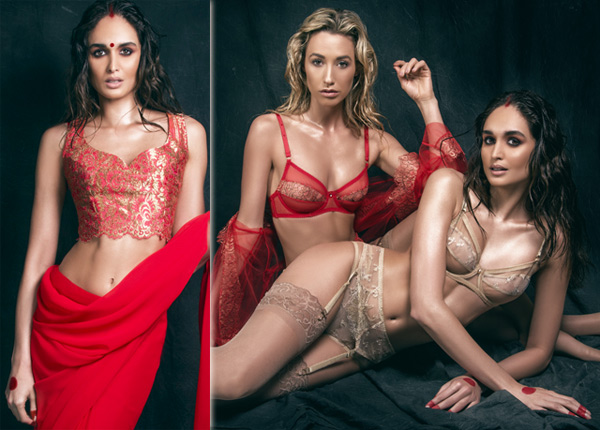 Pure Chemistry recently launched their first ever bridal collection, PURE RANI. Named after Pure Chemistry's CEO, Dimple Rani, the collection celebrates Dimple's Indian heritage with festively colourful bridal lingerie & Saris.  First to develop Indian bridal lingerie, The Pure Rani collection boasts luxurious bras and marries sumptuous colourways of ruby reds & champagne golds with oh-so luxe fabrics such as French lace and Italian tulle complete with gold plated components. The collection includes a range of beautifully hand crafted sari's.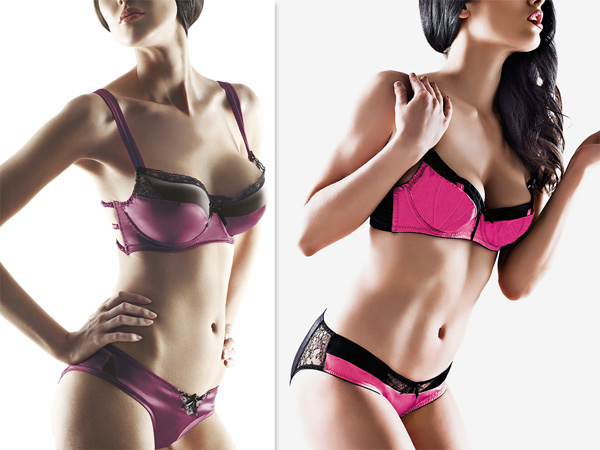 PURE ROSE – RASPBERRY DIVA Underwire Bra & Brief (left) Chic and luxurious, tastefully deep raspberry toned silk is seductively trimmed with sheer black mesh and lace, while the sides of the bra feature a fashion-forward trio of straps finished with 24ct gold hardware. HYPNOTIC – FUCHSIA Bra & Brief (right): A provocative balcony bra providing maximum cleavage and support. Sumptuous fuchsia silk is playfully trimmed with a contrasting black lace, sure to hypnotise in the boudoir, and beyond!
Pure Chemistry also has a fun Gifting & Diffusion line ~ LOVE LABORATORY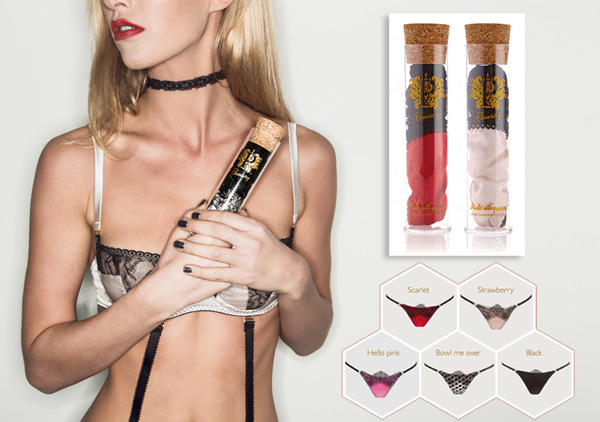 Love Laboratory offers a range of colourful bralettes, briefs and thongs packaged in a test tube, ideal for generating add-on sales.The collection comes in a range of colours, including powder pink and bold red, with a contrasting black Chantilly lace trim, a black Swarovski pendant and 24ct gold-plated components.

Production takes place in the UK, using the finest fabric from silks to lace. PURE CHEMISTRY LINGERIE has been featured in Vogue, Glamour, GQ, Drapers Record, Tirade, Mens Health, Khush and many more publications. Pure Chemistry showcases exclusively at various trade shows.
Pure Chemistry was recently chosen as Helen Masters' Hot UK Bridal Brand on London Briefs!