Samantha Chang Gets It!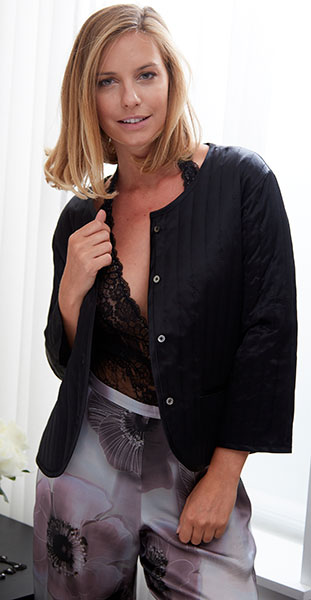 In the past few weeks, we've posted several blogs about the transition of sleepwear and loungewear into street wear. Many ready to wear designers have integrated lingerie and swimwear into their vernacular creating lifestyle brands that are in sync with the casual attitude so prevalent in the American culture. This is not a new mantra in the Intimate Apparel business. It started some years ago (when my own girls began wearing pajama pants to school) and burgeoned into "athleisure", an already outdated term.  Certainly traditional sleepwear and robes have their consumer following; but frankly, it's the brands and retailers who focus on this modern merchandising mantra of mixed messages in a woman's wardrobe that are rising to the top.
Samantha Chang is one of those brands that gets it. A combination of sensual underpinnings and a great value in silk separates, the collections are a composite of key items pieces; each one a stand-alone piece that blends seamlessly into an outerwear wardrobe.  One of my personal favorites: the classic quilted silk bedjacket is a far cry from the bedjackets of yesteryear.  Not really a boudoir cover-up, this one goes anywhere. Paired with the lace halter bodysuit (one of Samantha's best-selling basics), it's ripe for any kind of casual affair. Available in black, nude and tender rose print, the jacket comes in S/M –M/L. Displayed smartly, this style is an excellent segue into the concept of assimilated dressing.
"Design Is Not Just What It Looks And Feels Like. Design Is How It Works"
Steve Jobs