Summer Style Expressions ~ Rossell England
By ALISON CONNOLLY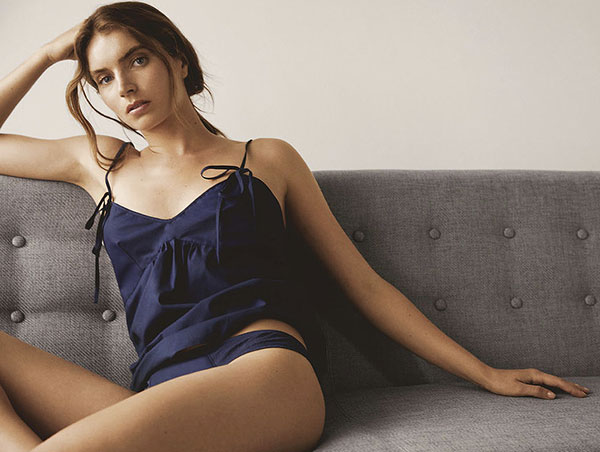 It has warmed up considerably here in Los Angeles over the past few days, which has me searching for all breathable cotton-clothing options to kick my summer wardrobe into high gear.  When it's hot out, we can all agree the simpler the outfit, the better.  Sometimes even forgoing the underwire in your bra adds that extra needed comfort and coolness.
In searching for practical, polished options, I found myself drawn to the summer collection from Rossell England.  The current season features lingerie and loungewear made from lightweight versatile cotton and linen fabrics.
The bright color palette for the summer season is inspired by Expressionist Italian painter and sculptor Modigliani.  Take a look at the powder blue, daffodil yellow and navy styles below, and you may get a sense of where the inspiration played out.  Interestingly, my last Gallery post featuring Undress Code; a luxury intimates brand also inspired by modern art (in their case, it was the work of Wassily Kandinsky).
It's worth noting that Rossell England specializes in non-wired bras, but they work for sizes A-E cup.  They specialize in using natural fibers sourced from Italy, Switzerland and France that are interpreted into modern clean lines.  Some of the items are wonderfully versatile; wearable from bedroom to beach-side.  Those bow-tie camisoles and chemises are just begging to be shown off while out and about.
If you're a fan of Rossell England, we'd love to hear what your favorite pieces are.  Or if you're new to the brand, which items from the summer 2019 collection are speaking to you?